Life-Saving Breastfeeding Tips for beginners!
This post may contain affiliate links that I may receive a commission from if you click & buy. In addition, the information on this site is NOT intended to be medical advice. See my full policy for more information.
Scrambling all the last-minute breastfeeding tips and advice you got from all your friends right before your baby is born? Don't worry, these 18 tips are pretty much all you'll need to get started successfully!
As a first-time mom, let me tell you that breastfeeding to this day is still one of the HARDEST accomplishments I've ever accomplished. However, I used PLENTY of breastfeeding tips for beginners that I was up googling in the middle of the night, for many nights!
If you landed here because you're up looking for breastfeeding tips too, don't worry mama, I got you covered!
I have tips for breastfeeding pain, what breastfeeding pillows to use, breastfeeding side effects, and more!!!
However, first things first, if you have NOT taken a breastfeeding class of any sort, I'd highly suggest taking one as soon as possible.
Take it from someone who didn't take one and struggled with a ton of issues, you will find that at least 75% of your questions will be answered just by taking a breastfeeding course. My personal recommendation is MILKOLOGY. It's an affordable, online course you can do at your own pace packed with loads of information!
Life-Saving Breastfeeding Tips for beginners!
There are a TON of different ways you can have a successful breastfeeding experience!
One of my BIGGEST tips is to learn and educate as much as you can BEFORE baby is born!
That means reading blog posts, taking classes, talking to a lactation consultant, etc…
Knowledge truly is power. The more you know about breastfeeding before giving birth, the more prepared you will feel going into it!
Breastfeeding tips for producing more milk
Many women feel like they suffer from not making enough milk when in reality they are! Because unless you're exclusively pumping, you really don't have an accurate way to measure your output. The key factor is to make sure your baby is steadily gaining weight.
However, if you find that you do struggle with a low breast milk supply, these tips can definitely help!
Make sure you're getting enough skin to skin with your baby.
Try nursing while your baby is resting on your bare chest. Research has shown that skin to skin helps mom increase her milk production by increasing oxytocin, the hormone responsible during this time for milk ejecting [Source].
Allow your baby to cluster feed.
Cluster feeding can be exhausting. Your breasts will feel extremely sore, but it's a very essential part of maintaining and even increasing your supply!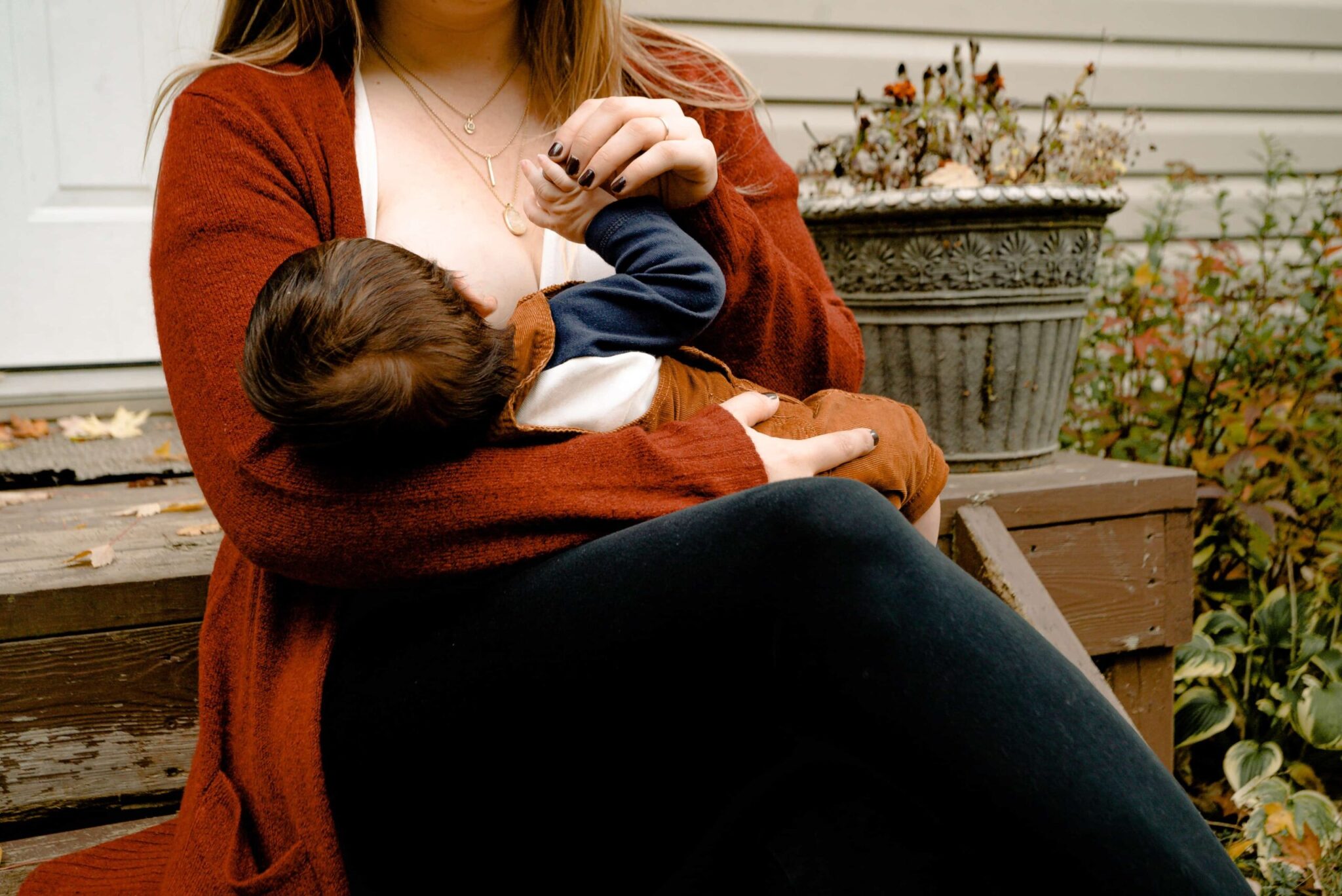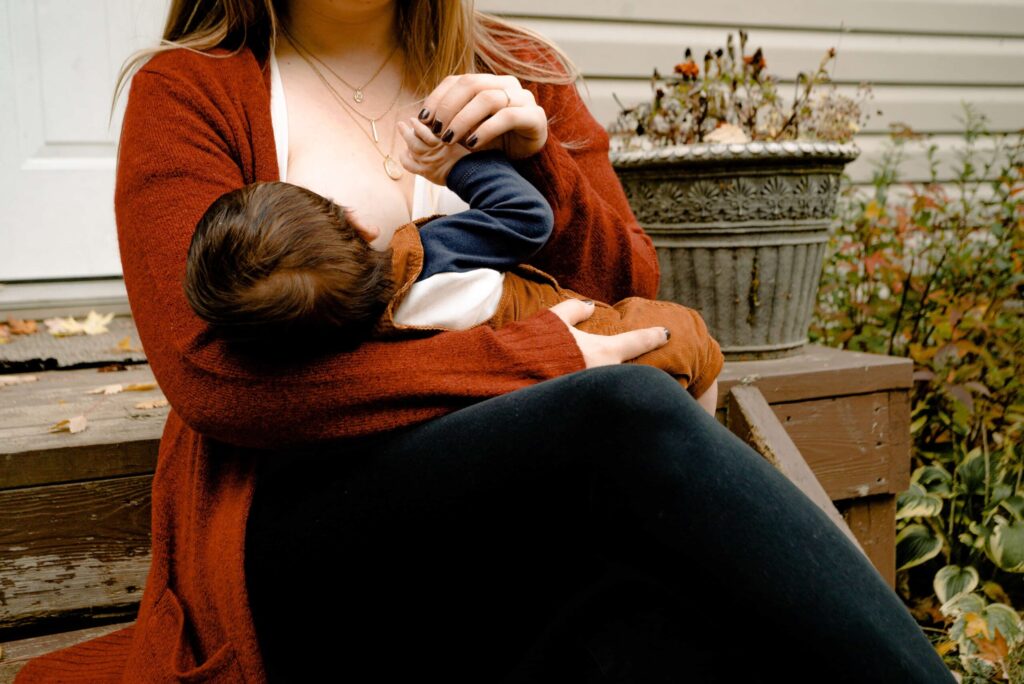 Just remember, cluster feeding doesn't mean you need to give your baby more milk. It's simply a natural and very normal part of breastfeeding!
Add in extra nursing or breast pumping sessions!
Adding in MORE nursing or breast pumping sessions throughout the day is a great way to tell your body to make more milk!
This is because breastfeeding is based on supply and demand! The more you empty your breasts, the more your body says "hey, we need to make more milk".
I was able to add in my extra pumps successfully thanks to the Spectra S1 Breast Pump.
I used this breast pump consistently for a total of 15 months during my breastfeeding journey! I was able to express milk with ease when nursing wasn't enough which literally saved our breastfeeding journey!
While it is on the pricier side for it's cordless & portable features, they do have a more affordable option called the S2 Breast Pump. Check out all of Spectra's available breast pumps by clicking here.
Use heat to help open up those milk ducts and help the milk flow!
I remember sometimes using warm washcloths or taking a warm shower right before my pump to help me express more milk and it worked like a charm every time!
You can try using a galactagogue to increase your breast milk supply
I tend to say this is as a last resort as there is a TON of different information out there about using breastfeeding supplements.
In my personal opinion, I don't think there is enough research out there to really convince me that they work, however, I did end up using some products from a company called Legendairy Milk and I did notice a slight increase in my supply.
I was a breastfeeding and pumping mom, so I was able to measure my output during my pumps and found I had an increase of about 2-4 mLs per pump after using their supplements.
As always, be sure to check with your OB before taking any supplements or medications.
Breastfeeding pain relief home remedies
You may find that breastfeeding is literally painful. ESPECIALLY, during the early days. Use these tips below to help you eliminate that pain and make breastfeeding a positive experience for you and your baby!
Use warm/cold packs to eliminate breastfeeding pain!
Depending on why you're experiencing pain (something like mastitis vs blanched nipples) will respond differently to heat vs. the cold.
Generally, if you're suffering from general common pains, you might find that using an ice pack around your breasts could help.
If it's more related to having a clogged duct, you'll find that using warm packs can help as it can stimulate the milk to breakthrough and alleviate the clogged duct.
Use breast shells to protect tender and sore nipples.
Using breast shells is a great way to protect your tender sore nipples from rubbing up against your shirts or bras.
Not to mention, there are even some shells out there like these ones that even collect leaky breastmilk so you NEVER have to worry about wasting that liquid gold!
Try using soothing gel pads for nipple pain
I used these ALL THE TIME during those early days of breastfeeding.
Before my son was diagnosed with a lip and tongue tie (over 12 weeks to be exact), I was in SO much pain due to a poor latch.
These soothing gel pads got me through some of the worst of days I'll never forget! Bonus tip, keep them in the fridge for a cooling relief effect!
Perfect your baby's latch to eliminate nipple pain
Making sure your baby's latch is perfected is KEY to having a successful breastfeeding journey.
If you're a pumping mom, make sure you're using the correct flange sizes! Using a flange that is too small can cause nipple irritation while using a flange that is too big can decrease the milk you're able to pump out.
One of the best ways to do is, is by seeking help from a lactation consultant or by taking a breastfeeding class to learn everything you can about breastfeeding techniques.
How to store expressed breast milk
Storing breastmilk can be a bit tricky. Especially when you're trying to keep some ready in the fridge, then freeze some for later. Knowing these rules, guidelines, and tips will definitely help you out!
Use storage bags for breast milk
Storage bags were a lifesaver for us storing breast milk in the freezer! We actually don't have a huge freezer, but using these allowed us to store them stacked flat on top of one another to save space!
Not to mention you can date each bag and write the amount that way when you need to thaw your milk it'll be so easy!
Use a breast milk storage cheat sheet and place that baby on the refrigerator!
You can grab my free Breastmilk Storage Cheat Sheet! Place it on the fridge so that EVERYONE in your home knows how to properly store your milk so it never spoils!
You can also use breastmilk freezer trays for easy storage.
Using breastmilk freezer trays can be super helpful for storing breastmilk! A lot of mamas rave about how easy it is to plop one of the cubes out into a bottle for easy thawing! I never personally used them, but it looks like a good idea!
Store your breastmilk in SMALL increments (3oz or less!)
The rule of thumb is you really should reheat breastmilk that's already been heated. So in an effort to minimize waste, try only storing your milk in small increments!
I found thawing out 2-3 oz at a time was a great way to prevent wasting any milk (which was a pain to build up a stash for anyways)!
General Breastfeeding Tips for Beginners
The tips below are for every other breastfeeding scenario you can think of. Such as which nursing pillow is the best, tips for pumping moms, etc…
Consume a healthy diet for breastfeeding
Making sure you're consuming a well-rounded diet while breastfeeding (nursing or pumping) is key to maintaining your breast milk supply!
Sometimes, knowing what to eat and prepare can be such a pain as a new mom.
If you're not really sure what kind of meals to make, you can use the cookbook below that was created especially for breastfeeding mamas!
Not only is it filled with 50+ recipes, but it has bonus tips for breastfeeding moms to help boost your milk supply!
The My Brest Friend pillow is the BEST breastfeeding pillow around.
This breastfeeding pillow is seriously the BEST! It straps around your waist so it literally can't go anywhere, making it perfect to stay in place while you comfortably nurse your little one!
Not to mention, the removable and washable cover comes in super handy!
Make sure you maintain and replace your breast pump parts regularly!
Oftentimes, most mothers forget that their breast pump parts need to be maintained by taking them all apart and cleaning them thoroughly.
Typically, each breast pump will have its own set of recommended maintenance instructions, but you can find lots of 'cheaper' parts online.
For instance, I have a Spectra S1 pump and often would use Nenesupply Pump Parts for half the cost of flanges, pump lines, etc…
The most comfortable breast pump flanges are the ones that are the RIGHT SIZE!
It's so important to be sure you're using the right size flange!
Not only will using the correct flange size offer more efficient (and comfortable) pumping, but it will also decrease your chances of having irritated nipples!
Here is a great article to help you find the correct flange size.
You can use sterilizing bags for MORE than just your breast pump parts!
Medela makes amazing sterilizing bags to help you keep your parts nice and disinfected at all times! Not to mention these bags are great for mama's who travel often!
The bonus is that you can use these bags for even MORE than your pump parts! You can use them for bottles, bottle parts, and honestly anything else you need to be sterilized (that can withstand the temperature).
Breastfeeding is no walk in the park. There are lots of hiccups that can come up, but choosing to get the help you need and
Read more breastfeeding articles here: