S10 Pro Hands-Free MomMed Breast Pump REVIEW
This post may contain affiliate links that I may receive a commission from if you click & buy. In addition, the information on this site is NOT intended to be medical advice. See my full policy for more information.
Let's talk about a hero in the world of parenting – hands-free breast pumps. Picture this: you're a busy mom, right? You've got a baby to feed, a mountain of laundry that looks more like Everest every day, and a to-do list that never ends (seriously, does it ever end?). But guess what? You're also a rock star who's determined to breastfeed despite the challenges — so how can you make it easier? That's where the hands-free magic comes in. Today, I'm about to spill the beans on why the MomMed wearable breast pump S10 Pro is a superhero sidekick for breastfeeding moms.
Now, before we go on, I want you to know that traditional breast pumps — yes the ones that are bulky and full of cords and wires almost always have the best suction and performance. However, here at Mom After Baby, I understand it's not always possible to be connected to a large bulky pump while lugging it around all day long.
That's exactly why I'm excited to share my review of the MomMed S10 Pro Hands Free Breast Pump and why it's the perfect staple for any busy mom's breastfeeding journey.
This pump was provided by MomMed for me to review, and I hope you enjoy all the details and specs we talk about in the article below! For special savings on this pump, make sure you read to the end of the post!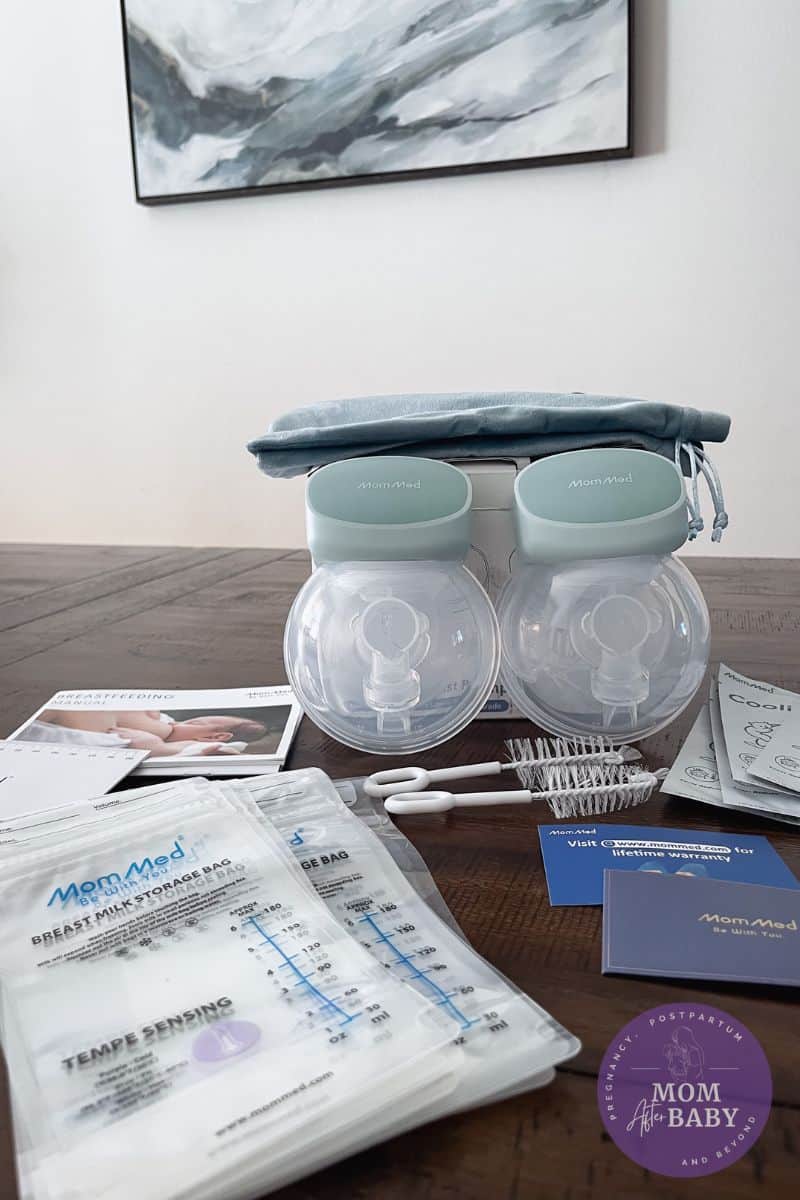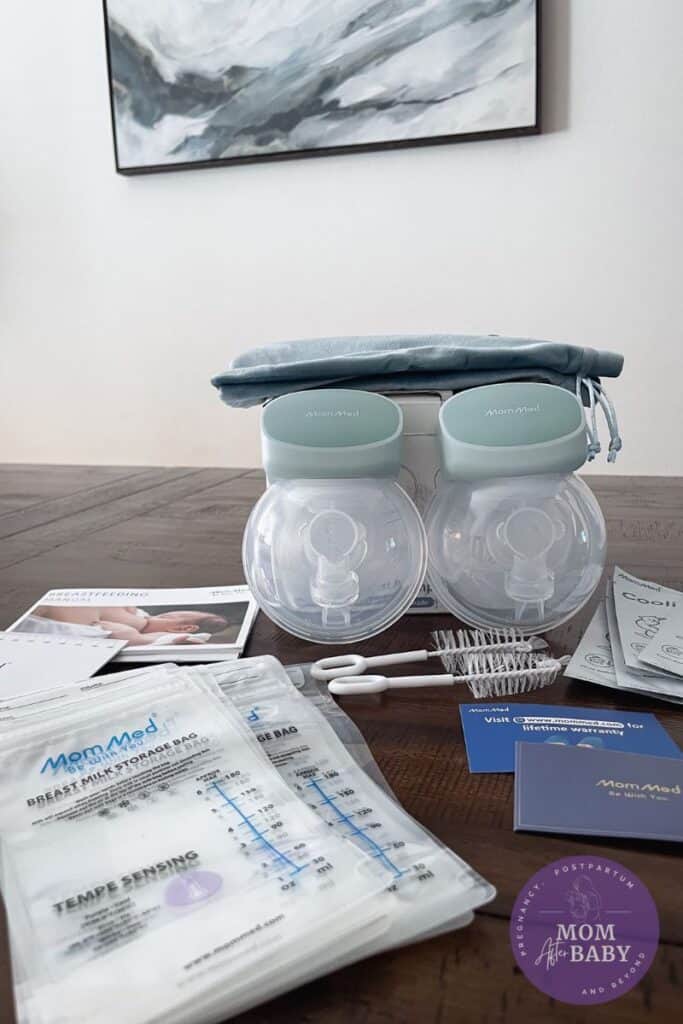 Who is MomMed?
MomMed is a brand that understands the unique challenges and demands that come with motherhood. In a world where time and convenience are precious commodities in parenthood, MomMed stands out as a beacon of innovation and practicality for busy moms.
With a focus on enhancing the breastfeeding experience, MomMed has introduced a line of wearable breast pumps that are changing the game *ahem, the S10 pro double breast pump*.
These pumps are designed with the modern mom in mind, offering a level of freedom and flexibility like never before. In this review, I'll delve into the details of MomMed's hands-free breast pump, exploring what sets the S10 Pro apart and why MomMed makes an excellent choice for moms juggling the demands of everyday life while trying to breastfeed their baby.
Before we get into the specifics I want to give you an overall pros and cons list:
PROS:
This double wearable breast pump operates VERY quietly.
Comes with 2 charging cables and extra pump replacement parts.
Leakproof design thanks to its double-sealed flange.
Holds up to 7oz capacity.
Easy to empty and clean when finished pumping.
Easy to adjust through the different modes and levels of suction.
Convenient portable design with 2 carrying bags.
CONS:
Despite being quiet and having a large capacity, I find the collection cups to be rather large and obvious when wearing (see photos below).
S10 Pro MomMed Hands-Free Breast Pump Review
Remember the days of being tethered to your pump with tubes and flanges, feeling like a prisoner to your pump? Well, say goodbye to those days! The MomMed S10 Pro is one of those wearable breast pumps that will liberate you from the pump once and for all — without emptying your wallet. You can move freely while pumping, making it a game-changer for busy moms who need to multitask.
What Comes With The S10 Pro Double Wearable Breast Pump?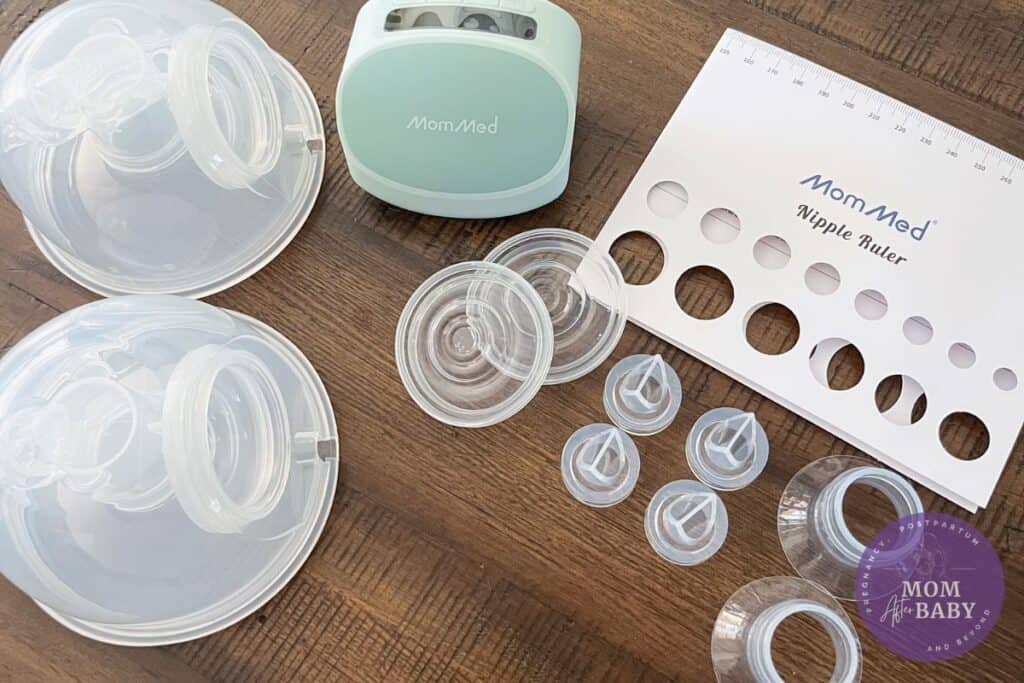 ​I know every mom wants to know what comes with their breast pump before they even think about placing an order for one. Does it come with a charger? What about a cleaning brush? Don't worry mama, I'm going to share every single item that came inside of my S10 Pro Pump box below!
What's included with your MomMed S10 Pro Breast Pump:
2 Milk Collecting Cups
2 Breast Pump Motors (comes in colors: green or pink)
2 Silicone Flanges
4 Silicone Diaphragms
6 Duckbill Valves
2 USB Charging Cables
2 Travel Bags
2 Linkers (connection pieces for the flange and cups)
1 Nipple Ruler to measure for the most adequate and comfortable flange size
2 Nursing Bra Extenders
1 User Manual & Guidebook
1 Pack of 10 Breastmilk Bags
*Bonus — my package also came with head coolers, but I am not sure if all packages will come with this bonus item
Now that you know what to expect in your package, let's talk about all the features this breast pump has!
S10 Pro Design and Comfort
One of the worst things that can happen during a pumping session is you're hands-free pumping, you bend down to grab something, and your milk comes leaking out. But fear not!
The MomMed S10 Pro comes with a lightweight, leak-proof design we can all appreciate. No more milk spills down your shirt or unexpected messes to clean up – hallelujah!
Another thing I love about this pump is how much thought went into its design for comfort. Most hands-free pumps have standard plastic flanges. The Mommed Double Wearable Breast Pump S10 Pro on the other hand has the option to use the standard silicone flanges included in your package or you can add in the silicone insert for extra comfort during your pumping sessions.
The easy-to-read LED screen that sits on top of the motor is another winning design feature in my book. I've used other pumps that have the motor controls in front of the pump which makes it harder to control (especially if your hands are full), but with the controls right on top, you can easily push the buttons you need and toggle from modes effortlessly.
Pumping Efficiency
Honesty is the best policy. And If I'm being honest, I am not currently breastfeeding, but I know two amazing moms who are! This is why I lent one of them the MomMed S10 Pro and asked her to test it out for a couple of weeks and share her feedback with me. Here's what she had to say:
"I don't think this pump has the most discreet design, but it worked great! Normally with my Medela Pump in Style, I average anywhere from 4-6oz of breast milk total during a pumping session. With the S10 Pro, I pumped 4-5oz each time, so barely any difference! I found the adjustable suction levels to be gentle, but strong, and also really liked how quiet the pump is overall. I wasn't sure what to expect using a portable hands-free pump, but I'd recommend this MomMed pump to other moms, absolutely!"
Though I'm not currently breastfeeding, I did try the pump to just get a feel for what the suction and massage mode felt like. I've used quite a variety of pumps in my breastfeeding times (such as Medela, Spectra, Elvie, and Willow).
And after trying the S10 Pro I can say that it wasn't the strongest suction I've felt (for instance, in comparison to my Spectra S1), but it did feel stronger than most standard pumps.
Ease of Use
The MomMed S10 Pro is a portable breast pump that you can take with you wherever you go. It's like having a little breast milk factory in your bag. Whether you're a working mom, a mom on the go, or simply want to sneak in a pumping session during your errands, this pump's easy-to-use design makes it an efficient way to maintain your milk supply.
If that didn't make things easy enough, the S10 Pro offers adjustable suction levels (with 3 modes and 9 levels) to cater to your comfort and needs.
I know I mentioned it earlier, but the design of the LED screen makes it incredibly easy to use. It displays the pumping mode, suction level, and even a timer so you can keep track of your sessions easily.
Battery Life and Portability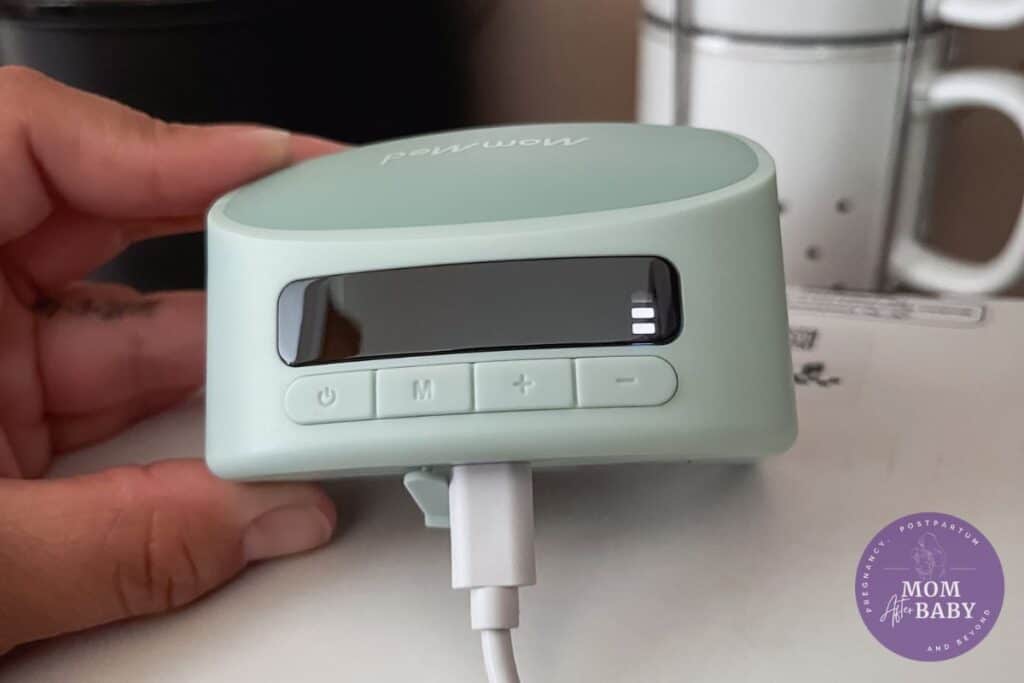 I'll never understand why some double breast pumps only come with one charging cable. The MomMed S10 Pro Wearable Pump isn't one of those pumps, it comes with 2 charging cords so you can charge both pumps at one time, YES!
In fact, a single charge can last 24 hours, offering 6 to 8 pumping sessions in a day! If there's one feature that stands out aside from the adjustable levels and suction, it's the battery life of this wearable breast pump.
And, to add to the already amazing features, the pump also comes with 2 soft carrying bags — making it easy to toss them inside and go.
Noise Level
Let's talk about the sweet sound of silence, or rather, the lack of it. The MomMed S10 Pro Double Wearable Breast Pump knows that peace and quiet are precious commodities in a household full of baby sounds, from the coos, giggles, and let's face it, even the crying.
In fact, I was blown away by how quiet this pump was when I turned it on. You can take a listen in the video below, but this thing is Q-U-I-E-T.
My husband didn't even realize I had it on and pumping when he walked by. I love that this pump operates with low noise, so you can pump discreetly without waking the whole house or disturbing your coworkers if you're a mom who pumps at work.
Where to Buy the S10 Pro Hands-Free MomMed Breast Pump:
You can buy the S10 Pro Double MomMed Breast Pump directly from their website or on Amazon. Thanks to MomMed, they've given me a 15% off code to share with all of you: MOMAFTERBABY (it can be redeemed on both Amazon and the MomMed website).
MomMed S10 Pro: Final Thoughts
All things considered, I would highly suggest the MomMed S10 Pro Hands-Free Breast Pump for any mom looking for a quiet, discreet, and affordable wearable breast pump.
Whether you're a working mom, a multitasking mom, or a first-timer navigating the waters of breastfeeding, this wearable pump has got your back (or rather, your front). Making it a great alternative to regular pumps that keep you anchored down while you pump.
Read more breastfeeding articles here: