Simple Breastfeeding Hacks to Help New Moms Survive the First Week!
This post may contain affiliate links that I may receive a commission from if you click & buy. In addition, the information on this site is NOT intended to be medical advice. See my full policy for more information.
Attention all new breastfeeding moms — if you're barely surviving the first week of breastfeeding, hang in there! I have some really easy breastfeeding hacks that'll help make it easier!
Breastfeeding can come with a MAJOR learning curve. Especially, when baby doesn't want to play by the rules.
Baby could have trouble latching, reflux, move around too much, I mean…the list goes on and on.
So without keeping you hanging too long, lets jump right into some easy hacks to help you survive the first week of breastfeeding!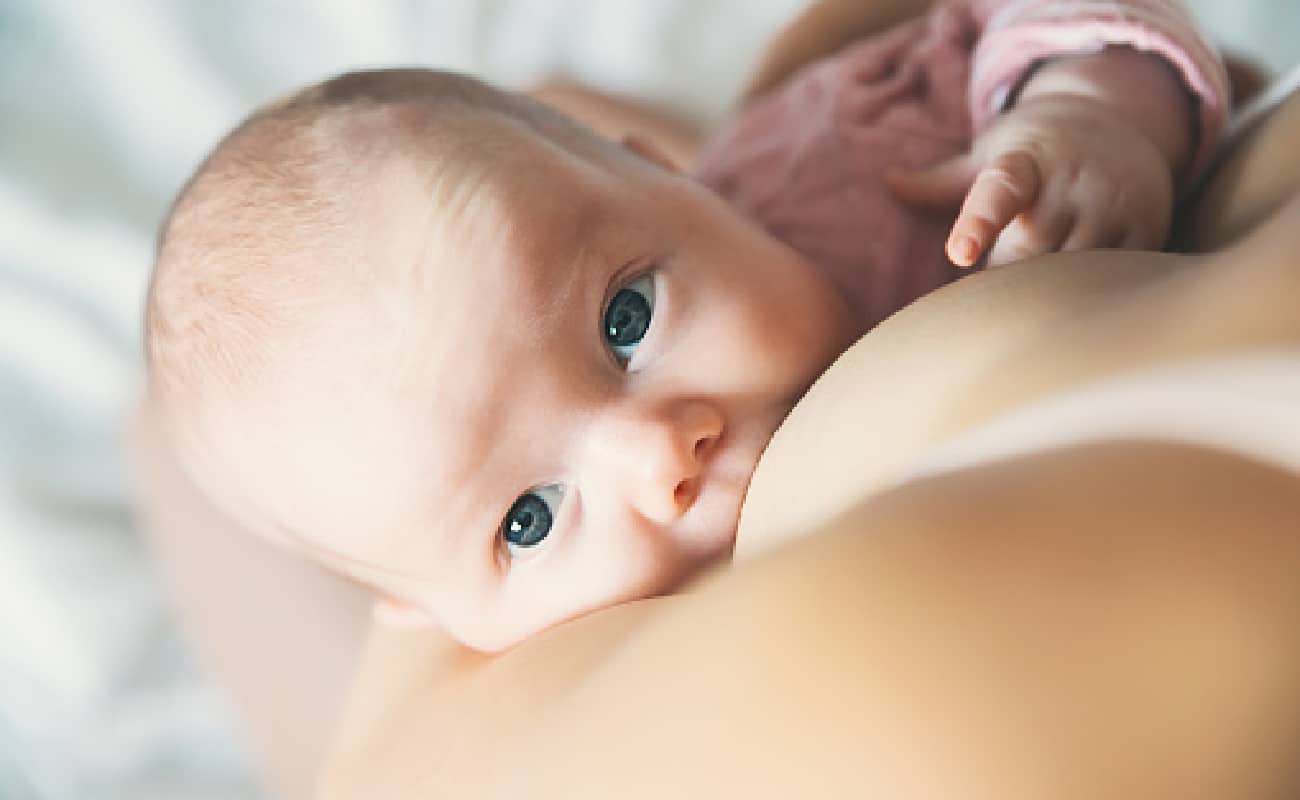 Surviving the first week of breastfeeding would be WAY easier if you took a breastfeeding class!
That's right…KNOWLEDGE IS POWER!
That statement is one of the most true statements that can be applied to almost anything, including breastfeeding!
And where can you get a wealth of breastfeeding knowledge? By taking a SUPER LEGIT BREASTFEEDING CLASS!
My dear friend Katie Clark who is a certified breastfeeding educator (currently working towards her IBCLC) and mama of 3 is ALL too familiar with breastfeeding struggles, which is why she created The Online Breastfeeding Class!
Let me tell you — the amount of information in this specific class goes far beyond any other breastfeeding or lactation classes I've taken (and I've taken LOTS).
She literally goes over the basics like:
Benefits of breastfeeding
How to latch baby
What to expect
and much more….
To tackle even more in-depth topics like:
How much should baby be eating/nursing
Using bottles while breastfeeding
Engaging your partner's support
Breastfeeding pain & complications
Nipple issues
AND SO MUCH MORE!!!
And lastly, because Katie knows that sometimes we don't take these kinds of classes because we simply can't afford them at the moment, she gave me a special code to share so you can save 10% your purchase! That code is: FITMOMMYSTRONG
Simply enter the code when you sign-up and get to the purchase screen!
Simple breastfeeding hacks for new moms
I know the first hack is obvious. Too obvious.
But sometimes, we need a little reminder that even the most obvious things really are what could help us the most.
In this instance, a breastfeeding class is pretty darn helpful.
However, here's some other great hacks to help you get through that first (typically painful) week of breastfeeding!
Create a portable breastfeeding 'station' throughout the home
Most likely you will not be nursing or pumping for baby in the exact same spot every day.
So, one way to make sure you ALWAYS have the supplies you need is to create a little portable breastfeeding station that you can bring with you around the house.
Supplies to make a portable breastfeeding station:
I failed to do this with my first, but with my 2nd it came in so handy. Not to mention saved me countless trips of walking back and forth from room to room to grab something I forgot, lol!
Keep track of baby's diapers & feeding habits
I'll be totally honest, I'm actually NOT a fan of tracking baby's eating or diapers past the first 1-2 weeks.
Why? Because it is OVERWHELMING AS HELL!
As a new mom, there's already so much you're trying to do, logging every tiny thing baby does really isn't necessary, BUT…there's a but.
In the early days, I do think it's important to get a baseline understanding of baby's patterns to make sure they're on track in regards to how much or how often they're feeding and if they're eliminating enough too.
I found the easiest way to do this was by making a little log for myself (which I created one here you can use), keeping it in my portable breastfeeding station & then jotting my notes after each feed.
You can also try using an app, such as the Sprout Baby app! This all-in-one app will help you not only log things like baby's diapers or feedings, but track baby's growth and developmental changes over time!
Splurge on some high-quality nursing bras & tops
The absolute LAST thing you need to experience is cheap stiff fabric rubbing against your sore nipples during that first week.
It's seriously the worst! Oh yeah, how do I know that? Because I decided I wanted to save my money and get more bras that were cheaper instead of a few high-quality bras.
LESSON LEARNED.
The bras I ended up finding to be the most comfortable (and non-irritating to my tender breasts) were:
You cannot go wrong with any of those and trust me, your tender nips will be thanking you big time!
Warm compress before your feeds
Engorgement is such an uncomfortable part of breastfeeding, hence the importance of making sure you FULLY empty your breasts when you nurse or pump.
One of the best ways to do that is to warm compress using either a warm wet washcloth or a warm compress made for breastfeeding.
Place the compress on your breast 5-10 mins before you pump or nurse and if you wanted to really be sure you're empty, leave it on during the session while hand expressing to work all that thick milk from the back of your breast to come out.
Avoid foods that can lower your milk supply
The first 2 months of breastfeeding are crucial to establishing your supply.
Even if it seems like you could have an over supply, it'll likely taper down as your supply becomes more regulated.
That said, you'll want to avoid these foods to prevent from lowering or even diminishing your breast milk supply:
Use a nursing pillow (or 2 or 3)
Having a comfortable position to nurse baby is SO important in maintaining a good latch during those early days.
One of the easiest ways to do this is to use a nursing pillow! My personal favorite is the My Brest Friend Nursing Pillow as it snaps into places offering secure support.
However, if you don't have the money to dish out on a nursing pillow you can snag a free one by clicking the image below and using code FITMOMMYSTRONG1 during checkout!
Learn how to properly unlatch baby from breast
This is a big one in preventing nipple pain. Learning to properly unlatch your baby from your breast so that you don't get the sensation of them being ripped off is important.
Simply glide one finger into the side of baby's mouth while he/she is latched. Then slowly move your finger to break the suction. Once suction is broken, you can slide your nipple out of their mouth.
For a better explanation, check out the video below by Bridget Teyler (Lamaze Childbirth Educator and Dona Doula) — fast forward to 16:30 for unlatching.
Have a lactation consultant on speed dial
Seriously, make sure you've scoped out who your options are for a lactation consultant and save their info in your phone!
If things go south and you end up needing to see a lactation consultant — spending your days trying to find someone, find out when they can sees you, etc… is a little much.
So make sure you find someone ahead of time and write or save their information.
If you need help finding a local lactation consultant, you can look them up and find one close to your zip code too!
Build up your breast milk stash EARLY!
If you're planning to return to work, have other people watch your baby or simply just need a break here and there from nursing — you'll want to consider building up a breastmilk stash!
Believe it or not, it's not too hard to do with some small consistent efforts.
A few tips to help you get started:
While your baby is latched & nursing, attach a Haakaa Silicone Pump to the other side to collect your letdown. If baby only feeds on one side, you can reattach the Haakaa to fully empty your breast.
If you leak often, invest in plastic breast milk catching shells — these little things come in so handy to catching spare milk which you can slowly add into a bag over a day & toss in the freezer by the end of the day.
Pump AFTER baby is finished nursing — you always want baby to have the first dibs on mom's breast, then the pump after. Store any extra pumped milk in the freezer.
Before you know it, you'll have saved up SO much breastmilk just by implementing a few quick & easy tips!
Simple breastfeeding hacks for large breasts
Be sure to use a SUPPORTIVE nursing or pumping bra.
With larger breasts, especially during the first week of breastfeeding, you will want to wear a very supportive nursing or pumping bra.
Once your milk comes in and your breasts get full, they can feel very uncomfortable if not supported.
My personal favorite and supportive bras are by Kindred Bravely. They have the best most supportive bras on the planet.
Make sure you understand how to properly latch FULLY onto your breast
With larger breasts, it can be harder to ensure baby is getting a full latch.
One of the BEST ways to troubleshoot this challenge is to practice using a "C-Shape" or "U-shape" hold with your hands (as seen in the photo display below).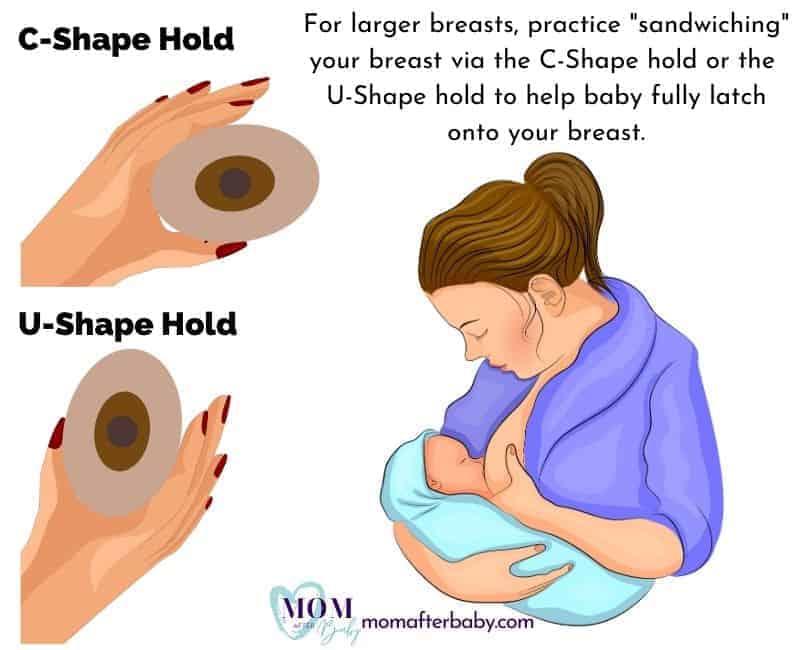 Essentially you sandwich your breast (toward the nipple) in either a C or U-shaped hand position, this allows your baby to get a mouth full of your breast for a nice deep latch.
I hope these simple breastfeeding hacks can help you have an AMAZING breastfeeding journey between you and that precious bundle of joy!
What breastfeeding hacks helped you survive your first week with your newborn?