The Ultimate MomMed S21 Wearable Breast Pump Review
This post may contain affiliate links that I may receive a commission from if you click & buy. In addition, the information on this site is NOT intended to be medical advice. See my full policy for more information.
If you're ready to simplify your breastfeeding journey and feel empowered while maintaining and building your milk supply without the constraints of traditional breast pumps, let me tell you about the MomMed S21 Wearable Breast Pump. I'm talking about an affordable, hands-free breast pump that is a total game-changer in your breastfeeding experience.
This MomMed S21 Wearable Breast Pump Review will take an in-depth look at the MomMed S21's functionality, comfort, ease of use, and overall performance. I'll examine its ergonomic design, adjustable settings, and how it caters to the different lifestyles of every mom — ensuring that mothers have the freedom to express milk wherever and whenever they need it.
I also consider user feedback, highlighting the real-life experience of a mother who has incorporated the MomMed S21 into her daily routine. By the end of this review, you'll have a comprehensive understanding of whether the MomMed S21 wearable breast pump lives up to its promises and will be your next favorite breast pump.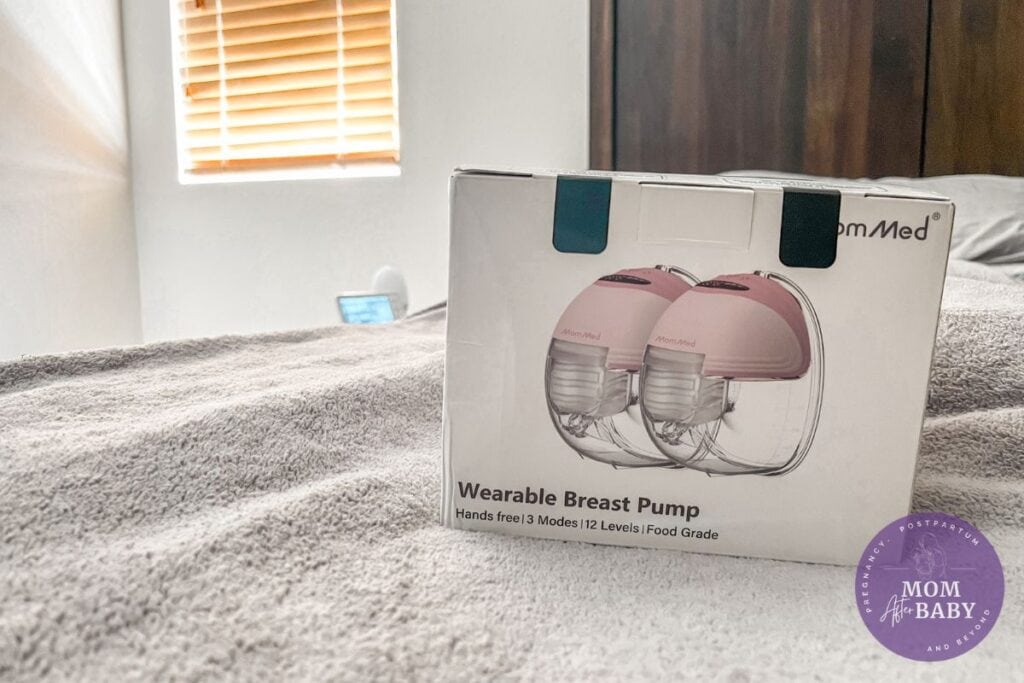 This pump was provided by MomMed for me to review, and I hope you enjoy all the details and specs we talk about in the article below! For special savings on this pump, make sure you read to the end of the post!
Who is MomMed?
MomMed is a brand harnessed around one mission: empowering moms and supporting families. Created by a mother who understands the struggles often associated with breastfeeding — MomMed is a brand known for its innovative wearable breast pumps.
MomMed also has other products to support the motherhood journey ranging from pregnancy tests to baby bottle warmers.
It's clear that all of MomMed's breast pumps are designed with the modern mom in mind, offering a level of freedom and flexibility that every mom deserves.
Before we get into the specifics I want to give you an overall pros and cons list of the S21 Wearable Breast Pump:
PROS:
This double-wearable breast pump is very quiet (so quiet, you'll be able to pump even if baby is sleeping because it won't wake them)
The S21 comes in three colors: green, pink, and grey-white
Comes with 2 charging cables and extra pump replacement parts.
Leakproof design, allowing moms more flexibility while pumping without worrying about any spills.
Can stand upright on the counter without easily tipping over and spilling.
Has an easy-to-read LED screen.
Holds up to 6oz capacity.
Easy to empty and clean when finished pumping.
Easy to adjust through the different modes and levels of suction.
Convenient portable design with 2 carrying bags.
CONS:
Despite being quiet and having a large capacity, as someone with a larger chest, I found the collection cups to be a bit large and bulky — however, as a stay at home mom, it really wasn't a big deal.
This pump, unlike the Elvie and Willow, is not able to be controlled or monitored by an app (but it's not a dealbreaker in my book).
S21 MomMed Hands-Free Breast Pump Review
Say goodbye to loud, bulky, electric pumps that often keep you tethered into one spot while you pump. The S21 Breast Pump is not only a good option for breastfeeding freedom but also has an innovative design making it an efficient breast pump to empty that milk.
What Comes With The MomMed S21 Wearable Breast Pump?
I know every mom wants to know what exactly comes with their S21 MomMed Hands-Free Breast Pump Purchase. Does it come with a charger? What about a cleaning brush?
Don't worry mama, I'm going to share every single item that came inside of my S21 Breast Pump box below!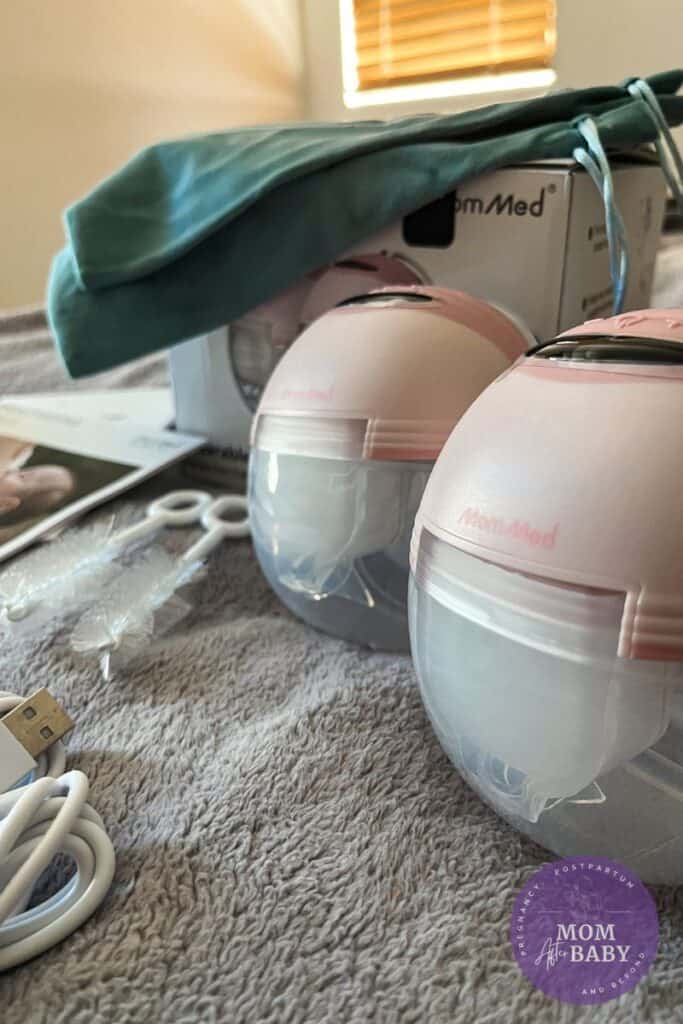 What's included with your MomMed S21 Breast Pump:
2 Milk Collecting Cups
2 Breast Pump Motors (comes in colors: green or pink)
2 – 27mm Silicone Flanges
2 – 24mm Flange Inserts
4 Silicone Diaphragms
6 Duckbill Valves
2 USB Charging Cables
2 Travel Bags
1 Nipple Ruler to measure for the most adequate and comfortable flange size
2 Nursing Bra Extenders
1 User Manual & Guidebook
1 Pack of 10 Disposable Milk Storage Bags
One of my favorite items from this box is the nipple ruler. Back as a first-time mom, I had no idea how to ensure my flanges were the correct size so I truly appreciated seeing the nipple ruler included so that other new moms aren't stuck being unsure about such an important factor when it comes to pumping.
In addition — I love that these milk containers can be easily set upright on the counter. Think about it, when you finish pumping, you pull out the pump and typically want to set it down somewhere while you get your milk storage bags and other supplies ready to stash away your milk.

S21 MomMed Breast Pump Design and Comfort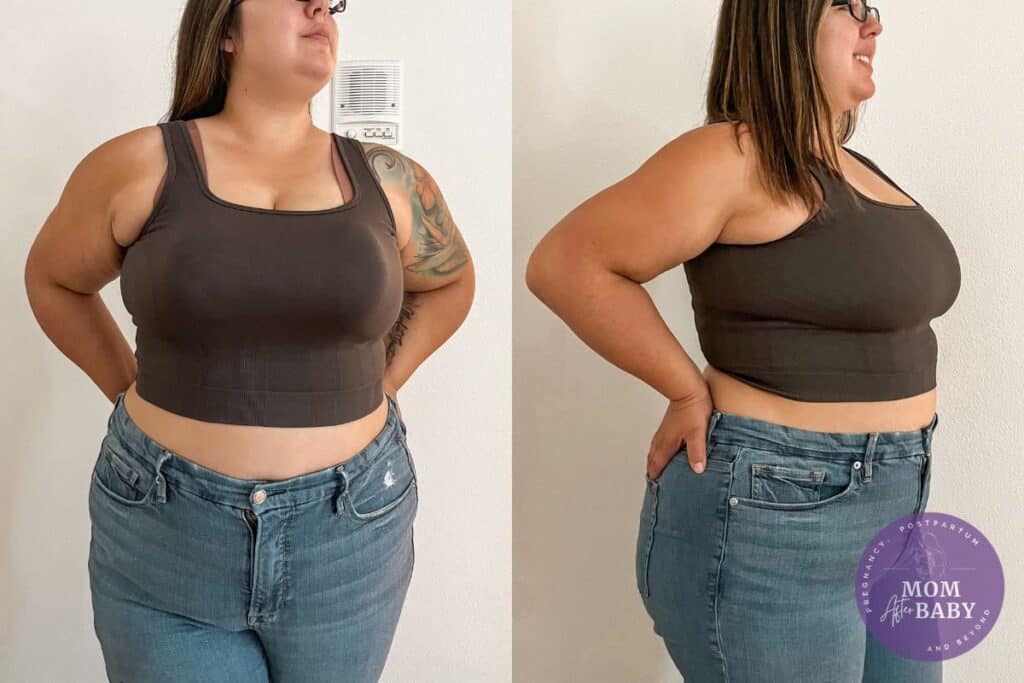 The leakproof design of this hands-free pump is easily one of my favorite features of the design. The soft, flexible breast cups (flanges) are a real close second as they form such a natural fit around the breast making the pumping experience so comfortable compared to other hands-free pumps I've tried.
In addition to the soft silicone flanges, this pump also comes with silicone flange inserts — perfect for moms who need a smaller size for better comfort.
Pumping Efficiency
Sadly, I am not currently breastfeeding, but I have 2 amazing mom friends who are! So I lent one of them the MomMed S21 Pump and asked her to test it out for a couple of weeks and share her feedback with me. This same mom also tried the S10 Pro Breast Pump by MomMed (you can read about the S10 Pro Breast Pump here) and hearing her feedback on both pump's efficiency was very interesting.
Here's what she had to say:
"My milk production with the S21 breast pump has been good, it was slightly lower than my traditional pump. I average anywhere from 4-6oz of breast milk total during a pumping session and with the MomMed pump I was pumping out anywhere from 3-5 oz, I don't know if it was the pump or maybe I didn't have the flanges aligned correctly, but overall it was a great experience. I felt like it had a discreet design and comfortable fit. I appreciated the leakproof design as I was moving around a lot with the pump on and I never lost a drop!"
And even though I'm not currently breastfeeding, I tried it on to see what the suction and different modes (expression mode, suction mode) felt like. I've used quite a variety of pumps in my breastfeeding times (such as Medela, Spectra, Elvie, and Willow).
In comparison, the S21 Breast Pump seemed to have pretty powerful suction. For context, it has 3 modes & 12 levels of intensity — making it a great choice for all breastfeeding moms.
Ease of Use
The S21 Breast Pump can't get any easier to use. It's a portable pump that you can take with you wherever you go — making it perfect for busy moms or moms who travel often. I like to think of it as being able to provide the nutrients needed for your baby, wherever you go.
Another easy-to-use feature is that all of the control buttons (the power button, LED display, mode change buttons) are located on the top of the pump motor. So when the pump is on and in place, you can simply look down and make any adjustments you need. Easy, right?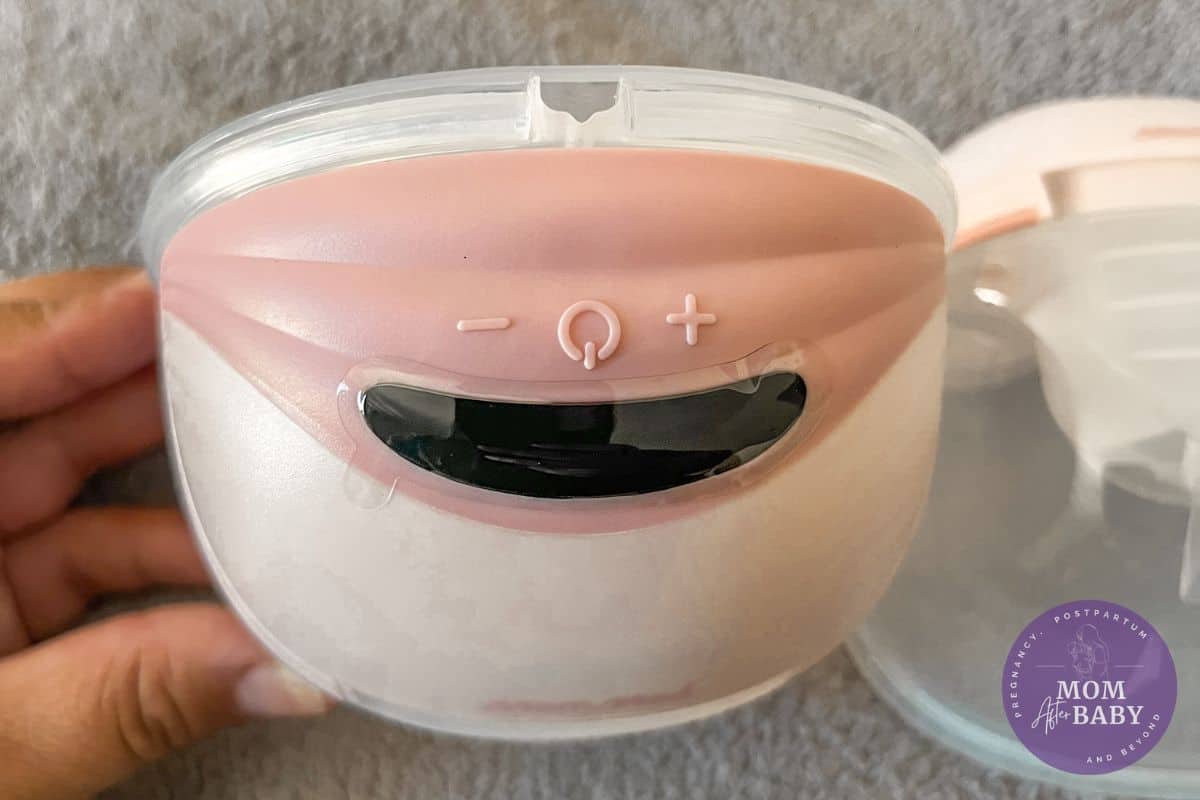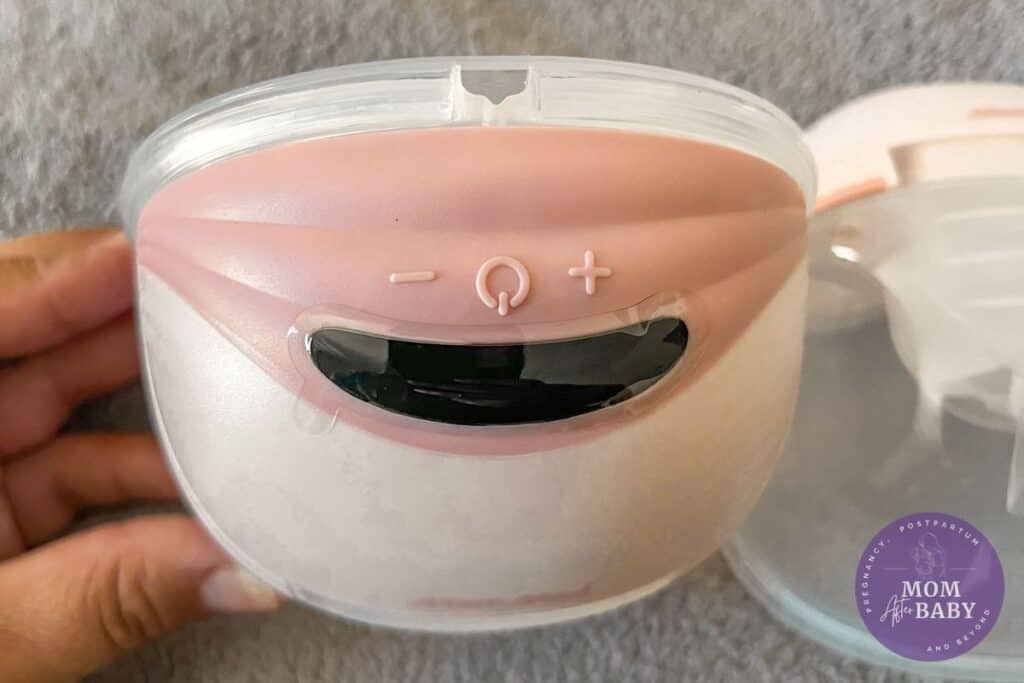 Battery Life and Portability
Compared to other hands free breast pumps, I thought the charge lasted a long time. The S21 has a battery life of 150-160 minutes, which can accommodate five 30-minute pumping sessions. And, even if your pump loses its charge — MomMed has you covered because they include a USB cable for each motor. Meaning, you won't have to worry about charging one pump at a time.
Not to mention, this pump is travel-friendly. Thanks to the pump's quiet motor and travel bags — taking the S21 Breast Pump wherever you go is such a breeze.
Noise Level
The S21 Breast Pump is quieter than a mouse. Literally, you can rest assured that waking up in the middle of the night to pump won't disturb anyone in the room, not even a sleeping baby close by.
It's no surprise to me that this breast pump has raving reviews and is so many mom's favorite pump. At the price point, you can't get better than that.
Where to Buy the MomMed S21Breast Pump:
You can buy the S21 Breast Pump directly from their website or on Amazon. Thanks to MomMed, they've given me a 15% off code to share with all of you: KARISSAS21 (it can be redeemed on both Amazon and the MomMed website).
MomMed S21 Breast Pump: Final Thoughts
All things considered, I would highly suggest the MomMed S21 Breast Pump for any mom looking for a quiet, comfortable, and affordable wearable breast pump. If you're looking for a breast pump that offers longer standby time, larger capacity, and stronger suction — you should check out the newer version of MomMed's breast pumps, the S10 Pro.
If a more discreet, portable breast pump with more adjustable levels is what you're looking for, the S21 breast pump is your Cinderella!
No matter what journey and path of breastfeeding you're on, the S21 wearable breast pump is a great alternative to regular pumps that keep you anchored down all day long while you pump.