Momcozy Breast Pump Review for the S12 Pro (All You Need to Know!)
This post may contain affiliate links that I may receive a commission from if you click & buy. In addition, the information on this site is NOT intended to be medical advice. See my full policy for more information.
Finding a reliable breast pump that works is hard enough, but what if you need an affordable breast pump? An affordable breast pump that will allow you to be hands-free while keeping up your milk supply for baby, to be exact. This is why I'm so excited to share my Momcozy Breast Pump Review: The S12 Pro Edition!
The S12 Pro Wearable Breast Pump is a hands-free breast pump that has many benefits to consider when looking for a portable breast pump.
I'll break down all the pros and cons along with what OTHER moms like you had to say about this pump to make your life in deciding if it's the pump for you (and hint, hint, it truly is a great option).
What is the Momcozy S12 Wearable Breast Pump (PRO)?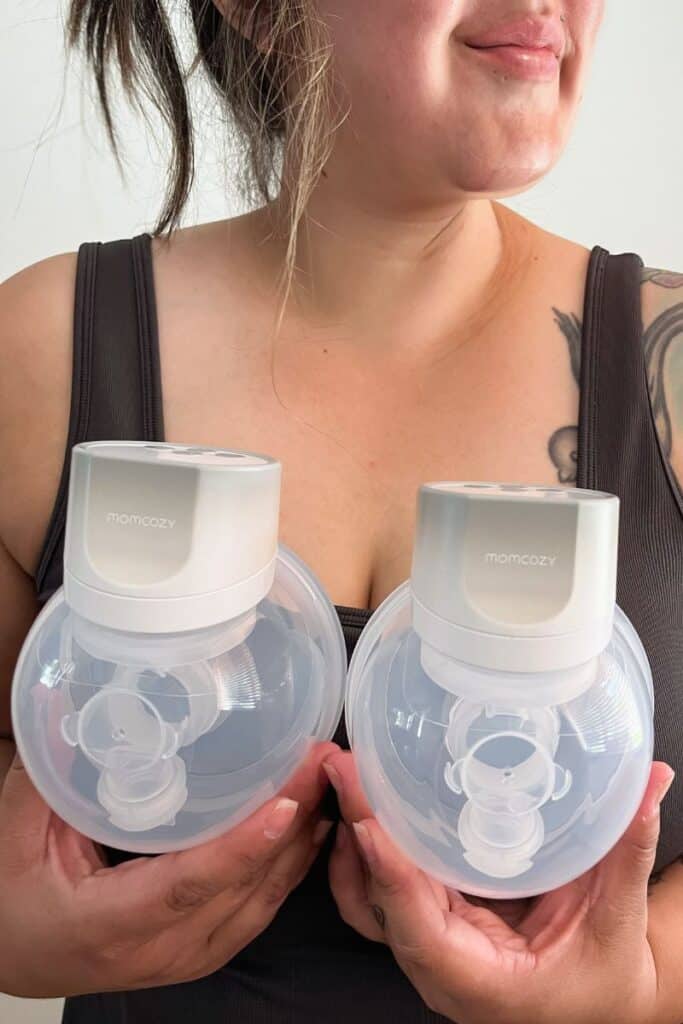 The Momcozy Wearable Breast Pump (S12 Pro) is an electric pump that lactating mothers can wear in their bra or shirt to pump milk on the go.
Unlike traditional breast pumps that require tubing and sometimes power cords in order to pump, you won't be stuck plugged into the wall or tripping over tubing with this kind of breast pump, yay!
This wireless breast pump features a collection shell with a soft, silicone flange for comfortable pumping and a detachable motor that clips onto the top of the collection shell. The motor also conveniently has the control buttons on the top so that when you're wearing the pump you can easily adjust your setting on the go without having to pull your bra down or remove the pump to make any adjustments — and I'm all about it!
Now, to reiterate, Momcozy makes a variety of hands-free pumping models: The All-In-One M5, S12 Pro, and S9 Pro. For the sake of this article, we're focusing on the S12 Pro.
Momcozy Breast Pump Review – S12 PRO Model
The Momcozy S12 Pro Pump is a great alternative to some of the more expensive hands-free pumps out there.
Not only does it come in at a good price (currently $139.99 USD for the pair or $74.99 USD for one), but it also has 3 modes (stimulation, expression, and mixed) along with 9 suction levels that can be independently set for each side.
The motor itself also has a fairly large LED screen making it easy to see what settings you've selected and are using while pumping.
I also noticed that the S12 Pro Breast Pump came with a 24mm Silicone Flange and a nipple measuring tool. I found the tool incredibly helpful because many moms don't realize their nipple size can slightly change before and after breastfeeding so if the 24mm works now, but seems too small later or if it's simply not the right size at all — you can use the measuring tool to order the correct size from their website.
Now, I've used quite a few hands-free pumps while pumping and nursing for my boys when they were babies so I notice the small details such as the notice level, how discreet and heavy they feel, is it hard to pour out the milk, will the pump leak, the noise level, does it have a long-lasting rechargeable battery — things like that.
So, let's break down some of the features and what's included in the box when you order.
Planning to travel with your baby and/or breast pump? Use these travel-friendly pumping tips to make traveling while being a breastfeeding mother as smooth as butter!
What's included in the Momcozy S12 Pro Breast Pump Box: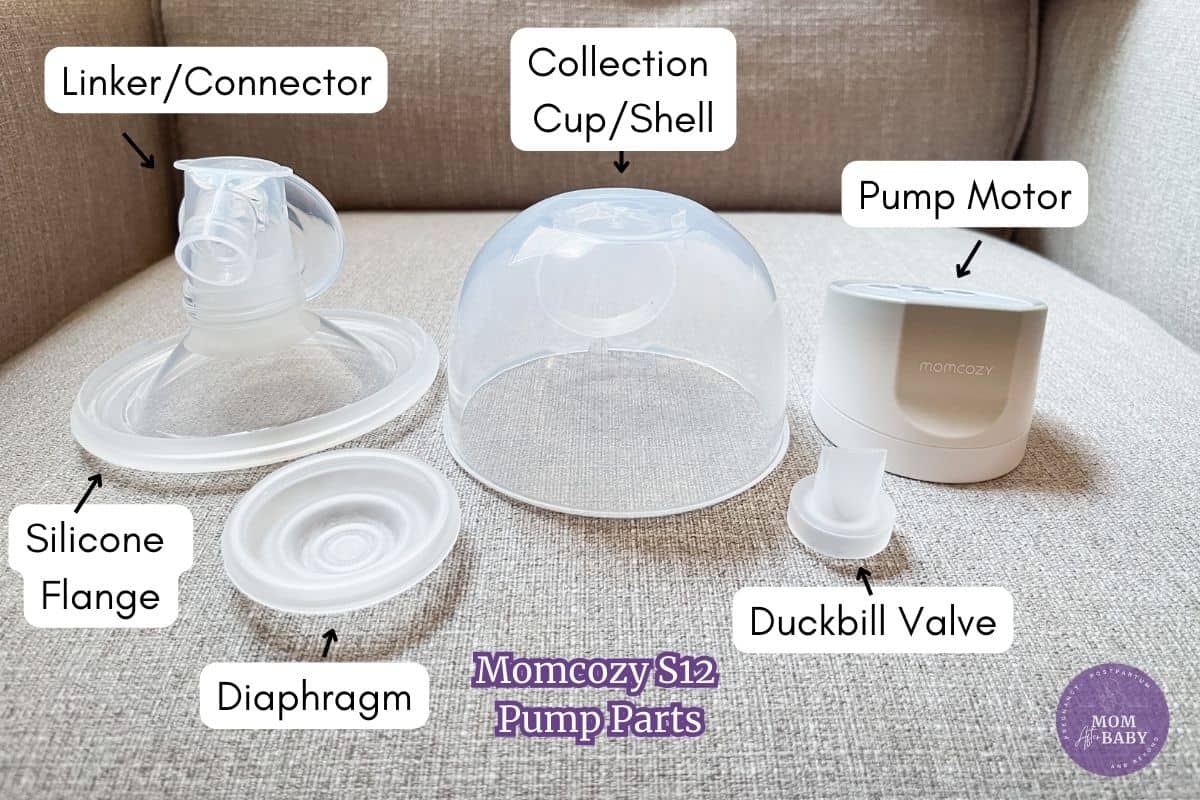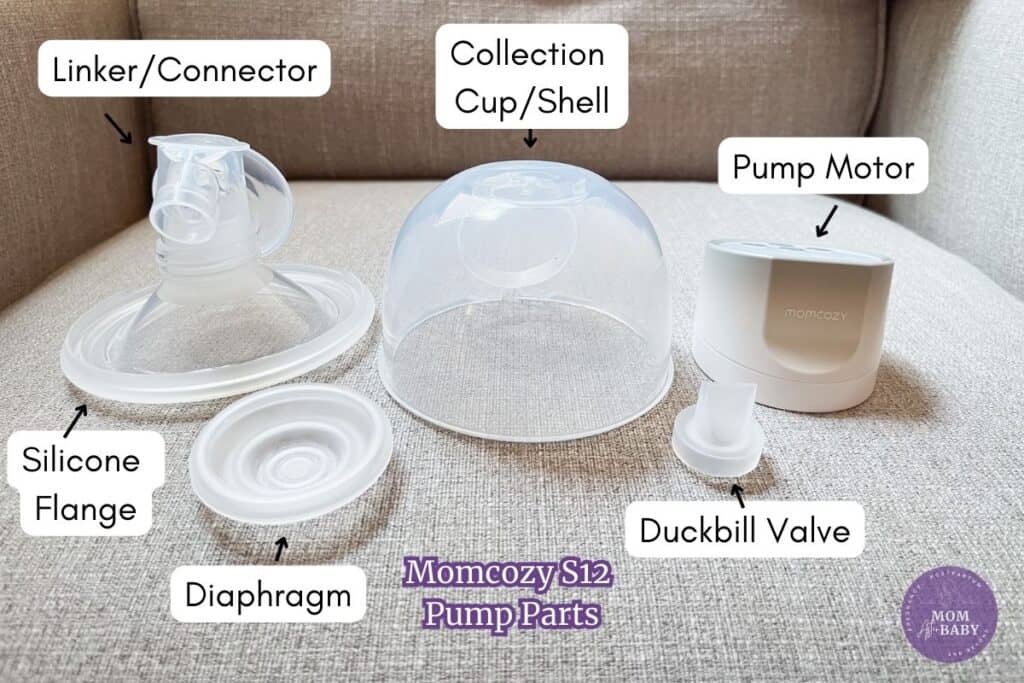 2 Pump Motors
2 Milk Collector Shells
2 (24mm) Silicone Flanges
2 Silicone Diaphragms
4 Duckbill valves (2 are replacement parts)
2 Linkers
2 Bra Adjustment Buckles
2 USB Charging Cables (the wall plug itself is not included so you'll need either a portable USB charger or a USB wall charger)
2 Soft & Convenient Carrying Bags
Pros and Cons of the Momcozy Pump S12 Pro:
PROS:
Wireless & Hands-Free: meaning you can take your pumping session on the go without being tied down to wires, tubing, or cords.
Comfort: Most wearable pumps come with a standard plastic flange, however, the silicone flange is significantly more comfortable for many moms. Plus, they have more flange sizes available on the Momcozy website if needed.
Minimizes spills: Who wants their liquid gold leaking all over the place while pumping? Nope, not me! That's why the double-sealed flange is a major pro when it comes to minimizing spills with hands-free pumping.
Ease of Use: The different modes (such as stimulation mode and expression mode) and suction intensity levels are conveniently easy to use and access even while pumping.
Capacity: The collection cup can hold a pretty decent amount of milk, 4 oz being what's recommended and 6 oz being the absolute max.
Price: The price of the Momcozy S12 Pro Breast Pump is very affordable and budget-friendly compared to other big-name brands out there with similar features.
Easy to Clean: My personal experience with cleaning this breast pump is that it was very simple and easy to do. They even included some small brushes to help brush off all the milk once you're finished.
Charging: I love that this pump came with two charging USB cables (one for each pump) and takes 1.5 hours to reach a 100% full charge.
CONS:
Bulky/Not Discreet: If you want a pump where you can't tell you're pumping, this probably isn't the one. I found the motor a little loud, but it's mostly the large collector cups that aren't a sleek design.
Positioning: Lining up the flange with your nipple might be a little tricky since you can't see it under the motor.
Fit: Because of the bulkier design, you'll need to wear a nursing bra that is supportive and has some stretch. See below for my favorite nursing bras to use with the Momcozy S12 Pro Breast Pump.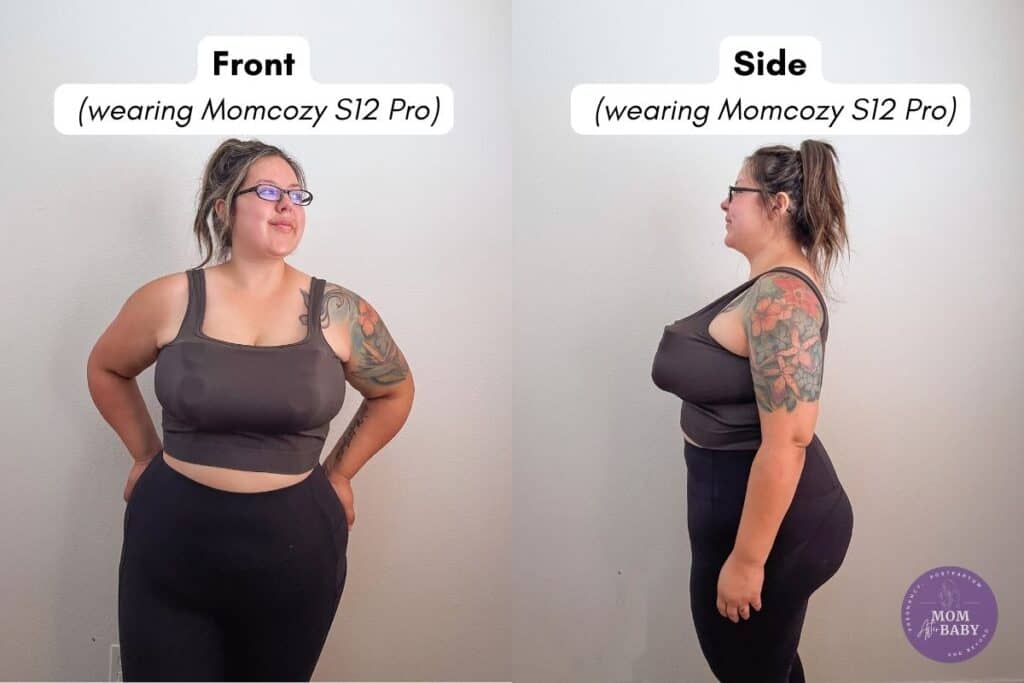 Where to Buy the Momcozy S12 Pro Breast Pump?
Momcozy breast pumps are available on the Momcozy website. You can also save 15% off all Momcozy products with my code: MomAfterBaby
You can also purchase them on Amazon, but the 15% off code doesn't apply there.
How Does Momcozy Compare to Traditional Pumps?
Traditional breast pumps are the ones that have tubing from the flange to the pump meaning you're always connected to your breast pump. Some breast pumps don't have a rechargeable battery pack, meaning your pump needs to be plugged into the wall for a power source. Thus, you're connected to a pump that's connected to a wall. Not entirely fun for busy moms who have things to be doing and can't move around freely while pumping.
This wireless pump (S12 Pro) by Momcozy is unique in that it offers many similar features such as adjustable suction levels, different modes, and various flange sizes but with the ability to move around and not be stuck sitting and pumping.
Price-wise, Momcozy is a great product for moms on a budget. And it's no wonder they are a popular choice for moms who combo feed, pump when needed or are exclusive pumpers. Don't believe me? Check out their positive reviews on Amazon!
The Best Nursing Bras to Wear With Your Momcozy S12 Pro Pump
Because the S12 Pro Breast Pump is a bit on the bulkier side (when compared to other brands like the Elvie Pump or Willow) — it's a good idea to use a supportive nursing bra.
Below are the 3 bras that hold the S12 Pro Pump in place while pumping:
Momcozy Breast Pump Review Recap
As you can tell, the Momcozy S12 Pro is a great electric breast pump for moms on the go or moms who are short on time to keep their milk production sustained.
It offers up to 6oz maximum pumping per side, an LCD screen on the motor, a comfortable silicone shield/flange, a hands-free design and so much more. And don't forget, you can save 15% off ANY Momcozy products here by using my code MomAfterBaby.
Have you used a Momcozy Breast Pump before? Drop a comment and let me know how you liked it!