Why are dads underappreciated in our society?
This post may contain affiliate links that I may receive a commission from if you click & buy. In addition, the information on this site is NOT intended to be medical advice. See my full policy for more information.
As a first-time parent myself, I can completely see how I have changed as an individual throughout my transition into motherhood. There were many challenges, many struggles, but also many feelings of excitement and so much love. Although I felt these things in my own way, when I talk to my husband it's pretty apparent he went through his own transition too! Knowing we each developed into this new life known as 'parenthood', why do dads end up underappreciated in our society?
Recently I came across an article written by Adam Clarke, the co-founder of Cadenshae & father of 4 children. His article, 'How Teamwork Makes the Dream Work', talks so much about the classic societal view of which — dads take a backseat in the parenting role. And there it was.
That was the big question. Do dads really take a backseat in the parenting role?
When I reflect on my own life, I can't even imagine describing my husband as someone who isn't an active parent.
My husband is the main provider of our family, yes. But his 'job' doesn't end when he gets home. He comes home after working 24, 48, sometimes 72-hour shifts just to jump in and change diapers, give baths, make meals, do chores, and much more!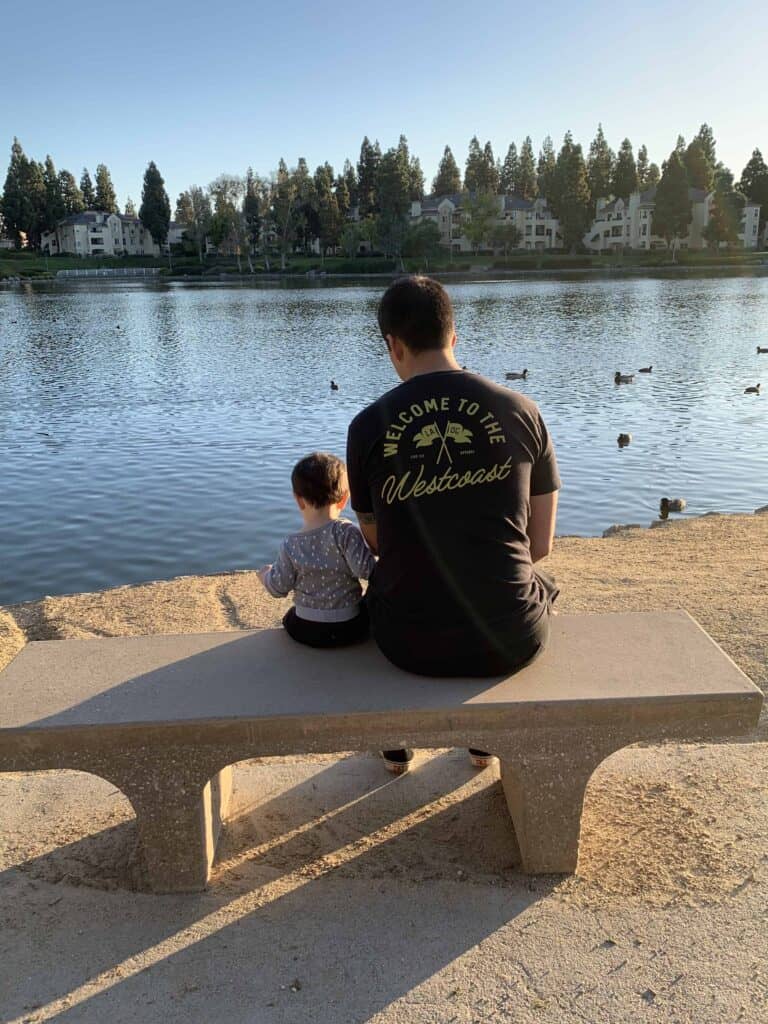 We work as a team. We do the things that need to get done to keep our household flowing efficiently. And we don't just do it for us, but for our child!
I've been asked many times before how I am able to manage at home or how it is parenting alone. I'll admit, on the days he's gone it does get lonely and sometimes the stress builds up, but I know I'm never actually doing this job alone. Like I said earlier, we work as a team.
Why are dads underappreciated in our society?
Recently, Motherly shared some survey results showing that '85% of dads/fathers would do anything to be home with their baby'.
I found that result interesting considering that some of the classic views are that — dads prefer to be at work, mom is 'lucky' when dad helps out with the baby or how dads are providers while mom cares for the kids.
What do you think about seeing survey results like that? Do you agree or disagree?
Here's some more food for thought, that same article from Motherly shared that "less than 50% of fathers take as much time as their country's policy allows, and social norms, financial pressures and a lack of support from their managers are all factors." To me, that speaks heavily.
Sometimes, dads get no respect!
I was really inspired by Adam's article that he wrote. Not just because he's bringing light on what I would consider an important topic of parenting, but because he was willing to share his personal experiences regarding society's view of him as a father.
In fact, I was able to ask some questions regarding his personal thoughts (aside from his article) and I really felt it was important to share this with you in hopes to help you see fatherhood in a new light too!
Question: "What is the ultimate goal envisioned by bringing light to this campaign on how society views fathers?"
Adam's Answer: "I'm aware that I can't change the world and society's views completely on my own, but my main goal is to just start the conversation, get people thinking differently, and this will no doubt lead to a more equal world for both men and women.
Women have it tough, but in regards to family life, so do men, this needs to be spoken about…as we know, men have a habit of not talking. We have to change this. I want nothing more than to spend time with my kids, but often people think I should be at work.
That's not fair! I also want to encourage employers the world over to do more for their dads…here at Cadenshae we're going to give more time off to dads when they have a baby…it's a start and we are working on more.
Question: "What steps do you think dads/fathers can take to help change society's view on fatherhood?"
Adam's Answer: "We think of women one way, and men another…we need to make 'sex' irrelevant and just think of people as people, parents as parents…a woman and mother can do what a man and father can do, a man and father can do just what a woman and mother can do…(except breastfeed…I accept women trump us there!) 😉
In general, dads can just start talking about what they do at home, and how they are doing more…or how they at least want to. More information needs to be 'dad' related…i.e. great 'dad recipes…' something a man would love to cook for example. 'Dad games…' content about games etc. dads would love to get involved in.
Men need to talk to their employers and set an expectation that they want to be more involved with their children's lives and talk about ways they can work around this. Perhaps say they'll do an hour or two of work at night so they can then pick up their kids from school?
With technology the way it is these days, almost anything this possible. We just have to start talking, being more creative…doing more and being honest about what we want. It sucks being a man and missing out on so much sometimes.
Question: "If you could give ONE piece of advice to parents (mom and dad) what would it be?"
Adam's Answer: "Women need to let go and let dads get more involved from the get go….women can be enablers, especially those who breastfeed because they have organically had to spend more time with bubs initially.
Men need to read up, get involved, figure out what they like doing around the house and with the kids and excel at that…then the rest will come. They need to get better at managing their time and being far more flexible, workwise, and at home.
We can do this, we just have to start talking, being more proactive, and soon (ish), this will all be second nature…hopefully."
Why are dads underappreciated in our society in your opinion? – Drop a comment below!
Read more breastfeeding articles here: