Incredible Benefits of Taking Collagen While Breastfeeding & Postpartum
This post may contain affiliate links that I may receive a commission from if you click & buy. In addition, the information on this site is NOT intended to be medical advice. See my full policy for more information.
Over time, collagen supplementation has become a popular sought-after protein for many individuals, especially women. It's the most abundant protein in us, mammals and tends to be much more gentle on the stomach. However, if you're a breastfeeding mom, it's essential to treat all supplementation with caution — which is why you're reading this article. Don't worry, we'll cover everything you need to know and answer your burning questions: can I take collagen while breastfeeding and what are the benefits of taking collagen while breastfeeding?
What is Collagen & What Are Collagen Supplements?
If you've never heard of collagen before, it's the most abundant protein in the human body. It helps to provide support, strength, and structure within our bodies via connective tissue formation.
As a supplement, collagen is known to support bone and joint health along with skin elasticity. Many collagen supplements are often called "collagen peptides" and come in the following options:
Collagen protein powder (my favorite way to consume collagen)
When choosing a new supplement, make sure you check with your healthcare provider as dietary supplements like collagen are not regulated by the U.S. Food and Drug Administration (FDA) for safety before reaching store shelves.
What Foods Naturally Contain Collagen?
Often, the best foods to consume for collagen production include high-protein ones, like poultry, meat, fish, legumes, soy, eggs, and dairy if you're not wanting to take any daily collagen supplements, be sure you're consuming adequate amounts of these proteins in your diet.
In addition, you'll want to ensure you're consuming foods that aid in collagen production, such as vitamin c. Vitamin C plays a critical role in naturally producing collagen.
This is typically why you'll see most collagen supplements include vitamin C in them as well.
Can You Take Collagen While Breastfeeding?
Collagen and breastfeeding — are they actually safe to do together? The answer is, typically yes.
According to current research, there is no evidence available to suggest that it is harmful to breastfeeding moms to consume collagen.
And, there are actually some benefits that consuming collagen can have for new moms opting to breastfeed their infants, too!
Research shows that collagen intake can help improve skin moisture and elasticity, however, none of the studies explicitly included pregnant, postpartum, or breastfeeding mothers.
There are some other benefits tied to collagen intake thought to be helpful for breastfeeding moms, which we will dive into soon below!
Precautions of Using Collagen Products While Breastfeeding
So, you decided you want to start taking collagen to help with your postpartum hair loss, maybe just to improve your skin health, etc…what precautions should you be aware of?
Since the supplement industry is not regulated by the U.S. Food and Drug Administration (FDA) for safety before reaching store shelves, you really want to ensure you're buying from a reputable brand.
Give your collagen supplement label a thorough look to make sure there are no excess filler ingredients or unnecessary ingredients.
Lastly, make sure you're consuming your collagen supplement as directed on the label.
Wondering if regular Protein Powder might be better to take while Breastfeeding? Learn more about protein powder + breastfeeding and which powders are the best for lactating mothers!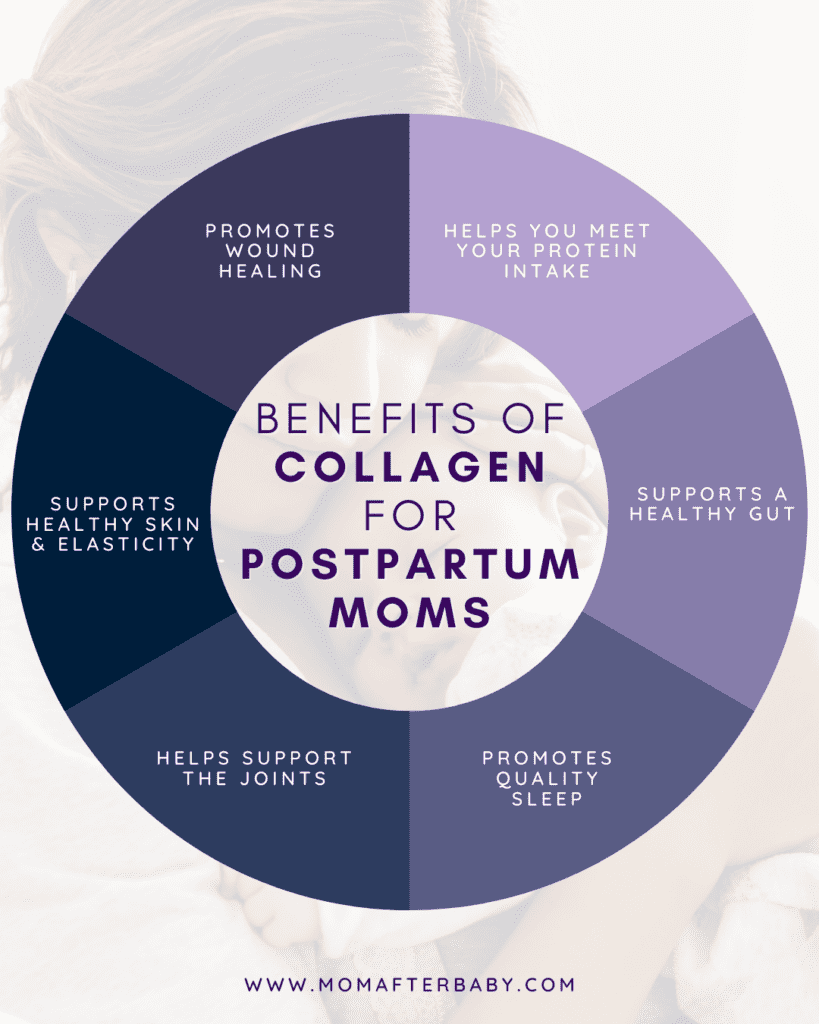 The Many Benefits of Collagen While Breastfeeding
So, the moment of truth. I know we mentioned it earlier, but there isn't a ton of research to highlight the benefits of collagen consumption while breastfeeding. However, there are some benefits worth considering. And remember, the bottom line with any supplement while breastfeeding should be looked over by your doctor, midwife, or International Board Certified Lactation Consultant
May promote wound healing
If you didn't know, collagen plays an important role in wound healing. And in 2016, one study showed that pregnant and postpartum women who consumed collagen experienced a higher rate of wound healing. Meaning, the healing process was more effective.
I don't know about you, but if collagen can truly speed up wound healing (especially post-birth healing), you can sign me up for an unlimited supply!
Benefiting from wound healing is incredibly helpful for moms who may have had a cesarean delivery, experienced any vaginal tearing, or had an episiotomy.
Healthy skin elasticity and appearance
Almost all women experience their skin stretching and expanding during pregnancy; some pregnant women so much that they end up developing stretch marks in all sorts of places.
These stretch marks hang out from pregnancy to the postpartum period leaving many women feeling self-conscious about their new (and unsolicited) stretch marks.
In addition to these pretty classic pregnancy side effects, some moms will also experience dry skin, joint pains, or even itchy skin!
Fortunately, collagen can at the very least help to support your stretching and expanding skin while pregnant.
Can help to minimize joint pain
As if stretched-out skin wasn't enough, pregnancy and childbirth put a ton of pressure on joints and ligaments. That pressure continues through postpartum and breastfeeding.
Think about it, you're carrying your baby around most of the day, bending over in different positions to breastfeed — those joints will be tired.
Fortunately, collagen is the number 1 component of connective tissue. Meaning, it helps hold us together. By keeping your collagen intake up, you're supporting those joints in the best way possible.
Could potentially improve sleep
When there's a newborn or really, any baby around, you can get bet a mom isn't getting adequate sleep.
Between breastfeeding in the middle of the night or simply having such a disruptive sleep pattern, it can be hard to catch up on the must needed rest moms need.
Here's how collagen can help. Collagen contains glycine. Glycine is an amino acid that elevates serotonin (according to research) and can help to improve sleep quality by calming the nervous system and stabilizing your sleep rhythms.
Can help moms meet their protein intake
Most breastfeeding mothers (myself included) often express an intense wave of hunger. However, when you're attached to your baby all day meeting their nutritional demands, it can be hard to make sure you're eating enough throughout the day (let alone, eating enough protein).
That's where supplementing a few grams of protein with collagen protein powder will come in handy, keep your hunger satisfied, and boost those energy levels.
Helps Support a Healthy Gut
Collagen actually plays an integral role in supporting a healthy digestive tract. It can help to repair the gut lining, leading to better digestion, less bloating, and a less 'leaky gut'.
As a mom, we don't have time to be down and out from an upset stomach. This is another reason I personally love collagen protein, as someone with a sensitive digestive system, I've never once experienced an upset stomach the way I have with other protein supplements.
What are the Best Collagen Powders for Moms?
Whether you're looking for the best collagen for postpartum recovery or for breastfeeding, this list has my top choices. The first one I still use to this day!
1. Needed Collagen Protein (BEST Collagen for Breastfeeding Moms)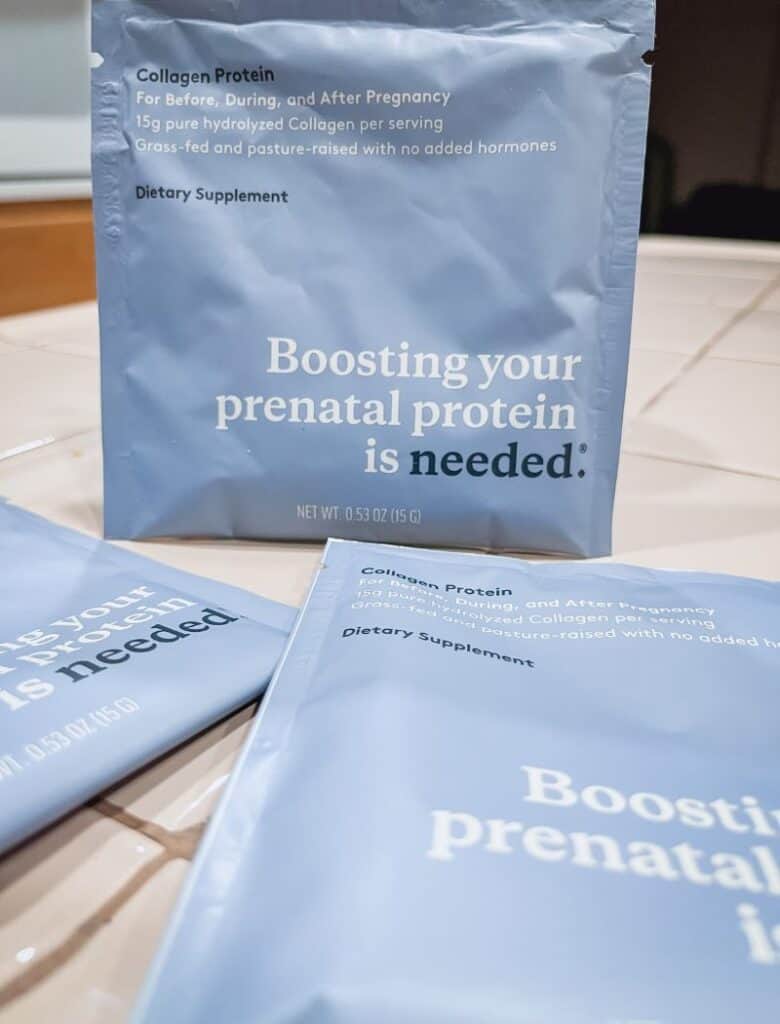 Needed Collagen Protein Powder contains ethically sourced hydrolyzed collagen. It was created for moms before, during, and after pregnancy. Literally made to support women's health through motherhood.
It is flavorless and I've personally found it mixes well in everything like smoothies, coffee, oatmeal and even to make pancakes!
Needed Collagen Protein Contains:
One serving = 15 grams of bovine collagen protein
Easily digestible formulation
Ethically sourced from the hides of grass-fed, pasture-raised, hormone-free bovines.
Third-party quality tested
Of all the collagen powders on this list, I find Needed's to be the easiest collagen prenatal supplement to mix without any sort of aftertaste.
They recently also launched travel packs which are so convenient. You can stick them in your diaper bag, or purse, or leave a couple in the car so that you never fall behind on your daily protein intake (even on the go).
2. Protiva Nourish Collagen
If you're not a fan of flavorless powders, Protiva Nourish Collagen comes in a tasty vanilla flavor that's easy to mix into your drinks, foods, and more!
This protein consists of ethically sourced porcine collagen, as it's a 98% DNA match to humans, from EU farms.
The one drawback to this collagen powder is that each bag only consists of 15 servings. Meaning you'll have to buy 2 bags if you want it to last you one month for daily usage.
Protiva Nourish Collagen Contains:
One serving = 15 grams of porcine collagen protein
Clinically tested & proven to be used by mothers in all stages
Comes in a vanilla flavor that's easily mixable/blendable
All things considered, it's a great form of collagen powder for you to use if you're trying to increase your protein intake while supporting your body through birth recovery and breastfeeding.
3. Vital Proteins Collagen Peptide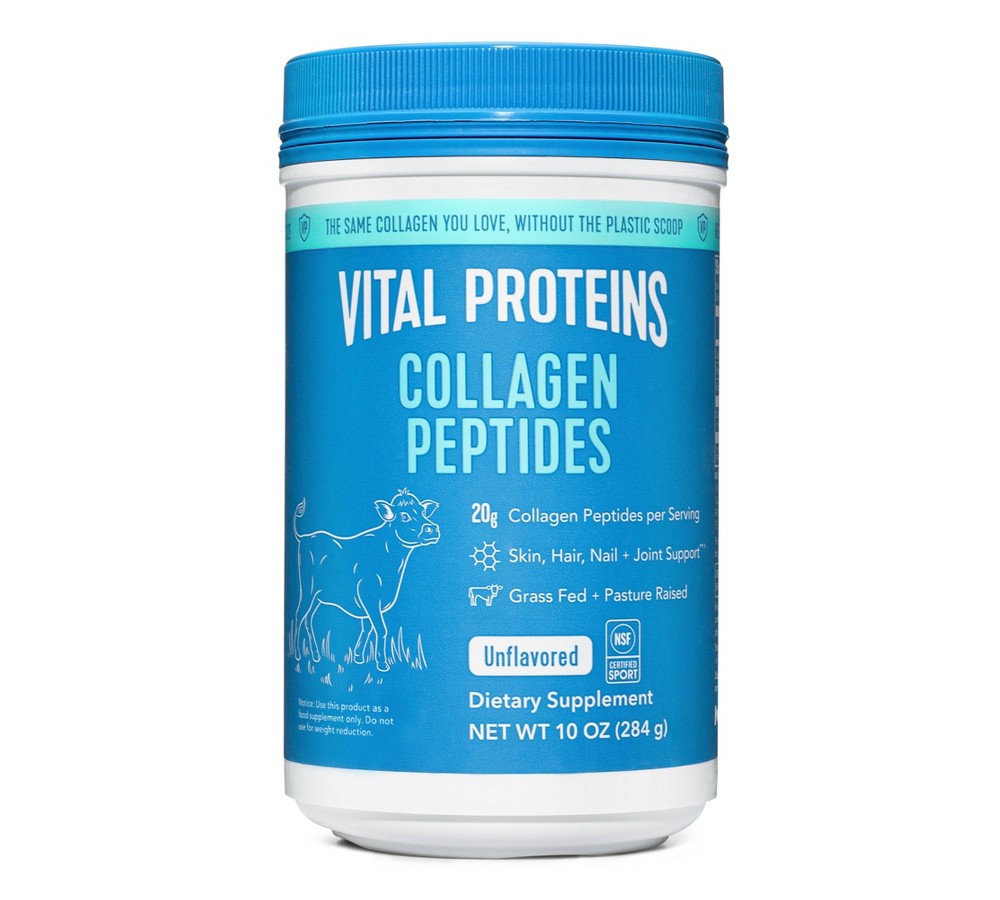 Vital Proteins have been around for a long time. In fact, you've probably seen these collagen powders in local big chain stores at one point or another.
Though they're not created by experts JUST for women, they are one of the best collagen supplement around thanks to their reliability.
Provital Nourish Collagen Contains:
One serving = 20 grams of bovine collagen protein
Unlike other brands, Vital Proteins offers a variety of flavors
Options of Type I & Type III Collagen (Type I collagen is the most abundant in the body, and Type III collagen is often found in the intestines, blood vessels, and hollow structural parts of the body)
Prior to having little ones, I would use Vital Proteins from time to time, but I didn't find it mixed the best. I always experienced somewhat of a chalky aftertaste which made me struggle to enjoy my drink. If you're not as picky as I am, Vital Proteins is still an excellent collagen protein to add to your daily supplements.
And you can snag them pretty easily in stores or even on Amazon.
Now, you can rest assured there are many benefits of collagen while breastfeeding. So which one of these delicious collagen powders sounds like the best fit for your day-to-day mom life?
Read more breastfeeding articles here: