Newborn baby room decorating ideas & baby nursery themes
This post may contain affiliate links that I may receive a commission from if you click & buy. In addition, the information on this site is NOT intended to be medical advice. See my full policy for more information.
Newborn baby room decorating ideas & baby nursery themes
Congratulations! Not only are you expecting a precious bundle of joy, but you're about ready to check out some adorable baby nursery themes to decorate your little one's room!
I remember how fun it was planning and decorating our son's room. I mean, my husband actually made every piece of furniture in there so, we definitely had fun with it!
The one thing I did often, as I would spend hours and hours on Pinterest searching for nursery themes & baby room decorating ideas!
One thing EVERY baby nursery needs is a cute name sign like this one!
In some effort to save you time, I've compiled some of my all-time favorite baby nurseries to share with you below!
Baby Girl Nursery with BOHO Farmhouse Style Theme by Making Manzanita
This adorable theme was literally put together from scratch. They built their entire nursery room from the floor up.
It's light and bright and really gives you that sweet feeling just by looking at the pictures.
SIMPLE DIY ROOM DÉCOR FOR YOUR BABY NURSERY by My Design Rules
In all honesty, I'm not typically a fan of dark-colored rooms. Yet, Kenyatta from My Design Rules managed to use a dark color to make this gorgeous bold nursery stand out!
If you feel inspired by this look, this grey baby crib would make the perfect centerpiece in the room.
RECOMMENDED >> HOW to PREPARE for a BABY
Brody's Woodland Boy Nursery by Caden Lane
I'm not sure what it is about the woodland theme that just tugs on my heartstrings when it comes to little boy nurseries, but this is by far one of my favorites!
Caden Lane keeps their room light & bright with simplicity yet makes a statement. Not to mention, you can get ALL your baby room decorating supplies from Caden Lane! Inspiration & one-stop shopping all in one!
Rowans Dusty Purple Floral Nursery by Caden Lane
To keep the trend going, another beautiful design by Caden Lane!
Bringing together a gorgeous bright theme with purples, maroons and more without being too overwhelming.
If we ever have a girl, this will likely be the theme I go with 🙂
Modern Neutral Nursery Full of Plants by Inspired by This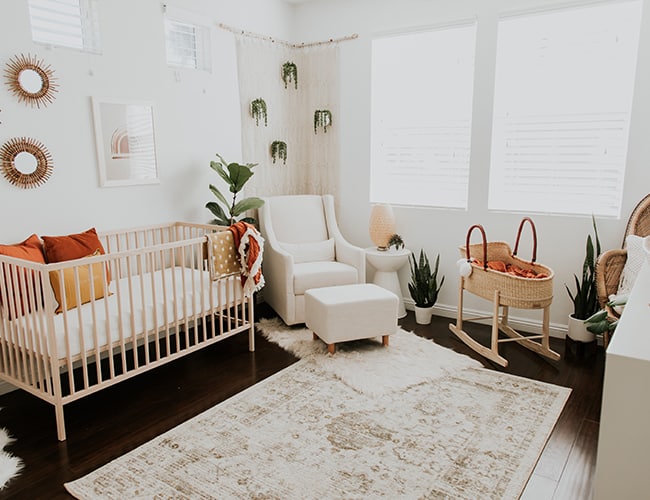 This gorgeous nursery was inspired to be a place for baby to "grow & feel at home", as quoted from Inspired by This.
This the finished product of when neutral colors and plants get together to make a dream come true nursery!
You can check out their page above for more details on the inspiration behind the design & even get the same items featured in this nursery!
Shop this nursery theme:
Mulled Cider Fringe Blanket
Rainbow Print
Custom Embroidered Rainbow Juniper Onesie
In this nursery, Little Crown Interiors managed to take an oddly-shaped room and create a bright, modern and masculine nursery theme!
Bringing together the perfect look with an acrylic crib, shades of blue, sleek simple decor and furniture!
Sometimes, keeping things simple is best. This gorgeous nursery is proof of that concept!
Baby nursery ideas for small rooms:
If you're working with a smaller room for your nursery, you can try a couple of these tips below to make your dream nursery still come to life:
Ditch the dresser/changing table & utilize the space in your closet instead.
Opt for a smaller more compact crib.
Newborn baby room decorating ideas & tips for creating a dream nursery:
If those photos above got you inspired to create a dreamy nursery, here are some extra ideas to make your baby's room functional.
Install dimmer lights so that you can set the mood for any stage whether its a late-night diaper change or playtime!
Try to use convertible furniture that your baby can't outgrow!
Utilize as much storage as you can – your little one will get lots of clothing and toys as they grow, having enough space will be crucial!
Depending on your taste for design, some families enjoy going with a more strong-bold look while others enjoy the more mellow-rustic look.
There's really no right or wrong way you can go when preparing your newborn's baby nursery!
If you enjoyed these Newborn baby room decorating ideas & baby nursery themes – drop a comment below sharing your favorite one!