Printable Checklist for New Baby & Expecting Parents [FREE DOWNLOAD]
This post may contain affiliate links that I may receive a commission from if you click & buy. In addition, the information on this site is NOT intended to be medical advice. See my full policy for more information.
Preparing for a baby is exciting and scary all at once. If you're reading this, you like to be prepared and I have a Printable Checklist for New Baby & Expecting Parents that can help!
If you don't have time to read through this entire article, that's ok. You can snag a copy of my printable Baby Preparation Guide here.
Now, before you go through this article, remember that not ALL of these tips will apply to everyone. Everyone's pregnancy and journey to meet their baby will be different. If you find yourself getting overwhelmed, simply PIN this post on your favorite Pinterest board and come back to it later.
When to Start Preparing for Baby
You can never begin preparing for your baby too early on in the pregnancy. However, you can overwhelm yourself by trying to do too much too soon.
My rule of thumb when planning to prepare for baby's arrival is to start somewhere in your second trimester of pregnancy.
This gives you time to start reading all of your favorite pregnancy books, looking into which baby gear you want to add to your baby registry, and of course, making plans for your epic baby shower.
The Importance of Preparing for Baby
Getting things prepared and ready at home for your baby isn't just to check things off of a list. It's to minimize the stress and overwhelm that is soon to follow new moms after her baby arrives.
The honest truth is that having a baby is such a joyous time. Yet, it's also a time of so many big shifts. Shifts that include:
Going from sleeping in, to surviving on 1 to 2 hours of broken-up sleep.
Having full, sore, painful breasts full of milk.
Going from no arguements to always fighting and bickering with your partner.
Seeing your friends all of the time to barely talking to them on the phone.
Feeling familiar with your body to feeling like you have no idea who's reflection is standing in the mirror.
These are just some of the changes you may expect to see after birth. This isn't to scare you, but you should at least be aware of them to see that the preparation work you're doing now is to HELP you so that all those changes don't hit you like a ton of bricks.
Baby Preparation Timeline (by each trimester)
Now for the fun part! You're ready to start preparing for baby. This step-by-step trimester preparation guide will walk you through what to do from the minute you find out you're pregnant to the minute you go into labor.
First Trimester Baby Preparation
The first trimester is exciting because it's your journey into becoming a mother. For some, it can be a bit less exciting if it's filled with nausea, exhaustion, and other crummy pregnancy side effects.
Follow the steps below to prepare your mind and body for this pregnancy!
1. Set up your First Prenatal Appointment
Once you have taken an at-home pregnancy test (or have a strong suspicion you're pregnant) you should schedule your first prenatal visit with your OB-GYN.
During this appointment, your healthcare provider will usually confirm the pregnancy via in-office testing or by ultrasound.
They'll also discuss what to expect as far as how many prenatal visits you'll need, your risks for any conditions, what lab tests you might need to be ran, and more.
This is also a great time to bring all of the questions that have been brewing in your mind to ask. Not sure what to ask because you're still shocked you're pregnant? Here are some ideas:
Who can I call in the event I have an emergency or urgent pregnancy-related need?
Should I make any changes to my diet?
How much should I continue (or start) to exercise?
Are there any conditions I'm at risk for?
What major lifestyle changes will I need to make?
Is my work environment safe to continue in throughout my pregnancy?
2. Start Seeing a Pelvic Floor Therapist
I'm not sure that I've ever read this tip anywhere for pregnant mothers. Nobody talks about the benefits of pelvic floor therapy until AFTER there is a problem (aka postpartum pelvic floor care).
So, here is a tip you will thank me for later. Schedule an appointment with a pelvic floor therapist (you can locate one here) to ensure your muscles are strong and working well. From there you can see your therapist minimally and follow some exercise guidelines to keep your pelvic floor functioning in tip-top shape (yes, even after childbirth).
3. Ensure You're Keeping Hydrated at Home & at Work
Now that your body is working hard to keep you and your baby healthy at all times, it's important to ensure you're keeping your body hydrated.
Believe it or not, water is a very important puzzle piece to pregnancy. It helps mom's digestion, circulates nutrients throughout her body, and even helps to form the amniotic fluid.
If mom-to-be is bad about keeping herself hydrated, try using one of these travel-friendly water bottles. Not only do they come in cute colors, but taking them everywhere makes for a great reminder to drink up.
4. Start Learning More about Pregnancy (and what to expect)
The first trimester is a great time to start looking into reading some pregnancy books to learn a bit more about the type of changes your body will experience.
Below, is a list of my top 3 pregnancy books that I found to be the most helpful and informative throughout pregnancy:
Grab one or two of these and start reading them to learn about what pregnancy could have in store for you. Though they can't prepare you for everything, they do help. Plus, read them with your partner to help them understand all the changes you're going through too!
5. Make sure you're taking a High Quality Prenatal Vitamin
If you're not already taking a prenatal vitamin, it's time to get one. Prenatal vitamins are important because they provide extra nutrients to support your baby's growth and development.
Not sure which prenatal vitamin to take? Give Needed. a try! Formulated with high-quality ingredients and backed by science. Still unsure? Take a screenshot of the prenatal vitamins here and let your healthcare provider take a look.
Second Trimester Baby Preparation
The 2nd trimester tends to be when pregnancy gets a little "easier" and more fun. Here's what you should do in your second trimester of pregnancy to help prepare for your baby.
1. Look over your Finances
As you enter your second trimester of pregnancy, you'll want to look over your finances. Make sure that your budget is prepared to welcome a new expense into the mix.
Need some budgeting for baby tips? Check out how to budget for baby's arrival, here!
2. Start Researching Baby Gear & Essentials
This is the perfect time to begin researching and looking into the baby essentials you'll be wanting/needing for your baby on the way. Not only will it help you prepare your budget for these items, but you can also add them to your baby registry ahead of time.
Most baby registries offer "completion discounts" meaning whatever items on your list that didn't get gifted will be available at a discounted price to you (usually anywhere between 10-20% off your entire order).
3. Pick a Birth Class
You shouldn't be giving birth anytime soon, but lets be real, we never know what could happen.
Most hospitals don't begin hosting birth classes until you're a bit farther along in pregnancy. A great alternative is to use an online birth class instead. Online birth classes have begun gaining a lot of popularity recently due to the pandemic. However, they truly have a lot of benefits over a traditional birth class.
With an online birth class, you're able to watch from home, you can go through the course at your own pace, you can have your partner be part of the learning, and most importantly — they're all pretty affordable!
4. Go to the Dentist
Pregnancy is the perfect time for bacteria to start causing dental issues and gum problems. Instead of waiting to find out you have gum disease or other issues, make a dental appointment in your 2nd trimester to ensure your teeth are in pristine shape. From there your dentist can come up with a plan to check in throughout the rest of your pregnancy.
5. Prioritize your Sleep
Now is also a great time to prioritize your sleep. It won't be long before that beautiful baby bump begins making it uncomfortable to sleep. I mean that's why pregnancy pillows became so popular after all. It may not seem like an important item on this getting ready for baby checklist, but rest is always important.
Third Trimester Baby Preparation
The homestretch and countdown have begun — the third trimester is here! If you haven't completed these tasks yet, be sure to knock them out in your 3rd trimester.
1. Find a Pediatrician
This is often overlooked by many parents-to-be, but the third trimester is the perfect time to begin screening pediatricians for your baby on the way.
One of the best ways is to ask friends and family who they use and recommend. Another way is to look online through your medical insurance provider and schedule some meet & greets with the pediatricians you think could be a good fit. Here are a few questions to consider asking during that time:
How long have you been working as a pediatrician?
Why did you choose to specialize in pediatric care?
What are your views on (vaccines, alternative medicine, baby formula, breastfeeding, etc…)?
Are you on call for emergencies? How does your office handle emergencies and urgent care visits?
Can I contact you via email or phone outside of appointments?
How often will you see my baby after birth?
There are hundreds of questions you can ask the pediatrician during the interview. However, these were the questions I found myself continuously coming back to as they really encapsulated the most important pieces to consider when choosing a doctor for my baby.
2. Finalize your Birth Plan
Having a birth plan can make the birthing process much easier because you'll know a little bit about what to expect. What I mean is, the birth plan gives your a roadmap to your childbirth journey.
It lays out the birthing room atmosphere you'd like, who may be allowed in the delivery room, what types of pain relief and coping techniques you may use, etc…
Now the thing to always be mindful of when making your birth plan is that babies tend to veer off plan often. They show up in their own way when they're ready. So, if things don't go 100% according to your birth plan, be prepared to have some backup options ready.
Your birth journey shouldn't be "ruined" if it goes off-plan, it just means things were meant to transpire in another way which is wholesome and beautiful because it's uniquely yours and your baby's experience.
3. Finish up Baby's Nursery or Sleeping Area
If you have yet to set up the baby's crib or bassinet, don't wait too much longer. Now is the time to enlist some help to knock out all the nursery or sleeping area preparation.
You will be kicking yourself if you leave it to be done after the baby arrives (because your hands will be tied caring for your baby), so be sure to check off your list ASAP.
4. Install Baby's Carseat
This one is important because you won't be able to leave the hospital until baby's car seat is installed! You can learn more about car seat safety and installation here.
5. Pack your Hospital Bag
Packing your hospital bag is such a fun experience because it really emphasizes that THIS is really happening. You will be bringing home a sweet little baby soon.
The key to packing your hospital bag is to bring just enough without overpacking or underpacking — not hard right? Well, it can be. That's why you can look through this extensive list to help make sure you pack your hospital bag with just enough of what you'll really need.
Don't forget dad's hospital bag too! Here's a few very specific things you'll want to make sure is packed in his bag.
6. Start Preparing for Postpartum
One of the best times to prepare for life after a baby is before they're even here (aka the third trimester). This doesn't need to be extensive, but be sure you know what to expect before your baby arrives.
This includes things like physical changes after birth, emotional changes, risks for postpartum mental health issues, basic care for baby, care for yourself, breastfeeding tips for those opting to breastfeed, and even common relationship issues after baby is born.
The good news? You can learn ALL of these things in my Postpartum Workbook (which includes even more resources just for moms trying to navigate the fourth trimester)
Printable Checklist for New Baby & Expecting Parents
Don't need a list of things broken down into every trimester? Use the next 10 tips to help you with getting ready for baby instead.
1) Write out a Birth Plan
As mentioned earlier, a birth plan is a way for you to communicate your wants, wishes, and needs regarding labor to those that will be caring for you when you go into birth.
Pregnant women can use a birth plan template like this to lay everything out clear and simple to your hospital care team. Just don't forget that birth plans don't always go according to plan. In fact, it's a great idea to have some backup options on there for those reasons.
Though birth plans are an important piece to preparing for childbirth, don't get so hung up on having the most perfect birth that it begins to consume you. This will also be a great time to sign up for a birth class to really help you understand the entirety of your birth planning process.
2) Sign up for a Breastfeeding Class
If you're not comfortable with an in-person breastfeeding class like me as a first-time mom, The Complete Online Breastfeeding Course is hands down going to be your saving grace.
Katie, the creator and lactation educator of the breastfeeding course covers every breastfeeding concern and worry you'll ever have.
But it doesn't stop at breastfeeding. She also discusses ways to get your partner on board with the decision and encourages ways they can be a part of the journey alongside you!
This breastfeeding course is something all moms should take if they're planning to breastfeed, hands down. Katie does an incredible job diving beyond just "how to breastfeed" and teaches you about your milk supply, the pros and cons of choosing to breastfeed, and so much more.
Plus, there are THREE affordable purchase options available so that you can get the help you need without worrying about your budget. Check it out while you can!
3) Develop a plan on how much to save for a baby!
First off – if finances are one of your biggest concerns, you need to read my post on "How to financially prepare for a baby" – this post not only goes into great detail on how to get your finances prepared, but it also features an EXPERT Financial Planner's Top Tips!
Finances are something my husband and I have always been very on top of, which I can't be more thankful to have a partner who values our money and spending habits the same way I do.
Learning how to track your spending, create a budget, and plan to spend smarter will be GOLD to helping you create financial stability before your baby arrives!
How the heck can you 'spend smarter'? Well for one, Target saves you 5% off ANY purchase when you use their Target RedCard (debit or credit)!
Not to mention every couple of months they typically have fantastic baby sales where if you spend a certain amount, you get a gift card in return (this is typically when I will try to line up my shopping if I'm overdue to purchase a lot of baby essentials).
Another great place to stock up on, not just baby items (diapers, wipes, necessities), but also household goods are on Amazon Family!
On Amazon Family, you can get up to 20% off diapers, baby food, and more! Not to mention, the awesome Baby Registry perks they have!
That's just a tiny snippet of ways you could be spending your money smarter.
4) Prepare a Postpartum Care Kit (a MUST on your getting ready for baby checklist)
So I had NO idea about Postpartum Care Kits and that they were even a thing.
Instead, I kept sending my husband to Target to get me new adult diapers and more witch hazel pads in the early days of postpartum because I clearly didn't stock up on enough, whoops.
Not into the whole DIY type of project? You can actually purchase a postpartum essentials recovery kit like this one with all the basics you'll need for comfort and pain relief immediately after having a baby.
Trust me, there's a good reason this is on your getting ready for baby checklist.
If you're not sure what to put into your care kit, I wrote a FULL blog all about Making your own Postpartum Care Kit (full of all the essentials for mom after birth).
5) Understand the lack of sleep side effects (of being a new parent)
Preparing for the lack of sleep you're about to undergo isn't to try and scare you, but to help you understand the effects a lack of sleep can truly have on a person (especially a new mother).
Sleep deprivation can have some pretty intense side effects such as:
Inability to problem solve
Mood swings (these can be very intense as a new mother with fluctuating hormones and more so if you're struggling with postpartum mental health issues)
Heightened anxiety/depression
Greater risk for getting sick (weak immune system)
The reasons above are why you need to know the effects that sleep deprivation can cause. Plus, you'll hear people say "sleep when the baby is sleeping". After my first, I thought "Yeah right. There is no way I can sleep when my son sleeps. I have too much to do around the house!".
After my 2nd baby, I made it a point to nap when my baby napped. Even if it was just 20 minutes.
You won't be able to show up as your best self when you're running on empty. It will sometimes feel like an uphill battle, but don't forget to prioritize your needs (such as sleep), too.
Want to learn the ABC's of Baby Sleep? CLICK HERE to learn more about newborn sleep through early toddlerhood years!
6) Stock up on GOOD diapers!
Being a new parent is amazing. What else is amazing is the amount of poop that will come out of your newborn baby. Who knew that little bundle of joy could poop so much!
This is why you'll want to use a reliable yet comfortable diaper for your little one. If natural & eco-friendly diapers are your thing, check out these BEST natural & organic diapers for baby!
Our personal budget-friendly favorites are Kirkland Signature diapers from our local Costco! They're made from the same people who make Huggies so you're pretty much getting great quality at a lesser price point.
7) Take the time to learn about your perinatal mental health & postpartum mental health
This area of preparation is often underrated. We simply don't realize how intense it can hit us until it does. My best advice is not to wait until you're in the thick of anxiety attacks and feeling overwhelmed, but instead, learn what you can NOW.
One of my dear friends, Alice Pickering, who also happens to be a Clinical Psychologist that specializes in maternal mental health created a 'Pregnancy & Postpartum Mental Health Guide' that lays out everything a mother can expect during this time.
I highly suggested snagging yourself a copy of this guide as it can be a huge stepping stone towards a happy and enjoyable postpartum experience.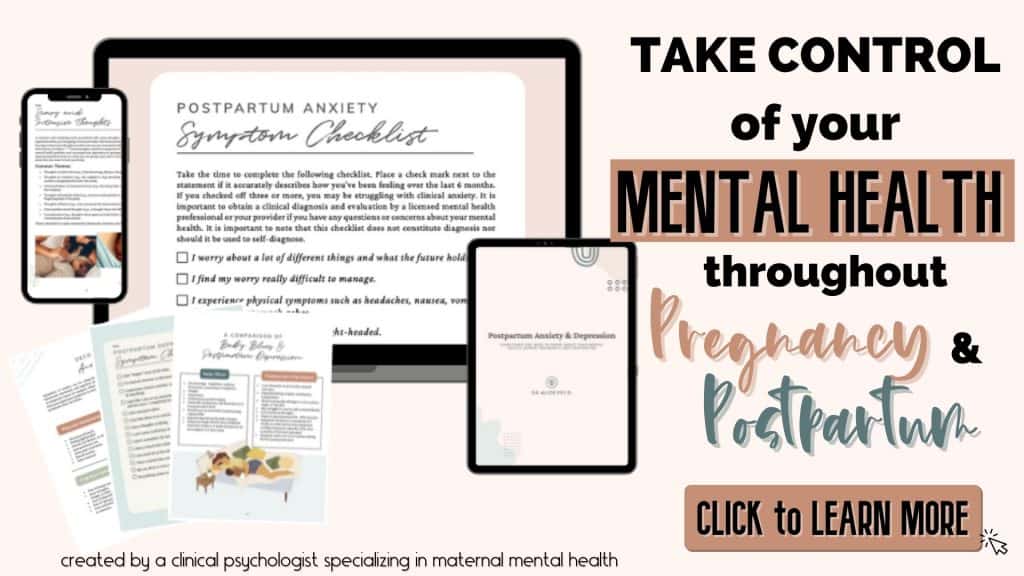 8) Be ready for your relationship after baby to feel different for a bit
I don't think there was a point where my husband and I weren't on the same page. But having open discussions about everything above is a good way to ensure your relationship stays healthy (and it's something we didn't do as much as we should have).
As fun as pregnancy and the leading up to baby part is always super fun, the fourth trimester can sometimes just, mess things up a bit.
After baby, things get weird. Your partner may feel isolated. And as much as it's all normal, you don't feel like it's normal.
Establishing these new changes and knowing that they will happen, understanding things won't feel the same for some time so you can try to support one another throughout these changes is so important.
My husband had never even heard of the 'baby blues' before I mentioned it after birth. Things like that are excellent topics to discuss when preparing for a baby! If you're not sure where to start, this book is an excellent read for expecting parents!
9) Set Realistic Recovery Timeframes
Did you know, relaxin (the hormone responsible for loosening things up for birth) can stay in your body until a few months AFTER you've weaned from breastfeeding?
That's just one fun fact of many. The reality is, your body will be going through a traumatic event. You will need lots of rest, care, and support to fully recover.
One of the areas that may need a little more TLC after birth is your pelvic floor. Those muscles will be stretched out, weakened, and can always benefit from a little rehabilitation. The Mutu System works wonders at helping you rehab your pelvic floor!
The point is, don't feel pressured to "bounce back" to life as you once knew it. Allow yourself time and patience to find your new normal and build up from there.
10) Double check your Insurance Coverage
Oftentimes, a new baby's arrival can leave parents knee-deep in medical bill debt. This is due to insurance issues and poor coverage.
Instead of being surprised with a bill after your baby's birth, be sure to clear up any loose ends with your insurance company long before the baby's due date. That way, if you know you have. a hefty copay coming up, you can start saving for it early.
---
Now that you have gone through the getting ready for baby checklist, you should be feeling a little less worried and a bit more excited for the big day! The birth of your baby will be here before you know it and I hope you enjoy every sweet second of that bundle of joy.
Read more pregnancy articles here: