Best Organic Diapers For Babies (9 Eco-Friendly + Non-Toxic Choices)
This post may contain affiliate links that I may receive a commission from if you click & buy. In addition, the information on this site is NOT intended to be medical advice. See my full policy for more information.
Are organic diapers for babies REALLY better than classic disposable diapers? Find out the key differences and how it could affect which diapers you buy from here on out.
Since babies need thousands of diapers throughout their childhood, you want to make sure that you are providing them with the best.
After all, our babies are gentle and delicate little beings — including their skin.
Between fragrances, lotions, and chemicals, many diaper brands can actually be harmful to your little ones. (Don't feel bad if you didn't know this. I didn't either! Together we can learn more and can make any necessary changes together!)
What makes regular diapers unhealthy for babies?
Although we want sturdy & cute diapers to prevent leaks and blowouts, many problems can actually come from big, store brand diapers.
Oftentimes, we choose convenience or quantity, rather than quality. To no fault, sometimes, it's simply all we can afford.
Unfortunately, when we do this, we open the door to things like chemicals and harmful plastics to cover our child's most delicate areas.
That being said, today, we'll be looking at the best organic diapers to use for your little ones. These organ diapers are eco-friendly and safer to use.
But, first, let's look at what chemicals to absolutely avoid in disposable diapers.
5 Chemicals to Avoid in Disposable Diapers
Chlorine
Did you know that chlorine was used for chemical weapons in WW1?
Since disposable diapers used to be made of wood pulp, chlorine was then used to bleach them white. This process creates dioxins, which are toxic and carcinogenic.
Chlorine has been known to irritate the skin, cause rashes, and can flare up other skin-related allergies.
To make sure a diaper brand is completely chlorine-free, make sure they are total chlorine-free pulp (also written as TCF on the packaging).
Sodium Polyacrylate
Sodium polyacrylate is used in diapers for absorbency.
Which is very valuable in a diaper, right? I mean who wants massive blowouts every day, not this mama!
But in the 1980s, sodium polyacrylate in tampons was linked to being the cause of Toxic Shock Syndrome in women.
For babies and diapers, this chemical can cause skin irritations.
Unfortunately, nearly all disposable diapers still contain sodium polyacrylate (SAP).
Some diapers (like the ones below), however, do a much better job at making sure this ingredient stays within the diaper itself.
If you want to use a diaper 100% free of SAP, the best way is to use cloth diapers like these.
Speaking of cloth diapers, if you choose to go that route, make sure you know all the pros and cons of cloth diapering first by reading this post here.
Phthalates
Phthalates can cause eczema and asthma in young children. But, this chemical is commonly used in vinyl, toys, and even diapers.
Although many brands easily display that they are phthalate free, some do not (even some organic diapers).
I suggest that you read your diaper packaging thoroughly if phthalates are something you want to avoid, before making a quick decision.
Parabens
Parabens are put in products to prevent bacteria and mold, while increasing shelf life.
Even though this doesn't sound like the worst idea for a diaper, they can sometimes be harmful to your little one.
Since you are most likely checking and changing your baby's diapers often, while storing your clean diapers away from moisture — parabens really aren't needed.
Especially if your baby has sensitive skin, finding a paraben-free organic diaper is a necessity.
Fragrances
Fragrances are used to keep diapers smelling as good as they can, for as long as they can (considering what they're used for).
We may prefer that our babies' diapers smell better than a porter potty, but to what extent?
Fragrances in diapers can irritate sensitive skin and enhance other allergies in your baby.
If there's one ingredient on this list that's most expendable and everyone can do without — it's definitely the fragrance!
9 of the Best Organic Diapers
#1: Andy Pandy Premium Bamboo Disposable Diapers
Andy Pandy Premium Bamboo Disposable Diapers are hypoallergenic, antibacterial, and chlorine-free.
Not only are these diapers safe for you babies, they also provide a lot of comfort.
For functionality, these organic diapers have a helpful wetness indicator and are odor-resistant.
Also, since they are made from bamboo, these diapers are eco-friendly and biodegradable.
Pros:
Cons:
Price is a little high compared to non-organic brands.
# 2: Huggies Special Delivery Hypoallergenic Diapers
This plant-based diaper was created by Huggies and ensures great absorbency along with leak protection.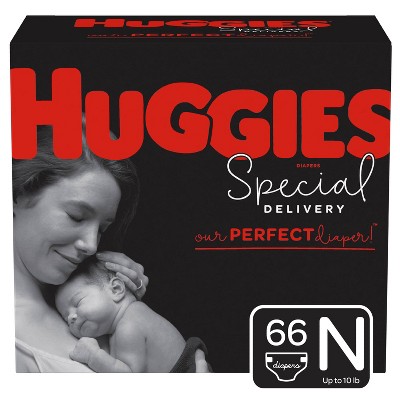 Although these diapers are free of chlorine, phthalates, parabens, and toxic plastics, they still use some other plastics (all deemed safe by EWG).
All things considered, they still make an excellent alternative to some of the bigger store-brand disposable diapers.
Pros:
Available online and in select stores (click here to view them on Target).
Cons:
Price is fairly high compared to competitors.
#3: Bambo Nature Diapers
Bambo diapers are most popular for their quick absorbency, but they are also free from toxic chemicals like parabens and phthalates.
The diapers allow your baby to still feel dry even when the diaper is full, potentially preventing redness and rashes.
They offer two designs to choose from, their CLASSIC collection for a thicker, yet soft design or their LOVE collection for a thinner more flexible design.
Pros:
Free from fragrance and dye.
Certified with the Nordic Swan Ecolabel.
Cons:
Uses polypropylene for top and back sheets.
Diapers run large according to reviews.
#4: Eco Pea Co. Disposable Diapers
Eco Pea Co. is a smaller, family-run business that has a line of organic, bamboo diapers.
These diapers are free from toxic chemicals, fragrances, dyes, and lotions.
They're cruelty-free and never tested on animals.
These diapers also have a unique aloe liner to help nourish baby's delicate skin. Pretty cool, huh?
I was also able to chat directly with Eco Pea Co. about WHY parents should shop Eco Pea Co. over other leading diaper brands, here's what they had to say,
"Our mission at Eco Pea is to change the way we think about diapers and wipes. As parents of 3, we also found ourselves among other parents choosing diapers based on cost and popularity. But when our third baby, our daughter, developed serious allergies to the brand we had been using, we decided to look into why her skin was reacting so aggressively and we wanted a solution. After much research, we learned that common diaper brands are made with many synthetic fillers, irritants and toxic chemicals (not to mention plastics and petrochemicals that don't break down) which keep them "cheap", but can actually harm our babies. Instead, Eco Pea diapers are made with sustainably sourced and super soft bamboo, a combo of SAP and wood pulp + Aloe, and without irritating chemicals like chlorine, latex, alcohol etc…this makes them a great option for parents who are looking for a truly clean, gentle and effective option, with the convenience of at-home delivery. In terms of cost, we know this is an important deciding factor for every parent. That's why we've tried very hard to ensure we are as comparable as possible to other popular brands that may not be as gentle and that are not 85% biodegradable in 90 days. As an example, I've provided a simple cost comparison.
Eco Pea Co. : $0.44 – $0.68 / diaper vs. Honest : $0.34 – $0.61 / diaper"

– Eco Pea Co
Pros:
Free from fragrances and dyes.
Subscription/Home Delivery Options
Cons:
#5: Nest Baby Diapers
If you want to be super eco-friendly, Nest Baby Diapers may be the best organic diapers for you and your baby.
One unique feature is that both the top and back sheets of these diapers are made from bamboo and sugarcane.
The middle leakproof area is made from a plant-based plastic (polylactic acid).
Nest baby diapers (as you probably guessed) are also free of fragrances, lotions, parabens, and phthalates.
Pros:
Cons:
Only sold in stores in the midwest of the USA.
#6: Thrive Market Diapers
Thrive Market online products are made with raw materials, including their impressive line of organic diapers.
Not only are these diapers safe for both your baby and the environment, they are very functional.
These organic diapers are widely known for their absorbency and low price.
Plus, when you shop with Thrive Market, you can enjoy tons of savings across your entire grocery haul. See for yourself here!
Pros:
The price is lower than similar brands and products.
Environmentally friendly.
Cons:
Possibly not completely free of phthalates. (They do have polypropylene.)
Low-Cost monthly fee to access online stores.
#7: Babyganics Ultra Absorbent Diapers
First of all, Babyganics is known for making comfortable fitting diapers for babies — with their stretchy sidebands that ensure a snug, but soft fit.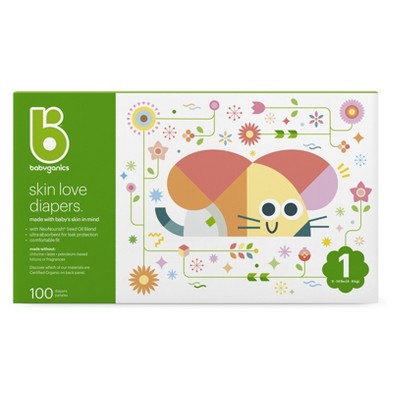 Their diapers (and wipes) are made with natural ingredients.
This brand is known for its level of comfort and functionality. Not only are their diapers highly recommended, but so are their baby wipes which you can view here.
Pros:
Natural ingredients include the Neonourish Seed Oil Blend.
Comfortable for your baby.
Great for sensitive skin.
Cons:
Sizing can be tricky to get right.
Made with non-renewable materials.
#8: Pampers Pure Diapers
Since oftentimes we still do shop for convenience, I wanted to include an option that you can probably grab at any grocery store or retail store.
Pampers Pure Diapers are a good option when it comes to being free from chlorine bleaching and other harmful ingredients.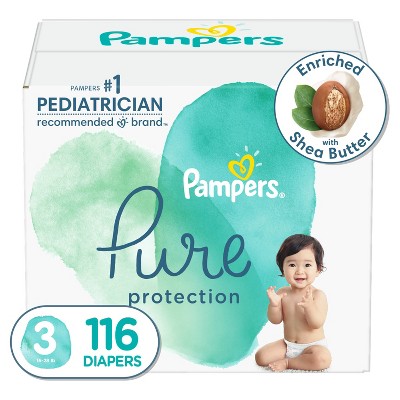 Pros:
Free from chlorine bleaching.
Cons:
Price is higher than other big-name options.
Higher chance of skin irritation combared to organic competitors if not changed quickly.
#9: Dyper Sustainable Diapers
This subscription baby diaper is a great option for families who want or need their diapers delivered to their homes.
Plus, Dyper has a unique feature on their online app that allows you to rush-order in the event you run out too soon, it's called the Sos Button.
Dyper Baby Diapers are a sustainable plant-based diaper that is fragrance-free and made of soft breathable bamboo.
Pros:
Made of bamboo and modern plant-based PLA film.
Free from chlorine & latex.
Cons:
Sizing runs rather large.
Mostly available online via monthly subscription.
# 10: Reusable Baby Cloth Diapers
Cloth diapers are obviously free of all classic disposable chemicals.
Although you'll have to wash more often (which you can read more about here), cloth diapers are still great for the environment.
Lastly, if you are a fashionista, you'll have many more options, in terms of patterns & designs, if you go with cloth diapers.
Here's a few favorites:
Pros:
Cons:
Most likely will have to wash more frequently.
Short-lasting and will need regularly replacing.
3 Reasons You Should be Using the Best Organic Diapers on Your Baby
By using organic diapers, your baby is less likely to have skin irritations. You'll be providing your baby with safe, natural material and ingredients to protect the most sensitive area of their body.
The price difference between organic and non-organic diapers is not too different. Also- if you use cloth diapers like this, you won't have to buy diapers again!
Most of the best organic diapers for babies are environmentally friendly. Not only will you be taking the best care of your baby, but you'll also be helping out the environment.
Best Organic Diapers In Conclusion
Finding the best organic diapers for babies does not have to be too confusing.
When diaper shopping (in stores or online), look for organic diapers that are total chlorine-free pulp, paraben-free, and fragrance-free — like these ones!
I hope this post made it pretty easy for you to find your preferred organic diapers, but you can always ask me more questions through email or in the comments.
Organic Diaper FAQ:
Q: Are diapers environmentally friendly?
Some diapers are eco-friendly, but not all. I added which diapers are (and aren't) environmentally friendly on this post.
Q: Where is the best place to buy organic diapers?
Although you may find some in stores, the best organic diapers for babies will most likely be found online.
If you are an avid Amazon shopper like me, you can luckily find many organic diaper options like these there
Which diapers have you used that YOU think are the Best Organic Diapers for babies?