10 Festive November Gender Reveal Ideas in The Fall
This post may contain affiliate links that I may receive a commission from if you click & buy. In addition, the information on this site is NOT intended to be medical advice. See my full policy for more information.
November is one of the best months to be pregnant. It not only offers the most perfect weather for pregnant mothers to enjoy but also makes a wonderful month to share the big news. Expectant parents often find joy in revealing their baby's sex in creative and heartwarming ways, especially in the embrace of the autumn season. To help you plan a memorable November gender reveal, we've gathered a handful of ideas that will make this moment truly special. Whether you're looking for a fun way to share the big reveal with your family and friends or a unique twist that showcases the spirit of November, we've got you covered.
Now, before you move on, I want you to read this. Just because you're pregnant and your close friend had a gender reveal party doesn't mean you have to. I know it's easy to fall into the trap of competing with what everyone else is doing, but seriously, you only get to enjoy this once.
So, be sure that choosing one of these fun gender reveal ideas is something you truly want to do. It shouldn't be for anyone else, just you and your partner.
Unique November Gender Reveal Party Ideas
Can you believe November is here? Looking for a fun and unforgettable way to reveal the gender of your little one can be overwhelming, but the good news — this article is loaded with ideas. Gone are the days of simple pink or blue balloons; it's time to get creative! And if it's not your thing, we understand.
Below, we've rounded up some unique November gender reveal party ideas that will be the highlight of everyone's day. Whether you're a first-time parent or adding to your beautiful family, let's make this gender reveal moment something truly special.
So, grab a cozy blanket and a cup of your favorite warm beverage to sip on, and let's dive into the wonderful world of Unique November Gender Reveal Party Ideas!
You may also like: Fun Halloween Baby Shower Ideas to Celebrate Mom To Be
1. Pumpkin Gender Reveal
Nothing embraces the fall theme more than incorporating pumpkins into your gender reveal. Fill the inside of the pumpkin with either pink or blue filling and let your closest family member or friend unveil the baby's gender by carving it open. Once they carve enough to see the inside, the sight of a pink or blue interior will create a charming moment.
Take a look at how the Postpartum Party uses pumpkins in their gender reveal below — it's such a great way to spread a little festive fun!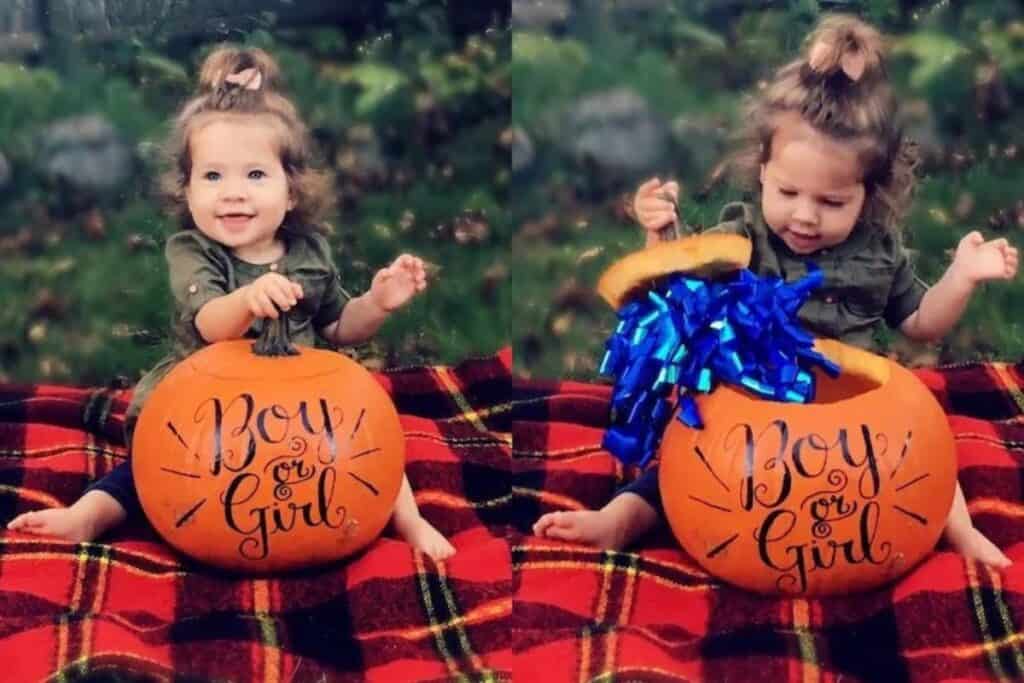 2. Fire Pit Reveal
Gather around a cozy fire pit with your loved ones. Toss colored powders into the flames, creating a mesmerizing reveal as the colors dance in the firelight. If you see blue colors, it's a boy. If there are pink colors, it's a girl. Talk about a perfect fall gender reveal celebration.
3. Scavenger Hunt in the Woods
This is an interactive and fun idea — perfect if you plan to allow other children at your gender reveal. If your neighborhood has it, arrange a scavenger hunt outdoors at a large open park or in the autumn woods. Hide pink and blue clues leading to the final reveal spot where a breathtaking gender reveal awaits.
Here are a few ideas of some pink and blue baby items you can include in the scavenger hunt:
4. Sweet Treats with Fall Flavors
One of my personal favorite ways of doing a gender reveal is with a sweet treat! Whether you decide to use cake pops, cupcakes, or a cake — you can have the gender color (blue or pink) baked into the center of the treat so that when you take a bite, the gender is revealed!
We did this for our own gender reveal, but it wasn't fall-themed. You can see ours below to get some ideas: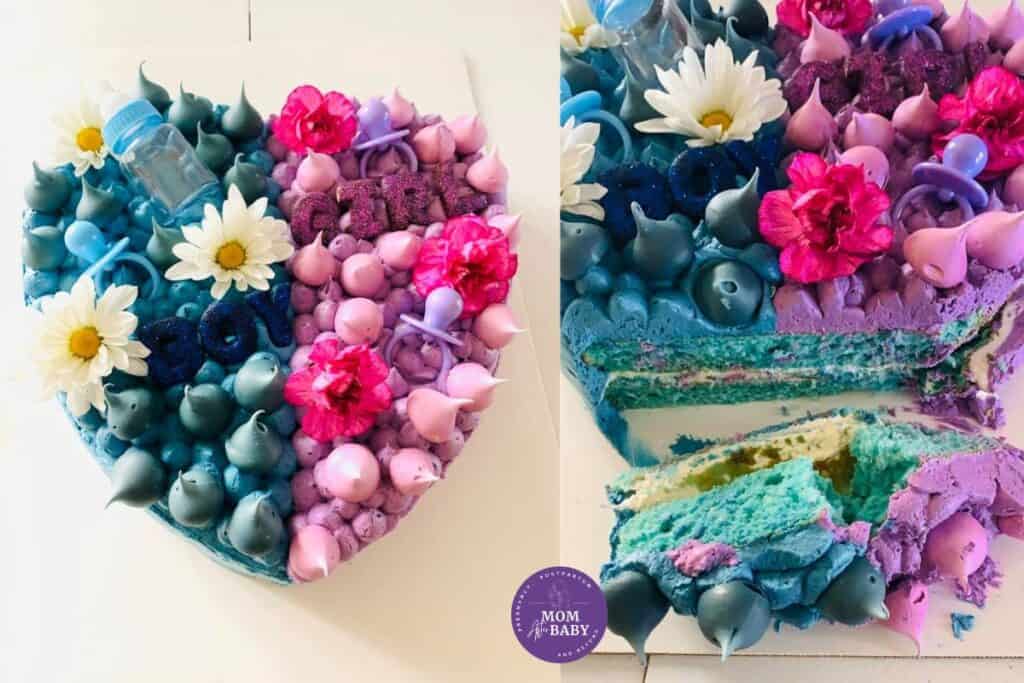 One great idea is to announce the baby gender via cookies! Pumpkin cookies to be exact. Buttercream Parties has the cutest little pumpkin cookies that you can make yourself or have made for your gender reveal party!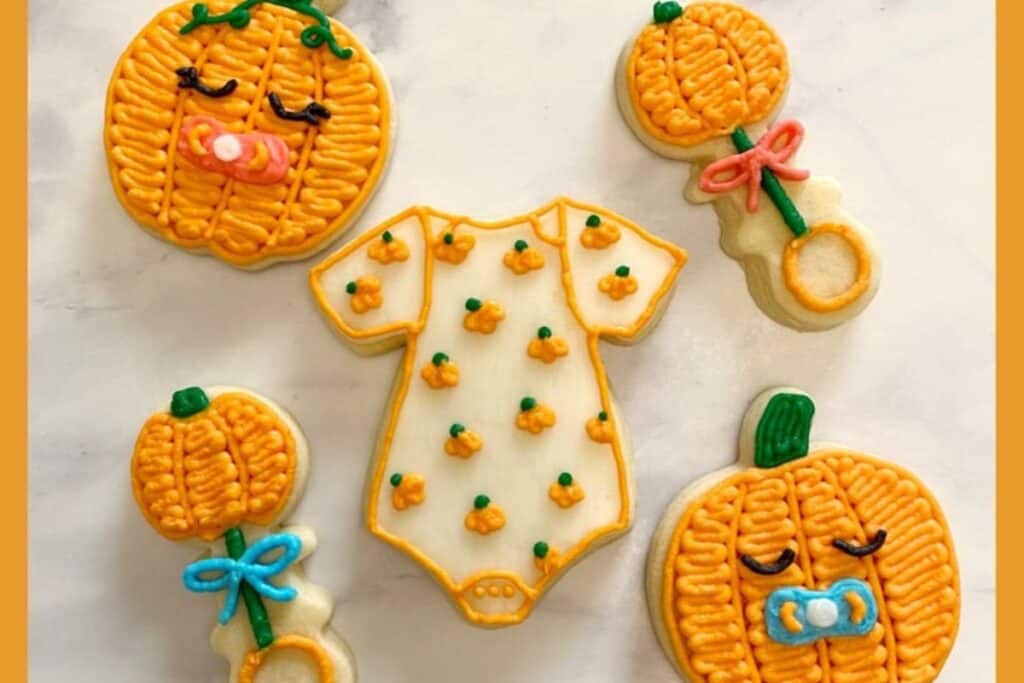 Simply decorate them with either pink or blue — stash your gender-reveal cookie in a cute box and open up the surprise to reveal whether your cookie has pink or blue designs—such a creative way to celebrate your baby to be.
5. Harry Potter-Themed Gender Reveal
If you're a Harry Potter fan, you can channel your inner wizard with a magical gender reveal. Create a wand-waving spectacle to unveil the baby's gender in the most unique way possible.
As if those pumpkin cookies weren't cute enough, Buttercream Parties also has some of the coolest Harry Potter gender reveal sugar cookies for all you Hogwarts fans. It's truly such a cute idea.
6. Pumpkin Pinata
Who doesn't love taking a good swing at a pinata? This idea is super simple and only requires a pumpkin, some string, powder, or glitter, and a bat or pinata stick. You'll carve out your pumpkin, and fill it with pink or blue powder/glitter.
During the gender reveal party, expecting parents or their guests can take turns swinging at your pumpkin until it breaks off and the powder flies out!
7. Building Your Football Team
If you and your family are big football fans — you will love this gender reveal idea, it's lots of fun! Plus, you can do this one of two ways:
Have someone be the designated "gender reveal keeper". On the day of your party, dress up in your favorite football team jerseys or in your own color (for example: mom wears pink, dad wears blue, etc…). Then, during the reveal, you'll be given a gift, and inside the gift is either a pink or blue football jersey that you'll open in front of all your guests.

The next way to do this is to take a photo of your family with either a pink or blue football jersey or helmet. Make sure the gender reveal jersey or helmet is also in the photo. During the day of your party, have the photo hung up as a poster to reveal the gender for all to see and celebrate!
8. Silly String Battle
Not really into baking goodies, Harry Potter, or football? No problem — have a silly string battle! All you need are 2 cans of silly string (to make it a lot of fun and stay on theme for fall, use fall colors).
Then, mom and dad-to-be (or your kids if you have other children) can stand side by side and on the count of 3, spray the silly string at one another or in the air. If the string comes out orange — it's a girl, if it comes out green — it's a boy!
9. Fall Loving Leaves
This could turn into a fun game if you're planning to incorporate any gender reveal games at your party. You can collect fall leaves (or order some on Amazon if you live somewhere with very little fall leaves), and write silly or inspirational messages on them while one leaf will have the gender announcement on it.
Then, place them in an envelope or a decorative box. Have your guests open the envelopes until someone finds the gender announcement and shouts "It's a boy/girl"
10. Confetti Announcement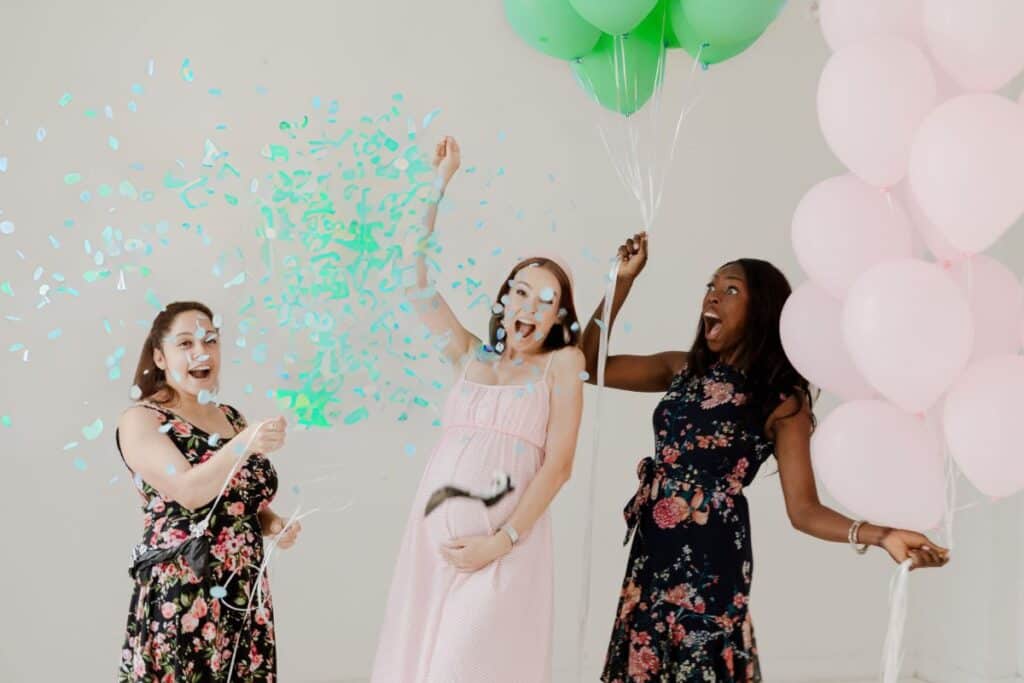 I highly suggest keeping the confetti indoors so it's easier to clean up and won't harm any nature or wildlife outdoors.
I'm sure you've seen plenty of gender reveal videos blasting off their pink or blue confetti cannons, but for this one, you'll want to make sure the colors are fall-themed. You can even change it up for the holiday season!
Whether you pop a balloon full of confetti or blast confetti cannons — they're going to make a huge mess. If cleaning up a mess isn't your favorite thing to do (especially while pregnant), it's best to go with one of the ideas above.
November is the perfect time to celebrate your baby's gender in a unique and memorable way, enveloped by the warm embrace of fall. Whether you opt for a grand fall-themed gender reveal party or a cozy gathering with loved ones, these ideas will ensure that the moment is as special as can be. And even if you don't have a gender reveal party — there couldn't be a better season throughout the year to celebrate the exciting time of your baby on the way!