Best Affordable Nursing Bras for Nursing & Pumping Mothers — A MUST Have!
This post may contain affiliate links that I may receive a commission from if you click & buy. In addition, the information on this site is NOT intended to be medical advice. See my full policy for more information.
If you're a breastfeeding mother looking for a comfortable and affordable nursing bra, you've come to the right place!
As a mom who breastfed her babies for a combined total of 3 years, I know all about comfort when it comes to pumping bras and nursing bras.
Let's face it. Breastfeeding alone can be complicated and a little uncomfortable. The last thing any mother needs is to have a bra that's scratchy and not supportive enough to rub up against your (already sensitive) breasts.
And of course, who wants to spend hundreds on a nursing bra if you're not even sure it could be "the one"? Trust me, I get it. I am all about striking a deal when I can. That's why in this article I'll be sharing:
What to look for in a nursing bra?
Where are the best stores to buy nursing bras?
15 of the Best Nursing Bras (all under $40)
Setting yourself up for Breastfeeding Success
Whether you're looking for everyday nursing bras or the best nursing sports bra — you'll find yourself the best affordable nursing bra by the end of this article.
What to Look For In a Nursing Bra?
When shopping for a nursing or maternity bra, you'll want to pay attention to the material and also specific features, such as:
Does it have an underwire?
How do the claps clip and unclip?
Is there padding?
Is it breathable?
Is there enough support?
Do you want full coverage or partial coverage?
These are just a few things to keep in mind when trying on and researching your maternity bras. Ideally, you want something soft, breathable, and snug enough for support, but loose enough to grow with your breast size until the end of your pregnancy and beyond as your milk comes in.
Getting the right bra size is also important.
The best way to ensure a good fit is to measure yourself before making a purchase. Measuring your perfect fit will help you ensure you're getting the best options according to your measurements no matter what store or brand you opt to go with.
PRO TIP: If you buy a bra that's width is just too small, you can purchase a bra extender (like these) to make it just the right size.
What are the Best Stores to Buy Nursing Bras?
These days you can get a decent nursing bra just about anywhere that sells clothing. However, finding one that's excellent quality AND still won't make you poor — now that's the challenge. Below are my personal favorite stores I shop at when it comes to finding a cozy breastfeeding bra:
Kindred Bravely (you can often find promos often when you sign up for their email list or follow me on IG where I often share about their sales — for example, MOMAFTERBABY20 saves you 20% off a purchase)
Between these 5 stores, I can always find what I need. From comfortable, budget-friendly nursing bras to postpartum and maternity wear.
17 Best Affordable Nursing Bras
Bravado Silk Stretch Nylon Maternity Bras
Bravado's silky smooth maternity bra is one of the coziest intimates you'll ever wear. It's perfect for lounging around the house or running casual errands providing just enough support. However, due to its lightweight, stretchy fabric design, it provides a lot less support for larger breasts (compared to other bras on this list).
Bra Features:
Made of 92% Nylon & 8% Elastane
Seramera Seamless Maternity Bra
This affordable maternity bra can hold its weight compared to the big popular brands! I mean, who doesn't love seamless bras?
With its 4-way stretch fabric, it provides a stretchy and comfortable fit all day long. Plus, you can use this bra throughout your entire pregnancy and your entire breastfeeding journey (which means once you're done breastfeeding, store it until you need it again next time)!
Bra Features:
Made of Nylon and Spandex
Easy one-hand clip-down design
Kindred Bravely's Simply Sublime Nursing Bra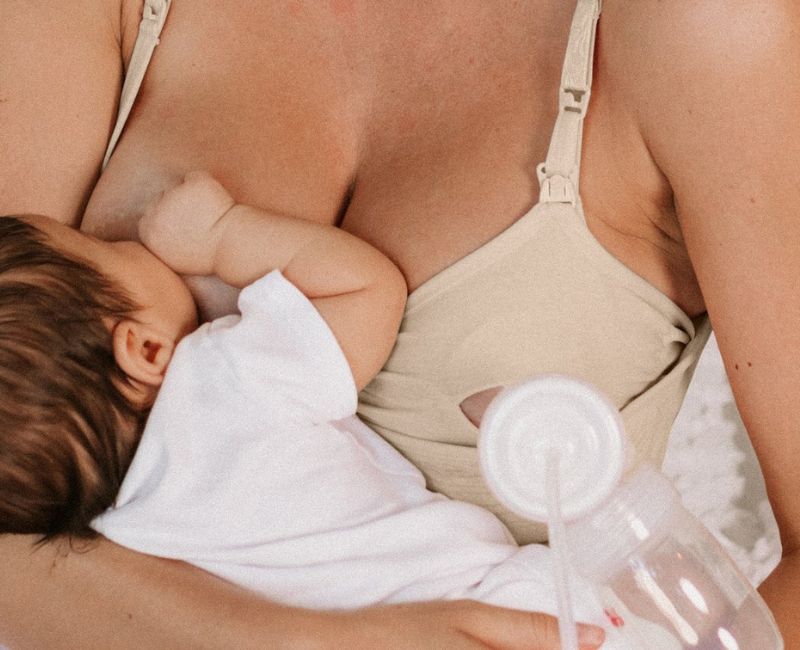 The Simply Sublime Nursing Bra is SO cute! As much as I find nursing bras way comfier than regular bras, sometimes it just feels nice to wear a bra that actually looks cute. I also found this bra provides extra support due to its design compared to others.
This bra, unlike the others, is a simple pullover bralette (perfect for date night). They even have a lace style with supportive straps and a gorgeous lace design along the back racerback portion of the bra.
It's also wire-free so guaranteed comfort (and cuteness) is what you'll be getting with this bra!
Bra Features:
Made of Nylon and Spandex
Bravado Maternity Clip & Hands-Free Nursing Bra
This clip-on hands-free bra was a lifesaver for us since I nurse and pump. Even if you don't nurse, you can still use this bra! It clips onto ANY nursing bra clip (even nursing tanks) turning any bra or tank into a pumping bra!
The best part of this bra is the design of the flange holes. It's snug enough so that your pump flanges actually STAY IN PLACE while you pump! YES PLEASE!
Just note that sometimes this bra may run small (according to some moms who have used it). Be sure to go off your measurements to ensure you order the appropriate size.
Bra Features:
Made of Cotton, Modal, and Spandex
Compatible with all breast pumps
Portable and easy to take anywhere
Simple Wishes Hands-Free Pumping Bra
If you don't mind having to put a bra on each time you pump, this is my go-to pumping bra.
In addition, it has removable straps, however, I don't find them comfortable. You could also wear it strapless, but I find it slides down as the day goes on, making it uncomfortable for all-day wear.
Overall, it's very affordable and does the job if you need just a basic pumping bra to get the job done!
Bra Features:
Made of cotton of spandex
Sizing can be customized with zip-on panel
Seamless Rib Knit Maternity and Nursing Bra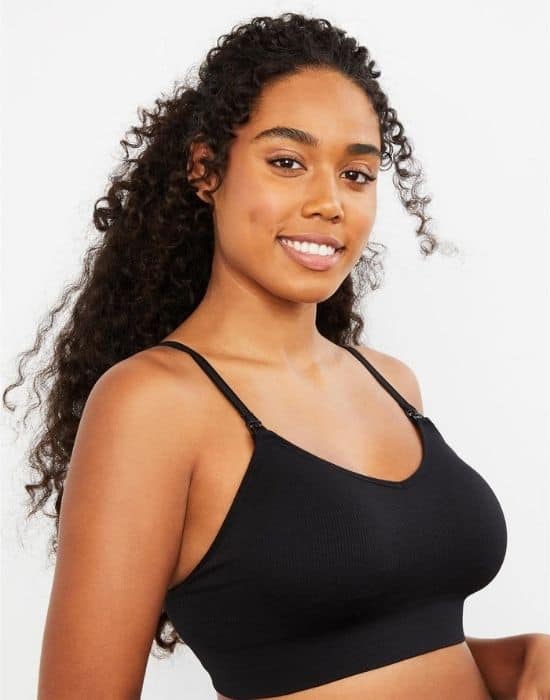 If you're looking for that ol' reliable bra you know you can always count on, this seamless rib-knit maternity and nursing bra by Motherhood Maternity won't let you down.
One of the things moms love most about this bra is that it has no annoying underwire, yet still provides great support and makes a comfortable everyday bra.
Bra Features:
Made of nylon and spandex
Women's Nursing Seamless Bra by Auden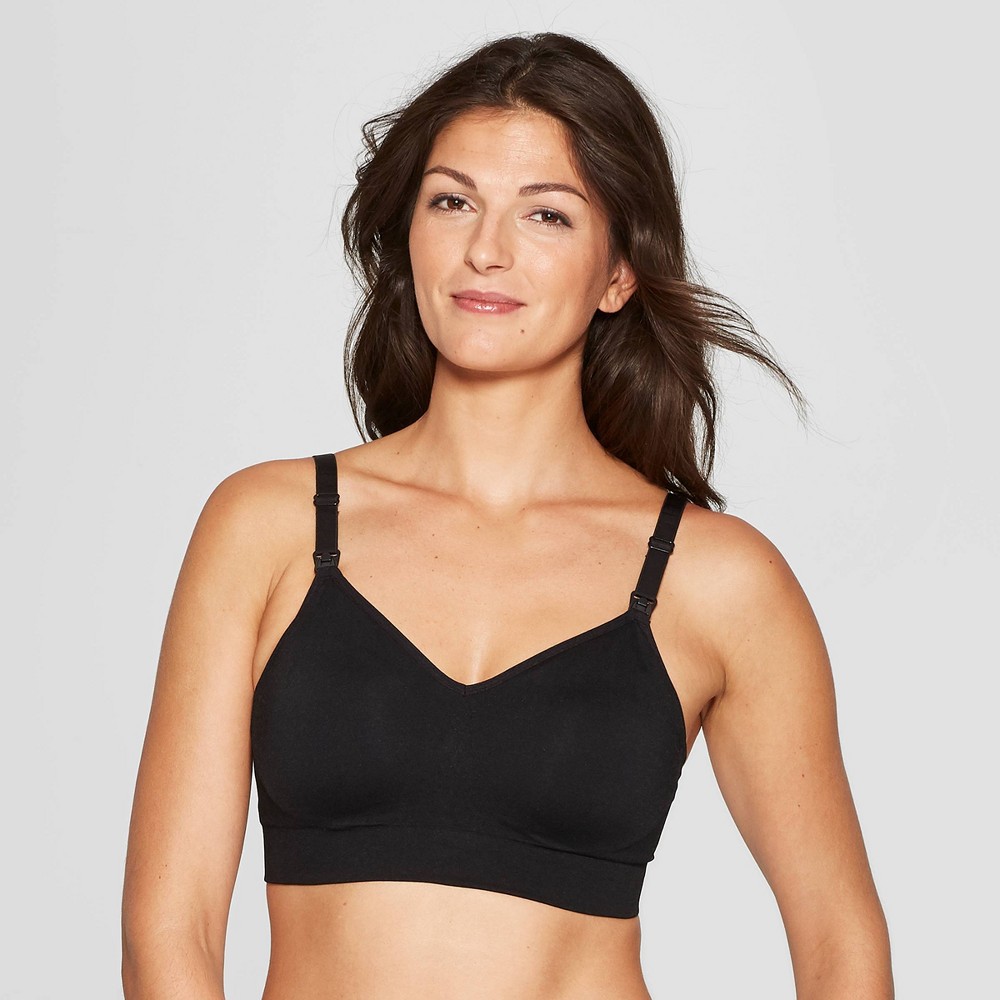 Another budget-friendly and seamless nursing bra for the win. The bonus with this one is you can likely stop at your local Target store to try it on in person.
This nursing bra also features sewn-in cups — no more fumbling around trying to get the cups back in after a wash. It looks great in a T-shirt or can be used for working out. Feel confident as you get the support and comfort you need as a breastfeeding mom.
Bra Features:
Seamless and adjustable straps
Made of nylon and spandex
Recommended to read >> How To Combine Breastfeeding and Pumping – Tips For Success
Motherhood Maternity Clip Down Sport Nursing Bra
I was quite surprised by this nursing sports bra because of the mixed reviews online
As a mama who loves working out and lifting weights, I was looking for something with good support, but easy to clip down for nursing when needed. It features a soft V-neck design — perfect for working out, lounging around the house, or under a T-shirt.
This bra checked off all the requirements I needed and is affordable too!
Bra Features:
Lightly lined for comfort
Made of Nylon, Cotton, and Spandex
Nursing Yoga Bra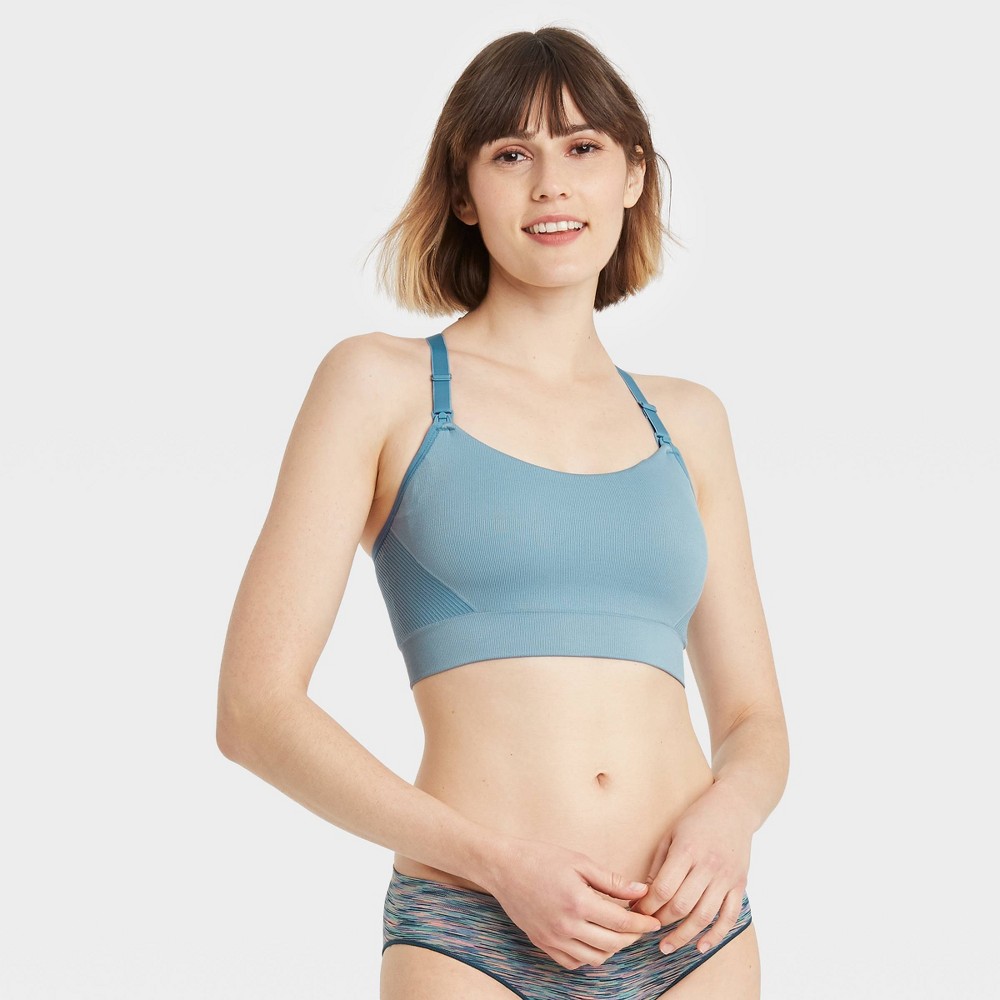 This budget-friendly (low-impact) nursing bra will give you comfort, support, and coverage. It has a racerback design with looks great in tank tops or activewear. It's a lightweight bra that quickly became one of my top favorites.
The one thing that can get annoying is the removable bra cups. Not only do they always fall out in the wash, but they can move around a bit during your exercise routine (at least mine would sometimes become bunched up).
However, for the low price, it's still a great choice.
Bra Features:
Comfortable wireless design
Made from Polyester, Nylon, and Spandex
Minimalist Maternity & Nursing Plunge Bra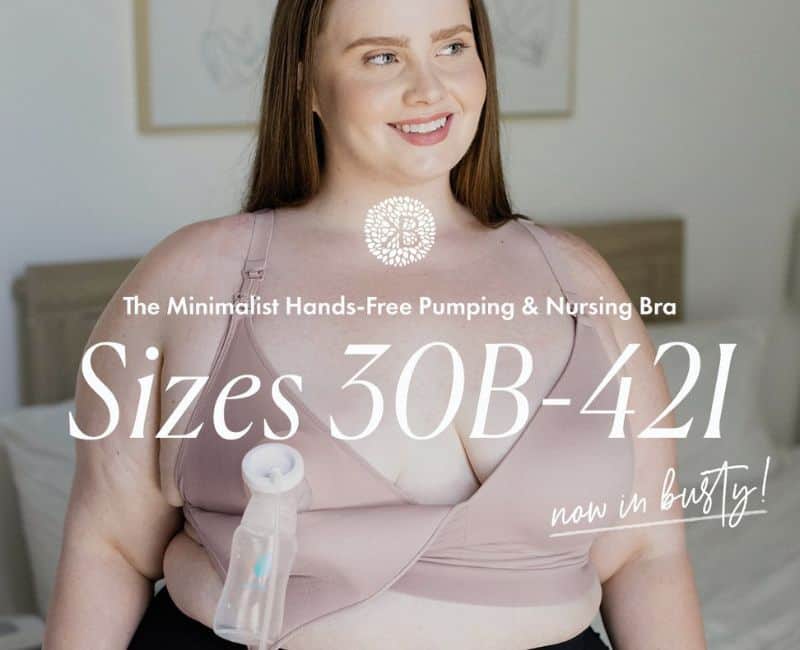 If you love simple, but comfortable t-shirt bras, this is the perfect breastfeeding bra for you!
Kindred Bravely nailed the design with fixed padding that won't bunch up when clasping and unclasping the bra, easy convertible straps, and a wireless design to maximize comfort.
Bra Features:
Made of Nylon and Spandex
Available in size S – XXL Busty
Buttery soft wireless design
Convertible straps to turn into a racerback
Motherhood Maternity Seamless Nursing Bra
This seamless nursing bra is very comfortable and has a great design for moms with larger breasts. It provides comfortable support, no annoying wires, very soft fabric, and full coverage!
The price is a bit higher, but that's because it comes in a 2-pack! So technically, you're still getting a great deal.
Bra Features:
Made of Nylon and Spandex
Full busted + full-coverage design for large breasts
Seamless wire-free design
French Terry Racerback Nursing & Sleep Bra
A Mom's Choice Award and What to Expect: Baby Sleeps Award-winning bra. This buttery soft nursing sleep bra will have you never wanting to take this bra off. Guess what? NO bra clips to fumble with!
It's designed for low-impact activities like sleeping, lounging, yoga, or walking as it has thin lining and low support. However, with its wire-free design and wide straps, you will feel comfortable like no other. Plus, coming in at under $40, it's a win!
Bra Features:
Made from Rayon of Bamboo and Spandex
Nursing Spacer Bra by Auden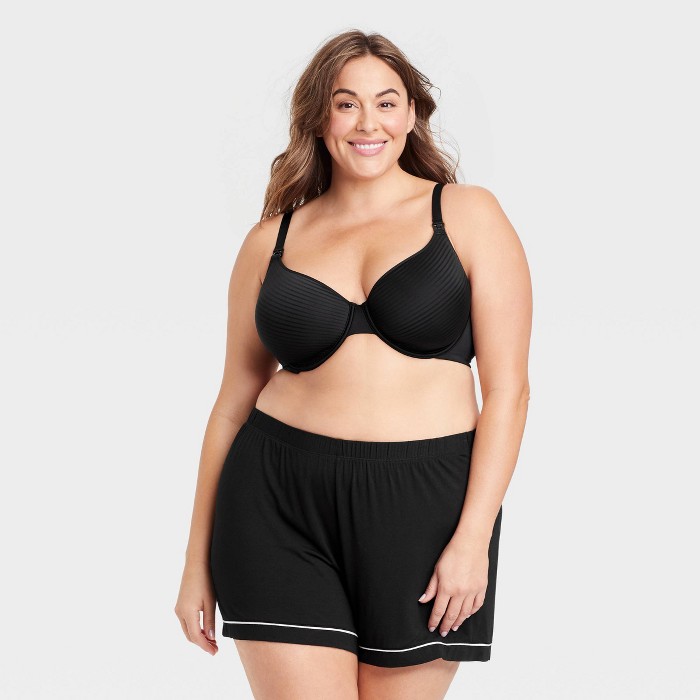 This, unlike many others on the list, is an underwire bra for moms who just really need that extra support.
The Nursing Spacer Bra is a popular option because it cost less than $20! It has lightly lined cups and an underwire to offer a nice silhouette shape under any shirt. If you're going out often and want a bra that is supportive and fashion-friendly, this could be a great option for you.
Though there is one common complaint that comes up with this bra and it's the material. Many have said the material feels a bit rough at times, so if your breasts are feeling sensitive (which wouldn't be a surprise as a breastfeeding mama), you might want to consider another option.
Bra Features:
Made of Polyester, Nylon, and Spandex
Best Budget-Friendly Nursing Bra Pack — Cakye Maternity Nursing Bra
I wouldn't consider these nursing bras to be the most comfortable by any means. In fact, if you have sensitive nipples during those early days, I might advise holding off as the material isn't as smooth or soft as others.
However, this 3-pack of bras coming in under $25 is a deal that cannot be missed!
This bra has minimal support so it's best if used for sleeping or lounging around the house. It has a front criss-cross design, along with being a pullover bra, making it incredibly easy to access for nursing or pumping.
Bra Features:
Has slit for optional bra pads or cups
Made of cotton and spandex
bravado! BASICS Comfort Maternity and Nursing Bra
This maternity and nursing bra has been tested and approved by mom, is certified safe from over 350 harmful chemicals, and has a 4-way stretch for extra comfort. It's no wonder they have such raving reviews — making it a top choice for everyday wear.
Bra Features:
Seamless fabric with 4-way stretch
'B-clips' for easy nursing action
Made of Nylon and Spandex
HOFISH Maternity and Nursing Sports Bra
This maternity and nursing sports bra was beautifully designed to provide moms comfort and support throughout their pregnancy and through breastfeeding.
This sports bra also features a cute design with a wide backing for more support.
Bra Features:
Made of cotton and spandex
Provides light to medium support
Playtex Foam Shaping Nursing Bra
This affordable nursing bra by Playtex has been raved about by a few mothers I personally know, hence why I had to include it on this list.
Some of the things they love are that it feels like a normal bra regarding support and style, but functions as an easy-to-latch and unlatch nursing bra. It also shapes nicely under t-shirts.
Bra Features:
Made of Polyester, Spandex, Polyurethane, and Nylon
Design flexes comfortably to fit mom's body and curves
Cool fabric to keep mom cool and comfortable
Finding a comfortable and affordable nursing bra doesn't need to be a stressful process. Take the time to look into what features of the bra you'd like most and then narrow your selections down according to your budget.
---
With this list of affordable nursing bras, you should have quite a selection to choose from. Which of these budget-friendly nursing bras do you like best?
Read more breastfeeding articles here: