Strawberry French Toast for Babies & Toddlers
This post may contain affiliate links that I may receive a commission from if you click & buy. In addition, the information on this site is NOT intended to be medical advice. See my full policy for more information.
French toast sticks are the PERFECT food for babies expanding their solids (such as baby led weaning) or picky toddlers. Well, this delicious and easy-to-make strawberry french toast for babies and toddlers will not disappoint!
Listen, moms don't have hours on end to spend whipping up an elaborate breakfast for their kids every morning. I know I don't! That's why I opt to make simple, yet flavorful meals that both of my children will love.
The best part about french toast is that you have a variety of ways to make it. I'll walk you through the exact recipe I use and make for my own kids, plus some extra tips to help those that have babies still learning to eat solids.
French Toast for Babies: The Ingredients
The ingredients for this strawberry french toast recipe are simple. All you need is:
Sliced bread of your choice (we tend to get low sodium whole wheat breads, but any bread will do)
Milk (whole milk is great for babies 12mos +)
Fresh or Frozen Strawberries
Sandwhich sized tupperware container
Note that if you're using fresh strawberries, you may not have to use any water.
Bonus tip: You can make these for yourself too! If you do, you might serve it up just like this: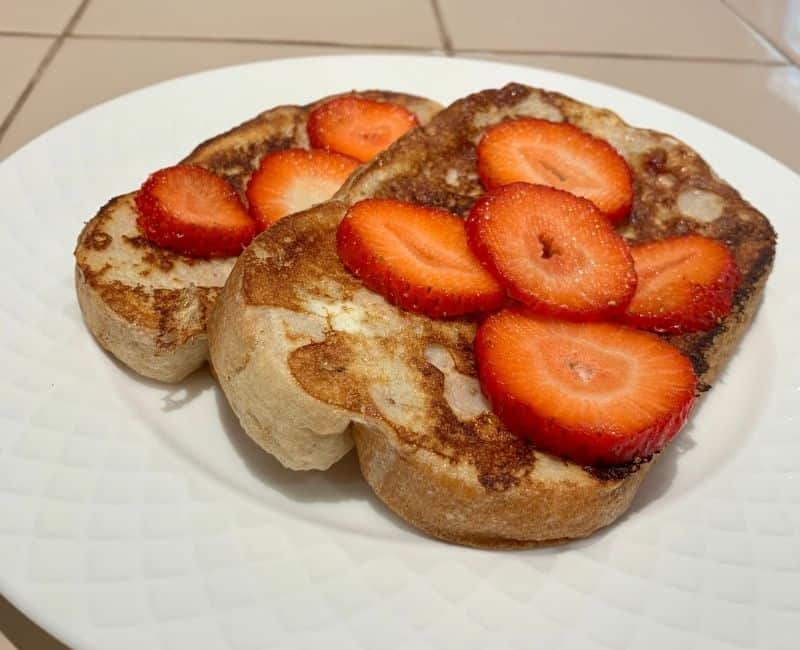 French Toast for Babies: Cooking Instructions
Whipping up these easy french toast sticks is really simple! Follow along with the cooking instructions and you'll have some delicious baby led weaning friendly french toast for your little one in no time!
Preheat a medium pan on low/medium heat.

Whisk together 2 eggs, about 1/4 cup milk (I always just eyeball it), and sprinkle of cinnamon in the tupperware dish.

In a blender, blend a handful of frozen strawberries with water. You want the texture to be that of a slightly runny slushie.

Add about half of the strawberry mixture into the tupperware dish and whisk.

Add a slice of bread to the tupperware and allow it to absorb the mixture. Flip sides to ensure all of the bread is coated (you want the bread to be mushy, but not falling apart).

Cook the bread on preheated pan, making sure to flip once golden brown (however keep in mind some of the egg may cause certain spots to turn a darker brown which is completely normal).

Serve your toast by cutting off the crust and cutting into thin sliced "sticks". Drizzle the remaining strawberry mixture over the french toast or serve in a small dipping dish.
New to baby led weaning? Learn everything you need to know HERE!
Things to Know When Cooking French Toast for Babies and Toddlers:
The best Way to Serve French Toast to Babies
Young babies need foods that they can easily grasp and hold onto. This is why serving baby french toast sticks is a great way for them to experience this new and delicious food.
Simply cut off all of the crust and slice the remaining bread into small sticks for your baby. And honestly, toddlers love the sticks as well because then they get to enjoy dipping them into various sauces or launching them off into outer space (you get the idea).
Here is the way I like to serve my little ones (on our no-slip EZPZ mini mat). The strawberries are a bit thicker as my children are much older now, but if I was baby led weaning I would only be offering the french toast without the sliced strawberries.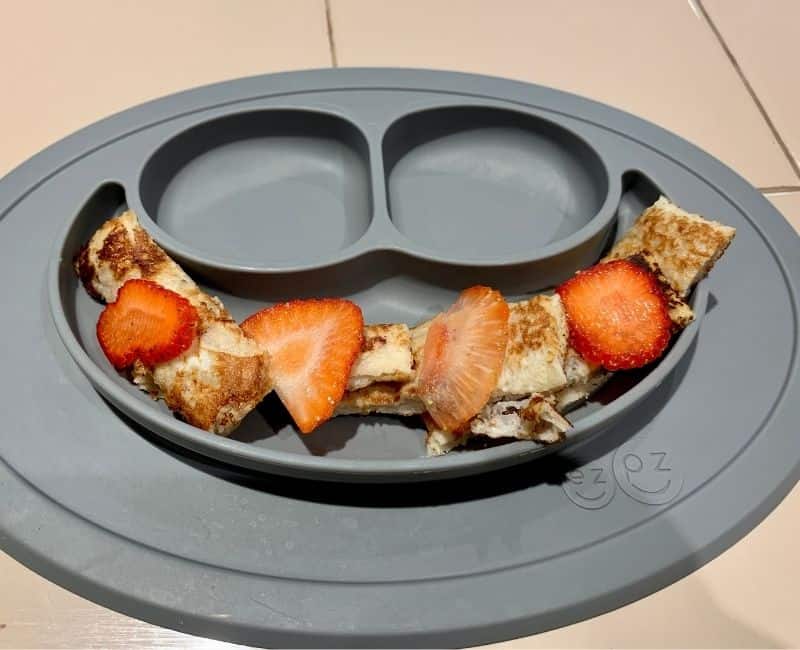 Different flavors of French Toast for Toddlers
The one thing about toddlers and meals is that they can get boring pretty quickly. The same french toast you made last week is so not trending this week. Instead of forcing it on them, get more creative!
I've found that whenever a meal or recipe is getting boring for my 3-year-old, I need to change it up by adding some flavor. In this instance, we did the strawberry french toast.
However, you could easily swap the strawberries for any other fruit or topping out there. Outside of toppings, you can even kick it up by offering them little dipping sauces! With this recipe, I served it to my son with a small bowl of the leftover strawberry blend. He had tons of fun dipping his french toast sticks into the dipping sauce he never even had a chance to get bored or change his mind.
Dipping sauces are easy to make too. What I like to do is get frozen fruit and just blend them with water. Adding more or less water depends on the consistency I'm trying to reach. This ensures you're not adding any unnecessary ingredients and that your recipe, overall, stays healthy.
Mom Tip: Make extras to store in the freezer for the week (I personally don't keep these in the freezer beyond 1 week). Don't forget to separate them with parchment paper so they don't get stuck to one another.
---
Not only is french toast delicious, but it always seems to be a hit with babies and toddlers (especially picky eaters). If you try out this recipe, please TAG ME on Instagram (@mom.afterbaby) and let me know how your little ones like it.
Read more baby & toddler recipe articles here: