New Mom Hospital Bag Checklist Printable (for mom, dad, and baby)
This post may contain affiliate links that I may receive a commission from if you click & buy. In addition, the information on this site is NOT intended to be medical advice. See my full policy for more information.
Worried you won't know what to pack in your hospital bag for labor & delivery? This New Mom Hospital Bag Checklist should help…
During my first pregnancy, I remember watching a TON of youtube videos trying to figure out what I REALLY needed to pack in my hospital bag.
Some packed too much, some didn't pack enough. That's why I decided to create the Ultimate Hospital Bag Checklist! It has everything expecting parents need to prepare for their big day of birth!
Below, you will find a hospital packing list for yourself (mom to be), your partner, and of course, for baby!
If you don't already own most of the items mentioned in this list, you can sign up for Amazon Prime to save you time and money on ordering the items you need for baby day!
The New Mom Hospital Bag List
If you don't have a ton of time to read this entire post, don't worry. Simply jot down the items on this list as your "hospital bag essentials".
As long as you have these packed for yourself, you will be golden if your baby decides to surprise you with an early visit.
Hospital Bag Essentials for Mom:
How many weeks pregnant should you pack your hospital bag?
Ideally, you should aim to have your hospital bag packed and ready to go between weeks 32-36 of pregnancy.
I know it seems a bit early, but it's always best to prepare sooner rather than later.
I had my hospital bag packed & loaded into the car by week 34.
It was nice to know everything was ready to go that way if we did experience any scares or reasons to go to the hospital early, we were ready!
What does the hospital supply when you have a baby?
I'm going to be 100% honest here – this will be highly dependent on your hospital or birth center.
This is one of the major reasons you SHOULD attend your hospital tour well in advance so you can ask this question.
However, from my experience with two hospital births, these are the items they sent me home with:
1 Clear plastic peri-bottle
5 Disposable postpartum mesh diapers
1 Container of A.E.R witch hazel pads
1 Small tube of lanolin nipple cream
1 Can of Dermoplast spray
Most likely you'll have to restock the items above at least once as you fly through them recovering after birth.
In the checklist below, I'm not only going to share the items you should pack, but also the ones to have on standby for recovery after you deliver.
What to pack in hospital bag for mom?
When it comes to packing your hospital bag, you'll want to take a few things into consideration:
What type of labor are you preparing to have? (keeping in mind this could end up being different).
The length of your hospital stay (average is 24-48 hours, however, if you have complications, you could end up staying for 5ish days as I did)
Who else will be with you? (In this post, we're going to assume dad will be with you)
Now nobody wants to lug around a big ol suitcase full of things before or after giving birth.
So this list will have you covered for a standard hospital stay WITH suggestions of things to consider if you suspect you could end up staying a bit longer!
⇒ Recommended Courses to take BEFORE birth:

>> Milkology Breastfeeding Online Class (Code: FITMOMMY10 will save 10% off)

>> Preventing Postpartum Depression (Code: FITMOMMYSTRONG saves 15% off)

>> Birth it up or Birth it up 2.0 (Code: MOMAFTERBABY saves 10% off)

>> Relationships AFTER baby (Code: FITMOMMYSTRONG saves 15% off)
The Ultimate Hospital Bag Checklist for Mom
Lightweight Robe – At some point, you may walk around. If you didn't bring your own 'delivery' gown, you'll be using the hospital's gown. A robe is a nice way to feel less exposed and somewhat less like a hospital patient.
Slippers/Flip Flops – I don't know about you ladies, but my feet were SO swollen leading up to birth. The only shoes that fit me were my flip flops and slippers. At the hospital, they gave me hospital socks, but nothing beats comfy slippers when walking around. The flip flops came in handy once we got to leave.
Soft Nursing Bra – I didn't actually get to use mine right away, BUT I can attest to it being extra comfortable (especially after pumping every 2 hours + trying to breastfeed)
Loose Fitting Go Home Outfit – You will still look and feel pregnant after you have your baby. Don't expect to fit into all your pre-pregnancy clothes and just bring something loose and comfy.
Nursing Nightgown – You can check with your hospital to see if they'll allow you to bring your own delivery/nursing gown. I didn't because I didn't want to spend the money, but it's still an option.
Always Discreet 'Diapers' – The hospital will provide you with mesh undies with heavy duty maternity pads, but they're very uncomfortable. I brought this discreet underwear and it was more comfortable and easier to use.
Hair Ties/Accessories – It'll get hot during labor. In the instance you want your hair tied back, you don't want to not have these handy!
Shampoo/Conditioner – Something the hospital may have, but in case you get admitted longer, it's good to have on hand.
Makeup – 100% Optional! I only brought my MAC Powder Foundation, Mascara & Brow Pencil. I didn't want to look entirely worn down, but it was still a very natural look.
If you don't actually have a weekender bag or suitcase to use, this is the weekender bag I used!
Not only is it affordable, but I absolutely love that it folds back down into a tiny square when not in use for easy storage! This bag made my life so much easier I can't recommend it enough!
What to pack in your hospital bag for a c-section:
If you have a scheduled c-section or anticipate possibly needing one, your hospital bag may also include some of these items:
Abdominal Binder/Postpartum Belly Wrap – These are great post-c-sections to help support & hold your abdominal muscles together after surgery. This aids in pain relief, swelling reduction, and also helps to promote healing. Be sure to check with your hospital as some of them will provide one for you to take home.
Compression Socks – After birth (especially cesareans) it's not uncommon to experience lots of fluid build up in your legs. Your hospital will likely keep massaging leg compressors on you while you're on bed rest, but once those come off, having some compression socks to switch into can be helpful.
Nursing Pillow (like this one) – Having a nursing pillow will be extremely helpful so that you can enjoy those sweet snuggle sessions with your baby or even breastfeed comfortably without all the added pressure on your incision area.
What to wear to hospital to give birth?
This is 100% your preference.
You should always check with your hospital to make sure they approve of you wearing your own hospital gown (like this one, it's super cute, comfy, and affordable). However, as long as the gown you bring provides them with the appropriate access points for monitoring or medical intervention, chances are it should be ok!
When I gave birth the first time, I didn't bring my own gown. I just wore the standard hospital gown which I will admit was a little uncomfortable.
I also brought my robe because the back of the gown was see-through and I wasn't trying to put on a show for the other hospital guests while I walked around the halls trying to progress my labor.
The hospital gown I bought for my 2nd birth, was this one, the Baby be mine 3 in 1 Hospital/Maternity gown.
This hospital gown is great because it allows you to easily unsnap the back for epidural access, the sleeves also unsnap and can be pulled down for easy breastfeeding or skin to skin after baby is born, and it is very loose-fitting for a comfortable birth experience!
Not to mention, it can also be used at home as a nursing sleep gown (which you better believe I did).
Important Items you'll want to pack in your hospital bag:
Copy of your Birth Plan – If you don't have one because you don't have a specific plan, that is 100% ok! However, it's a good idea to make one in the event you have any specific requests. You can grab a copy of the birth plan I used from Oh Baby Pregnancy Planner which has much more than just a birth plan!

Insurance Cards – you'll most likely be filling out some sort of paperwork in the hospital, so make sure you have your important insurance documents just in case.

Phone Charger(s) – you'll want to check with the hospital to see if they have outlets available to use, but almost all of them have standard plug-in outlets available

Camera – if you have a phone that doesn't take high-quality photos, make sure to bring a camera as a back up to snap some awesome pictures of these precious memories.

Car seat – This will not be in your "bag", but it should be installed and ready to go! We personally used the Chicco Keyfit Infant Car Seat – the best choice for our crossover SUV!
Should I bring my breast pump to the hospital?
All hospitals should have a hospital-grade breast pump in the room for you to use when you're there.
However, I personally do think it's a good idea to bring your breast pump if you're not familiar with using it that way the nurses or if they have a lactation consultant on staff there, they can help you learn how to use it.
Fortunately, the breast pump I have (Spectra S1) is very active on their social media pages and also has a very helpful website dedicated to helping moms learn how to use their breast pump correctly!
Miscellaneous Hospital Items for Birth
Breastpump – (see notes above)
Nursing Pillow – A Nursing Pillow will come in very helpful if you're breastfeeding.
Belly Band – I didn't bring one, but I've heard some women say it helps them feel a little more 'together' after birth. Especially if you've had a cesarean birth!
Extra Cotton Panties – You'll likely be living in the hospital mesh undies/pads if you don't bring your own, however, the mesh stretches out easily, so if you have some oversized cotton panties, you can put your large cotton panties over the mesh to hold it all in place.
Hospital bag checklist for dad
Toiletries (toothbrush/comb/deodorant/hair product if needed)
Change of clothes (1-2 sets)
Loose Change (in case you need to grab drinks or snacks from the vending machine)
Pillow – Usually the hospitals will provide a place for dads to sleep including bedding & pillows, but they're really not that comfortable.
Books or Games – Any type of entertainment. Depending on how long you're hospitalized and waiting for baby's arrival, it can get sort of boring for dads. You can also use an online book reader to keep entertained if you end up being there a while!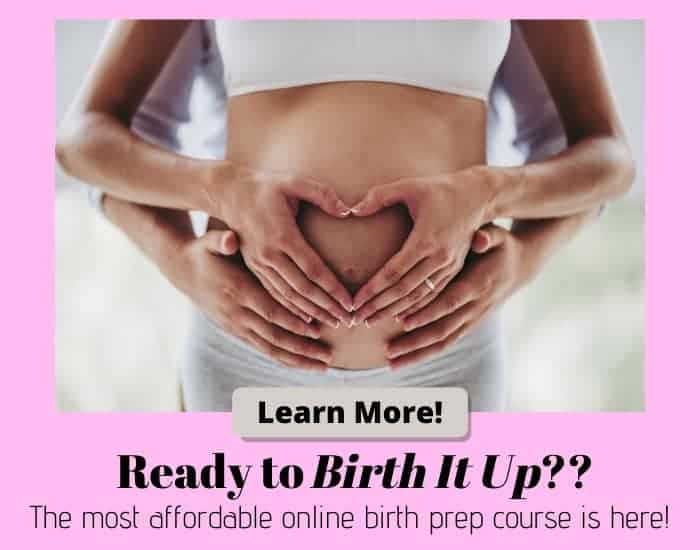 Hospital bag checklist for baby:
If you're wondering what to pack in the hospital bag for baby, you don't need to sweat it. The list is actually much shorter than you probably expected!
Go Home Outfit – Most babies will fit into the newborn size, but it's always safe to bring one size up or down just in case.
Swaddle Blanket – In the event you want to use your own blanket for cute newborn photos or simply to feel like your baby is breaking into their belongings, I suggest bringing 1-2 swaddle blankets.
Packed Diaper Bag – This mostly applies for the car ride home and if you'll be making any stops between hospital to home.
Looking for MORE tips to help you prepare for Labor & Delivery?
What hospital bag essentials did you pack for baby's big debut?