The BEST Postpartum Underwear: Helping Moms Feel Confident After Birth
This post may contain affiliate links that I may receive a commission from if you click & buy. In addition, the information on this site is NOT intended to be medical advice. See my full policy for more information.
Congratulations mama, you did it. You gave birth to that beautiful bundle of joy and you're now realizing things down there are A LOT messier than you anticipated. No need to worry, I'll be sharing the BEST postpartum underwear to help you feel cool, calm, and collected after you've just given birth.
Many women think postpartum underwear is somewhat of a one size fits all deal. It's not.
Trust me when I tell you, vaginal deliveries and cesarean deliveries have far different needs when it comes to the undies they use.
Yes, you'll experience bleeding either way, but the level of support, the style, material, etc… all those fine details matter.
Don't have time to read the entire article? Now worries! Here's my TOP 3 Postpartum Underwear picks for new moms:
Why You Need Postpartum Underwear In The First Place
Having a few GREAT sets of postpartum underwear is a necessity for all new moms.
Good quality postpartum underwear will help you contain the bleeding, be breathable for your tender healing skin, and add in a little support whether or not you need it.
Poor quality postpartum underwear will use cheap fabrics that wear and tear easily, not be supportive at all, have horrible seams that dig into or irritate your skin and truthfully just make you feel uncomfortable.
Disposable postpartum underwear vs. fabric postpartum underwear
Disposable postpartum underwear is a big loose mesh panty you slide on top of the huge maternity pads they give you after birth.
They don't offer any kind of support, and stretch out easily, but many moms like them due to their stretchy non-compressive nature.
However, the brand Frida Mom recently launched its own version of disposable after birth undies that have pretty stellar reviews online.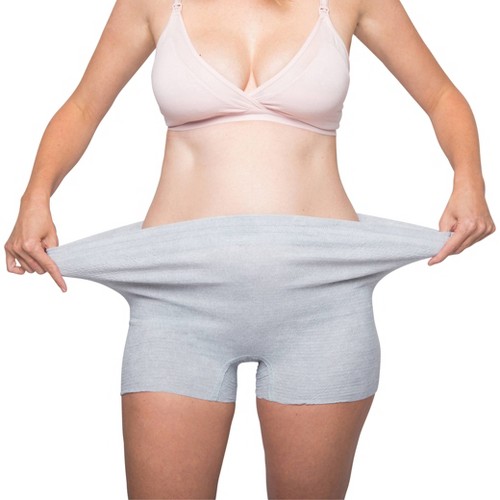 I never got the chance to try them when my 2nd was born, but you really can't beat that solid 5-star review online.
Fabric postpartum underwear on the other hand is, you guessed it — supportive and comfortable.
Plus, if you've had a cesarean, you'll probably be wanting something extra high-waisted to prevent any incisional irritation.
What's the best style of underwear for moms recovering from birth
Each style of underwear will serve a different purpose (as does non-postpartum undies).
The most IMPORTANT part about choosing your undies is that you will feel comfortable wearing them.
After having my first where I limited myself to only one kind of underwear, I decided to get a few different ones with my 2nd and I'm so glad I did.
I found during those first initial days after giving birth, that the disposable always discreet panties worked best.
Then once the bleeding started to really slow down, I found the Knix high-waisted leak-proof panties helped me feel more like myself thanks to the slight compression and the leak-proof design in case I had any accidents.
Once all bleeding had stopped and I had better control over my postpartum pelvic floor again, I loved my Kindred Bravely postpartum underwear. They're just so soft and breathable, I love them.
Now that you know which undies I found to be comfy, here's a breakdown of the different style options you may find out there:
High-Waisted: Great for cesarean deliveries & just general extra support
Disposable: Excellent for the initial and early postpartum days
Crossover Waistband: Nice because you can wear it throughout pregnancy and also postpartum
Cesarean Recovery Panties: Made specifically for cesarean deliveries
Compressive underwear: Helpful to "hold it all together" after birth if you feel uncomfortable with less support.
The BEST Postpartum Underwear To Use After Birth (vaginal delivery)
Now that we covered some of the features of what makes good quality postpartum underwear (because comfort is key), let's jump right into the list of undies!
Kindred Bravely has grown to be a leader within the maternity & postpartum space because they create comfortable and well-designed clothing for moms of ALL stages.
Hence it's no surprise their high-waisted postpartum panties make an excellent choice for moms whether they delivered vaginally or had a cesarean delivery.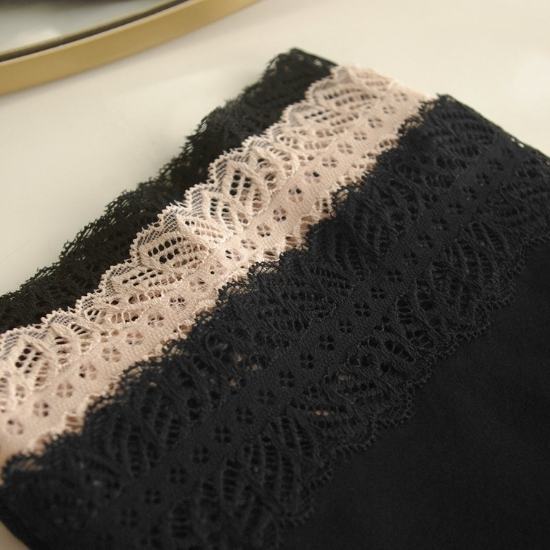 These underwear feature the following:
Variety of colors & sizes
Knix makes my all-time favorite leakproof undies in the world.
They're stretchy, soft, and seamless (so yes, they look GREAT in jeans or sweats).
Plus, they have a small amount of compression to help hold things together (which is important after birth).
The lining is way too thin to wear alone after birth, so I suggest using a maxi-pad inside until your bleeding lightens up.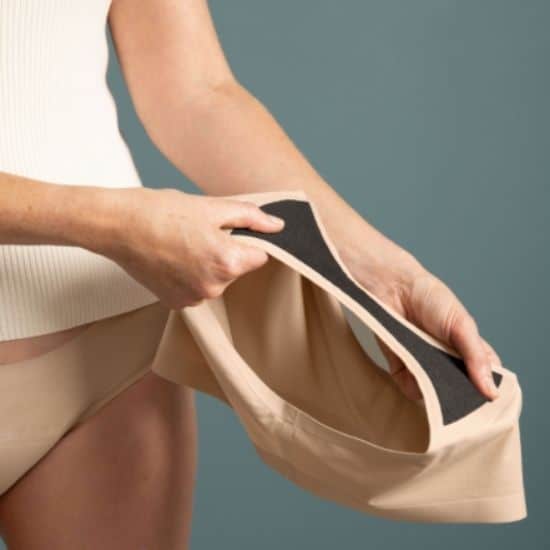 These underwear feature the following:
Absorbs 8 tsp of Blood, Pee, or Sweat
Snug, yet relaxed and breathable fabric
Extended gusset for maximum absorbency
The post pregnancy panty shaper is a great choice if you're looking for underwear with more compression.
These undies use breathable cotton fabric for extra all-day comfort.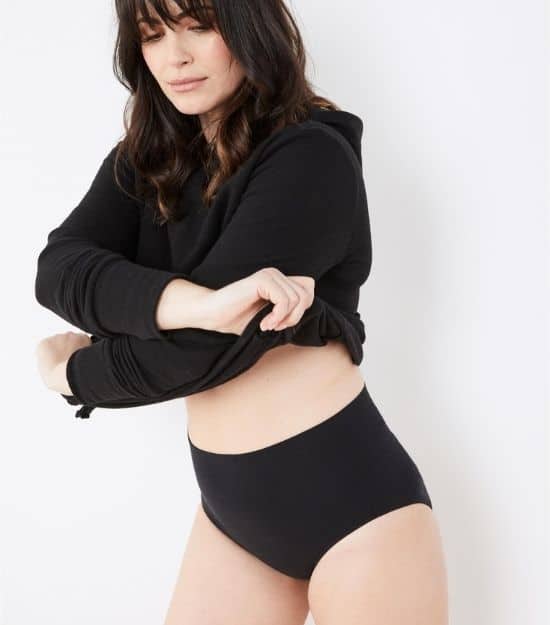 These underwear also feature the following:
Breathable Cotton/Nylon/Spandex fabric
Supportive After A C-Section Design
Frida Mom really stepped it up in the disposable undies catrgory.
These postpartum underwear are similar to the hospital mesh panties they give you except these offer MUCH more support & comfort.
Had I known about these before giving birth, I would've gotten myself a pack or two.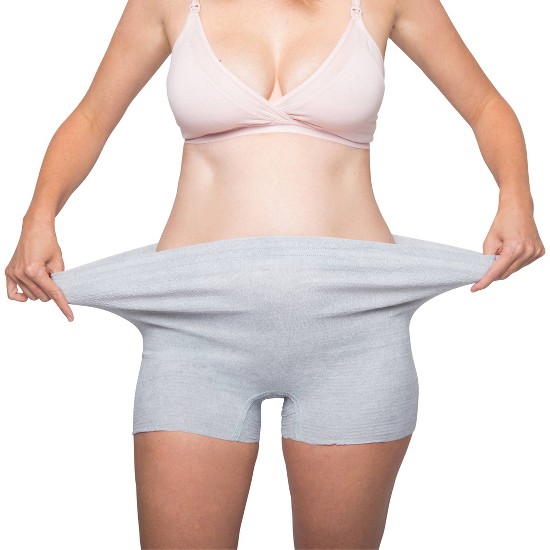 These underwear feature the following:
Microfiber + Spandex Blend for Maximum Comfort
Belly Bandit's unique bonded waistband provides 360 degrees of compression for postpartum recovering mom.
Not to mention, helps give that "smooth" waist look under sleek garments and jeans.
However, don't let that be your driving focus, you are FAR more than how you "appear" in clothing, ok?
These underwear feature the following:
Seamless — No Panty Line Design
Soft Compression for Cesarean Recovery
Soft, Thin, Breathable Fabric
These undies will be your besties even AFTER you get out of the postpartum stage. They're affordable & they're comfy!
These underwear feature the following:
Snug enough to hold a C-section bandage in place, but non-compressive
These cotton briefs by Fruit Of The Loom are super comfy.
One thing many suggest when packing your hospital bag is to have designated postpartum panties packed, but to also bring a few backup "granny panties" just in case.
I consider these my "granny panties" even though they are kind of cute (at least I think so).
These underwear feature the following:
100% cotton liner for extra comfort
High brief or low brief design
Comes in an a 6-pack assortment
8) BamBody Maternity/Postpartum Leakproof Underwear
These Leakproof undies provide maximum protection for leakage, up to 2 full tampons to be exact!
And compared to other leakproof undies on the market, they're about HALF the price — talk about a win win for new moms!
These underwear feature the following:
Heavy absorbency & protection
Great for maternity and postpartum (including cesarean recovery)
I absolutely LOVE these disposable underwear. The alternative to this is the Always Discreet. I used both and will say they're pretty darn similar.
The Boutique design features just a slightly thinner material making them more comfortable to wear under a dress or leggings.
Here they are side by side for comparison:
Lastly, for the mamas who aren't a fan of the high-waisted panties, this set is for you!
Plus, they double as maternity & postpartum panties so you really get your monies worth!
These underwear feature the following:
Crosssover waistband that sits under the belly
What About The Best Underwear for C-Section Recovery?
Aside from bleeding, cesarean moms have a few other areas to take into consideration when it comes to choosing a postpartum panty that best suites them.
This includes keeping their incision free & clear from any irritating fabric.
Plus, using a more supportive panty that can take the pressure off their bellies as they recover.
Below, is a list of the BEST cesarean panties for moms!
The C-Panty is far from "cheap", but there's a good reason why!
Unlike other panties, they feature a silicone panel that sits just over your incision area to help reduce irritation — all while providing snug compression to alleviate some of the pressure on your tender belly.
These underwear feature the following:
Compression around incision to reduce swelling and pain
Built in silicone panel to reduce irritation along incision
Soft, breathable, cotton gusset
Leonisa postpartum underwear feature a unique design in which they have an adjustable waistband for a comfortable fit each time.
Created for moms who've had a vaginal or cesarean birth, you'll find lots of comfort with this pair of underwear!
These underwear feature the following:
Double layer slimming front adjustable panel
Protects c-section incisions
Provides comfortable compression to reduce swelling
With an easy on/off design thanks to the hook & eye closure design, these C-section shorts make postpartum recovery much more comfortable for cesarean moms.
These underwear feature the following:
Silver-infused fiber construction in the panty to reduce odor
Three adjustable compression zones
Breathable knit fabric to stay cool
No more thigh chafing thanks to this unique design
For the same reasons these panties are my top pick for vaginal deliveries, they're also great for cesareans too!
They don't provide much, if any, compression, but in terms of comfort — you can't go wrong here!
These underwear feature the following:
Variety of colors & sizes
For the same reasons these panties are my top pick for vaginal deliveries, they're also great for cesareans too!
They don't provide much, if any, compression, but in terms of comfort — you can't go wrong here!
These underwear feature the following:
Variety of colors & sizes
There you have it mamas, the BEST postpartum underwear to stock up on and load up into your hospital bag before the big day!
Other POSTPARTUM Posts You'll Love: