The Postpartum Plan — HOW to make one and WHY it's important!
This post may contain affiliate links that I may receive a commission from if you click & buy. In addition, the information on this site is NOT intended to be medical advice. See my full policy for more information.
Throughout pregnancy, moms become so captivated by planning for their birth & baby. They have their baby shower, take maternity photos, make a birth plan, and pack their hospital bags, but wait. What about making a postpartum plan?
The postpartum period, also known as the first 6 weeks after birth, is one of the most complex times for any new mom. Well, ANY mom for that matter.
The thing is, postpartum, at least in my eyes, doesn't end at the 6-week mark. It lingers on with us long after those 6 weeks end, yet we spend little to no time preparing for it.
After struggling in the postpartum period myself, I'm going to share how you can PREPARE for your postpartum experience to limit the overwhelm and actually, enjoy it!
Top reasons making a Postpartum Plan is IMPORTANT
Have you ever heard the saying "you just don't know what you just don't know"?
That saying couldn't be more true for the postpartum period.
The truth is, as moms, there's just a lot of things we really don't know.
Whether it's our first, second, third, or more baby…there's always some kind of adjustment we have to adjust to.
This is the beauty of making a Postpartum Plan. Instead of frantically trying to figure things out, you've now created a little roadmap of yourself with instructions to help you along the way.
Besides all of the unknowns, let's look at a few other reasons you SHOULD make yourself a postpartum plan.
You might need help breastfeeding.
You could need help bottle feeding.
You might need a doula or babysitter on call to help you care for baby (or other children) once your partner returns to work (or simply because you need a break).
Your partner might need support.
It's good to have a support system of trustworthy individuals you can talk or vent to.
You may need to talk to your doctor about how you're healing after birth.
You could need to talk to baby's pediatrician about health concerns.
See? There's a HUGE list of things you may need. Even if you're unsure whether or not you'll need them, being prepared and having these things good to go will make your new life with a baby 10x easier.
Adjusting your expectations to your new life after pregnancy
Before we dive into the postpartum plan (which you're welcome to scroll ahead if that's all you're here for), I wanted to talk a little bit about adjusting to your new life after pregnancy.
I remember wondering what exactly life would be like after our sweet boy was finally born.
I had so many mixed ideas between those 'picture perfect' mom-influencers on Instagram and then the 'messy-motherhood' bloggers who shared the complete opposite spectrum.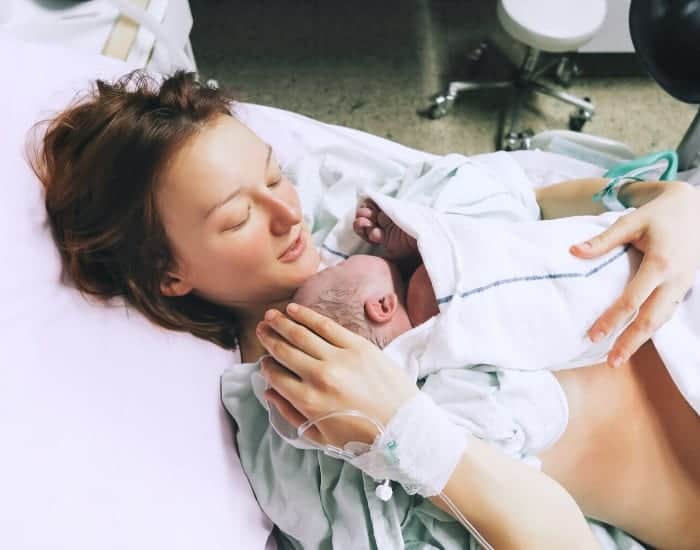 Could there be a middle ground for this new life with a baby?
I think there can be. In fact, I know there is.
So the first thing I want you to do – is I want you to LET GO of any expectations you have.
Your motherhood journey is going to be 100% unique to you and your life. Nobody else's.
The second thing I want you to do, is I want you to OPENLY DISCUSS the rest of this post with your partner.
Life after birth is no joke. Far too often most partners just don't realize or understand the extent of what giving birth and having a baby can take both physically and mentally on mom.
So help them learn & ask them to join you on this journey together!
The last thing I want you to do is to acknowledge that YOU'RE DOING YOUR BEST!
We sometimes can be really hard on ourselves, throughout pregnancy, throughout birth and motherhood.
Frankly, it's unnecessary and it doesn't do anyone any good. So cut yourself some slack, okay mama?
Now that we covered those points, we can go on to making our postpartum plan!
How to make a postpartum plan
Believe it or not, making your postpartum plan is pretty easy!
There are a few questions and topics you'll want to consider when actually writing out your plan that include:
Listing friends/family you can contact for help (chores, cooking, babysitting, support — try to think of people you know will actually help you and not just try to make it a social hour).
Look into some therapists and jot their info down in the event you need to work through postpartum depression or anxiety (have you ever dealt with postpartum mood disorders before? you could also try using the Postpartum Mental Health Guide to prepare for the fourth trimester)
Do you know what to put in your Postpartum Care Kit? (this care kit should be prepared BEFORE the baby is born)
Childcare or schooling support if you have older children in school or extracurricular activities.
Supportive resources for your partner.
Essentially, you can take a pen and paper and make this plan as unique as you need it to be.
Although I have a postpartum plan template you're able to download, print, and fill out for free, I personally always suggest the ol' pen and scratch paper method.
Download My Postpartum Plan Worksheet
As I mentioned, you can grab a notebook, jot down all the info above and make your own plan in a matter of minutes!
OR if you just want my FREE 5-Day Postpartum Prep course, it will walk you through exactly how to create your postpartum plan — step by step!
Common Postpartum Complications & Side Effects
Preparing for postpartum involves a lot more than just checklists. It takes a thorough understanding of how your body and mental health will be affected.
In my experience, the mental health aspect can be one of the hardest.
This is why I always suggest using The Postpartum Mental Health Guide. It was created by a licensed Clinical Psychologist who specializes in working with moms from pregnancy through postpartum.
Bleeding After Birth
Did you know regardless of having a vaginal or cesarean delivery, you will have some form of bleeding after birth?
That's right! You'll need to stock up on those hefty postpartum pads or adult diapers one way or another!
So, how much bleeding should you expect?
According to an article on Healthline, "If you had a cesarean delivery (C-section), you'll likely have less lochia (bleeding) than you would after a vaginal delivery. Still, you'll probably see some blood for a few weeks. If you had a vaginal delivery, in three to six weeks, it should stop."
It's also important to pay attention to HOW MUCH you're bleeding after birth. If you ever get to a point where you're soaking through your pads or adult diapers hourly (or more), you should contact your doctor immediately.
You should also be monitoring any kind of blood clots. If you're passing abnormally large clots or a ton of clots, that's another reason to contact your doctor right away.
Developing Postpartum Infection
Although not as common, it is definitely possible to develop an infection after giving birth.
This could be due to a tear or episiotomy not healing correctly (something I actually experienced), an infected cesarean incision site, urinary tract infection(s), chorioamnionitis (an intra-amniotic infection – something I also experienced), mastitis (breast infection) and more!
Many of these infections occur simply due to the fact that bacteria enters the specific locations (vagina, uterus, bladder, nipples, and more), preventing them from healing or becoming infected.
Ways to monitor yourself for the possibility of an infection (if it's not already caught and being treated while you're in the hospital) include:
Stinky vaginal discharge, pain or bleeding after birth that isn't letting up.
Fever over 100.3 that won't go away.
Discharge, swelling, redness, and oozing from any incision sites.
Constant pain or burning when urinating.
Increased heart rate for no apparent reason (could be due to infection.
Breast pain, swelling, burning, or redness that only gets worse over time.
The overall feeling of lethargy, light-headedness, or feeling of being sick.
During labor, I ended up with chorioamnionitis due to some complications, thankfully our hospital team was on top of it as soon as my son was born. I was hooked up to antibiotics right away and hospitalized for a few days to monitor the infection.
I also ended up with an infection of my episiotomy site around 3 weeks postpartum. I was experiencing horrible pain/burning when urinating along with lingering pain that wouldn't go away with icing or pain medications.
Turns out, one of my incisions fell out so the incision was left open, unable to heal itself and began to get infected. Since we caught it so quickly, I was able to take antibiotics for a few short days and close up the incision.
My advice – not matter WHAT concerns you're having after birth, if something feels weird or off, let your doctor know.
There are too many things that can be left untreated which in turn can have some serious complications on your recovering body. So never ever be afraid to reach out to your doctor and ask them your questions!
Postpartum Urinary Incontinence
Urinary incontinence after birth is SUCH A COMMON occurrence amongst women.
According to an article on Parents, they stated, "Urinary incontinence is incredibly prevalent among new moms, affecting at least 7 million women in the U.S".
7 MILLION WOMEN (new moms) are affected by urinary incontinence, holy crap!
Truthfully, I had issues with it after birth too. It wasn't until I began to research and learn more about WHY it happens, that I was able to correct it.
Side note – doing kegels alone will not be the ultimate cure for urinary incontinence.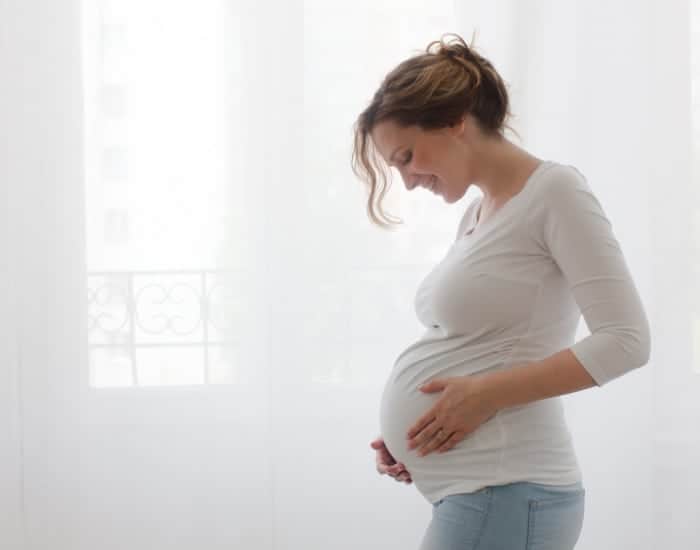 You see, our pelvic floor (the muscle that is responsible for supporting all our pelvic organs) can get majorly stretched out throughout pregnancy and even more so at birth!
Sadly, that muscle can't just 'un-stretch itself' back into place. It needs rehabilitative measures to get tight & strong again.
That's where programs like The Mutu System (a pelvic floor & core strengthening program specifically designed for mom) or in-person Pelvic Floor Therapy can come in super handy!
Make yourself a list of programs/resources you can use so that AFTER your baby is born & once you get medical clearance from your doctor, you can begin rehabilitating your pelvic floor!
Sore Breasts While Breastfeeding
The first few days to weeks can be pretty painful when it comes to breastfeeding.
Lucky for us, my son had a lip and tongue tie that went missed for 12 weeks. It was not fun and it was VERY painful!
However, even with a perfect latch, you will likely feel some discomfort due to this new change of nursing a baby (or pumping if you're a pumping mama).
Be sure to stock up on the following items to help relieve some of that discomfort and pain during the early days.
Earth Mama Booby Tubes (these tubes can be used hot or cold making them perfect to ease the discomfort! I also love that they're made of soft organic cotton making them much more comfortable than other hot/cool packs out there!)
Earth Mama Organic Nipple Butter (I cannot say ENOUGH amazing things about this nipple butter! It glides on like a charm providing instant relief for those poor dried out nipples. I used this after every nursing & pumping session for relief!)
Kindred Bravely Nursing Bras (This brand hands down makes the most comfortable nursing clothing for moms. Wearing a comfortable and SOFT nursing bra/shirt will make a world of a difference when your poor boobs are sore and achy. I cheaped out and got a lot of low-cost bras which I used AFTER a few months, but in the beginning, a high-quality bra can definitely make a difference!)
Soothing Breast Gel Pads (These saved me when I thought I would have to stop breastfeeding. In the peak of my son being unable to lath correctly causing me lots of pain, bruises and bleeding nipples – these soothing pads got me through those bad days! So even if you're not bruised and bleeding, which I hope you're not, I would use these preemptively the minute you notice nipple pain kicking in! Bonus tip – stick them in the freezer for an extra cooling effect!)
Every item on this list above I have personally used and absolutely cannot recommend enough! In fact, I have in my cart ready to order on amazon before our next baby arrives in June!
Postpartum Depression and Anxiety
First things first, postpartum depression and anxiety are no joke.
If you think you could be experiencing these things, please get help by letting your doctor know, telling someone you trust or reaching out to the Postpartum Support International Helpline by phone: 1-800-944-4773 (4PPD) or text: 503-894-9453.
So how do you know if you're experiencing a perinatal mood disorder such as Postpartum Depression or Anxiety vs. Baby Blues?
Baby blues tend to start around the first couple of days postpartum and go away on their own around 14-18 days after birth.
Postpartum Depression, on the other hand, is when those feelings do NOT go away, worsen, or begin to affect your day to day functionality.
Postpartum Anxiety also falls within a similar boat as postpartum depression. Signs can be very similar and how you seek help should also be similar: SEEK HELP AS SOON AS YOU NOTICE THE SIGNS!
Many moms suffer through it alone, feeling like they have no support, embarrassed that they're experiencing this when in reality, it's nothing to be embarrassed about!
As someone who sought out help because of the signs I was experiencing (heightened anxiety, sadness for unknown reasons, anger, and uncontrollable crying) I can promise you it's the BEST decision you can make for yourself, your baby and your relationship.
Now that you better understand some of the changes that come into play during the postpartum period, can you see the benefits creating a postpartum plan can have?
Don't be like me where I let the unknowns ruin so much of those initial weeks that should've been full of enjoyment.
Stop procrastinating, grab a pen and paper, and start jotting down your plan.
Did you make your Postpartum Plan yet?
If you enjoyed this post, please SHARE it to your favorite Pinterest Board so other moms-to-be can see it too!