This post may contain affiliate links that I may receive a commission from if you click & buy. In addition, the information on this site is NOT intended to be medical advice. See my full policy for more information.
Congratulations! You're pregnant and in the very first trimester. You might be wondering what to expect or what kind of first trimester must haves to stock up on.
As a mama who's been pregnant TWICE, I've compiled a list that'll help you feel energized, deal with nausea, and enjoy those early months of pregnancy!
15 First Trimester Must-Haves
After being pregnant twice I found the things I "needed" or my "must-haves" were a little different for each pregnancy.
My first was a breeze, I had no sickness, and really no side effects aside from a little exhaustion.
My 2nd baby had me sick for MONTHS. I developed some early signs of hyperemesis gravidarum (severe all-day sickness) that really threw me for a loop.
Therefor the items I'm sharing will have you covered whether your pregnancy is a walk in the park or a little more intense.
Plus, if you haven't made your baby registry yet, be sure to add these to your list! You can register online at places like Amazon, Target, or even BuyBuyBaby! They all offer a variety of incentives like huge discounts on baby items and even free baby gifts just for making a registry!
Now, let's take a look at the MUST HAVE items that should be on every pregnant mom's radar!
1) An Optimal Prenatal Vitamin is NEEDED
I did a lot of research when it came to choosing the BEST prenatal vitamin.
What I've come to learn after having two kids is that not all prenatals are created equally.
Some contain "just what you need" via crappy ingredients that are harder to digest. Others don't contain nearly enough.
After thorough research, I came to find NEEDED. It's one of few natural and clinically-validated prenatal vitamins available for moms. It goes far beyond providing the bare minimums but instead helps nourish mom AND baby with the nutrients they need during this delicate time of life.
The awesome part is that you can continue to use Needed even AFTER you give birth.
What makes NEEDED stand out even more so amongst others?
It's not a pill — instead, it's the ideal nutrient form that your body can best use.
Providing optimal dosage that would truly make a difference in how you feel and your baby's long-term health.
Using ingredients that are more readily usable by the body than those that are cheap & poorly absorbed, thus inefficiently converted into their active form(s).
I won't lie to you. Their prenatal is a little more expensive than the average prenatal on amazon. That's because the quality is pristine.
I've taken it myself and I can tell you from experience I have ZERO issues or complaints, which is exactly why it's my number one first trimester must-have for moms!
If you want to check them out for yourself, they gave me a nifty little coupon that'll save you $10 off your first order, the code is FITMOMMYSTRONG. Simply place your order on Needed's site HERE, enter the code, and wait for your top-notch prenatal to show up!
I mentioned earlier that my 2nd pregnancy took me by a major surprise when I ended up severely sick all day long.
There wasn't much that helped me for quite a while, but once my symptoms became milder, I found this Morning Sickness Tea by Pink Stork to be a total lifesaver!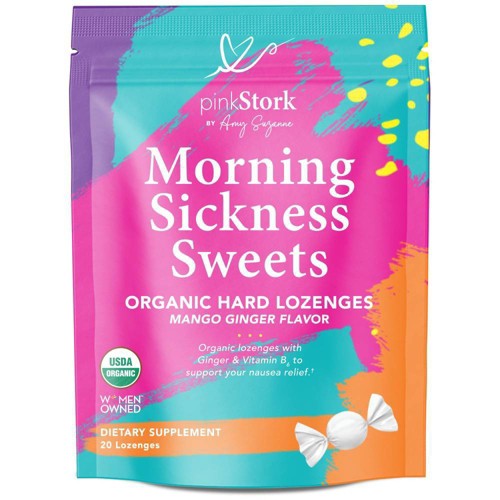 You never know when morning sickness or in my case, all day sickness could strike.
Keeping some anti-nausea teas on hand is so worth it!
You don't need to be a Type-A organized freak like me to benefit from using a pregnancy planner.
Especially when it's the Oh Baby Pregnancy Planner!
These ladies have created (in my opinion) one of the BEST pregnancy planners out there. This planner contains:
First, Second, and Third Trimester To-Do Checklists.
Important Questions to ask your Doctors, Midwives, Childcare Providers, and more!
Maternity Leave Preparation Checklist
House Preparation Checklist
Labor & Delivery Prep Lists
That's why I mentioned it goes far beyond just a basic planner. They have you covered for literally everything and anything that is related to pregnancy.
Don't forget to snag yourself a copy of the planner before you forget.
Definitely, a MUST HAVE in my book!
4) Crackers
If you're having morning sickness, like legit sickness in the morning, having some spare crackers on hand can help!
Typically, morning sickness is much more exaggerated on an empty stomach. If you have some plain crackers like a small box of saltines next to your bed, you can easily snack on a few to ease those symptoms.
I know it's early, but I suggest taking an online prenatal course NOW while you can and then rewatching it as a refresher once it's closer to your due date.
Plus, this particular online prenatal course is taught by an experienced labor & delivery nurse AND contains lots of helpful information for COUPLES — not just for mom! Neat, right?
6) Belly Butter or Belly Oil
You're probably thinking I'm suggesting this because you're worried about getting stretch marks, but nope!
Grab yourself a soothing belly oil (like this one) or butter to keep your skin EXTRA moisturized throughout pregnancy!
I personally found that as my skin expanded and my belly grew, it became drier and drier. At that point, regular lotions just weren't cutting it anymore.
So I decided to grab one called Mama Mio — it glided on smoothly and really helped keep my belly soft and moisturized throughout the day.
7) Maternity Leggings
Although your baby bump won't be poppin' too much right now, you will probably start to notice it's appearance and pressure soon enough.
Instead of waiting until you desperately need a pair of maternity leggings to lounge around in, grab one now!
Kindred Bravely has one of the most comfortable pair of maternity leggings you can grow into with your baby bump. Plus, they double as excellent postpartum leggings beyond pregnancy too!
If those are a little out of your budget, Fabletics has lots of budget-friendly leggings you can simply size up in and they easily make for a comfortable pair of maternity leggings despite not actually being one.
8) Pregnancy Book
Every mama needs a pregnancy book to help her prepare for what to expect when she's expecting!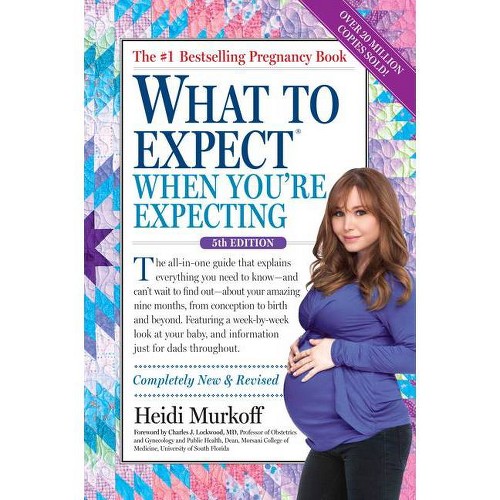 The book above is the one I used myself and I found it incredibly helpful! That also have an app that goes along with the book and takes you literally day by day throughout what to expect in pregnancy.
Another great pregnancy book is The Mama Natural Week by Week Guide to Pregnancy & Childbirth.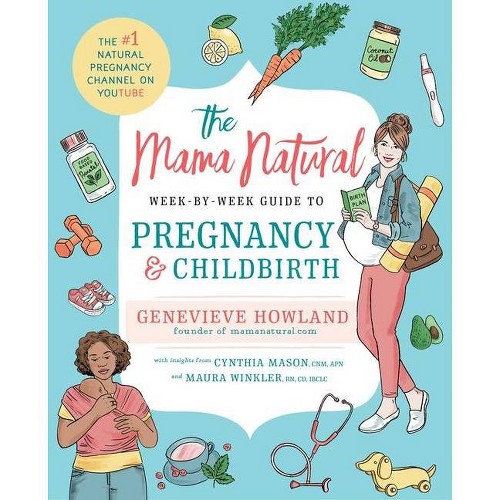 If you're more into natural pregnancy information, then this is the book for you! Genevieve does a phenomenal job of loading this book with so much information from nutritional guidelines to remedies to common pregnancy problems — you can't go wrong with this book choice.
One of the best things you can do from the beginning of your pregnancy is ensure your nutrition is on point.
This does not mean going on a diet or taking extreme measures. Instead, it means understanding the nutrients your body needs to ensure both you and baby are maintaining optimal health.
That's why I love telling moms about The Perfect Pregnancy Plan! An online plan designed to help moms with two parts to their pregnancy: NUTRITION and FITNESS.
Of course, you should be following the instruction of your doctor always and make sure you run this by them before starting.
Once your baby bump starts bringing on the pressure, you'll probably notice you start to feel a little more exhausted, some back pains, and a little discomfort.
Ingrid & Isabel makes a basic belly support band you can wear underneath your tank tops. It provides LIGHT support, but definitely helps during the earlier days of pregnancy!
11) Maternity Bra
A comfortable maternity bra is a MUST for a mom to be in her first trimester.
A few pointers to finding a comfortable maternity bra include:
Choosing a size that fits & allows room to grow into
Choosing a bra with soft breathable material
Now that you know what to look for, try to grab 1-2 comfy maternity bras for yourself!
12) Cleaner Skin Care
If you're using a skincare routine that is loaded with no-no pregnancy chemicals then now would be a great time to swap for a more natural product.
Now, it's always important to remember that we cannot be perfect. At some point in life, the TV we watch, our phones we use, the food we eat — it can all contribute to some kind of negative effect on our bodies at some degree.
The point here isn't to make you paranoid or throw out all your favorite products.
It is to make you more aware to some of the ingredients that can be obviously known to cause issues, and choose something a little more safe.
The following brands are known for making simple, clean, and effective beauty products specifically for mom to be:
Belli Beauty — they carry an awesome line of skincare products for moms with acne or blemish-prone skin.
ATTITUDE Blooming Belly — this brand is great because they're facial wash is actually EWG certified, so you can rest assured it's a clean product.
Bella B Naturals — organic and natural skincare gentle enough for a pregnant mom's skin.
Of the 3, my top favorite is Belli Beauty.
I felt it best helped with the acne I experienced during my pregnancy.
I've even continued to use them postpartum, though I know plenty of moms who use the other two brands too!
13) For Fun — Pregnancy Subscription Box
All the preparation work for pregnancy and baby can be exhausting.
Have some fun and pamper yourself with a 1st Trimester Pregnancy Subscription Box!
Many of them come will full-sized items that range from teas, belly bands, water bottles and even more!
Plus, this is a great way for you to test and trial some items you receive before having to spend a dime on them!
14) Caffeine Peppermint Tea
Your first trimester of pregnancy may be going smooth, but at some point you will likely struggle with some digestion or even nausea.
Peppermint tea is a popular choice by MANY moms whether it's to help ease some of their nausea or digestion troubles.
I used the Traditional Medicinals Tea brand when I was pregnant, but any peppermint tea will do honestly.
15) Baby Ultrasound Artwork
Ok, ok. This one isn't a necessity, but it sure does feel sweet when you can have your baby's ultrasound photo cherished forever via this adorable ultrasound artwork.
I skimped out on a lot of things during my first pregnancy. I was so focused on trying to spend smart that I deprived myself of so many cute things.
If you have the budget for it, spend a little extra and get yourself something that will help you cherish this pregnancy for the rest of your life.
This ultrasound painting is one of my favorites. I'm currently digging up my boy's ultrasounds so I can backtrack to order one myself LOL.
Now that you know exactly what you'll need in your first trimester of pregnancy, which ones do you think will be the MOST helpful for you?
Other PREGNANCY post you'll love: