Baby Shower On A Budget – 12 Cheap & Easy Ideas
This post may contain affiliate links that I may receive a commission from if you click & buy. In addition, the information on this site is NOT intended to be medical advice. See my full policy for more information.
Looking for Practical, Money-Saving Ways to Throw a Baby Shower On a Budget? If you're looking to save money, by throwing a budget-friendly baby shower, don't worry — you're in the right place.
Celebrating your baby shower should be stress-free, affordable, and enjoyable. We want you to feel proud about your pregnancy, not upset about going over budget.
I've gathered up the best money-saving tips to help you have a memorable, fun, and affordable, baby shower.
8 Ways to Host a Baby Shower on a Budget
You shouldn't have to spend too much money to throw a memorable baby shower. An easy way to stick to your budget while planning a baby shower is to implement the following tips. You'll be able to plan a fun baby shower celebration and have the best time ever!
1) Keep the baby shower guest list small
The first step to budgeting for a baby shower is to keep your guest list short and sweet. Who should really be celebrating this moment with you?
Of course, you may want to have your close friends, family members, and coworkers. But, not everyone in your life has to be invited. Remember, we're sticking to a select few number of guests.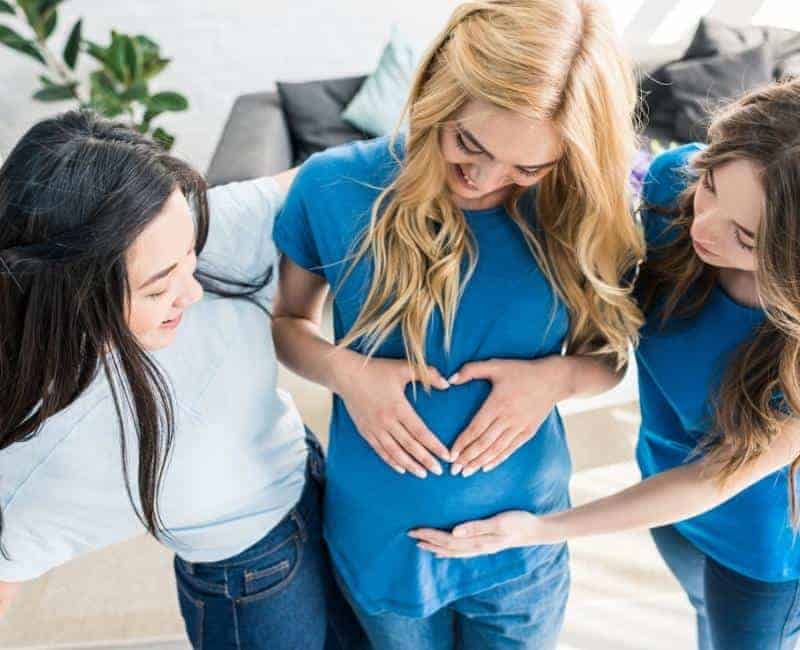 A few good questions to ask yourself, when debating on who should be invited, are:
Did/ Would they invite me to their baby shower?
If not, don't worry about inviting them. No harm, no foul, but if they wouldn't invite you on their special day, you don't need them in yours.
Have they been directly involved in the last 6 months of our lives?
If they weren't there pre-pregnancy, they don't need to be there during. I mean, of course, there can be exceptions to this. But, we are planning a budget baby shower here.
Will I be upset not having them there?
If yes, go ahead and invite them. You want people there that are supportive and will encourage your happiness.
Will there be added stress if they come?
If yes, go ahead and cross them off your list. Mom doesn't need any added stress. She is creating an entire being, nonetheless.
Another option, when it comes to baby shower guests, would be to send out an e-mail or Facebook group announcement. You can have a short, virtual "Drop-in" online party.
This is a great option to be able to 'invite' more people to celebrate this time with you, without having to actually host them in your home. If you do this, don't forget to include a link to your baby registry!
To do this, you can send something along the lines of, "Hi, ____. As you may know, we are expecting! With this being such an intimate moment, we are only having a very small gathering to stay under our budget. But, we wanted you to know that we are remembering you during this time and including you in the best way we can! Although it's not necessary, this link will take you to our registry. We would love to grab lunch or dinner to fill you in on all of our excitement!"
If you didn't make your baby registry yet, you can make one really quickly online at Amazon or Buy Buy Baby, both are easy to make & will shower the expectant mom with some freebies too!
Lastly, make sure to include a R.S.V.P. in your actual invitations. You can snag a cute R.S.V.P. set online at Etsy like these! That way, you'll be able to have an exact headcount of how many people you need to plan for.
2) Use affordable baby shower decorations
Another way to stay in line with your baby shower budget while still hosting a beautiful baby shower is to use affordable decorations. One of my favorite top tips for finding cheap, but cute decorations is to theme your baby shower colors around the decorations in the clearance section of party stores.
Target, Walmart, Amazon, and other retail stores always discount holiday products. You can always combine the affordable decorations together for your perfect theme.
Another option is to check your local dollar stores, thrift shops, and consignment stores. Although you may have to get creative with a few things, this is a great way to keep your baby shower cost down. You'll be spending a fraction of the price while having the best decor.
3) Use Digital Baby Shower Invites
With the digital online world only getting bigger, the days of paper invites seem to be dwindling away. Though the memory of mailing out a physical invite won't be the same, opting for a digital baby shower invite is much more cost effective.
You can find adorable online options on places like Minted and Evite. Just pick a template, add your details, send to your invites email or phone and wait for their response to come back through — pretty easy, right?
4) Plan a few EASY baby shower games
Party games are one of the best parts of any party, right? So, they are obviously a must-have. First things first, download these printable baby shower games for free! I created them to help you stay on budget while still having a blast.
You can also create your own games too. Write up questionnaires asking guests questions on a variety of topics. Here are some examples:
Make a parents game with his/her favorites. You can have "his" and "her" signs for each couple to hold up. You could ask questions like, "Who is more likely to squeal at a poopie diaper?" Then, each person holds up the sign for who they think (in their relationship) is most squeemish.
Have your own mystery puzzle to solve. Either type out your clues or have them posted around your house/venue.
Create bingo cards with "Have I ever…" questions
Another way to plan easy games is by searching "baby shower on a budget games" on Pinterest. Millions of pins will come up and you'll even be able to find some that are done with household items. This is easily a great way to save a large amount of money when planning a baby shower.
5) Give simple baby shower favors as a thank you gift
The favors you give out at your baby shower are completely your choice. Don't feel obligated to hand out the fanciest cupcakes or bubbles (or anything at all if it simple cost too much).
If you'd like to hand out favors, you can find cute goody bags like this at nearly any dollar store or grocery store. Then, you can decide what to fill them with. Some ideas include:
If you're feeling really nice, you could always include a short, hand-written 'thank you' card with your favors.
6) Consider Planning a Virtual Baby Shower or Drive by Baby Shower
Especially with COVID-19 restrictions, a great way to stay under budget during your baby shower planning is to have it virtually or as a drive-by party. Not only should this help you stay significantly under budget, but you also won't have to worry about germs, masks, or any of that stressful stuff.
If you live in a home, you can put out a "Baby Shower Here" sign in your front yard or on your mailbox.
Then, you can let your 'guests' know your address and the times they can drive by. For any gifts, they can drop them at the end of your driveway. During the time you have set for your guests to arrive, you can sit on your front porch to wave. Despite it being a very socially distanced approach, it really is such a sweet gesture and lots of fun!
To host a virtual baby shower, you can use different apps or even just create a private Facebook group. By creating a Facebook group, you can immediately invite anyone from your friend's list.
But, if you go with a different website (like Skype or Zoom), you will have to send your guests the link to your chat or video.
7) Keep the Desserts Simple
The cost of food can add up fast when there are many mouths to feed, especially the desserts!
Instead of planning to have a giant custom cake, try opting for a small dessert bar instead. They're usually a little cheaper since you can implement things like candies, cupcakes, cookies, and bite-sized treats.
You can even stock up on little mason jars and decor that fits your color scheme (like paper plates, cups, etc…) at your local dollar store.
With a little creativity, you can easily decorate a beautiful dessert bar full of goodies well within your budget.
8) Don't Host Your Baby Shower At a Pricey Venue
Another important thing to think about when you're planning a baby shower is: where will it be at?
Here are some simple ideas of locations to choose from that shouldn't cost much or anything at all:
Local community center (you may have to request your date a few months in advance)
At a family member or best friends house
Local park (ideally with some shade and seated areas)
By cutting the cost of a venue expense, you're well on your way to having a beautiful and inexpensive baby shower!
If you're looking for more party planning hacks for parents with a small budget, keep on reading below for more ideas.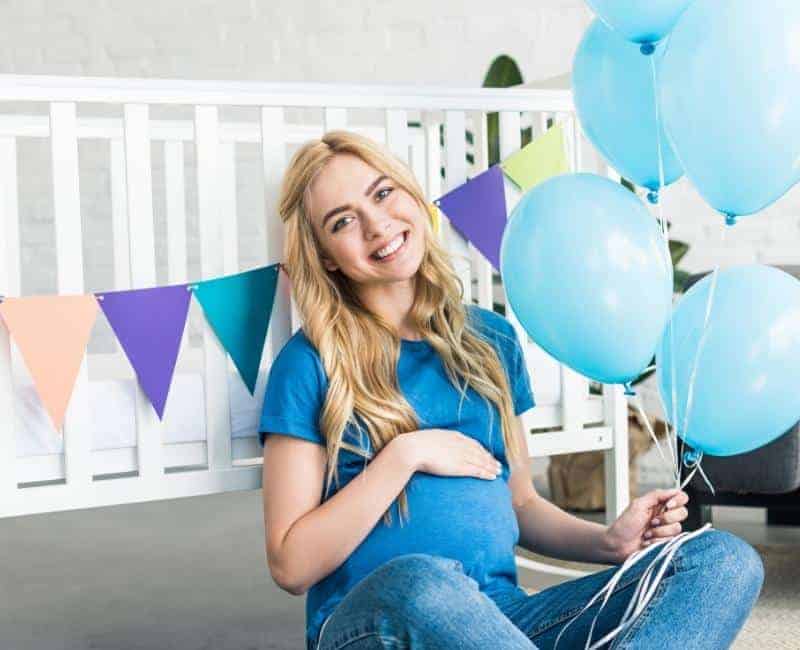 More Cheap Baby Shower Ideas for a Tight Budget
Being able to stay on budget for your baby shower doesn't have to be hard. Give your baby shower a personal touch while sticking to your budget with these simple tips below.
1) DIY decorations and games
If you have any creativity in your body, you can definitely turn any piece of paper into a cute craft part of the decor. You can cut out your own decorations, make your own invitations using Canva, and use free printable games like this.
2) Find themes on Etsy
Since Etsy has a wide range of digital products, you can find different theme ideas, options, and accessories. Many of these 'kits' will come with printable decorations, games, and even party favors — this one is really cute and reasonably priced.
With most of your options being digital, these aren't sold for expensive prices. This means you'll still have your dream theme while staying on budget for your baby shower.
3) Prepare your own food
You do not need a caterer for your baby shower. Even if you aren't a cook, throw together some finger sandwiches, cut them in half, and throw them in a cute bowl. You can also make a charcuterie board or have different chips and dips.
Keep your food as simple finger foods for easy preparation and minimal clean-up. Between it all, your guests will enjoy a full meal and many memorable moments.
4) What to Consider When Budgeting for a Baby Shower
Although planning your baby shower on a budget shouldn't be hard, there are a few things you'll want to remember when setting your budget.

Before you begin setting your budget, list out some of the details that include:
Once you do this, you can start to price things out and set your budget.
If you spend more on your food than intended, consider skimping on decorations or thank you gifts. If you have more money than previously planned for after making your own invitations, maybe add in an extra game or opt for an extra special dessert.
Treat your planning as a give and take partnership. You may have to agree to settle for less than your original intentions, but your day can still be perfect.
Baby Shower FAQ:
Can I have a tight budget for my baby shower?
Yes, you can still have an amazing baby shower if you're on a tight budget. There are plenty of cheap decorations, affordable food options, and even free games like this. You can even shop at budget-friendly stores, such as Walmart or your local Dollar Tree.
At the end of the day, it's about you, not about your party.
Who should pay for a baby shower?
Generally speaking, there are no hard-set rules on who should pay for a baby shower. In current times, typically the expecting family pays for their own baby shower.
On occasion, if the host is someone other than the expecting parents, the host will pitch in to help with select items. I personally paid for my own baby showers, but again there's no right or wrong as to how it should be handled.
What do I wear to my baby shower?
What you wear to your baby shower should depend on when you are having your shower and if you're going to be inside or outside. Plus, make sure you plan according to weather, temperature, and comfort. Check out this post for a more detailed answer (including examples of cute baby shower outfits).
---
Now that you know how to throw a baby shower on a budget, what kind of theme will you be having for your baby shower?
OTHER Pregnancy Posts You'll LOVE: