This post may contain affiliate links that I may receive a commission from if you click & buy. In addition, the information on this site is NOT intended to be medical advice. See my full policy for more information.
Congratulations, you're expecting! Pregnancy is a time full of so many emotions and definitely one you'll want to cherish forever. That's why this list of memorable and creative ways to document pregnancy will help you cherish all the special moments that lay ahead.
Pregnancy is a beautiful adventure. One minute you're ecstatic to learn you're pregnant, the next you're packing your hospital bag because you're weeks away from giving birth.
Each pregnancy will hold a special place in every expectant mom's heart. You won't be able to do ALL of these creative ideas, but even by doing one or a few — you won't regret them at all.
There is no ideal time to document your pregnancy. What I mean is, even if you didn't do some of these things earlier in the first trimester, you can still do them now.
Especially as a first time mom, you won't want to let these days fly by without having some sort of documented moments. With that said, let's take a look at some of the most creative ways to document your pregnancy.
Creative ways to document pregnancy that you'll remember forever
1. Use a pregnancy planner
Using a pregnancy planner is a great idea for expectant mothers to track every step of their pregnancy!
Pregnancy planners can help you stay organized, complete all the things that need to get done before the baby arrives, and allow you to track each memorable moment throughout all trimesters!
The pregnancy planner I personally recommend is the Oh Baby Pregnancy Planner!
What I love the most is that it's broken down into EACH trimester (as seen in the photos below):

I also really enjoyed that this pregnancy planner includes preparation sheets of 'things to do' before baby arrives such as preparing your home, preparing your finances, and preparing to go on maternity leave!

Now, this is NOT the only pregnancy planner on the market, however, it's the one I used and really enjoyed which is why I have to mention it. I tend to be someone that also likes things very structured and organized which this planner does very well.
If you're anything like me, you'll love it too!
One thing I did that was not in the planner is I had created my own little photo sleeves to insert our sonogram photos (which were pretty minimal) under the corresponding trimester.
So, you can totally take this and put your own spin on it as well!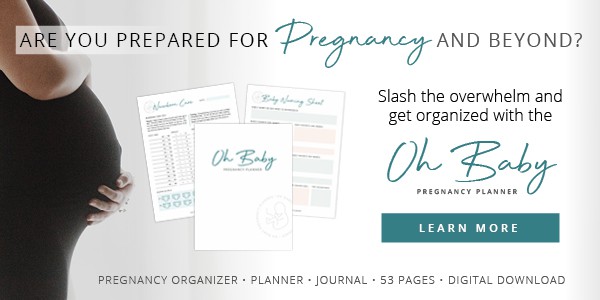 2. Take bump pictures week by week
Taking weekly bump photos (also commonly referred to as pregnancy progress photos) was one of my FAVORITE things to do during my pregnancy with my first baby.
Once my son was born, I was able to look back week by week and see that growing belly (and all the body changes) each week. I was also able to compare my second pregnancy to the first and boy were they SO different!
If you have a smartphone, you can download some cute apps such as Baby Story. They have the cutest little baby bump stickers you can edit into your photos and even compare the size of your baby to various fruits and foods!
Now, if you're shy, don't even worry! You don't have to share these photos or post them online, girl take them for your own memories!
As you can see down below, I put a little side-by-side comparison of my personal "bumpies" aka bump selfies I took when I was pregnant with my boys!
How to take baby bump pictures during pregnancy week by week:
I personally find the side standing position to be the best because you can really visualize your growing baby bump well.
However, there really is NO wrong way to take these! I tend to be pretty informal with my photos. I don't dress up all fancy.
I just stand in the same position, usually in the same spot of our home, prop up my phone, and auto-time those babies! If you have a white background, that'll help make your pregnant belly pop even more!
These are side-by-side comparisons between my first pregnancy and my second pregnancy.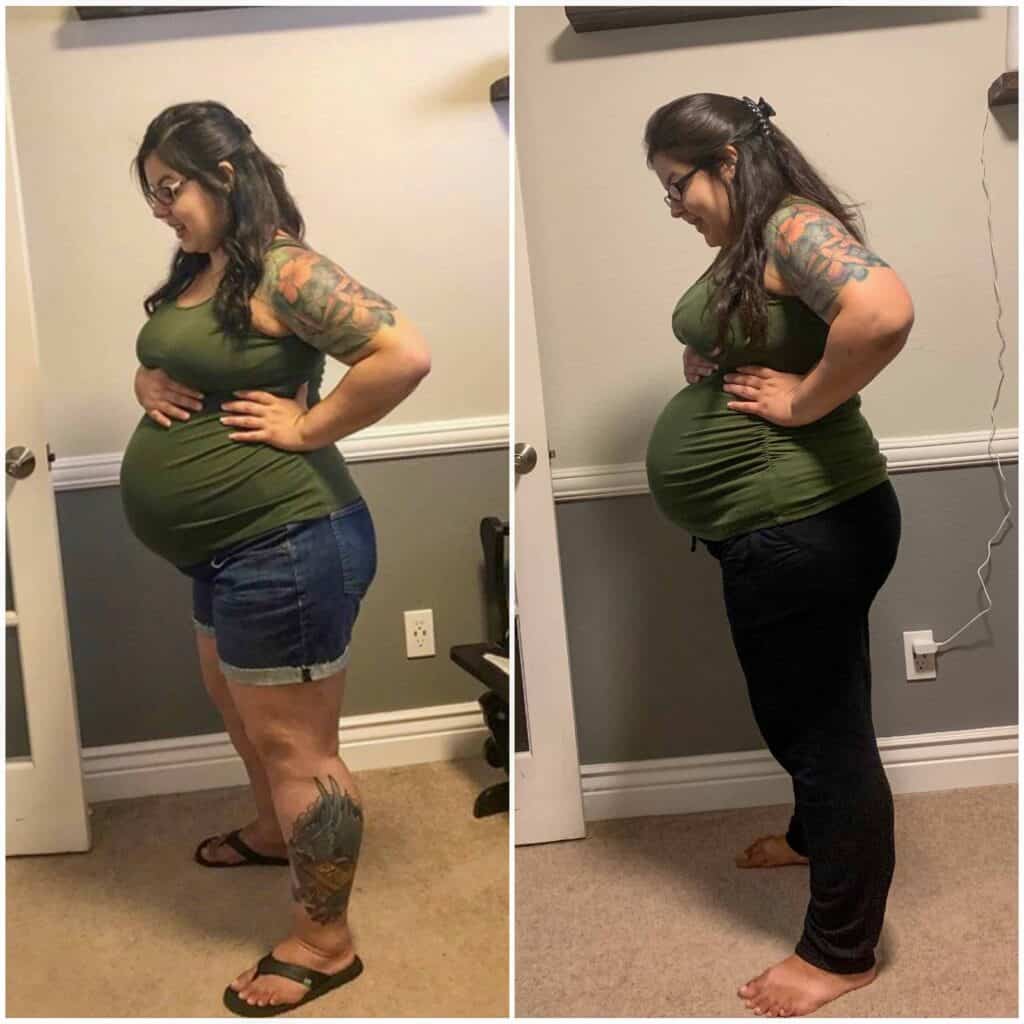 3. Make a sonogram scrapbook
Talk about creative ideas, a sonogram scrapbook is adorable and a fantastic way to document part of your pregnancy. One woman created pre-made scrapbook pages so that you don't have to do any work other than simply attaching your sonogram pictures!
You can check out the scrapbook pages here. However, if you're pretty crafty, you could totally make these on your own!
Go grab a nice little scrapbook, get yourself some stickers, and maybe a little accessory kit to customize it, and have fun designing this cute custom scrapbook to document your pregnancy!
4. Write letters to baby (monthly)
I absolutely LOVE this letters to your baby idea and really wish I had taken the time to do these. Talk about some cute ways to share your love long before ever meeting your little one.
I've actually seen that you can purchase an envelope book called, "Letters to my baby". It comes with pre-made envelopes all marked for your little one to one day be able to open and read!
Or, you can get your own envelopes, your own stationery (like a pregnancy journal) , and write your own letters to your soon-to-be little one!
Either way, it'll have just as much meaning the day you write them and the day you get to watch your little bundle of joy open them up!
5. Start a Pregnancy and Baby Memory Book
The pregnancy and baby memory book is kind of a combination of a scrapbook and a pregnancy planner.
Simply get a memory book to capture the memories over the course of your pregnancy. The bonus to using a memory book like this is it can also be used throughout your baby's early years too!
It's just another great way to gather all those sweet memories and place them all into one place that you'll always be able to look back on.
One of my favorite memory books is called: The luxury baby memory book (my baby journal)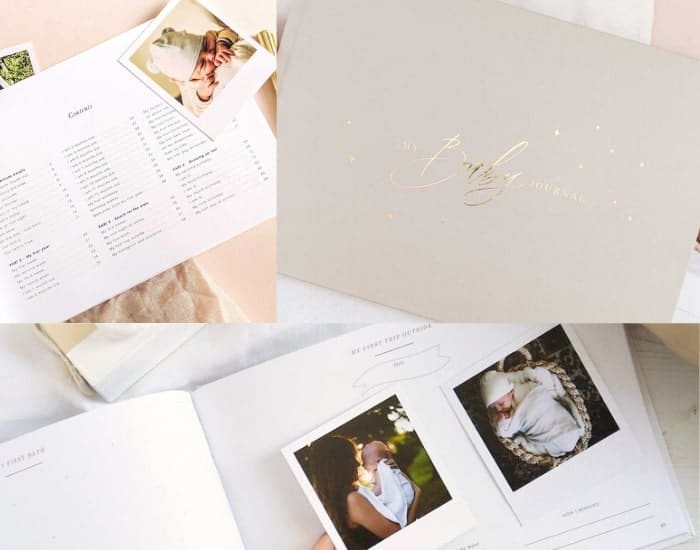 6. Create a belly casting mold
I've heard from many of my mama friends that one of their favorite activities to do while pregnant was to make a belly plaster cast!
Some of them kept their casts as decorations in the home while others simply just use them for photo purposes.
Whichever route you choose to go, make sure you get yourself a reliable DIY kit, like this one by Pearhead! You can totally have fun with these by painting them, leaving them as is, dressing them up a bit — the options are endless!
7. Take Maternity Photos
Alright, this one's a given, right? Professional maternity photos are SO much fun (at least I think they are). Unfortunately, hiring a professional photographer during this special time can be expensive.
For our second pregnancy, we had our maternity session scheduled for May, which was right around the time the whole COVID-19 situation peaked. Needless to say, we had to cancel our photos and weren't able to have a session. What should have been an exciting time documenting our 2nd pregnancy turned sad real fast.
However, that didn't stop us! We threw on some cute clothes, got in our backyard, set up our phone on a self-timer, and snapped some photos!
Even though they weren't "professional" quality, they were still meaningful to us, and that's all that mattered. Definitely one of my favorite creative ways to document pregnancy.
You can check out some of the pics from our little 'backyard photoshoot' pics below!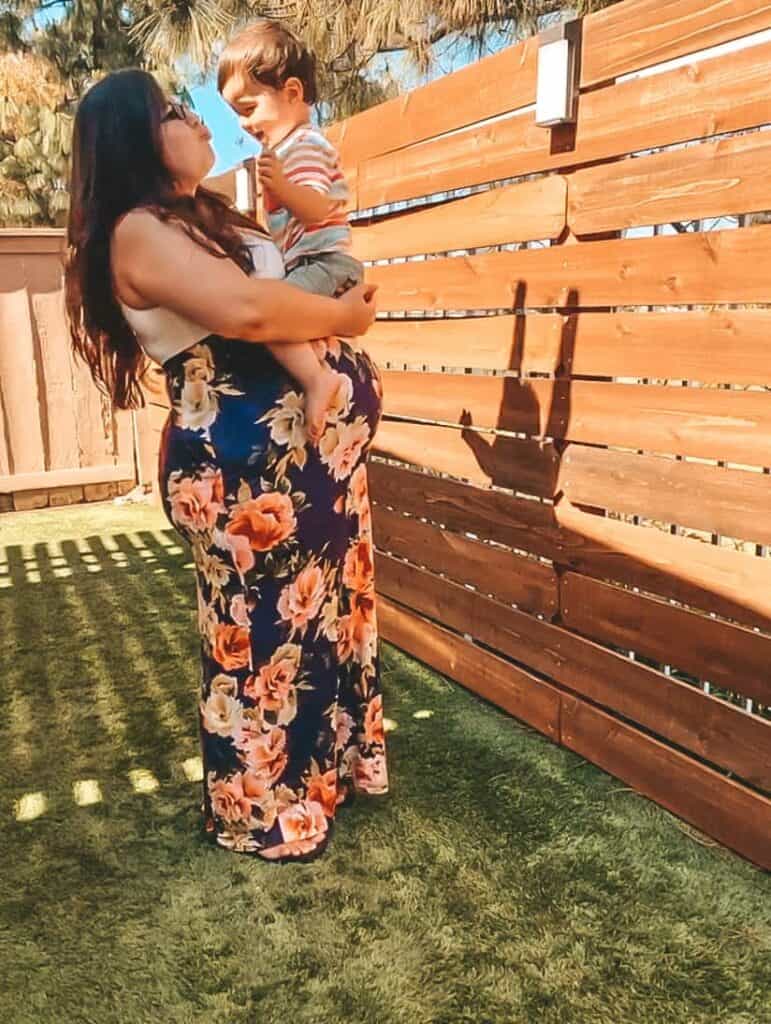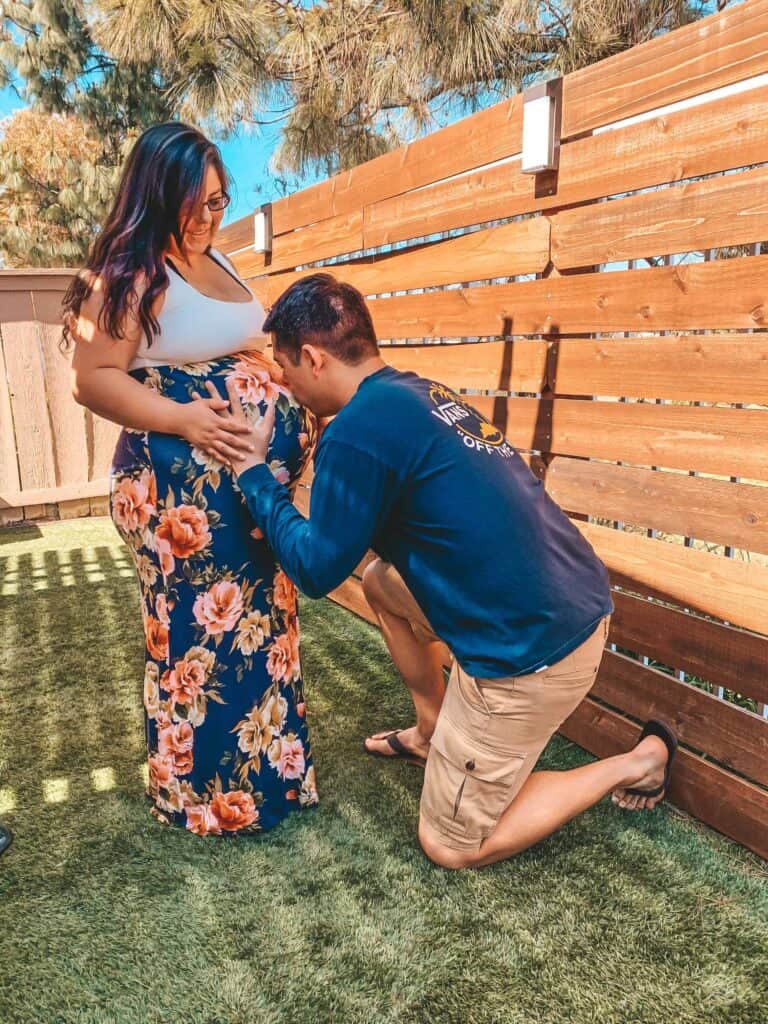 8. Use a Pregnancy App
I'm a huge fan of using pregnancy apps to track the baby's weekly progress simply because they're pretty fun and it's an easy way to learn a thing or two from the fun facts most of them share.
These pregnancy apps are seriously the BEST for tracking your pregnancy:
9. Record the heartbeat
Listening to your baby's heartbeat while still in your belly is one of the sweetest things you'll ever get to listen to. Recording this precious sound is great for military or first responder families that are separated for some time.
And it's also just a great way to listen to that beautiful sound of your baby's heart beating when you are stuck up late at night thanks to good ol' pregnancy insomnia.
Featured: My Baby's Heartbeat Animal
These adorable stuffed animals feature a 20-second recorder to capture your baby's precious heartbeat for you to listen to over and over again.
10. This week, baby ate:_____ (weekly or monthly cravings log)
This was one I never did while pregnant, but I always enjoyed seeing other moms on Instagram share a photo of their weekly cravings aside their baby bump!
I remember scrolling through Instagram and seeing one mom posed with her giant In N' Out Hamburger meal perfectly balanced on top of her 7-month baby bump, adorable and silly all at the same time!
What pregnancy cravings can you creatively incorporate into some bump pics?
11. Record Videos To Baby
This idea is very similar to writing letters to your baby except, you're making a video instead!
I really love this idea because your baby won't have to know how to read before you're able to start playing these heartfelt videos back to them. I didn't do this on a weekly or monthly basis, but I do have a few videos I recorded during those late, uncomfortable nights where I just turned on the camera and talked to my baby. I love looking back and listening to these personal messages and just seeing how much love I had for my baby boy long before he was ever born.
12. Letterboard Photos
Letterboard photos are kind of like the "go-to" option because, at one point or another, every mom has used a letter board. Even I have used one once.
You can put up an inspirational pregnancy quote, do a little sarcastic message, pop in a little craving hint, or just announce your gestational age for a cute belly bump update.
Here are a few inspirational ideas for your next letterboard pregnancy photos:
13. Track Your Belly Measurements
This one is fun, however, it can also be somewhat problematic for moms who struggle with their body.
Tracking your baby bump measurement is as simple as buying a pack of measuring tapes like these and measuring around your belly once a month (or as often/as little as you'd like).
You can visually see how much your baby is growing and save these measurements in your pregnancy planner next to the corresponding sonogram photos!
14. Make a Keepsake Box
I absolutely love keepsake boxes, especially when they're pregnancy and baby-related! This little keepsake box, The Vault, is my all-time favorite box because it gives you room to not only include items from your pregnancy but also to save items as your baby gets older.
It comes with vertical files to keep things like documents and sonograms safe, drawers to put small items inside, and a little cubby to tuck in even more sweet baby items.
15. Weekly Countdown Maternity Shirt
Lastly, cherish this special moment in your life while crossing off the final days on this maternity countdown shirt!
Then snap a few photos and stick them into a shadow box all together like this one to always remember those final days before your bundle of joy joins your world.
---
Now, you should have plenty of creative ways to document pregnancy so that you never forget any part of these precious memories. Which of them will you try during your pregnancy?
This article was updated on March 26, 2022.
Read more pregnancy articles here: