Have you heard of Oh Baby Boxes (a pregnancy gift box)?
This post may contain affiliate links that I may receive a commission from if you click & buy. In addition, the information on this site is NOT intended to be medical advice. See my full policy for more information.
Recently I had the pleasure of collaborating with Oh Baby Boxes to try out their curated pregnancy gift box!
What really sparked my interest with this gift box for mommy-to-be and even postpartum moms, is that it's personally tailored to your due date!
Transparancy is of utmost importance to Mom After Baby. Although I was gifted this box courtesy of Oh Baby Boxes, all the opinions shared in this review are solely those of my own and have not been influenced by Oh Baby Boxes.
Who is Oh Baby Boxes?
Oh Baby Boxes is a company started with a 'desire to make the lives of expecting mamas easier', so that's what they've done!
They offer various expertly curated boxes for new or expecting mamas.
With each box filled with well over $100 worth of goodies!
These specially curated boxes start at just $39.99 (check them out for yourself here)! And I will say, based on the box I received, these are NOT cheap items! In fact, many were completely full-sized items!
For $39.99, you are getting FAR beyond your money's worth!
The items in each box are high-quality items hand-picked out to make sure each mama (or mama-to-be) has top-notch products ranging from beauty, clothing, baby items, and more!
Another great thing is throughout pregnancy, most moms fret about what beauty products they can use during their pregnancy, right?
With Oh Baby Boxes, all the items in your box have been researched, tested, and approved for pregnant AND postpartum mamas!
Talk about a major thank you to them for doing all the hard work.
What kind of pregnancy subscription box options does Oh Baby Boxes offer?
Oh Baby Boxes offers three subscription plans to choose from:
Month to Month
The month to month plan is great if you just want to purchase one box and be done. These plans start as low as $39.99 as of Jan 13th, 2020.
Three Month Prepay
The 3-month prepaid option is great for moms who want to get personalized boxed throughout every stage of their pregnancy for at least one trimester. If you're close to your due date, you'll get a postpartum box instead. This option is $113.98 as of Jan 13th, 2020.
Six Month Prepay
The 6-month prepaid is nice if you want to continue receiving curated boxes throughout your entire pregnancy and possibly postpartum too. This option is $215.95 as of Jan 13th, 2020.
What was in my Oh Baby Boxes First-Trimester Pregnancy Box?
As much as I can go on and on about how impressed I am with the Oh Baby Box company, I think it's time we dig into the box I received!
I've been using the products for about 1 week now and I will say that so far I'm still impressed! So keep on reading if you want to know which item has been my ABSOLUTE favorite 🙂
"Baby's First" Circle Wooden Milestone Cards & "Baby's First" Booties – Lamb Edition | Oh Baby Boxes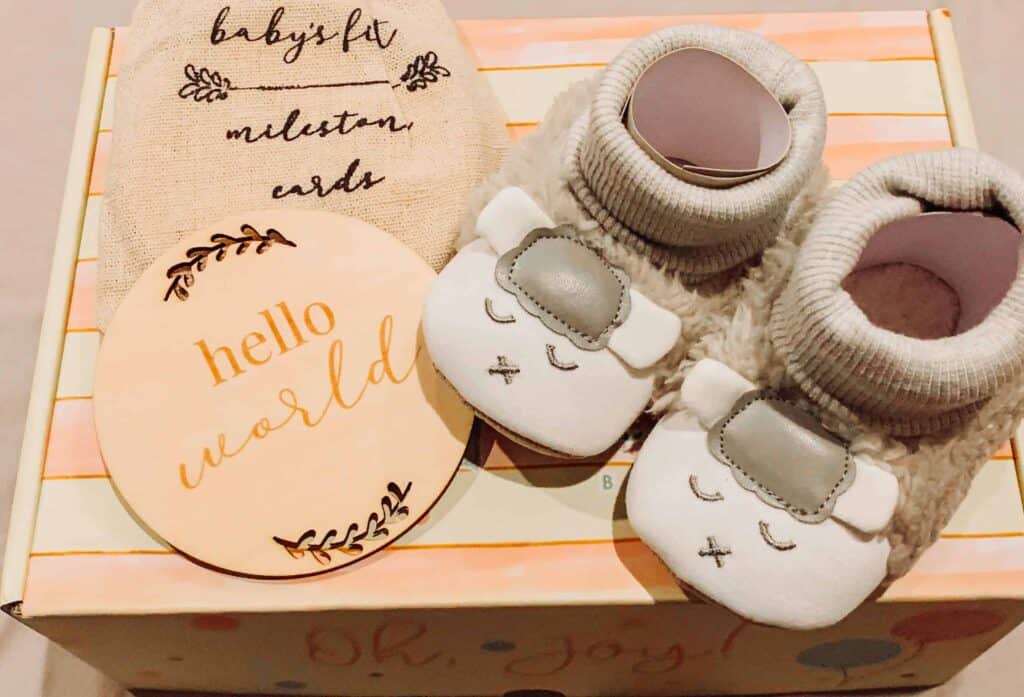 These little baby booties & milestone cards are SO stinkin' adorable! I love that they're gender too so regardless if we're having a boy or girl, they'll still be able to use them!
The little lamb booties are very soft and plush, perfect for keeping tiny feet warm and cozy. (Can you guys make an edition for us moms too, maybe???)
The little milestone cards are very lightweight and the absolute PERFECT style to match our nursery theme! The cards have various messages such as "Hello World", "First Birthday", "First Halloween" and more!!
The value of both of these products comes in at $19.99 each!
Next Stop Hydration Station Fingernail Masks | Kinx Active Beauty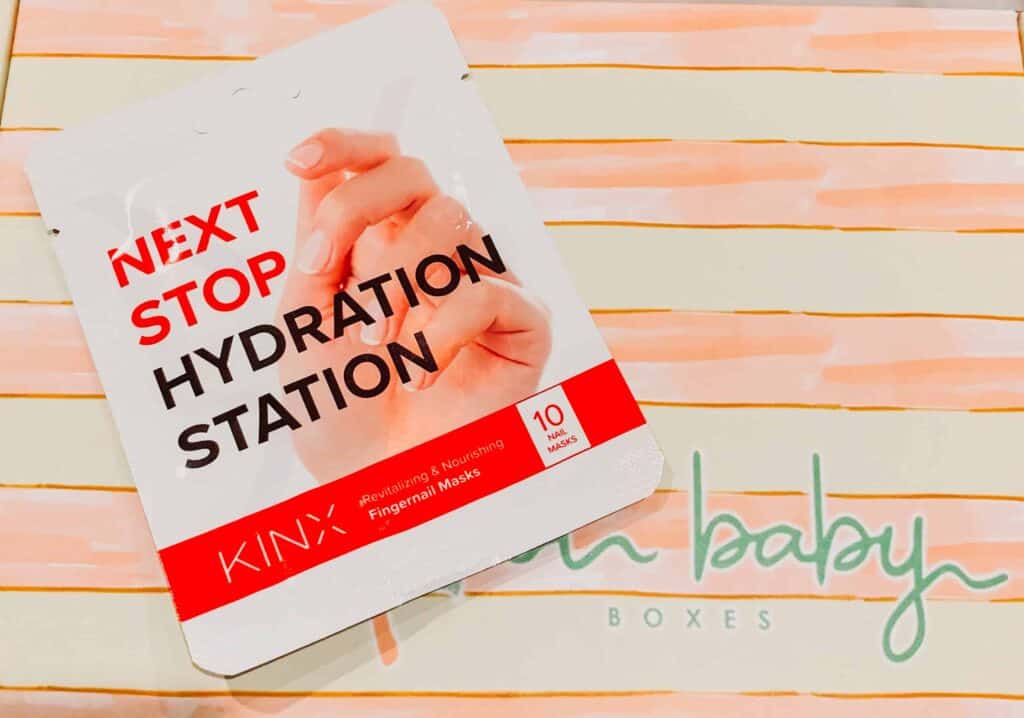 I'm at that stage in my pregnancy where my hair and nails have been growing like CRAZY! My nails are always so long no matter how often I file them down. However, the one thing that drives me nutty, is that although they're long, they tend to be a little bit brittle!
These fingernail masks were created to strengthen and hydrate those dry brittle nails.
And honestly, after using these masks, it did feel like my nails had a vert soft/smooth feeling afterward!
I can't really prove that it helped or not, but it was a great way for me to fit in some self-care time by having a little at-home spa night while rehydrating my nails, what can I say, this was a fun product to use!
The value of this product comes in at $5.
"September Morn" Peel Off Gel Nail Polish | Kinx Active Beauty
Chillax Roll-On Oil | Keller Works
Rebalance Me – Moisturizing Face Ampoule | Corpore Sanctum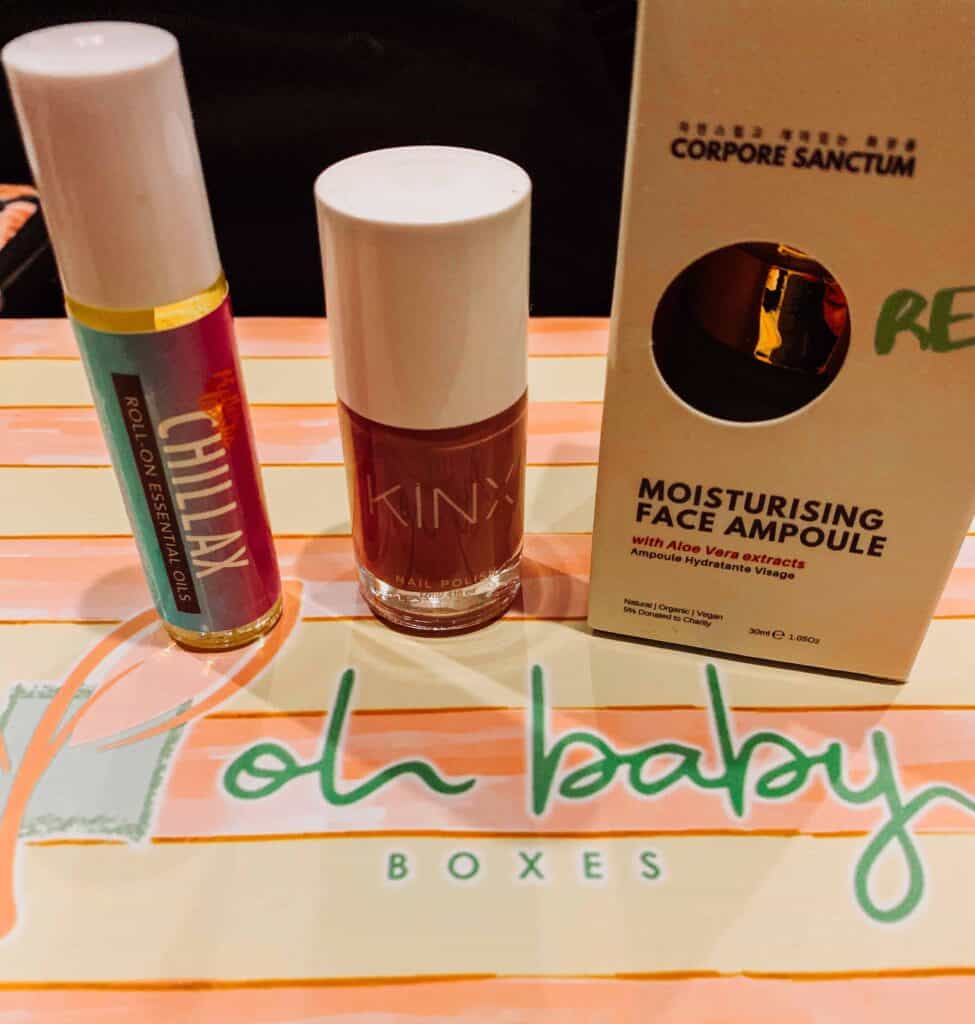 I've never been a big nail polish girl, to be honest, BUT this nail polish is great! The color itself is a really nice earthy red/brown & it really does peel off gently. I've had a bad experience with the harsh gel that rips off your nail and it's no fun. So having a good experience this time around gives me hope that gel polish might not be as bad as I thought!
The roll-on essential oil is very calming. I have never been into using essential oils, but it has a very calming lavender scent that just leaves you feeling so calm and relaxed. I
really don't know how else to describe the feeling.
I rolled a little bit on my wrists and I just wanted to drift off into a sweet nap. I would highly recommend this especially if you're at that stage where sleep can be non-existent! Before trying this I probably wouldn't just go out and purchase it on my own. After trying it, I'd definitely repurchase this item!
Lastly, the face moisturizing ampoule! It has a nice subtle scent to it which I really like. What I like even more so is that this stuff WORKS!
A little bit of this serum really goes a long way! All you have to do is add 1 -2 pumps into your normal moisturizer and feel the magic happen! Not only did my face feel moisturized for a FULL 18 hours, but I also noticed my skin complexion improved! This is also after 1 week of use.
The value of these products is $10 (Roll-On Oil), $12 (Peel-Off Gel Polish),
Ain't No Hood Like Motherhood T-Shirt | Oh Baby Boxes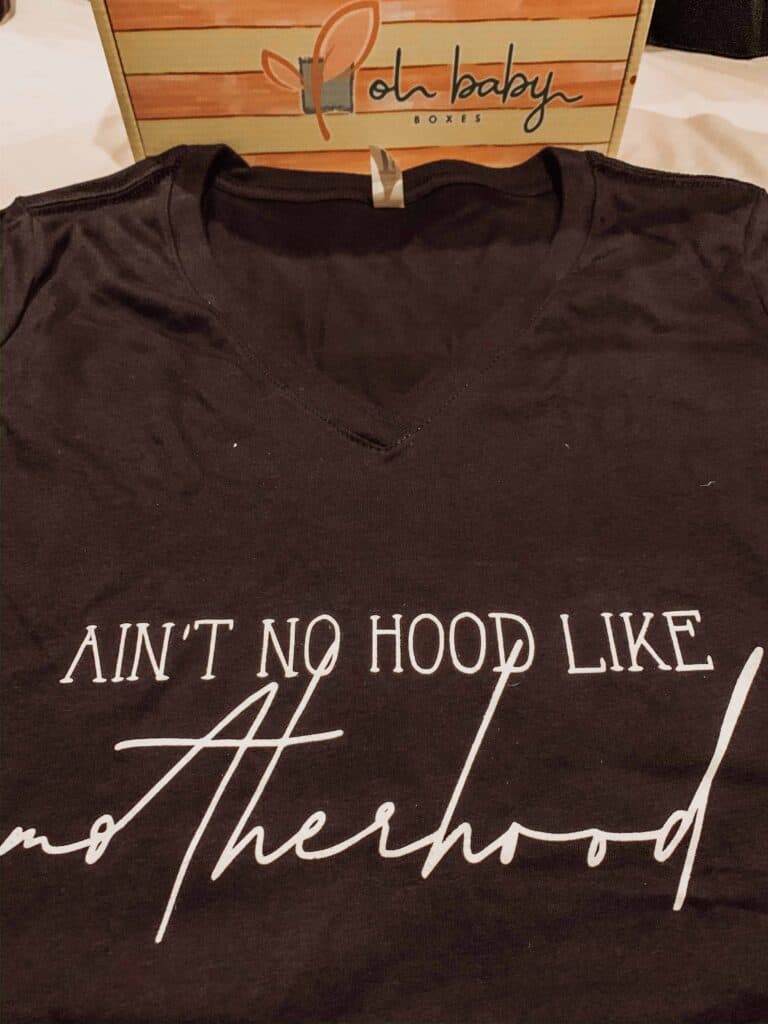 I know this isn't some kind of fancy item, but it's my absolute favorite! After being a mama for 16 months and expecting baby number #2, I have yet to own a Motherhood T-Shirt of my own!
I think that's why this one felt so special to me. I feel like I'm officially apart of the mom club that wears mom shirts. The material itself is very soft & lightweight. Perfect for us expecting mamas who will likely need some room to grow as our bellies get bigger!
The value of this product is $25.95
Is this pregnancy subscription box worth it?
There's a couple of things I like to think about when coming to my decision of if this box was worth it.
Was the quality of the products GREAT or just OK?
How much would it have cost me to get these items on their own?
Would I honestly have ever found these items on their own?
How often will I realistically use the items in this box?
Considering their pregnancy and postpartum boxes start at just $39.99, I think this pregnancy box is well worth the money considering all the above!
The items in this box were not low quality as I mentioned earlier, they are GREAT quality!
I can 100% see myself using these items on a daily basis. I've already worn my mama shirt as much as anyone can wear a t-shirt LOL not to mention I'm obsessed with the facial moisturizer that leaves my face beyond soft! So yes, it's safe to say I will use these on the daily!
Have you been gifted an Oh Baby Box before? What did you think?
Looking for more PREGNANCY tips & advice?