Similac vs Enfamil — Which Formula is BEST For Your Baby?
This post may contain affiliate links that I may receive a commission from if you click & buy. In addition, the information on this site is NOT intended to be medical advice. See my full policy for more information.
Which formula is best for your baby? This is a question that many parents ask themselves, especially when it comes down to two of the most popular baby formula brands, Similac vs Enfamil.
As it turns out, both Similac and Enfamil have their pros and cons – so how do you know which one to choose? In this article, we will be comparing these two formulas to help make your decision easier!
Top Pick: Enfamil NeuroPro
If you're pressed for time, our top pick between the two is hands-down Enfamil (specifically, their NeuroPro formula). This is a great baby formula to start with because Enfamil NeuroPro has high-quality ingredients such as milk fat globule membrane (MFGM) — a substance found in the fat of breast milk. Plus, it contains the recommended prebiotics and DHA and has added whey for protein.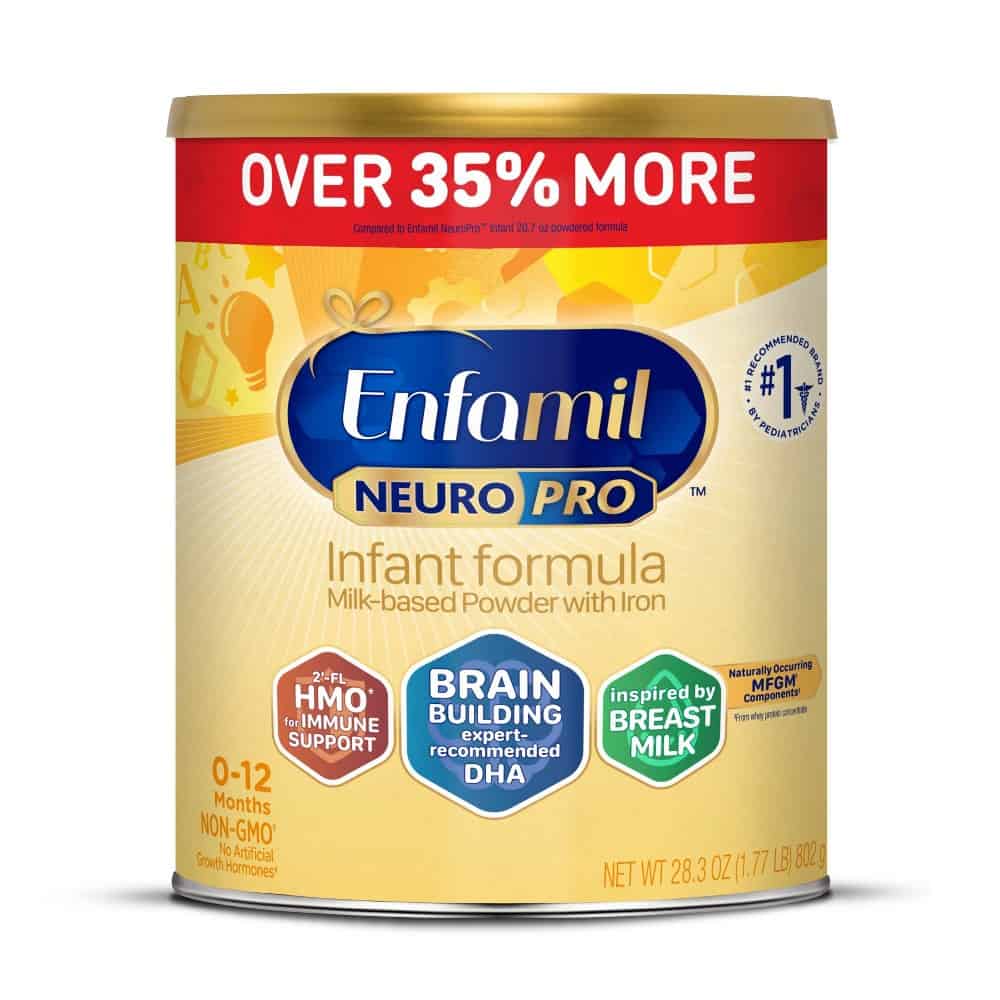 Similac Vs. Enfamil — Which has the better formula?
The good news when it comes to baby formula is that the FDA provides guidelines that all baby formulas need to meet. The tricky part happens when parents are overloaded with all the different baby formula brands, such as Enfamil or Similac.
If you haven't done any research on baby formula, I suggest starting here and coming back to this post once you have a good idea of what type of formula to start with. For this post, we will be focusing solely on Similac vs Enfamil.
About Enfamil Formula
Mead Johnson makes Enfamil. Enfamil strives to create a formula that delivers nutrients similar to that of breast milk, while also creating specialized baby formulas tailored to each baby's specific needs.
Some of these formulas include:
Enfamil Enspire (their closest to breast milk formula, featuring a specific protein found in colostrum and breast milk, that supports your baby's immune system.)
Enfamil NeuroPro (our personal favorite overall formula to begin with as it features MFGM and DHA to support your baby's developing brain)
Enfamil A2 (containing a special A2 milk protein that is much easier to digest while still supporting your baby's fast developing brain)
Enfamil NeuroPro Sensitive (NeuroPro with a twist to help support babies with a known lactose sensitivity in turn making it more sensitive and easier for them to digest this formula)
On the other hand, Enfamil has been claimed to cause constipation in some babies due to their use of palm oil in their baby formulas. If you're unsure what your baby may need on an ongoing basis – take note of how often they go potty before choosing which type to use!
If you give Enfamil a try and notice your little one is struggling with constipation, it may be worth switching to a baby formula without palm oil or with minimal amounts. As always, discuss this decision with your pediatrician for their expert guidance as well!
About Similac Formula
Similac is a baby formula made by Abbott. They've been around since 1925 — creating a variety of baby formulas (similar to Enfamil) to support the different needs of your baby.
In general, Similac does not use palm olein oil in their formulas which supports calcium absorption and minimizes those chances of an upset constipated baby.
Some of Similac's most popular baby formulas include:
Similac Pro-Advance (featuring the prebiotic 2'-FL human milk oligosaccharide to support baby's immune system comparable to a breast fed baby and NEVER containing any artificial growth hormones)
Similac Sensitive (aimed to support babies with a sensitive stomach and sensitivity to lactose specifically)
Similac Pro-Total Comfort (a gentle formula featuring the prebiotic 2'-FL human milk oligosaccharide to help baby digest comfortably)
As you can see, both brands have some incredible formulas for babies.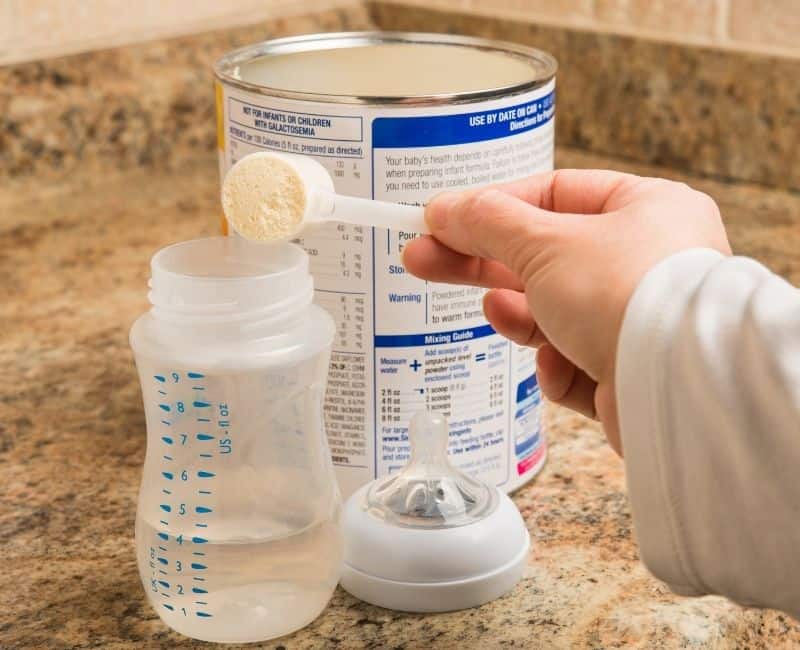 The difference between Similac and Enfamil
What is the biggest difference between Similac and Enfamil? Well, for one, Similac does NOT use any palm olein oil in their fat blends. However, I did notice they tend to use more added sugars in their formula.
On the other hand, Enfamil contains MFGM — drawing it back to its closeness to human breast milk. It also uses partially hydrolyzed nonfat milk in a lot of its blends to help reduce the risk of future allergies.
Both Similac and Enfamil Baby Formula are provided in 3 main options:
Instead of comparing Similac to Enfamil, it's best to compare EACH formula to its comparable counterpart.
Different types of Formula
There are many choices to choose from depending on you and your baby's needs. They include formulas that mimic breast milk, lactose-free, soy-free, and options for premature babies. Which is best for you? Let's find out.
Breast Milk-Based Formula
While there are still many factors we can't replicate, these formulas offer the closest approximation to breast milk possible.
This is why they include MFGM; this supports cognitive development in infants. Or probiotics, like 2′-FL HMO, which helps your baby's immune system.
Breast milk-based formula is a good choice if you're just beginning to use baby formula. It contains all the essential nutrients your little one needs to thrive while overall still being gentle on their tummies. If you discover your baby has sensitivities, then the search for the right baby formula continues.
Enfamil NeuroPro Infant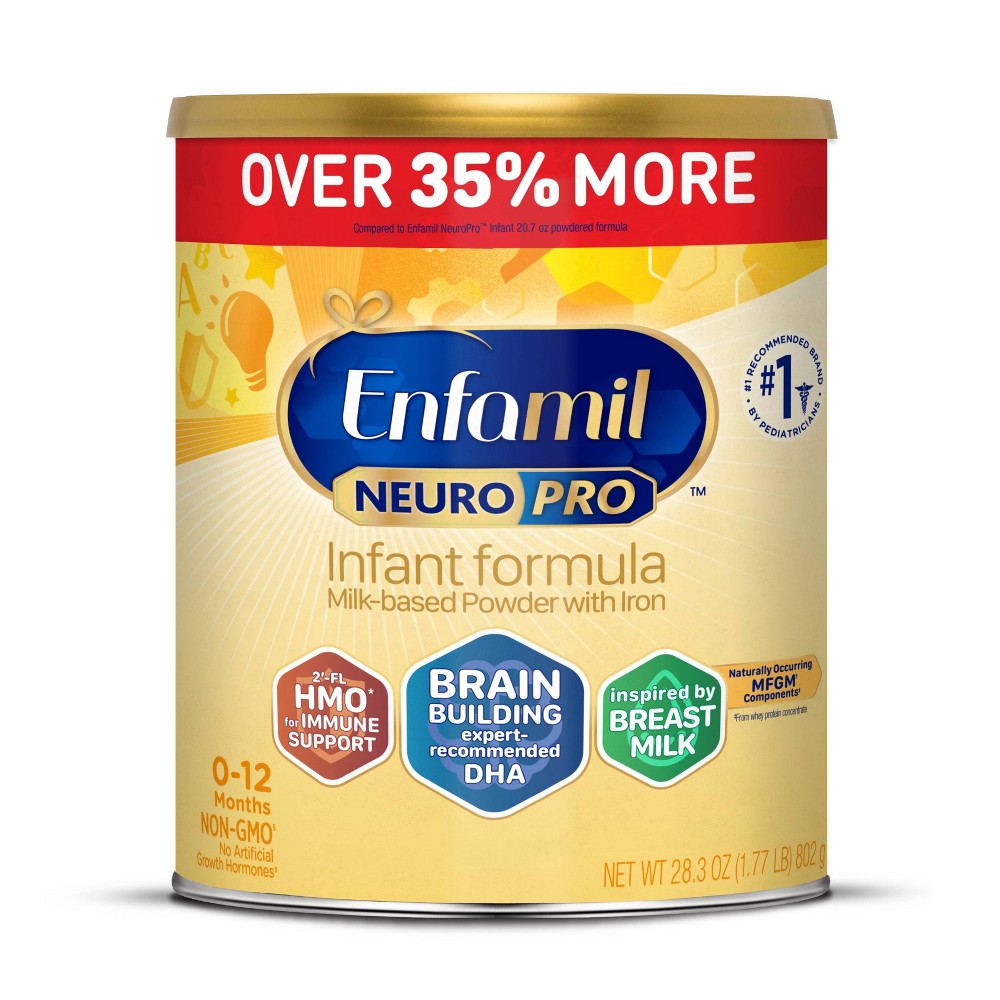 This milk-based formula provides all the necessary nutrients that babies need and more! Features Omega 3 DHA and milk fat globule membrane (MFGM).
It also comes in a Gentlease and Sensitive Infant Formula option.
Similac Pro-Advance Infant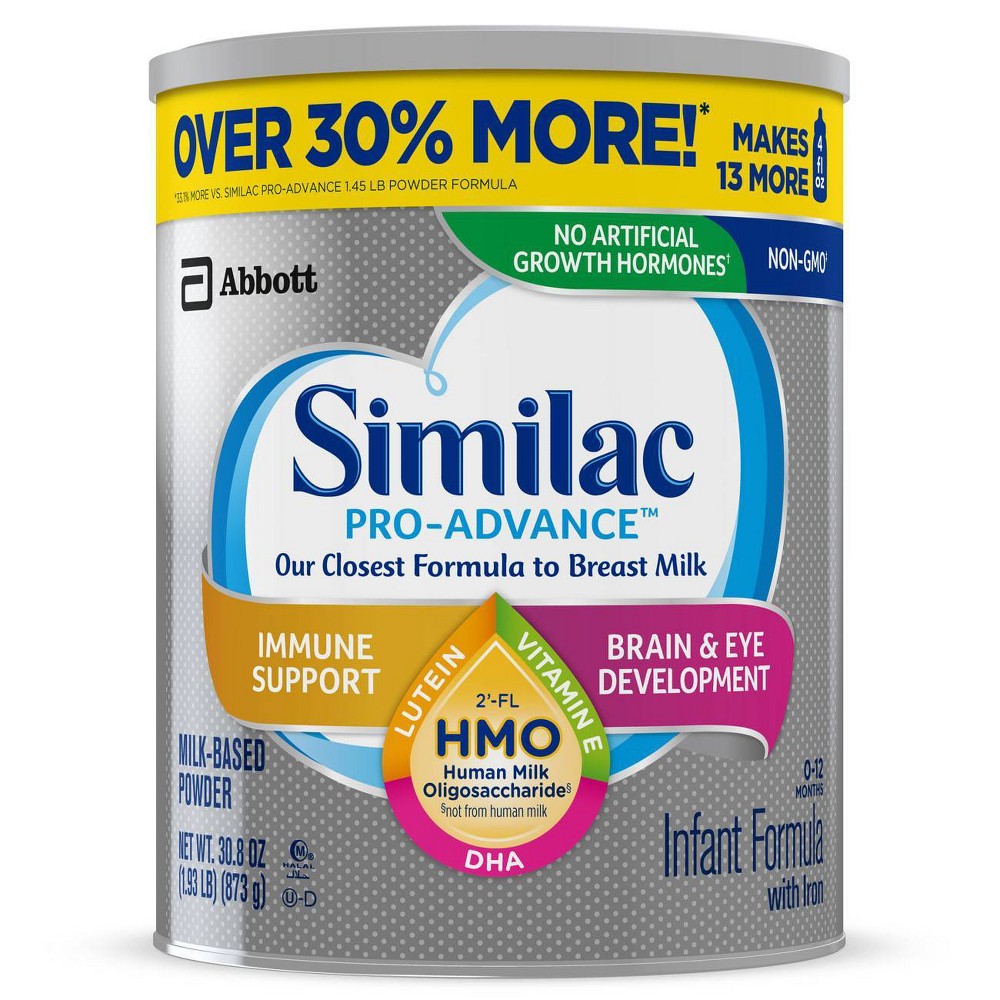 The benefits of Similac Pro-Advance Infant Formula include a blend of 2'-FL HMO for immune support and DHA, lutein, + vitamin E to support your baby's eye and brain development.
Gentle Tummy Formulas
Gentle formulas are designed for sensitive tummies. These formulas may include a lactose-free formula or added prebiotics to aid in digestion.
Enfamil NeuroPro Gentlease
This formula is great since it includes prebiotics to help support immunity, as well as a blend of vitamins and minerals for your baby to meet their needs.
This formula is also clinically proven to reduce fussiness, crying, gas, and spit-up in sensitive babies through its broken-down lactose formulation.
Enfamil Reguline Baby Formula
Enfamil does it again with their Reguline Baby Formula which features a prebiotic blend proven to promote soft and comfortable stools within just a few weeks!
Similac Sensitive Formula
Similac Sensitive is another great option for babies to experience formula sensitivities. This is because they use suitable lactose for sensitivities and as always, no palm olein oil in their formulas.
Similac Organic A2 Formula
Similac's Organic A2 Formula is a great option for babies needing a gentle formula. This is because they use easily digestible lactose for a carb, non-GMO A2 milk protein, and DHA, lutein, and vitamin E for brain and eye development.
Overall well-rounded baby formula for those sensitive tummies.
Are there BETTER formulas than Enfamil or Similac?
If your goal is to find an organic formula with high-quality ingredients for your baby that has no preservatives or artificial flavors, then I'd suggest looking into Bobbie Baby Formula.
Bobbie is an FDA-approved baby formula that uses a formulation based on European Style Regulations. In short, European regulations are much more strict than those here in the US. That said, I personally think Bobbie is one of the best baby formula options for little ones (outside of Enfamil vs Similac).
Should I consider my child's age before choosing a formula?
First off, there's is no hard-fast rule that dictates when you can or cannot use baby formula. For some parents, baby formula is what they offer their newborn from the very beginning.
When it comes to Enfamil and Similac, they both provide age-based selections for your little one. We suggest discussing age-related concerns with your pediatrician for the best-educated decision when choosing a baby formula based on your child's age.
Safety of both brands
Both of these brands have been around for years, and they are both wonderful baby formulas. However, some small issues with the Similac brand have been experienced, such as an ingredient recall in 2009.
The recall doesn't make them a bad formula choice by any means, but it is helpful to see which brands have had complaints or issues before making a final decision. All in all, these FDA-approved formulas are regulated and passed the necessary requirements to be sold on shelves.
Price Comparison Of Enfamil And Similac
The price difference between a canister or container of either formula is minimal when compared to other necessities such as diapers or wipes.
Still, it may be worth considering if you're on a tight budget!
The Final Decision: Which Formula to Choose?
When deciding between Enfamil and Similac, there are three main things you'll want to consider – how sensitive your baby is to milk protein (milk allergies?), if they need additional nutrients, or whether or not they have any digestive difficulties or concerns.
---
For us, Enfamil is our top choice of baby formula because they use less added sugars and high-quality ingredients to meet your baby's growing needs.
Read more breastfeeding articles here: