Is Using Protein Powder While Breastfeeding Safe? Here's The Scoop…
This post may contain affiliate links that I may receive a commission from if you click & buy. In addition, the information on this site is NOT intended to be medical advice. See my full policy for more information.
Are you curious about whether or not protein powder while breastfeeding is safe? Some moms want to use protein powder in their protein shakes to help increase milk supply, while others just want a healthy alternative to consume more protein. Learn all about which protein powders for breastfeeding mothers are the BEST and how to make sure it's a safe option.
If you're a breastfeeding mother, knowing what is safe and not safe to consume is important. You'd never want to consume something that could negatively impact your health or your baby's health.
Oftentimes, protein shakes make a wonderful alternative for busy moms or moms wanting to consume more protein and additional nutrients throughout the day. This comes in very handy for moms who are active and exercise often too. However, should breastfeeding moms simply aim for whole foods over protein powder or can there be a happy medium between them both?
Protein Powder While Breastfeeding – Is It Safe?
Dun dun dun…the big question. Is protein powder SAFE while breastfeeding or pumping for baby? So here's what you need to know.
Protein powders (and many other supplements for that matter) are not fully regulated by the FDA. This means it's up to you as the consumer to do some thorough research before putting it into your body (yes, even pregnant women).
While the vast majority of protein powders marketed to breastfeeding mothers do tend to be safe for consumption, it's always best to proceed with caution. Take some time to look at the main ingredients, ask your doctor for their opinion and let an IBCLC chime in too!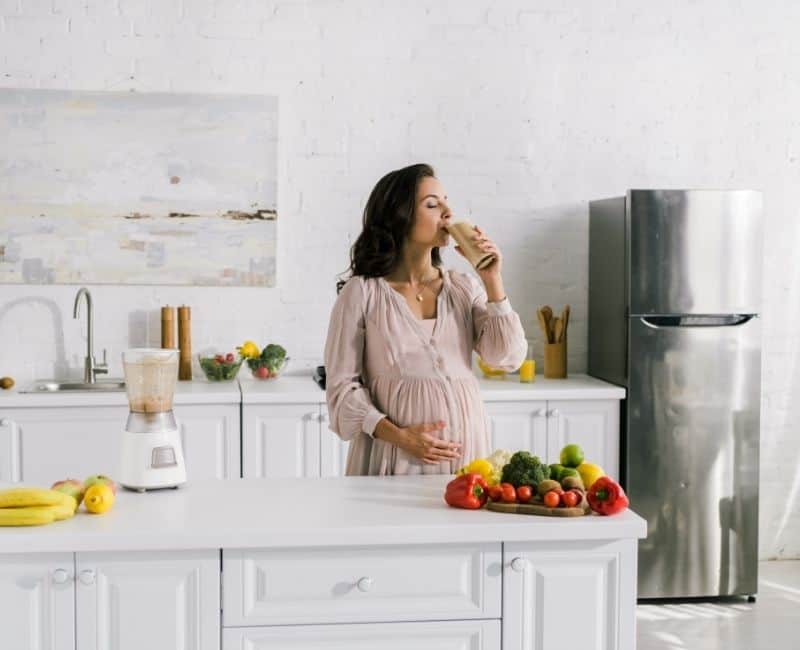 Is It Safe to Drink Protein Shakes While Breastfeeding
Yes, you can absolutely drink protein powder while breastfeeding! In fact, consuming adequate amounts of protein for new moms postpartum and while breastfeeding will only help mothers meet their body's additional protein needs while recovering and lactating.
Did you know, lactating mothers should be consuming around 25 grams more protein per day? This is simply because your macronutrient and micronutrient requirements increase during lactation and pregnancy — got to keep that body energized (with enough protein) so it can take care of both you and your baby!
However, when it comes to consuming protein powders while lactating, you should always be mindful of the ingredients. We'll talk more about this below.
Can protein powder cause gas in breastfed babies?
One of the most common questions I've seen pop up in Facebook threads or online forums is whether or not consuming protein powder can cause gas in breastfed babies — and the answer is, it's possible.
There are a variety of reasons babies can develop gas in their still immature digestive tract. One of which is having an intolerance to certain proteins.
This is one of the many reasons to ensure you're using a clean protein powder vs one loaded up with unnecessary ingredients.
Whey Protein Powder While Breastfeeding
One of the most popular protein powders is whey protein. Whey protein comes from dairy milk. It is isolated and processed into a fine powder form which you find in various protein powders.
If you know that your breastfed baby has a dairy intolerance, consuming whey protein may not be the best choice, however, you should discuss this with your care provider first.
Pea Protein While Breastfeeding
Another protein powder that's risen in popularity is pea protein. Unlike whey protein, pea protein is naturally vegan and hypoallergenic. It's derived through yellow peas, they simply extract the protein and process it into powder form.
Pea protein is known to be a high-quality protein alternative to whey, in addition to being an excellent source of iron (which can be helpful if you notice your breast milk supply tends to drop around your menstrual cycle).
Collagen Protein Powder for Breastfeeding Moms
Collagen is the most abundant protein in our bodies. It's found in our skin, hair, nails, and other connective tissues.
Many collagen protein powders come unflavored, making this type of protein super easy to mix into any meal or drink (like your morning coffee, pancake batter, smoothies, etc…)
As long as you consume a collagen protein supplement without any extra additives or fillers — it's typically considered a very safe way for breastfeeding moms to consume extra protein intake.
What should a nursing mom look for in a protein powder while lactating?
A simple, clean protein powder blend is always going to be my top choice when selecting a protein powder for lactating moms.
This means, avoiding proteins that have lots of heavy metals, vegetable oil or fats, and protein fillers like psyllium or added sugars.
Instead, focus on finding a protein powder that keeps its ingredient list short, sweet, and simple.
Protein Shakes While Breastfeeding Recipe Ideas
You're probably wondering if drinking the same ol' protein shake(s) gets boring or gross after a while. Personally, I don't like to spend a ton of time preparing my shakes so I opt for convenience.
The best way for me is by using my shaker bottle to mix up some of my favorite protein powder with water or milk.
If you prefer blended protein shakes, this GREEN lactation-friendly protein shake is delicious. Here are some more recipe ideas:
1 scoop chocolate protein powder + 1 tbsp peanut butter + water or milk of choice (I love this for the added protein in the event your protein powder has less than 20 grams per scoop).
1 scoop vanilla protein powder + 3 whole strawberries + 1/2 banana + water or milk of choice (delicious, simple, and energizing shake for the morning).
Need even more ideas? Check out these yummy lactation-friendly breastfeeding smoothies using a pre-prepped fruit blend!
The BEST Protein Powders for Breastfeeding Moms
This list contains the best protein powder for lactating mothers. With minimal to no artificial sweeteners and adequate amounts of protein. If you're not getting enough protein from your whole food — protein powder is a great way to make up the loss of those essential nutrients.
1) Orgain Protein
Orgain protein powder is my favorite protein powder for nursing mothers for quite a few reasons. One, they are readily available at most local stores like Target and Walmart. The price point is very affordable, I've seen them averaging anywhere from $27.99 – $34.99 which is a great price.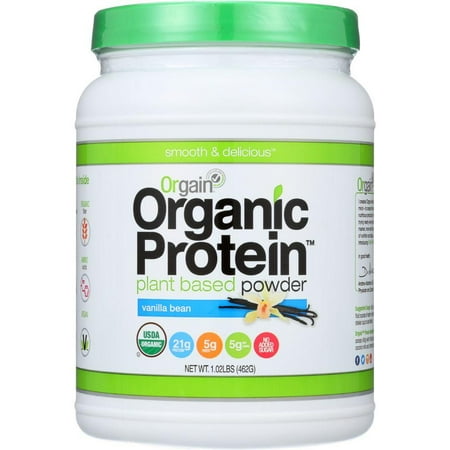 More importantly, the ingredients in their protein supplements are nice, simple, and clean. Here are a few reasons I absolutely love this protein powder:
They make both whey protein and plant protein (organic pea protein) options.
Orgain has a variety of flavor options (and they mix really well too).
Most of their protein powders contain at least 20 grams of protein per serving.
You can buy ready-made protein shakes instead of powder.
They don't contain added sugars.
Some of the protein blends do contain sunflower lecithin (which is great for lactating mother's who suffer clogged milk ducts — though it won't be enough to prevent them through the protein powder, it may help).
Unlike others, the ONLY downside to this protein powder is that it was not formulated specifically for breastfed mothers. Meaning, there aren't any lactation blends or lactation ingredients intentionally added to support breastfeeding.
2) So lean & so clean Superfood Protein by Ora Organics
Ora Organics – So lean & so clean protein powder is probably one of the best in regards to their ingredients. They boast lots of organic superfoods, though aren't specifically formulated for lactating moms but do have plenty of overall health benefits.
So, what else makes this protein powder so incredible? Let me tell you:
Ora Organics is "vegan, non-GMO, gluten-free, soy-free, dairy-free and made with organic, plant-based whole foods" as stated on their site and labels.
This protein powder comes in 3 easy to mix flavors.
It contains 22g of protein, 3g of net carbs, and 0g of sugar per serving.
It does NOT contain any filler ingredients or artificial flavors.
One very unique thing Ora Organics does that I haven't seen many other brands offer is they offer sample packets for purchase when you order directly from their website. This is a great option for moms to try them out before investing in an entire tub of protein.
3) Milk Dust Breastfeeding Protein
Milk Dust's protein powder, which was made exclusively for breastfeeding mothers doesn't disappoint. This protein powder features a simple lactation blend including fennel, milk thistle, and fenugreek to keep that supply strong and flowin'.
I will say, after learning about some of the side effects that have come out about fenugreek, I'm not the biggest fan of that specific galactagogue for milk production. Personally, I used fenugreek with my first baby and had a very poor reaction to it which included an upset stomach, nausea, and a very gassy baby.
However, given that this is a blended formula, the chances of going through those side effects are likely a bit lower. So, here's a few more reasons to give Milk Dust Protein Powder a try:
Milk Dust is a dairy-free, soy-free, and gluten-free Plant based Protein Powder that comes in 2 flavors.
There is 16g of Protein per scoop (Ideally would like to see at least 20g).
This protein also contains a sugar cravings blend claimed to help combat excessive hunger and cravings.
If your main goal is to find a protein powder that can enhance your milk supply, Milk Dust is a great option to try! Though its protein content is pretty low, I'd suggest adding something like peanut butter or some spinach to your shake for a little more added protein.
4) Boobie Body Meal Replacement Protein Shake
Boobie body is another protein shake made from plant protein for breastfeeding mothers. This protein powder boasts many benefits such as maintaining a healthy milk supply, and more for breastfeeding mothers.
Plus, the good news is it's safe for pregnant mothers too!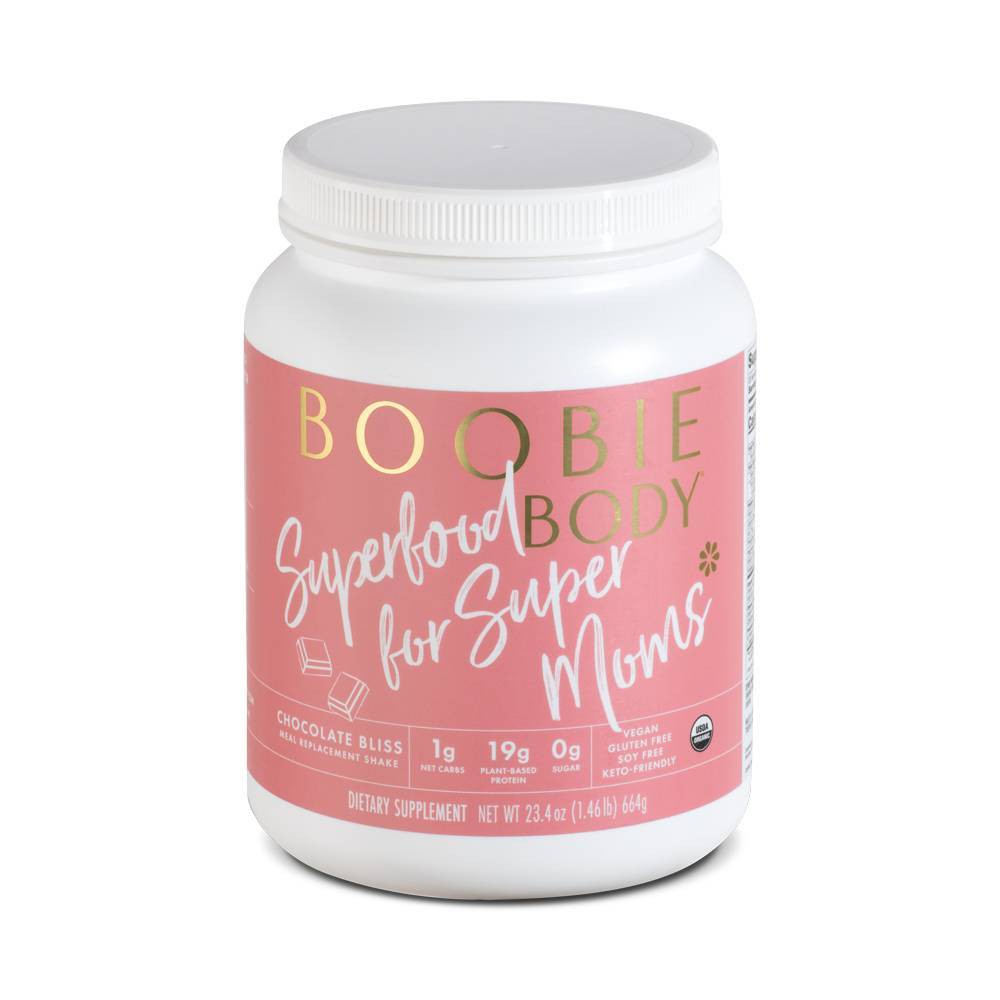 Some of the reasons Boobie Body is a great protein powder for lactating mothers:
USDA Certified Organic, Keto Friendly, Vegan, Dairy Free, Gluten Free, Certified NON-GMO, Soy Free, Certified Kosher, and Caffeine Free.
Each serving contains 19g plant-based protein, 1g net carbs, 0 sugar added.
It's loaded with superfood to promote a healthy pregnancy and milk-boosting properties for lactating moms.
Comes in 4 flavors: Chocolate bliss, Vanilla cookie, Vanilla chai, and Coffee caramel.
Despite being a super shake for breastfeeding mothers, one thing I noticed consistently with reviews is that some found the protein to be overly chalky and the flavors to be hit or miss.
I personally haven't tried this protein powder to weigh in myself, but it was the most common "negative" review I noticed and felt like it was worth noting.
5) Majka Protein Powder
I saved the Majka Protein Powder for last because it is by far the most expensive of the bunch. However, they do have some pretty interesting (and high-quality) healthy ingredients that could work wonders for lactating moms.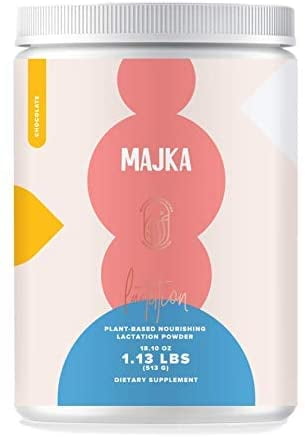 So, why the high price point? According to their website, Majka was formulated for lactating mothers. Their lactation protein powder overall contains very clean ingredients and really seems to focus on boosting milk supply (aka supporting the production of breast milk); along with probiotics and digestive enzymes supportive of pregnancy and postnatal support.
Here's what else you can find in the Majka Protein Powder:
Fenugreek free lactation blend.
Non-GMO, Vegan, Gluten-Free, Organic, Wholefood Based, and Soy-Free.
It claims to be an all-in-one postnatal vitamin, protein powder, and lactation supplement – for complete nutrients of mothers.
Vegan protein blend sources from 3 nutrient-dense plant sources.
Comes in 2 flavors: Green vanilla and Chocolate.
I'm not sure I would spend this much on a breastfeeding protein powder despite its incredible claims and benefits, however, if money isn't a barrier — I do think it could have some great benefits for pregnant, lactating, and postpartum mothers.
---
Drinking a daily protein shake is a convenient way to increase your protein consumption, especially, as a breastfeeding mama. Hopefully, you'll be able to find a safe protein powder while breastfeeding off this list that you love!
Read more breastfeeding articles here: