Best Sleep Sack for Toddlers & Baby
This post may contain affiliate links that I may receive a commission from if you click & buy. In addition, the information on this site is NOT intended to be medical advice. See my full policy for more information.
If you're looking for the best sleep sack for toddlers and baby, you've come to the right place!
If you aren't even sure what a sleep sack is, let me break it down.
A baby sleep sack is that cute little blanket looking tank-top your baby can wear when they outgrow swaddling! It serves as an alternative to a blanket in the sense that your baby is able to actually wear it securely on them.
I personally love the idea of a sleep sack for babies because it keeps him cozy & warm. Plus, I'm just too paranoid about giving our son a blanket this young still.
And, if you keep reading until the VERY end of this post, you may find a little special promo code for this amazing sleep sack I'm about to share!
This is a sponsored collaboration post between myself and Woolino. This does not hinder or impact my honest review of their product.
And this my beautiful mama friends is where Woolino & their 4 Season Ultimate Sleep Bag comes into play!
The Best Sleep Sack for Toddlers & Baby
About Woolino & their products
Woolino was founded by Mimi. Mimi was a mom on a mission to find a comfortable way to help her baby sleep safely, leading to the development of the FIRST Merino Wool sleep bag available in the US.
What started with just a sleep bag has now grown to a whole line of sleep products ranging from clothing, bedding, and much more!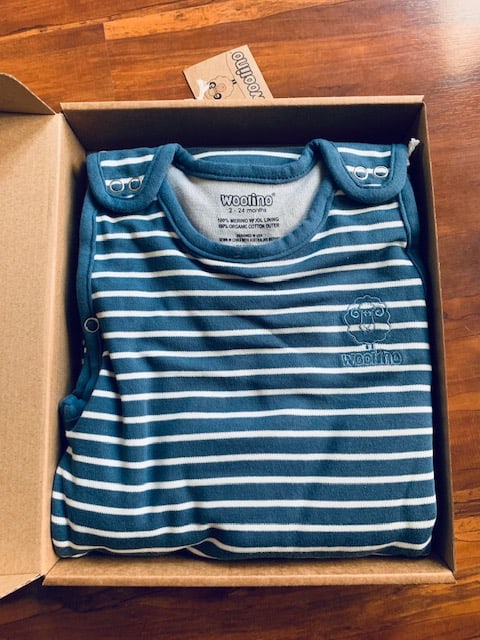 What makes merino wool so special (I picked out my favorite benefits of Merino Wool to share below, for even more information, click here)?
Merino wool can help prevent your little one from overheating.
If you've used other brand sleep sacks, you may have found others are either too thick or too thin, leading to baby waking up cold or too hot. With merino wool, say bye-bye to those problems!
Merino wool is hypoallergenic!
No need to worry if your new sleep sack will irritate your little one's gentle skin. With merino wool, you get non-irritating, bacteria inhibiting protection, leaving nothing but a soft & safe sleep sack for your little one.
Merino wool is exceptionally breathable & works all year round!
This material is exceptionally adaptable! It is able to keep your little ones warm when it's cold and cool when it's warm, making it perfect to use all year round! All without the excessive bulk or paper-thin fabric compared to other baby sleep sacks on the market!
Why to use a sleep sack for baby or a sleep sack for toddlers
Before our little ones are ready to use blankets or sleep sacks, they're usually swaddled nice and snug for safety and comfort.
As they get older, it becomes time to transition them out of these swaddles. However, many babies struggle when we remove their 'safety layer' that they've been use to for so long.
That's where the good ol' sleep bags or sleep blankets come into play!
These cozy little sacks provide safety, comfort and security for your little ones, but best of all, you can continue to use them throughout toddlerhood!
Another added bonus of these sleep sacks is that as your little one gets older, it can help prevent them from being able to climb out of the crib since they're enclosed in a loose sleep sack!
And when you use the Woolino Sleep Bag – you can rest assured that your little one will not only be safe and comfortable but that you'll have the BEST quality sleep bag out there to last you ample amounts of time as your little one grows!
Our Woolino Sleep Bag Review
From the minute we received our Woolino Sleep bag, I could already tell it was top-notch quality.
It came in a cute little eco-friendly packaging box with an explanation of what the product is, how it works, etc…on the back of the box itself.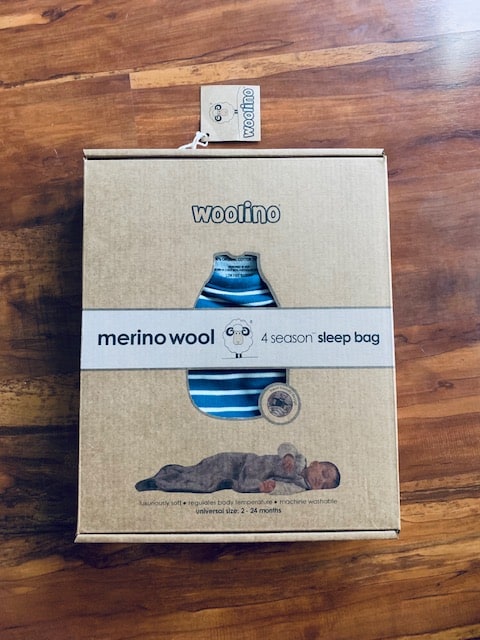 After opening & unboxing, the sleep bag itself came with a handy 'dressing guide' card, explaining how to dress baby for sleep depending on the temperature (unique to be used with their sleep bag).
In addition, it came with a little portable temperature gauge to use in your baby's nursery (or wherever they'll be sleeping)!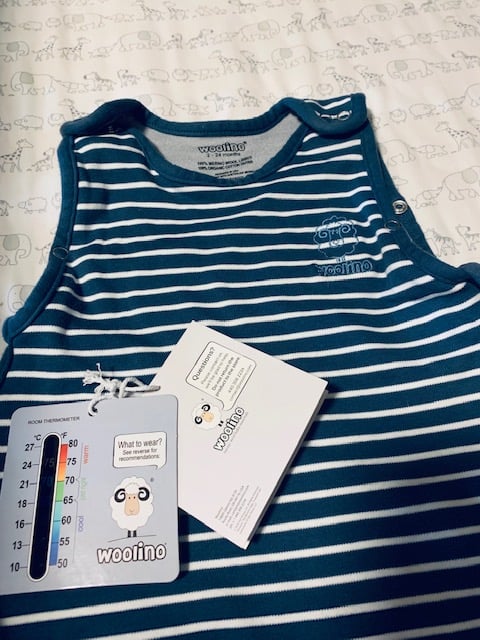 The product itself is VERY soft. Like, seriously, so soft. I'm kind of jealous they don't make an adult version for us mama's, just saying!
We began using our Woolino Sleep Bag the day we received it and haven't looked back since!
After using the Woolino 4 Season Sleep Bag for 2 weeks, these are the main points I'd like to highlight:
Material: This product is made from the most breathable fabric in the world! Being that my son is a pretty hot sleeper, I was worried this would make him too hot, but to my surprise, it did not! In fact, he has slept better these past 2 weeks then he did before in his old sleep sack! Needless to say, I'm convinced this is the best sleep bag on the market!
Features: I know, you're like wait, a sleep sack for toddlers and baby has features? Yes, it does! It has a closable seat belt opening on the front which allows you to use in the car or stroller! Making it super convenient for when I needed to run some errands around nap time!
Universal Sizing: This sleep bag comes in a universal size fitting babies as young as 2 months old up to 2 years old. For older toddlers, you can get the toddler sleep bag. The sleep bag itself also has underarm snaps you can snap closed to make it a more secure fit if your baby or toddler is on the smaller side. We didn't end up needing to use this feature, but I love that it even has the option!
4 Season Usage: As I mentioned, I really am impressed that this sleep bag can be used all year round. My husband is a hot sleeper and always wants the AC on, but with our little guy, we always have to make sure we aren't making him too cold in his room! Now, with our new Woolino Sleep Bag, my husband is able to make it a little cooler for his comfort while we don't have to worry about our son getting too cold. It's literally the best of both worlds!
Woolino is the BEST Sleep Sack for Toddlers & Baby
I cannot say enough great things about this sleep bag! My son has been sleeping much better, not tossing and turning as much anymore.
Although the price point for this baby/toddler sleep bag is a bit on the higher end, when you think about how much usage you'll get, the quality you get, and the sleep your little one will get, it definitely is worth it!
Ready to try Woolino for your little one? Use code MOMAFTERBABY10 for 10% off your purchase order!
Looking For More Tips On Baby Sleep?
Leave your questions about Woolino's 4 Season Ultimate Sleep Bag (the best sleep sack for toddlers & baby) below!