Baby Formula 101: What To Know About Formula Feeding Baby
This post may contain affiliate links that I may receive a commission from if you click & buy. In addition, the information on this site is NOT intended to be medical advice. See my full policy for more information.
Have you considered making the switch to infant formula? Are you struggling to pick out the best formula for your baby? This post contains all the basics to help you make the BEST formula feeding decisions.
My firstborn went straight to the NICU after birth. Though I desperately tried using a pump to get him some colostrum during our stay apart, my supply was struggling to come in.
So, we made the decision to authorize formula feeds.
Looking back, I didn't think twice. My baby was hooked up to all these monitors and he needed nutrients.
But what is it about formula feeding that causes some moms (or parents) to cringe? And why can't we develop a more supportive society around ALL feeding decisions?
In this post, Baby Formula 101, I will help you understand the basics of formula feeding so you can make an educated decision on which type of feeding is BEST for you and your baby.
Reasons some moms choose to formula feed their baby:
For some moms, formula feeding just simply isn't an optional decision.
For others, there could be more beneath the surface that effects their decision.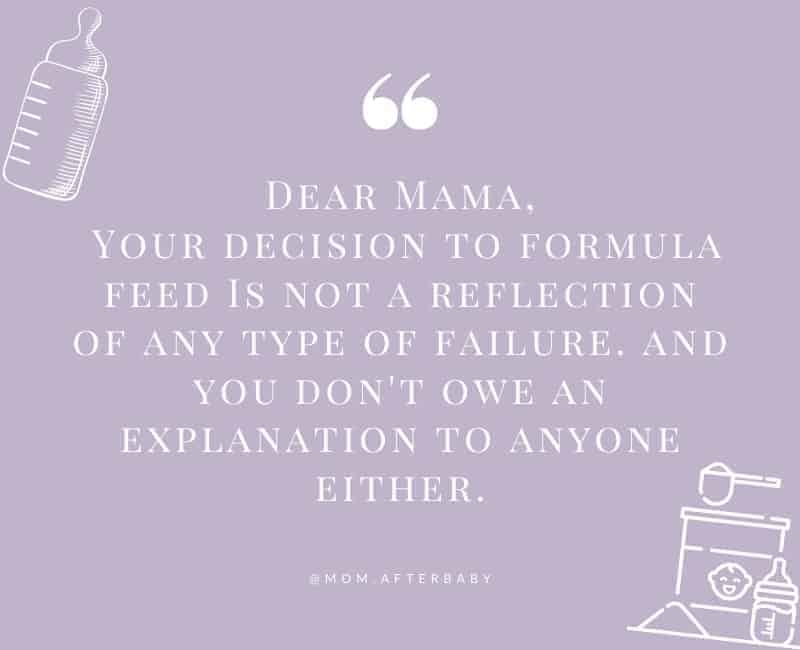 Below are some common reasons moms might choose to feed their baby formula:
They're medically/physically unable to breastfeed.
Work or lifestyle schedules require more convenience.
Mental health challenges.
Lack of support to navigate breastfeeding challenges.
Pressure from parents/friends/colleagues.
Simply because they want to.
At the end of the day, regardless of why a mom opts to formula feed her baby or not, it should be a decision that is 100% supported.
As moms, I think we can all agree there is nothing about motherhood that is "easy".
Each stage comes with various challenges and the last thing we need is to wage war against each other due to the way we choose to feed our baby.
Benefits of formula feeding your baby:
Though there will be plenty to argue there are NO benefits to formula feeding, I definitely do not agree there.
There are definitely some prominent benefits to babies who are formula fed and here they are:
You can split feedings with your partner (this means you won't have to be so sleep deprived each night and can also allow your partner to soak up that sweet bonding time while feeding).
You're able to prioritize your mental health (a happy mom is a healthy mom; you can't show up and give your best when you're stressed, depressed, and anxious over struggling to breastfeed your baby; plus if you need to take medication you don't need to worry about it crossing into your milk supply).
It will free up your time (no more being stuck on the sofa or in bed with your baby who wants to comfort nurse, instead you're able to spend time with your other kiddos and keep a bottle on standby if needed).
You won't have to watch your diet (sometimes, breastfeeding moms have to be very careful about eating foods that could tank their supply or worst, upset baby's tummy! With formula feeding, you can eat pretty much whatever you want guilt-free).
You can rest assured, your baby is still getting nutrients (though formula and breast milk are not the same, your baby isn't being malnourished by choosing an alternative way of feeding)
Negative effects of formula feeding your baby:
Since we covered a few of the prime benefits, it's time to move onto some of the negatives:
Doesn't contain the same protection against infections & diseases like breast milk does (due to not having the same antibody properties).
Unlike breast milk, it cannot adjust to your baby's growing needs on its own (it may take switching formulas or brands whenever your baby seems to not tolerate it anymore).
Most formulas can be harder to digest for baby (hence why they tend to need less feedings compared to breastfed babies).
Formula on it's own can be costly (especially if you are using a special brand or quality).
Sometimes the prep work can get tiring (from cleaning lots of bottles, tracking expiration dates, using the right water, and more).
What are the different types of formulas and which one should you pick?
Baby formula generally comes in 3 different selections:
Ready to serve (no-mixing required)
To get a better understanding of these 3 options, let's a take a closer look at what makes them different.
Powdered Baby Formula
Powdered baby formula is probably one of the most commonly used type of formula due to its price point.
Though it is considered a very safe option for formula feeding, it does not come sterilized like the liquid formula does.
Therefore, powder baby formula has a minor risk of being contaminated as it's being made. It's important to know that this is considered a very very minor risk, but it's still good to be aware.
When mixing powdered formula, it's important to always follow the instructions on the container. For instance, using sterile water for reconstitution is a must that many try to cut corners on to save time.
To sterilize regular tap water, simply boil it for 1-2 minutes and then bring it back down to room temperature.
It's also important to follow the exact ratio of formula to water to ensure baby is getting the correct amount of nutrients he or she needs.
Ready To Serve (no-mixing required) Formula
Ready to serve baby formula is a convenient, but pricier option for many parents.
There is no prep work that needs to be done with this formula and is typically sold in 2 oz, 4 oz, or 8 oz bottles.
Simply break the seal, pour however much you need, warm it up (optional), and serve!
Unlike powder formula, the liquid ready to serve option comes already sterilized.
Make sure when storing this formula after opening that you date your bottle because most of them expire after 48 hours.
Liquid Concentrate Formula
This option is very easy to use for parents because you simply just add in some water, shake it up, and your formula is ready to go!
Again, this is another costly option and since the formula will expire after 48 hours in the refrigerator, you'll want to be sure it will actually be used.
Because this formula comes as a liquid, you can rest assured it is also sterilized.
How to choose the RIGHT formula for your baby
Choosing the right formula for your baby will likely boil down to a few main points:
What are your baby's nutritional or dietary needs at this time?
Is it easy to find in stores/online.
Which baby formula is most affordable?
Powdered baby formula is by far the most affordable option of formula.
This is typically why it's the most commonly used amongst parents all over the world.
What to look for in baby formula?
Mosy baby formulas contain almost exactly the same nutritional value, except some use higher quality ingredients and/or may add in additional ingredients too (such as DHA, prebiotics, or iron for example).
Some formulas are also created for a specific cause, such as for "gentle tummies" or "organic only".
At the bare minimum, your baby formula should include:
Fat-Soluble Vitamins A, D, E, K
If your baby formula is missing or has extra ingredients, that you're unsure of, I'd suggest taking a a quick photo and asking your pediatrician for their input.
Ingredients To AVOID In Baby Formula
While most ingredients in baby formula are well and serve their purpose, there's a few worth mentioning that really should be avoided:
Palm Oil – Most babies have a difficult time digesting it and can cause constipation.
Corn syrup – Unless absolutely needed, opt for a formula that uses lactose in place of corn syrup. If your baby has a lactose intolerance, they will likely be placed on a formula with corn syrup instead.
How much formula will baby need?
Knowing how much to feed your baby will be dependent on their age, their current growth patterns, and ultimately what you and your pediatrician decide is best.
On average, you can follow the feeding chart below as a generic baseline:
Newborn: Newborn babies love to eat often because their tummies are so small, but growing. Try offering 1/2 to 1 oz for the first few days. You might find by the 3rd to 4th day they begin taking anywhere from 1 to 2 oz per feed every 2 to 3 hours.
2 to 4 weeks old: By now, your baby's stomach is around the size of a small apricot. They may be consuming about 2 to 4 oz every 3 to 4 hours per day.
2 to 4 months old: As you guessed, your baby's stomach has grown even more! On average, they'll be consuming around 4 to 6 oz of formula every 3 to 5 hours. (At this age, they may also be extending longer stretches between feeds at night too, so don't worry about waking your baby up for a feed, let those babies sleep!).
6 months old: Your baby will likely be consuming 6 to 8 oz per feed every 4 to 6 hours. (Keep in mind, once baby solids are introduced, your little one may begin to drink less formula, but it shouldn't be too much. If your baby is dropping bottle feeds left and right, you might be giving them a little too much solids at this time).
Again, the above is just a general guideline of what baby may consume on average.
Please make sure to discuss with your pediatrician if you have any formula or feeding questions.
Best Formula Milk For Baby 0-6 Months
Because choosing a formula can feel overwhelming (especially as a new parent), I picked out my favorite baby formulas to share just with you!
1) Bobbie Organic Formula
You may notice that Bobbie is newer to the world of formula, but they are no pushover. In fact, check them out compared to some of the other big brand-name baby formulas right here.
Their organic, European formulation infant formula sets a high standard for even established brands who have been making baby formula for years!
Bobbie shares on their website that 83% of parents in the U.S. will turn to formula. Therefore they've made it their mission to evolve the world of formula feeding (and they're doing a great job if I do say so myself).
Why Bobbie Organic Baby Formula is awesome:
Does NOT contain palm oil.
Does NOT contain corn syrup.
Affordable options (and auto-shipments available).
Uses organic milk sourced lactose (carbohydrate) and whey (protein).
Inspired by European formula recipes, FDA approved, and USDA organic.
2) Enfamil NeuroPro Baby Formula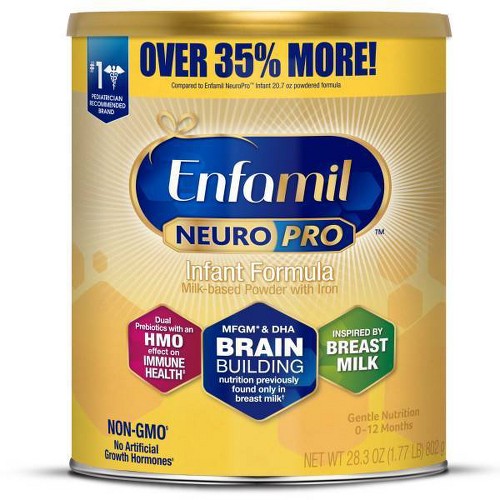 Enfamil's NeuroPro line of baby formula is a great formula to start with if you're not exactly quite sure which is best for your baby.
Aside from being one of the leading brands of baby formula, this specific line of formula features a few great highlights which you can see below.
Why Enfamil NeuroPro baby formula is awesome:
Provided as a powder, liquid concentrate, and ready to feed options.
Has added whey protein (which is known to be easier to digest for baby).
Contains added prebiotics.
3) Kabrita USA Toddler Formula
Kabrita USA is known for its high-quality European, GMO-free ingredient goat milk formulas (and toddler snacks).
So…what's so great about goat milk?
Goat milk, unlike cow's milk, contains predominantly A2 casein protein.
To put it simply (because it can be a little complicated to explain) — A2 milk is known to be easier to digest and forms a much gentler curd in the tummy after consumption.
That's what makes Kabrita's toddler formula so great for kiddos who need a gentle formula!
Why Kabrita USA Toddler formula is awesome:
A2 Based Formula (and is very gentle for little one's tummies).
Contains prebiotics, DHA, and 22 vitamins + minerals.
Uses lactose as the primary carbohydrate source.
It is produced in the Netherlands (where they have strict regulations that limit the use of antibiotics, hormones, and pesticides).
If you want to try some free samples of this formula, click the purple button below.
4) Gerber Good Start GentlePro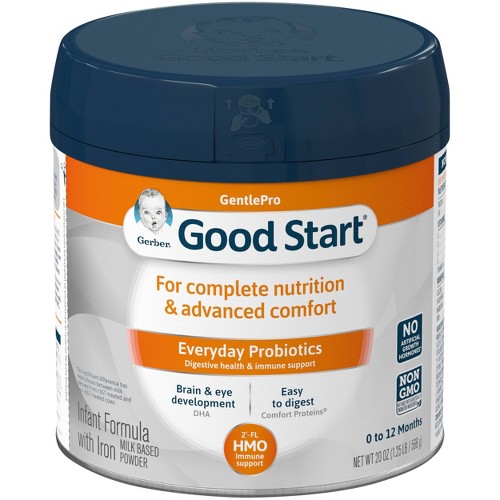 Gerber's Good Start GentlePro is a solid option for parents looking for a formula that meets their newborn baby's nutritional needs while maintaining a gentle approach.
Why Gerber Good Start GentlePro baby formula is awesome:
Overall an affordable option with various tub sizes to choose from.
Contains a well-balanced nutritional formulation for babies 12 months and below.
To check out Gerber's Good Start GentlePro for yourself, click on the purple button below.
Baby Formula 101 Recap & FAQ:
There you have it. Your one-stop Baby Formula 101 read to help you decide if baby formula is the best choice for you.
When to stop formula feeding?
It's always best to consult with your pediatrician or child's nutritionist depending on your child's specific nutritional needs.
However, the general consensus is to wean baby by or around 12 months old (and transition them to full-fat milk).
Goat Milk vs Cow Milk Formula – which is better for baby?
Ah, the common question: Goat Milk vs Cow Milk for babies – which is better?
In all honesty, both can be a great option for your baby/child depending on their specific needs.
For a baby sensitive to A1 proteins found mostly in cow's milk, then a goat milk formula might be easier on their tummy.
The best way to troubleshoot this is to talk it over with your little one's peditrician.
There you have it, baby formula can be a GREAT option for some parents depending on their situation.
Hopefully, after reading this post, you're able to decide whether or not baby formula is something that can benefit you and your baby along with which formulas are wonderful starters!
If you'd like even more baby formula tips, my friend Mallory aka The Formula Mom has some INCREDIBLE resources available for parents that you can view here!
Looking For More Baby Care & Feeding Tips?
Did you feed your baby formula? Which one(s) worked best for your baby?