This post may contain affiliate links that I may receive a commission from if you click & buy. In addition, the information on this site is NOT intended to be medical advice. See my full policy for more information.
If you landed here today, you're probably considering the idea of having two under two or preparing for two under two.
What's the deal? Is having a baby and a young toddler really that bad?
I'll be honest, as a mom of two under two, the transition was ROUGH.
Though, I'd like to think it would've been much better had my young toddler not been in the middle of speech therapy and occupational therapy, oh yeah, and a worldwide pandemic.
Thankfully, we survived the transition and are now enjoying the growing bond between my toddler and his baby brother.
So if you have two under two or are preparing to take on that journey, be sure to read through this ENTIRE post (it's a long one, so save it for later if you have to) because I'm sharing ALL my tips to help you prepare for having two under two.
Pros and cons of having a less than 2 year age gap between babies?
I remember when my husband and I decided to have our 2nd baby, the one thing we both were certain on is that we wanted our kids to be close in age.
I grew up in a family where my siblings were all greater than 3 years apart.
My husband grew up in a family where all his siblings were much closer.
Although I don't have a bad relationship with my siblings, we aren't as close as I'd like my kids to be and seeing the bond my husband has with his closest in age brother, I just knew I wanted THAT for our kids.
Aside from just wanting our kids to be close, we knew there were some pros and cons we'd need to weigh out before making that final decision.
Pros to having babies close in age:
They grow up close to each other and hopefully develop a strong lasting bond.
Once adjusted, your toddler will likely be eager to help out with her or her baby sibling!
You can line them up on the same schedule (feedings/sleep/etc…).
The baby stage is still pretty fresh, so starting over isn't a huge deal.
You probably still have hand me downs from your toddler & can save big time by using them!
Depending on how many kids you plan to have, you can finally be done with "being pregnant" and enjoy your body fully as your own once the next baby stage ends (but deep down we never really want it to end).
You're much more comfortable asking for the help you need.
You become much more flexible and forgiving with yourself.
They eventually can and will keep each other company (seriously, it's too adorable).
Cons to having babies close in age
Having a baby less than 12 months apart can put mom and baby at risk for various health issues according to one study done in 2018 by JAMA Internal Medicine Journal.
The gold standard rule is for moms to wait at least 18 months before getting pregnant again.
It takes away time from your other child.
Some moms feel like they miss out on certain milestones and stages because they can't solely focus on one child.
Ending one phase just to "start over" again (baby phase ends for one, begins for another).
Possibly breastfeeding while being pregnant (it's perfectly normal, but can take a toll on a pregnant mom making her more tired & exhausted).
Feeling of lots of "chaos" trying to manage a baby and toddler together.
Heightened tantrums and behavioral lash outs from your toddler as they adjust.
As you can see, this is a long list of pros and cons.
There's a lot that goes into weighing the decision of whether two young littles can be right for your family. Have you found yourself contemplating some of these considerations?
Now, let's jump into how you can prepare yourself for success with two littles under two!
Preparing For Two Under Two (A Step By Step Preparation Guide)
1) Start preparing your toddler for their new sibling's arrival.
I'll admit, one of the BEST things I did, was try to prepare our son for his new brother's arrival.
I bought a few books (I Am a Big Brother & The New Baby) and began reading these to my toddler daily.
He absolutely loved them! Although I don't think he really understood them, he always enjoyed looking at the pictures and flipping through the pages together.
The other thing I did to help prepare him is I let him be apart of ALL our preparation work from decorating the nursery to washing all the baby clothes — he literally helped with it all!
Getting them use to the idea that they're going to have a new sibling is one of the best ways you can begin that early introduction and ease into the transitional phase when baby number 2 arrives.
2) Start practicing more quiet time or independent play with your toddler.
Quiet time and independent play are amazing tools for young toddlers.
In fact, independent play is a very important part in your kiddos natural development.
When toddlers are allowed to have their own space and freedom to play independently as they choose, it allows them to work on things like regulating their emotions, building confidence, and enhances their imagination!
You can start incorporating more quiet time or independent play simply by setting up their play space with lots of engaging toys such as:
Toddler puzzles (Melissa & Doug have some of our absolute favorite and exciting puzzled for toddlers)
Then, practice easing into it. Start off by sitting close by and observing as they play.
Once they are really focused on their activity, you can try to move away and build up to where you're able to do your own activities.
As a young toddler, most times they can only handle a few minutes at a time.
2-5 minutes may not seem like much, but to a toddler, it feels like forever, so start there and work your way up over a few weeks as they tolerate it!
3) Have a few new toys ready to give your toddler when their sibling is born.
With a new sibling (or any big milestone) you might notice your toddler protesting things like sleep, being alone, independent play, foods, and more.
Meeting a new sibling is tough on a toddler, so the goal here is to ease some of that intensity and make it more exciting!
Be sure to have a few new, fun, and exciting toys stashed away so that when your toddler meets their sibling, they can associate that moment with something fun & exciting!
Some parents even turn this into a "gift from your new sibling".
The way I see it, is whatever YOU think would work, go for it!
4) Plan to have some extra help during the first month or two after baby number 2 is born.
Parenting two under two is no easy task.
It's exhausting, especially during the early days.
You have one that's a baby and literally cannot do anything for themselves and you have one that's a toddler who is full of big feelings, emotions, and also needs your constant attention.
Lining up help BEFORE the 2nd baby arrives is a must. Whether it's your partner taking time off work, a friend or family member staying with you, or even hiring out a postpartum doula — you will need the extra hand.
5) Don't skip the meal prep.
Preparation is KEY when it comes to managing two under two.
Take some time before your due date to meal prep some frozen dinners and ready-to-cook crockpot meals.
If cooking really isn't your thing, you can also look into having meals delivered straight to your door!
Here are a few meal delivery services I've used before:
Freshly — they provide some of the most delicious meals (already cooked) I've ever had. I'm actually not even a huge pasta lover, in fact, I'd take a burger over pasta any day, but their Baked Penne plate is SO DARN GOOD!
GrubHub — This is an excellent alternative to prepped meals! GrubHub is a food delivery option so you can place an order at your favorite local eatery & get your yummy food delivered right to your door! I used them a few times after my 2nd was born and it was a lifesaver!
HelloFresh — You've probably heard of HelloFresh (and seen me post about them on my Instagram page!) They provide yummy meals ready-to-cook straight to your door. Their super fast & easy to whip up. Plus, they eliminate the need to grocery shop for all your recipe ingredients! I wouldn't suggest using this RIGHT after baby is born, but it's really helpful once you establish a routine a few months in!
Preparing your meals early or at least lining up some solid meal deliveries will help you carve out more time for your two under two while not starving yourself as a busy mama!
6) Stock up on essentials groceries before your due date.
When my 2nd was born, it was smack dab in the middle of the pandemic. Great timing, right?
The last thing I wanted to do or have my husband do, was run out to the store while we had a newborn at home to stock up on essential groceries we could've done BEFORE baby's arrival.
So, between Amazon Fresh, Shipt, and Thrive Market — I saved loads of money and stocked up on grocery essentials!
Here's a list of some of the items we bought:
Toilet Paper (from Costco)
Laundry Detergent (from Costco)
Some meat to store in the freezer
Shampoo/Conditioner (this brand is PHENOMENAL during the postpartum stage to keep your hair soft, shiny, and in good condition, while you're experiencing postpartum hair loss).
There are probably some items my #mombrain is making me forget to add to this list, but I promise if you get these items, you'll be pretty stocked up on your essentials!
7) Get your toddler acquainted with whoever will be watching them during your hospital stay.
This is a must. If you are planning to give birth at a hospital or birthing center, you will likely need to arrange childcare.
If your toddler isn't familiar with the person coming to watch them, please give them time to get acquainted.
Let them see your routine, what you make for your toddler's meals, etc…
Luckily for us, my mom came to help but was still a rough transition because she wasn't fully aware of our entire routine.
Unfortunately, it really threw him off to be off routine for about 36 hours.
In a perfect world, whoever is helping could spend that week with you to really get the hang of things and make your toddler more comfortable too!
8) Don't force them to greet their new sibling.
This can be hard. You'll want your toddler to meet their new sibling SO BAD, but it's important not to push that boundary if they're just not feeling it.
First, come home and acknowledge your toddler WITHOUT baby. This will help them adjust to you returning home and getting that special greeting with just you and your partner.
Then, let them know their sibling has arrived and you'll be bringing them in. You can tell them they're welcome to say hi or to continue whatever activity they're preoccupied with.
Once you bring baby number 2 in, you can give your toddler their "gift". You could say something like "Hey sweetie, your new brother is here. He got you a present because he loves you so much!"
Let your toddler choose whether or not to acknowledge their own sibling.
Allowing them to have healthy choices and boundaries is so so important.
9) Let go of expectations.
Trust me on this — you do NOT need to expect yourself to:
Parent two under two perfectly
Be able to juggle life with a toddler and a baby without any chaos
Eat perfectly healthy meals
Take it all on all by yourself
Parenting ANY young children, especially two under two is hard.
Start getting into the habit of letting go of those unrealistic expectations while you're still pregnant so you can actually enjoy those early postpartum days instead of feeling like you're not doing a good enough job.
Because guess what? YOU ARE.
10) Get ready to feel your heart double in size
I saved this for last because it's true.
I spent a lot of time worrying about how I was physically and emotionally capable of loving another baby just as much as my first.
It's something I don't even know how to put into words, but it happens.
It might take a few days, maybe even months, but it will happen.
One day, you'll be taking it all in. Being a mom to two little children. Wondering how in the world you got so lucky to be chosen as their mama. That's when it'll hit you.
The enormous amount of love you feel in your heart for both those little souls.
Two Under Two Must-Haves
Now that you have a solid plan in place to start preparing for what's to come, there are a few items I consider MUST HAVES when you have two under two.
Trust me, these items will make your new busy life a whole lot easier!
1) Double Stroller
A double stroller is a MUST MUST MUST!
On the days you want to go out for a stroll or maybe the baby won't sleep so you turn to a nice nature walk to help them sleep, a double stroller will be your best friend!
Now, here's the thing, there's a TON of double strollers on the market.
I asked my Facebook group of moms which double strollers they have or have used and which ones they prefer. Here are their preferences:
2) Reliable Baby Carrier
Having a reliable baby carrier is important so that you can actually keep up with your toddler and your baby at the same time!
Plus, a high quality baby carrier will provide some kind of back support so you don't feel your back in pain after lugging around your infant all day.
My 3 FAVORITE baby carriers are:
Nalakai Ring Sling — I love the ring sling because of its simplicity. I can easily get my little guy in and out within seconds. I can breastfeed him with ease (and privacy) if needed. And, it's the cheapest carrier I own while remaining top-notch quality! You can actually read all about the review I wrote about Nalakai here.
LilleBaby Airflow — Lillebaby is my first love baby carrier. With their thick waistband offering lots of back support to the breathable material, this carrier is also affordable, providing lots of versatility as baby grows bigger and bigger.
Miamily Hipster Carrier — Probably one of the most innovative carries of our time. This carrier allows you to have extra support throughout your back and hips with their unique "seated" design. Along with lots of storage and comfort, you can't go wrong with Miamily (especially if you're often on the go).
3) AirFryer
I know I know…how the heck can an AIRFRYER help you manage two under two?
Well, this isn't specifically for your kids, it's for you!
You will seriously cut back SO MUCH TIME in the kitchen with your airfryer. I use mine at least 4 days out of the week, if not more. It's awesome!
Want to make some chicken nuggets for your toddler? Easy, cook em' in the airfryer.
Want to bake a little pizza? Easy, put it in the airfryer.
I've cooked chicken wings, chicken nuggets, fresh french fries, hash browns, toast, and so much more in our airfryer. But the best part is that it cuts your cooking time down SO much!
It's been one of my favorite purchases since having an infant and a toddler.
4) Portable baby swing or baby rocker
There will be plenty of times where you're unable to babywear or you simply just need to set baby down.
Getting a portable baby swing or rocker you can move around the house will be so helpful! Plus, toddlers LOVE helping take care of their siblings.
We have a portable baby swing that doubles as a rocking seat and my 2 year old loves to rock his baby brother in the seat. Comes in extra handy when I'm trying to get some chores done around the home!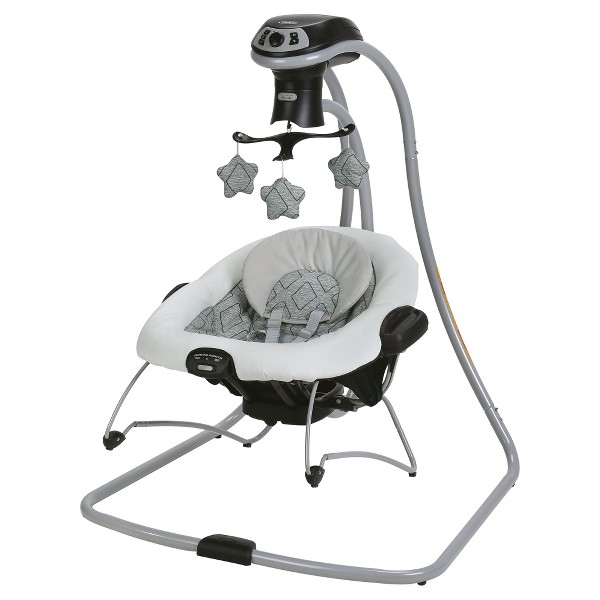 5) Upgraded diaper backpack
If your diaper bag is pushing the small side, you'll want to consider upgrading to a diaper backpack like this!
I was really lucky when this backpack was gifted to me by KeaBabies because it's awesome (you can read more about them and their amazing diaper bag for daily use here).
When you go from one kid to two, a toddler and infant, you'll be packing a lot more items whenever you leave the house.
You'll have snack bowls and water cups for your toddler. Diapers, wipes, pacifiers, changing pad(s), extra clothing, teething toys, and much more for baby.
That's why Keababies Original Diaper Backpack (as seen above) is the best diaper bag for moms with more than 1 child!
It comes in cute colors, has tons of storage, and is extremely affordable (less than $40)!
Other features I LOVE about this diaper bag:
It has a wide opening on top, making it easy to pack and unpack.
The diaper bag is one of the most spacious bags I have yet to find.
It came with its own changing pad (which is nice and padded by the way).
The side pockets are HUGE – perfect to store a pack of baby wipes or even a large water bottle like the one I like to lug around.
You can get this bag for LESS THAN $40…it's a total steal!
The KeaBabies Original Diaper Backpack is EASILY the best diaper backpack around.
Ready to grab a bag for yourself? CLICK HERE & use code momafterbaby to save 10% off your purchase!
What's It Like Parenting Two Under Two? Real Moms Share Their Experience
As much as I can share my tips to help you prepare, the truth is, there's so many moms who each have their own unique experiences!
So, I took to the forums and asked for their real & raw opinions too!
Below, you can see all these incredible mamas share their stories of raising two under two — the good, bad, and ugly!
As you can see, all these moms share a different experience. Some struggled more than others, some would do it again in a heartbeat.
You really have to decide what will be best for you and your family.
How To Manage Two Kids Under Two
Alright, now for the fun stuff! AFTER baby gets here and your hands are literally full between an infant and a toddler — what's a mom to do?
I'm answering some of your top questions when it comes to parenting and managing two under two!
How To Grocery Shop With A Newborn Baby & A Toddler
Ah, grocery shopping.
That first trip out where anxiety creeps up on you, your palms are sweaty, and your sitting there preparing a mental game plan of how you can get in and out of the store ASAP with your two littles.
Take a deep breath.
I won't like, outings with my two under two I avoided as much as I could in the beginning. However, I was introduced to an INCREDIBLE product that helped make grocery shopping (specifically) 10 times easier with my little boys!
It's called, Binxy Baby!
Binxy Baby makes seat covers (for toddlers) and cart hammocks (for babies/car seats) so that you can load up your kiddos into a grocery cart WITH EASE!
As a bonus, you get to avoid lots of icky germs too.
Here's a picture below of us using our Binxy Baby seat cover & hammock.
I swear by this product so much after now having 2 young children. It keeps everyone safe & secure in your shopping cart so you can grab all you need, get in, and get out in a breeze!
Other tips to make grocery shopping smooth with two little kids:
Make a list ahead of time (plate joy can help make your grocery list in an instant).
Opt for grocery delivery instead!
Shop when the store is less likely to be crowded.
Try to go with a friend or your partner.
Pack your diaper back 10-15 mins before you leave (so you don't forget anything at home).
Develop a SOLID Two Under Two Routine
Believe it or not, children THRIVE on routines. I like to believe we as moms, do too!
You get into the habit of knowing what to expect throughout the day which makes it that much more manageable.
The best part about a daily routine, is that it CAN allow some flexibility.
For instance, this is what our morning routine looks like:
Baby wakes up between 6:00 am -6:30 am
Toddler wakes up between 6:30 am – 7:00 am
Once both kids are clothed, the baby has nursed and the toddler eats a snack, I tackle 2-3 tasks (feed the dogs, make us breakfast, load/unload the dishwasher, or load/unload laundry).
Then it's time for the baby to take his first nap.
While baby naps for 1-2 hours (on a good day), I'll spend that time playing with my toddler & getting myself ready for the day.
The rest of our day is pretty easy and dependent on what we have planned.
Afternoon nap time is from 1-3 pm.
Between waking from the nap and bedtime, we use this time to play, cook dinner, and do bathtime.
Bedtime starts between 6:30 pm – 7:00 pm (for the baby, it ends up being closer to 7:30 pm since I have to put my toddler to bed first).
Overall it's a pretty basic routine. Makes the days manageable and easier to handle!
Pay attention to signs toddler is jealous of new baby
One of the hardest parts about having 2 children under 2, is that a 2-year-old is still very much learning how to do things like:
They're all skills they have yet to master which makes it easier for them to feel frustrated and jealous when a new baby rolls into town and takes up all THEIR attention from you.
I found (through lots of trail and error) that taking a step back and really paying attention to my toddler's triggers would help me identify why he was getting so jealous at times.
This helped me come up with solutions to help him either self-regulate or prevent them from escalating.
If you find yourself struggling in this area or are worried it could be a big challenge for you, I encourage you to check out expert Bryana Kappadakunnel who specializes in Infant-Family Early Childhood Mental Health.
I absolutely love everything she teaches. She has impacted my role as a mother in such a positive way I'll never be able to take her enough.
And, she has an online course all about Taming Toddler Tantrums which I found to be a very helpful resource during the two under two stage!
Parenting Two Under Two, When Does It Get Easier?
The million-dollar question, when does it get easier?
We're at the stage where my infant is 6 months old and my toddler is just over 2 years of age — this stage is feeling easier and easier each day.
Once baby starts sleeping more and on a schedule you'll feel better overall.
Once your toddler starts adjusting to being a sibling and starts showing interest to help you with the baby, it'll be such a huge weight lifted off your shoulders.
Parenting in general is always full of new challenges and surprises.
The great part is that we learn to adapt and face them instead of being shocked by them like we were with our first babies.
If you read this entire guide, you should be well set and ready for tackling the challenges that come with raising two under two.
What questions about parenting two under two do you still worry about?
Other Posts You'll LOVE: