Baby Essentials For The First 3 Months (Newborn Baby Guide)
This post may contain affiliate links that I may receive a commission from if you click & buy. In addition, the information on this site is NOT intended to be medical advice. See my full policy for more information.
The first 3 months of baby's life is one of the most special times you'll experience. It's also filled with lots of questions and learning as you figure out this whole parenting thing.
If you're preparing to welcome your sweet bundle of joy soon, I'm going to walk you through all the Newborn Baby Essentials For The First 3 Months you'll need to make everyone's life a bit…easier.
Baby Essentials for First 3 Months
There's so many different items on the market out there claiming you absolutely need them.
The fact is, we don't need them all.
Sure, maybe some can be helpful, but they're just not in your budget. Maybe some are totally useless.
However, this list is filled with the ESSENTIAL items you need during the first 3 months of baby's life.
1) Newborn Baby Class (don't skip this one)
Many hospitals prior to the pandemic were offering newborn classes for expecting parents.
Although most of these classes touch on the basics of raising a baby, they also tend to be pretty boring in person when you're sitting in an uncomfortable chair for 2+ hours while being pregnant.
Now, you can actually take an ONLINE Newborn Baby Class!
Yep, no more sitting in uncomfortable chairs or having to drive to the hospital for your class.
Instead, curl up in bed with some snacks, your favorite beverage, and enjoy learning all about the baby basics with an online course taught by an actual labor and delivery RN!
2) Essential Baby Clothing
Often times, parent's end up spending so much money on baby clothing because it's really easy to buy things that look cute and adorable.
Well, the truth is, you really only need a few pieces of essential baby clothing to be more than good.
That's because your little bundle of joy will grow so quickly and likely only get a few uses out of the clothing they have anyways before it's time to size up.
If you really want to be prepared, here's a small list of essential baby clothing from newborn – 3 months old:
Basic baby bodysuits (short or long sleeve or both depending on where you live and what the weather is like).
Zip-Up Footed Pajamas (great to keep your little baby warm, my favorites are by Finn and Emma — they're extra soft, flexible, and made with G.O.T.S. certified 100% organic cotton, meaning they are extra gentle for your baby's delicate skin; here's our absolute favorite onesie below).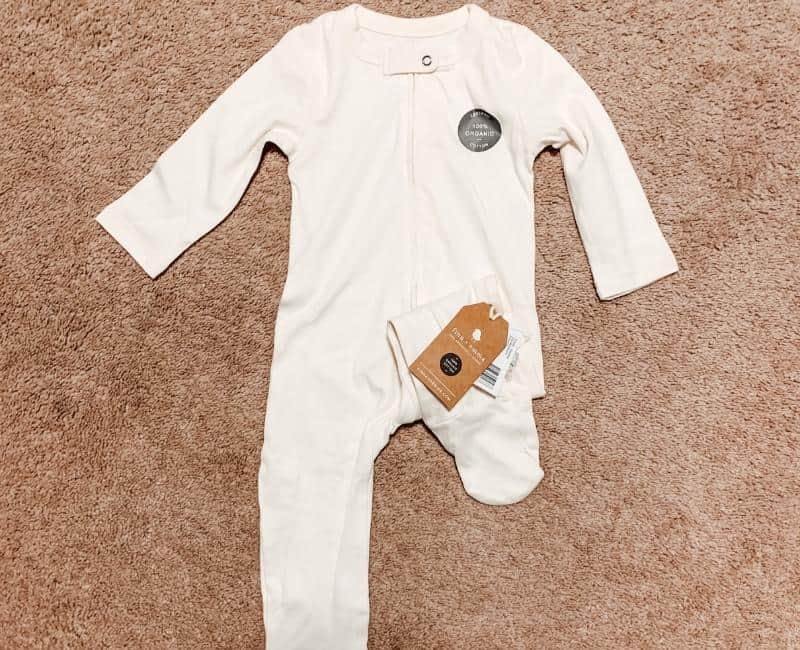 Baby Swaddle Blankets (keeping a few different swaddle blankets on hand can be helpful because some just don't wrap as well as others — especially if you have a wiggly baby; Hudson Baby makes adorable little muslin swaddle blankets which are an excellent choice to start with!).
Baby Velcro Swaddles (in the event regular swaddling just isn't working well for you or your baby manages to break out of their swaddle, it's always helpful to have 1-2 velcro swaddle like these ones as a backup).
Baby Mittens (I actually didn't use baby mittens with my first because I used the foldover sleeve onesies instead, however, with my second, he was so big the onesies his size didn't have the same options, so I got 2 packs of baby mittens like these to help prevent him from scratching his little face. Definitely, a must if your little one touches their face often).
Baby Socks (I will be the first to say that baby socks aren't always necessary depending on where you live and what the weather is like. I personally prefer using zip-up footed onesies because you never have to worry about losing a sock, but if you do want baby socks, you might consider an alternative like these baby booties that will actually stay on instead)
That's really all you need for your baby for those first three months.
Sure, two-piece outfits are cute and adorable. I had a few for my kiddos too, but anything more than a few may just end up being a waste of money, and who wants that?
3) Safe and Reliable Infant Car Seat
Before you even leave the hospital you'll have to make sure you have your car seat properly installed for your baby.
I'm personally a big fan of infant car seats because they can be detached from the base and connected to a stroller for easy travel. I mean, who wants to wake up a sleeping baby in the car seat? Not me.
My favorite from the two we've used is by far the Chicco Keyfit 30.
What drew me to this car seat, in particular, was that:
It had won various awards for its functionality, but more importantly, it's safety ratings!
Had the best reviews about how easy it is to install.
Easy to adjust as baby gets older (can hold up to 30lbs).
Lastly – I found it VERY affordable compared to many higher-end brands.
The Wirecutter has an exceptional review of this particular car seat which I'd encourage you to check out here.
Lastly, if you love this car seat as much as I do, you should check out the travel system they sell with the car seat and stroller together! This is the exact set we had and I cannot say enough great things.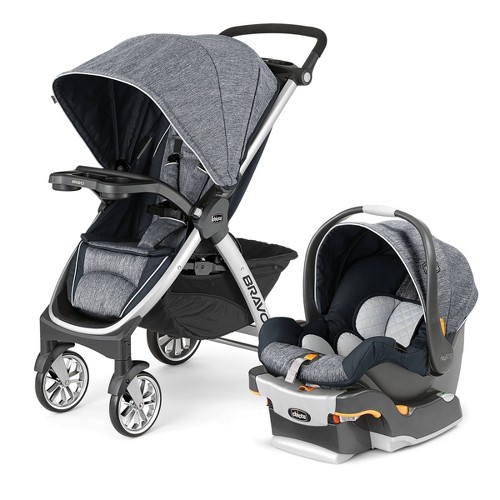 4) Safe Place for Baby to Sleep
Though your baby may not be sleeping in their own crib or nursery between 0-3 months of age, having a safe place for them to sleep is still very important!
What makes a safe place for baby to sleep?
An area that is free of blankets, toys, or any choking/suffocation hazards.
In parent's bedroom (preferable close to mom due to hormones and instinctual reasons)
Here's a few ideas to help you pick the best place for baby to sleep:
Mika Micky Bedside Sleeper (super helpful for all postpartum moms, particularly breastfeeding moms or moms recovering from a cesarean)
Baby Delight Snuggle Nest (a safe option for parents who wish to bed-share with baby, though not usually recommended for safety reasons, if you do decide to bed share, it's always good to ensure baby has a safe place to sleep where you aren't able to roll onto them or accidentally cover them with a blanket)
Now that you have tons of options to choose from, which one do you think would work best for you?
5) Baby Feeding Essentials
No matter how your baby is fed, if they're breastfed you'll be needing quite a few essentials such as a reliable breast pump, nursing bras, and even more.
You can read all about breastfeeding essentials that'll make your life 10x easier here.
If your baby is formula-fed, you'll need to find a formula that best suits your baby as well as baby bottles, cleaning supplies, and more.
6) Baby Wrap or Baby Carrier
Having a baby wrap carrier saved my sanity with my 2nd baby boy.
My first did ok without being held 24/7, but my second, oh that baby needed to be held and snuggled all day long.
After trying over 8 different wrap and carrier combinations, I found the BEST was the:
Nalakai Ring Sling — An affordable ring sling made with high-quality, non-irritating, and breathable fabric. It's also nice because it allowed me to breastfeed comfortably and discreetly at times as well (which you can read more about here)
Lillebaby Carrier — I love my Lillebaby carrier as I've used it with BOTH of my boys. Talk about great quality and most definitely getting my money's worth! I will always recommend any of their carriers because I truly believe they are some of the best around.
7) Newborn Baby Care Kit
Every mama needs to have a little baby health & grooming kit.
These little kits usually come with things like a hairbrush, tiny nail clippers, medicine dispensing syringes or pacifiers, thermometer, nasal aspirator, and more.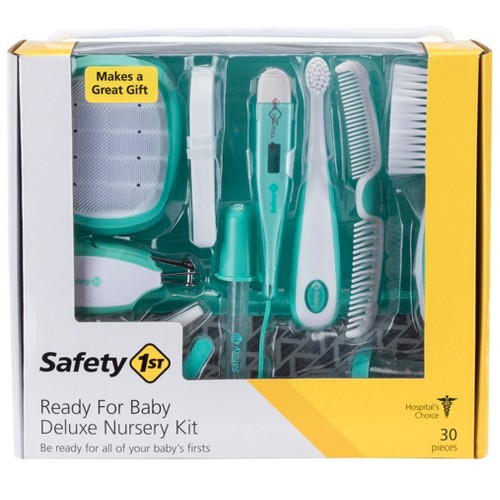 You definitely don't need anything fancy, in fact, a simple kit like this one will be more than enough!
8) Diaper Bag
Most of us moms are somewhat sad that our purse ends up converting to a diaper bag eventually and let's be real, it can be hard to find a diaper bag that actually looks cute and doesn't cost your entire life's savings!
Instead of worrying about staying fashionable and going broke, check out this totally cute baby diaper backpack by KeaBabies!
This is the diaper bag I use and I love it for so many reasons.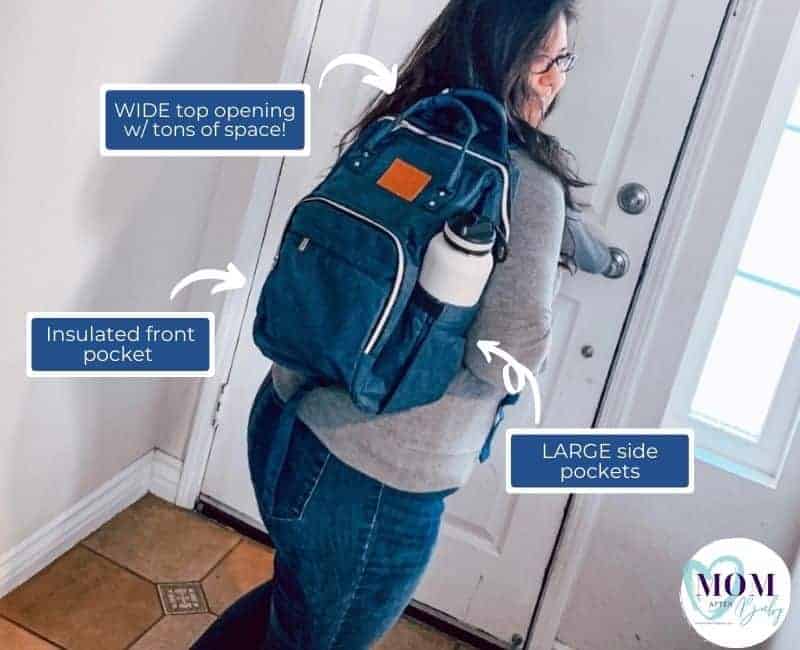 It's cute and comes in lots of colors, it has a wide-open top making it easy to pack with all my boy's stuff and unpack it all once we're home, it's spacious, it's study, but most importantly, it cost less than $40!
That is a total steal! Plus, if you end up grabbing one for yourself, you can use my code momafterbaby that they gave me to help you save 10% off your purchase!
9) Sound Machine for Baby
Having a sound machine for baby is a great way to help baby feel soothed and comfortable while they sleep.
It's one of the closest machines that can mimic some of that slushed sound they heard while they were in the womb.
Plus, if you have other children, pets, or live in a noisy neighborhood — it can also help to block out some of those distracting sounds.
We love and use the Hatch Baby Rest Sound Machine because we're able to control it from our phones, set a timer for it to go on and off at different times, use the night light feature, and more.
It's definitely a sound machine you won't use all the features for at first, but as the baby gets older, they'll come in super handy.
10) Newborn Baby Stroller
If you got your infant car seat and stroller together as a travel set, you shouldn't need this one.
However, if you plan to use two different models, you may want to balance out a few things.
Price? Consider what your budget is for purchasing a stroller.
Safety. What kind of safety features does the stroller you like provide?
Ease of Use. How easy is it for you to connect your car seat, fold it up, and push/steer it around?
Weight limits? Make sure you don't get a stroller your baby may outgrow easily or will be too little to use as an infant.
Personally, from experience, I truly loved the Chicco Bravo LE Quickfold that came with our travel system.
It was so easy to fold up and store, it was lightweight and easy to push around the stores or on walks, and it was VERY sturdy and durable.
Other Baby Essentials New Parents May Need:
Besides the list above, here are a few more items you may need for your little bundle of joy during the first 3 months:
Baby Teething Toys (Finn + Emma has a wooden teether that my baby absolutely loves, check it out here).
Disposable or Reusable Diapers.
Gentle Baby Wash & Lotion.
Now that you have a better idea of what your baby will need during their first 3 months of life, did any of these items surprise you? Which ones?
LOOKING FOR MORE BABY CARE POSTS? SEE BELOW: