Finding Mom Friends: 15 Helpful Ways To Build Your Village
This post may contain affiliate links that I may receive a commission from if you click & buy. In addition, the information on this site is NOT intended to be medical advice. See my full policy for more information.
Finding mom friends to connect with is a common problem many moms struggle with. But why is it so darn hard to meet other like-minded moms?
The irony is, despite its challenges, having a supportive group of moms in your corner could be the ultimate lifeline you need to get you through those extra challenging days.
Plus, if you both have kids around the same age, maybe they will become besties too!
If you have a mom bff, please send her a text right now and let her know how thankful you are for her friendship. If you're still looking to build your circle of mom friends with similar interests, then you're in the right place.
15 EASY ways to make mom friends
1) The Peanut App
Peanut is pretty much the go-to social media platform for women through fertility, pregnancy, childbirth, and postpartum. Oh yes, it's also free! Have you checked it out yet — CLICK HERE to join?
They connect women from all over the world with each other so that moms can finally build a village of supportive friendships.
One of the coolest features of Peanut is that you can connect with LOCAL mothers nearby.
You start off by making a simple profile (you can be as detailed or private as you'd like). Then, you are shown a slide-deck of other moms nearby that you can either swipe-up to "WAVE" at (this will help to establish your connection on the app) or if you don't think it's a good match, you can swipe-down to "NEXT" the selection.
As the app has grown, they've begun to provide even more support resources for moms, such as live chats with various experts, hosting fun giveaways, doing fun challenges to connect more moms, and so much more.
Peanut is my NUMBER 1 pick to build your mama village and I say that as a mama who has made a few friends through the app myself.
2) Join a Mom Group on Facebook
Mom groups on Facebook are one of my favorite ways to meet and connect with new moms! In fact, I think it's one of the best places to make new mom friends!
I just love the meaningful connections I've made so much that I started my own group that you're welcome to join, just click HERE & you'll be taken to the group request page.
If you want to specifically find local groups, that's easy too.
The easiest way to find a LOCAL mom group, is to use the search bar on Facebook. Simply type in " YOUR CITY Mom Group" and see what pops up.
You can also find mom groups based on your kiddo's age. For example, searching for:
Moms of special needs children
From there you can go through the list to find the ones that match your area or are close by.
3) Join a MOPS group
MOPS (Mothers of Preschoolers) was a group established back in 1973!
They host in-person and online meetups for moms to join, mingle, and of course — build new friendships! Going to a MOPS meetup is great because it pushes you out of your comfort zone to get out and take the first step to meeting mom friends and socializing outside of the home.
If you want to find a MOPS meetup near you or maybe you'd like to host one yourself, simply CLICK HERE, enter your zip code & see what meetups await!
4) Sign your kiddo up for some activity classes.
Depending on the age of your child, another great way to connect with like-minded mamas is to socialize with them at your child's activity classes!
Do a quick google search to see what local classes are in your area. If you need a few ideas, here's a list of searches you can try:
Baby Music Classes Near Me
Mommy and Baby Classes Near Me
Toddler Music Classes Near Me
Toddler Gymnastics Classes Near Me
Outdoor Classes for Toddlers
Baby Swim School (or Classes) Near Me
Those are just a few ideas you can use to find some classes your little one may enjoy where you can connect with more moms!
5) Participate in a few Mommy & Me workout groups
Mommy and Me workout classes are great for you to connect with other uplifting moms while crushing some big postpartum fitness goals!
Plus, getting out every once and a while and getting some fresh air as a new mom is just flat out healthy.
A one popular mommy and me workout group that's known to gather in different areas is called Fit4Mom.
For others, simply pop into a local facebook group or do a quick google search to find out if any moms will be hosting a group, it's pretty easy to find.
6) Attend a local library story time
Storytime at the library is so much fun for our kids.
If you have young toddlers, this will be a great way for them to practice sitting and listening. If you have a baby, you can enjoy a nice warm cup of coffee and listen to the story.
Then when it's over, engage with some nice conversation amongst some of the other parents there with their children.
It might sound old fashioned, but it still works, I promise!
7) Go to the park
We've met quite a few wonderful people just by going to our local parks.
Plus, this is another bonus way for you to get out of the house, enjoy some fresh air, let your children play and unleash their energy, and finally — make some mom friends.
It's a win-win for all, it's completely free, and you could be making some of the closest friends you'll ever have!
8) Reconnect with old friends (who are now moms)
Sometimes, we lose touch with friends who are in a different season of life than us.
I can't tell you how many old friends I had lost touch with somehow magically came back into my life once they became parents.
It's like the world knew we all needed to support one another and it drew us back in.
If you have any friends in mind you feel like you'd enjoy the company from, shoot them a message, ask how they're doing, and try to go out for a nice lunch or cup of coffee to catch up.
9) Get social with your neighbors
Sometimes, the best friends we need may be hiding just around the corner…from your house!
That's right, check-in with your neighbors!
Do any of them have children close in age to your own?
If so, see if you can set up a play date some time. This could be a nice way to make a mom friend and have the luxury of being friends with someone so close to home.
10) Schedule some "double dates" with kids
If you happen to know a few acquaintances with children or noticed the mom at your child's preschool seemed kind — take the time to engage in some conversation and set up a play date with your kids!
Our children can always benefit from making new friends & socializing with other children close in age.
It's great for their development and more awesome for your sanity to have another mom friend!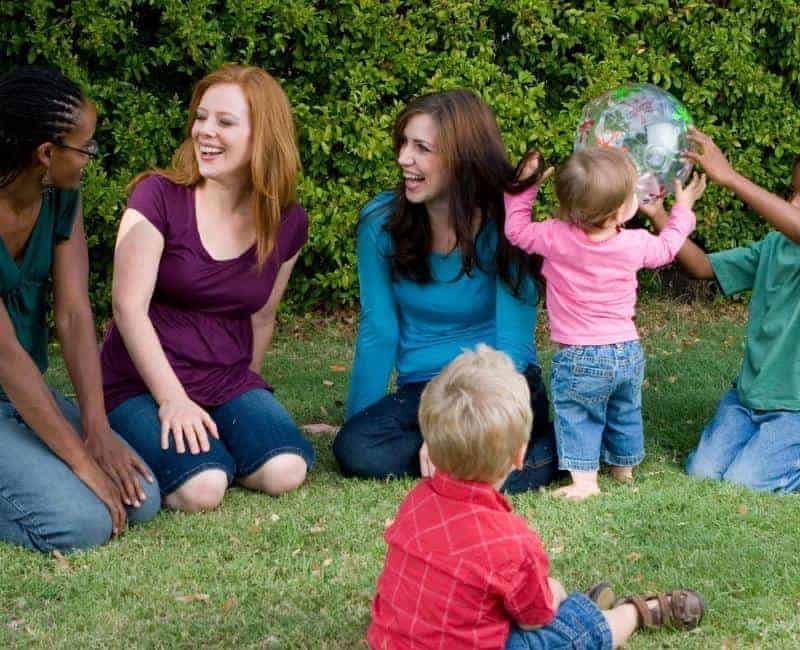 11) Follow mom bloggers on Instagram
Believe it or not, I've connected with quite a few mom bloggers on Instagram. Some of which, I've really hit it off with and if we lived closer, could totally see myself having play dates and coffee dates with these mamas too!
That's the downside to social media connections, you may live completely across the world from someone, but it's also what makes the friendship so unique too!
Keep in mind, it may not even be the mom blogger that you become friends with, but maybe someone in her following happens to connect with you through some back and forth small talk.
If you need some ideas, I'd highly suggest checking out these wonderful moms who either blog or are an expert in the motherhood/parenting space:
12) Attend the NICU groups (for NICU moms)
I remember when my son was in the NICU, they invited us to a NICU support group.
Unfortunately, we didn't make the group since it always lined up at the time I had my antibiotic infusions hooked up, but I remember thinking it was the sweetest gesture of support.
If you have a baby or child in the NICU — go to the support groups.
I know it might feel overwhelming or almost validating a situation you may not feel ready to accept, but I've heard so many wonderful stories about how healing those groups are.
Plus, you can connect with other parents specifically sharing similar struggles which might make you feel a little more supported during the sensitive time.
13) Try the MomCo App
The MomCo App helps moms connect with other moms to hopefully build a strong enough relationship so that these new friendships can help one another out when childcare needs arise.
Though the app is more based on providing childcare supportive resources, it still is another way to connect with other moms.
14) Attend your baby classes in-person (pregnant moms)
Though online birth and newborn classes (like these ones) have a place for some, if you're looking to build friendships — in-person classes are the way to go.
Plus, you might be able to score an extra parenting friend for your partner to connect with!
15) Make a list of your interests or hobbies and go from there
Believe it or not, you can make mom friends ANYWHERE.
If you have some hobbies that require you to go to a class or some kind of meetup, you're bound to make a mom friend with a little effort!
To help, make yourself a list of your favorite hobbies & activities — if you're not yet already involved in a group, class, or way to connect with others, make it your next mission to get that done.
Why it's important to meet other moms:
Each season of motherhood comes with it's own set of challenges.
Pregnancy:
Aches/pains of being pregnant
Unsure of what to expect during labor
Anxieties of raising a child
Fluctuating hormones & emotions
Postpartum:
Mental Health Concerns (for some)
Toddlerhood:
Coping with child's big developing emotions
Possible sleep regressions
These are just THREE seasons of motherhood and as you can see, they all have unique challenges.
More challenges mean more need for support. More support means the less crazy and overwhelmed you have to feel going through them.
Why is finding mom friends challenging?
I think one of the hardest parts about making new mom friends is that we look to find individuals that align with our own way of mothering.
Instead of giving someone who does things differently a chance, we instinctually keep looking elsewhere simply because a few methods of parenting don't align.
I'm guilty of this too.
I've learned after having 2 kids, that support was crucial to surviving the adjustment to raising two under two.
Is this something you've thought about before? What reasons have you found to make it challenging to make new mom friends?
I hope this list has given you some more ways to find and build a supportive group of mom friends you can count on!
Finding mom friends can be easy, just use these tips and see!
Looking For More Motherhood Advice & Tips?