How the Nalakai Ring Sling Makes Life With a Newborn EASY.
This post may contain affiliate links that I may receive a commission from if you click & buy. In addition, the information on this site is NOT intended to be medical advice. See my full policy for more information.
Are you looking for a baby carrier that will keep your newborn baby snug, comfortable, and is easy to use? Enter the Nalaka Ring Sling! In this article, I'm going to share how this ring sling carrier that was gifted to us by Nalakai Eco-Friendly Baby Goods made life with my newborn so much easier!
Before I tried the Nalaka Ring Sling Baby Carrier I have to admit, I was a bit intimidated by ring slings. I guess because it looks so simple I assumed it was too good to be true, but wow, has it been a game-changer.
Imagine, a baby carrier without any snaps, buckles, or zipper. One that can easily be adjusted with one hand. That won't put tons of pressure on your back and that uses a soft breathable fabric that's gentle enough for your baby's delicate skin. That is EXACTLY what you get with the Nalakai Ring Sling Baby Carrier.
Who is Nalakai?
Nalakai is a family brand created by Anne, a mother of two children named "Nala" and "Kai". She created Nalakai as a way to create soft, natural, and eco-friendly ring slings from bamboo fabric to support mothers that love to babywear but are tired of feeling uncomfortable fabric against their skin and baby's skin all day long.
Nalakai's line of products doesn't just stop at ring sling carriers. They have recently launched skincare for moms encompassing inspiration from simplicity and natural living. You can view all of their skincare products for moms here (their orchid stem cell eye gel is fantastic for exhausted new mom eye bags).
Fun fact, the owner, Anne STILL does all of the customer service herself so that she can connect with all of her customers on a more personable level. Isn't that great?
Now that you know a little bit about Nalakai and their lovely natural lifestyle brand for families, let's dig into the most luxurious ring slings, the Nalakai Ring Sling.
Benefits of using the Nalakai Ring Sling
Now to the fun stuff — the benefits of using a Nalakai ring sling and why they make life with a newborn so much easier!
Ring sling carriers make breastfeeding easier.
You read that correctly, you can breastfeed your baby COMFORTABLY in the Nalakai ring sling carrier!
The first day I used our Nalakai ring sling carrier, I was hesitant to try and breastfeed in it. However, because it was so easy to get on and adjust, I decided to give it a try!
I loosened the fabric to align my baby's face close to my breast, latched him on, and kept my hand behind his back for extra support. Once he was finished, I unlatched him and make sure to prop him back upright, tighten the fabric, and we were done!
Talk about simplicity. There were no buckles or fasteners to undo. No shoulder straps to take off for positioning. Just simply loosening the fabric, latching, and tightening the fabric when finished.
Pro Tip: Try to remain seated when breastfeeding in ANY baby carrier. Excessive movement can be a choking hazard for babies and sitting down greatly minimizes that risk.
The other cool thing about these slings is that you can use the "loose" or "extra tail fabric" to flip over as a nursing cover while breastfeeding your baby! Talk about a major win-win for moms who prefer a bit more privacy while nursing.
Here's a photo of me nursing my little guy and using the tail fabric of our Nalakai Ring Sling as a cover like I mentioned.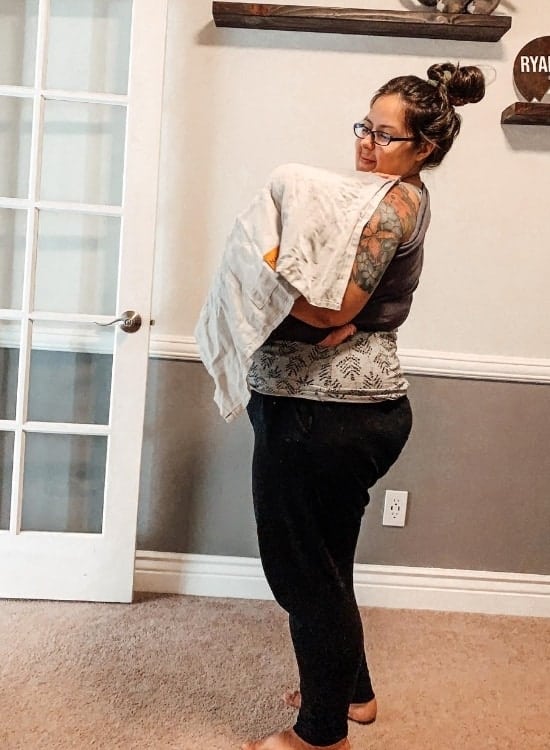 They grow with baby from birth to toddlerhood
Here's another fun fact: Most Ring Slings were designed to grow with babies from newborn to toddlerhood!
I had NO idea that such a simple sling would be able to grow with a baby throughout toddlerhood. After using the Nalakai Ring Sling for a couple of weeks now, I can totally see how it's possible. In fact, I plopped my 2-year old into it just the other day and it supported him just as well as it does my 3 month old!
Ring sling carriers provide support for mom and baby
One of the things I like the most about the Nalakai ring sling carrier is that the fabric is wide as it wraps around your back. That means no digging fabric or straps into your sides, no thin pieces on your back giving you no support. You feel like the wrap is doing all the work holding your baby because it kind of is.
As someone with a bad back (especially after the 9 epidural attempts when my 2nd was born), I can't have too much pressure on my spine without it causing discomfort.
With the Nalakai ring sling, I never have to worry about that discomfort, ever, thanks to its soft and comfortable design.
The Nalakai Ring sling also provides your baby with a safe and comfortable spot to be securely nestled into your chest. Their safe space. Thus, allowing you to tackle tasks and errands hands-free.
When your baby is positioned in the front carry hold, the fabric massages your baby's belly, improving digestion, and helping prevent reflux & colic.
Extra fabric can be used in various ways (neck support for baby, nursing cover…)
I mentioned earlier how the sling fabric can be wrapped over to double as a nursing cover.
You can also use the extra tail fabric for:
Making a small neck pillow for baby.
Wrapping it around the rings.
If it has a pocket like the Nalakai Ring Sling, you can stash your phone or baby's pacifier inside (see photo below).
Using as a shade if you're outside in the sun.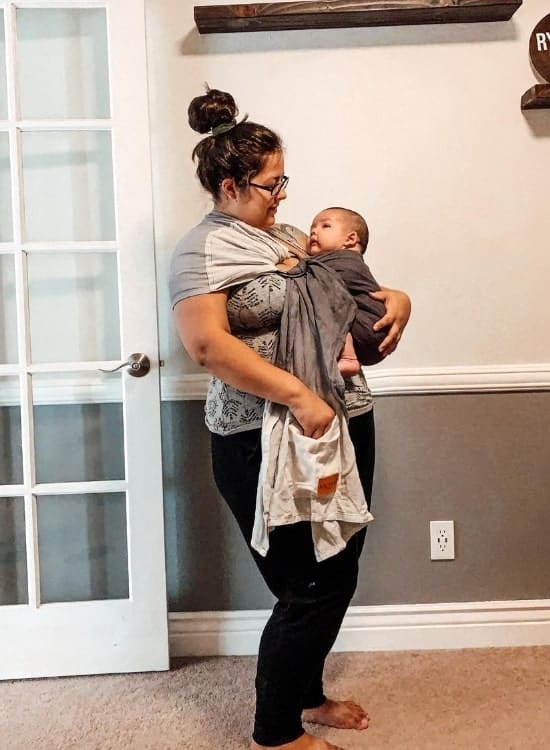 They're EASY to adjust
Finally, using our Nalakai Ring Sling was very easy to thread, wear and adjust!
It's as easy as lifting the top ring slightly as you gently glide out the fabric you need to loosen. Then simply tugging on the tail end fabric closest to the rings to tighten.
It's a lot harder to explain if you've never worn or used a ring sling before, but fortunately, Nalakai Eco-Friendly Baby Goods has an awesome youtube page with tons of tutorials, like the one below!
Are ring slings safe?
When I began my search for a ring sling, I saw all these claims that ring sling carriers are 'dangerous' for baby or how babies aren't supported well.
So I started looking into it and you know what I found? Ring Sling Carriers are TOTALLY safe for you and your baby! The dilemma comes with how they're used.
You see, when you wear a ring sling carrier, there isn't a multi-layer of wrap going around baby multiple times, it's just one snug sling.
Hence the importance to follow strict guidelines (and practice often) when using this baby carrier:
Make sure your sling can support your baby's weight.
Check age/weight ranges (some have larger fabric that may pose more dangerous for smaller newborns).
ALWAYS make sure you can see baby's face when wearing.
Make sure knees sit ABOVE their baby bum.
Make sure the sling fabric is laced through the rings correctly (to prevent fabric losing it's tightness).
Best Baby Sling: Nalakai Ring Sling
If it hasn't been obvious enough, I cannot recommend the Nalakai Ring Sling Carrier enough! Though some have said it's a bit of a learning curve, it doesn't take long to figure out.
When we received our sling, it came in a cute portable eco-friendly carrying case, with an easy-to-follow how-to guide and link to their youtube channel.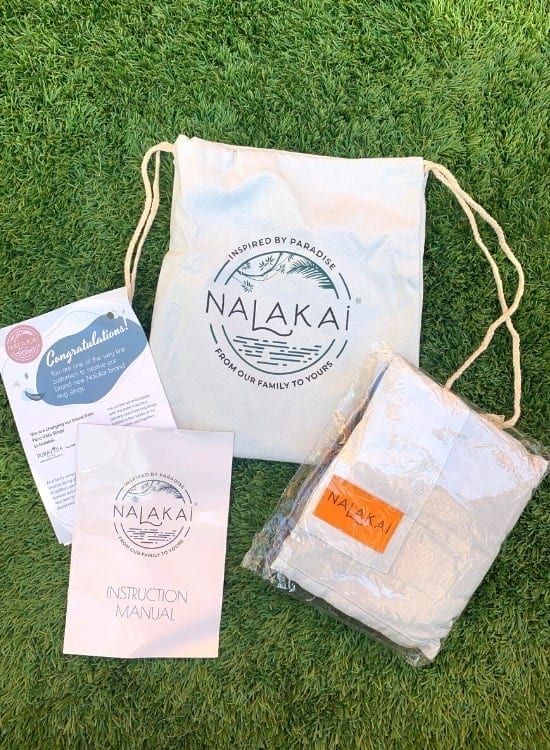 Besides the lovely packaging, one of the things that made this carrier stand out amongst some of the others was that it didn't cost an arm and a leg. Nalakai not only makes high-quality ring slings that are AFFORDABLE, but they also give back 5% of their proceeds to low-income families in Costa Rica.
The slings are made of extra soft, breathable bamboo fiber fabric that doesn't need to be "broken in" like some of the other pure linen fabrics.
And, did you know bamboo fabric cuts out 97.5% of harmful UV rays? This was another bonus.
In regards to safety — Nalakai is safety-tested and complies with the CPSIA 2008 and ASTM safety standards. This is important and if you ever purchase a ring sling, you should check to make sure they're in compliance with these standards.
Needless to say, I'll be needing to snag a few more of these ring slings by Nalakai to make sure my color variety is fully stocked!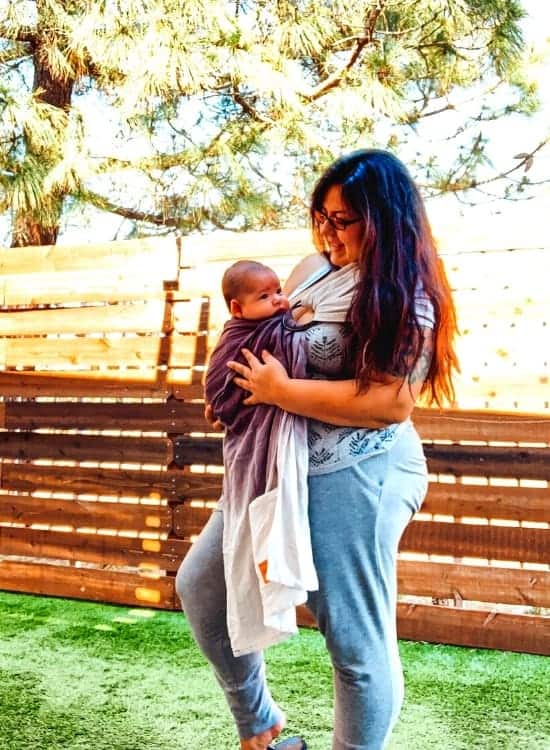 This article was updated on November 6th, 2021
Do you have a favorite ring sling carrier??
Read more baby care articles here:
♥ Signs Baby is Ready to Crawl & How YOU can help them!
♥ The BEST Pregnancy Planners to help you track your pregnancy with ease.
♥ How to keep baby toys clean — easy hacks for mom!