Healthy Meal Planning for Busy Moms
This post may contain affiliate links that I may receive a commission from if you click & buy. In addition, the information on this site is NOT intended to be medical advice. See my full policy for more information.
Getting a healthy meal on the table that everyone will enjoy can be difficult, especially if you have a toddler or baby that you are trying to feed as well. I mean sometimes, the life of a busy mom means somethings gotta give, right?
That's why prepping meals in advance can help to take some of the "what are we going to eat" stress off of your shoulders and it can also help to save you some time and money.
Do you know what else can save you TIME & MONEY? Shopping for your groceries ONLINE!
Time & time again, online shopping finds a way to make in-store shopping become more of a chore both financially and physically.
Now, I'm all about getting out of the house, and to be honest, the grocery store is one of the best places to explore and practice lots of learning with your kiddos.
But if you want to buckle down, I'd highly suggest looking into Thrive Market for some groceries. You can use it once a month or twice a month if needed, but the savings will add up fast.
What I personally love about Thrive Market is they provide high-end, organic, natural food and products at the SAME cost as cheaper quality items. And their items aren't just limited to food. You can shop for house cleaning supplies, baby supplies, pet food, and much much more.
You can check out this link here to learn more about how helpful using Thrive Market can be to your monthly grocery bill and afterward, we'll jump into meal prepping!
And if you're ready to stop feeling so disorganized and lost when it comes to meal planning, prepping, and living an active lifestyle, my Ultimate Workout Guide + Meal Planner is here to save the day! If you're looking to:
Track your physical and emotional progress easily
Log your workouts efficiently
Plan & Prep your meals like a pro
Keep a list of GO-TO recipes ready whenever you need them
Get in & out of the grocery store with everything you need, nothing more, nothing less…
Then let the Ultimate Workout Guide + Meal Planner take the stress out of eating healthy & being active for you! What're you waiting for?! Grab your copy > HERE <
Healthy Busy Mom Meal Plan Tips
Let's take a moment and talk about what meal prep & planning is.
Meal prep is when you prepare whole meals or parts of a meal in advance of when you need it.
Meal planning is when you know exactly what meals you'll be eating throughout the days or weeks because you planned them out ahead of time.
Basically, it means that you don't have to come home every single night and cook dinner from start to finish because some or all of the cooking has already been taken care of or sit there wondering what you should whip up for breakfast, lunch, or dinner.
This can be very helpful for busy families.
Before you start, you'll want to pick up some Meal Prepping Essentials:
Even just having one of the items listed above could make your meal prep experience 10x quicker and easier!
Kid Approved Meal Prep Tips
Toddlers and babies can be notoriously picky eaters, so before you go to the store and begin prepping your meals think about some of their favorite foods.
Is there a way for you to incorporate some of those foods into your meal plan so that everyone can enjoy the same meal or at least parts of it?
Once you have an idea of some foods that your baby or toddler will enjoy that the rest of your family likes too, you can make your list and head to the store.
Some of my go-to easy to whip up kid-friendly meal prep dishes are:
And if you need more meal ideas for those little picky kiddos, here are some healthy sweet treats you can whip up to make mealtime loads of fun!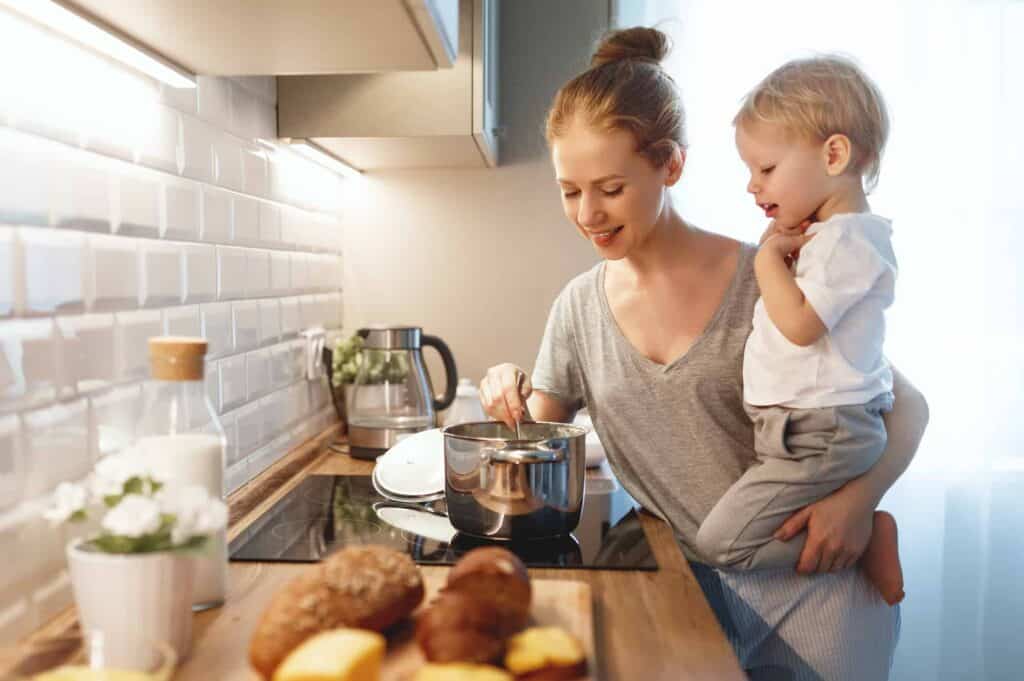 Meal Prep For Busy Moms – tips to make it easy!
When it comes to shopping for specific ingredients, try to include some overlapping ingredients in your meals for the week so that you can prep the ingredients and cook them, if necessary, in one batch.
Some more common overlapping ingredients could be things like:
When you get home from the store go ahead and wash and prepare your fruits and vegetables for the week.
If roasted veggies are on the menu for the week you can go ahead and roast them and they will keep in the fridge for several days.
Chopping and prepping your vegetables and fruits, as simple as it seems, is probably the most time-consuming task when it comes to preparing healthy meals.
You can do the same thing with your meats. Go ahead and portion it, place it in zip-top bags of marinades or seasonings, and place it in the fridge for use later in the week.
If you like, you can batch cook proteins like chicken or pork in the crockpot, oven, or Instapot all at once. After cooking, cool the meat down and store it in the fridge or freezer in the portions you will need for your meals later on.
Lastly, if preparing food like this is still too much, meal delivery services like Freshly — where they deliver freshly prepped meals straight to your front door! All you have to do is heat and serve, talk about SIMPLE!
Time-saving meal prep tips for moms
One of the easiest ways that you can begin meal prepping is to make a double batch of your family's favorite meals. Serve one batch for dinner and cool and freeze the second batch to pull out for a healthy, quick dinner later on.
If you can, pick a day where you can do all of the shopping and all of the meal prepping at once. This may mean hiring a babysitter or asking a family member to take your little one so that you can get it all done without having them underfoot.
There are different ways that you can meal prep and you will have to try them and see what works best for you.
For beginners, some opt to get pre-prepped meals delivered to their home for part of their meal prep.
For instance, SmoothieBox offers healthy breakfast replacement smoothies that are delivered to your home at a pretty low affordable rate! Get up to 4 different flavors of their delicious smoothie breakfast alternatives & customize your box as you wish!
There are also companies like Fresh n Lean that deliver more of a "full-meal" to your home.
Some people prep the ingredients for all of their meals for the week all at once, but cook each night for dinner, or every couple of nights with leftovers or previously frozen meals used in between.
Other people do all of the shopping, prepping, and cooking at once. Then they place appropriately sized meals in the fridge for use throughout the week.
If you are new to meal prepping you probably don't want to start out prepping three meals a day for the whole week.
Start with the meal that is the most time-consuming to get on the table, usually dinner, or the meal where your baby or toddler is beginning to get fussy or frustrated making it more difficult to get it done quickly.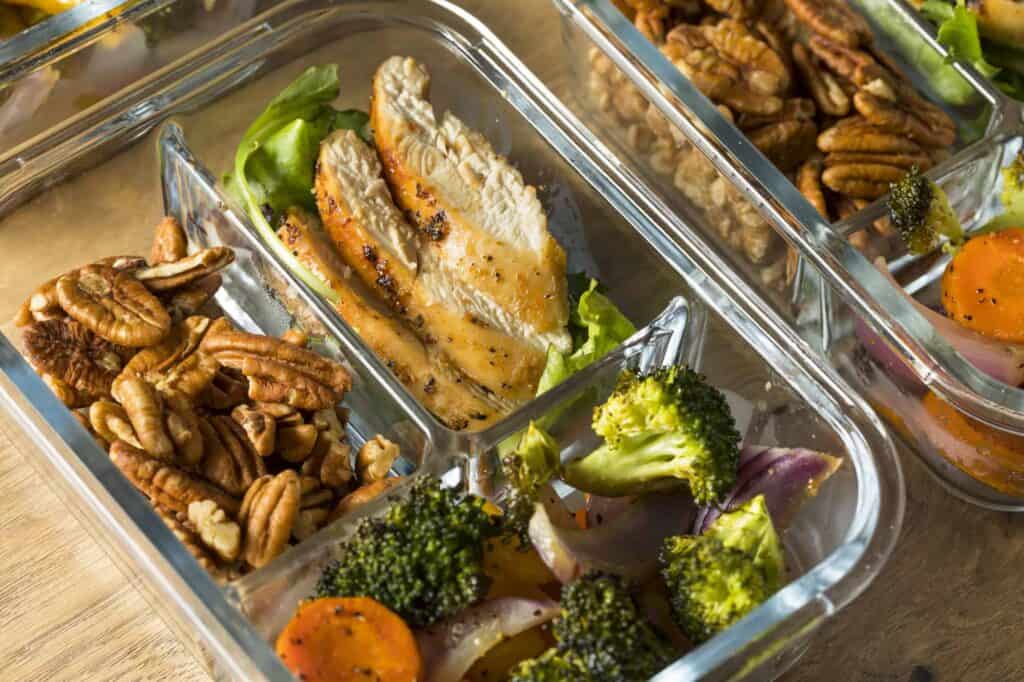 Healthy family meal prep recipes
Look, I know meal prepping and planning can be a lot.
So I whipped up some of my favorite healthy meal recipes that you can prepare in advance without breaking a sweat!
First up, is my popular White Chicken Chili! This recipe is so creamy, cheesy, and full of flavor that my kids will eat this every day throughout the week. It's also incredibly easy to make.
Some of my other favorite recipes include:
These recipes above are nice because you can meal prep them in bulk, set them into a slow cooker while you carry on the rest of your day OR turn them into freezer meals where you prep everything into bags, throw them in the freezer and them out when needed!
All pretty easy recipes to make, save time and also that your kiddos will enjoy!
Feeding your family healthy meals without having to spend a ton of time in the kitchen is a goal that most families have. Meal prepping can help you to make that happen, which will give you more time to spend together with your family.
Read more healthy motherhood articles here:
What other meal planning for busy moms tips are your favorite?