Healthy GREEN Breastfeeding Smoothie Recipe (kid-friendly too!)
This post may contain affiliate links that I may receive a commission from if you click & buy. In addition, the information on this site is NOT intended to be medical advice. See my full policy for more information.
As a breastfeeding mom, I'm always hyper-cautious of the foods I eat. It's important I make sure to consume not just healthy foods, but food that can help me at minimum, maintain my breast milk supply! Luckily, I was introduced to SmoothieBox (if you haven't seen my full review, please check that out here!) & have been experimenting using their pre-made smoothie packs to make myself delicious breastfeeding smoothies!
Besides being yummy, they're simply flat out convenient. When I have two little people begging for my undivided attention all day long — it's no surprise I'm a sucker for anything fast & easy!
Not only are these smoothies 100% lactation friendly, but they can also be kid-friendly by adding a few "kid-approved" ingredients as seen below!
Healthy GREEN Breastfeeding Smoothie Recipe
The recipe I'm sharing today is a staple recipe from SmoothieBox's Recipe Book, The Super Green Smoothie.
Although SmoothieBox doesn't advertise themselves as being specifically for breastfeeding moms, they use a ton of foods that are considered very beneficial for lactating mothers!
However, I'd have to say my FAVORITE part about using SmoothieBox's recipes isn't just because they're lactation friendly, it's that they make veggies taste GOOD!
I hate to say it, but I'm just about as picky as a toddler when it comes to eating my vegetables. I literally don't like them, but I know they're important and serve a good purpose.
So being able to mask that taste has been wonderful & I hope you enjoy this recipe as much as I did!
Want to try out SmoothieBox? Save $15 off + FREE SHIPPING when you try out SmoothieBox today! You'll get healthy ready-to-blend smoothie packs delivered to your door so you can just blend & drink; making the decision of "what to eat" become a thing in the past! As you can see, SmoothieBox has easily become a staple in my daily meals! Don't miss out on this deal >>> CLICK HERE to snag these savings!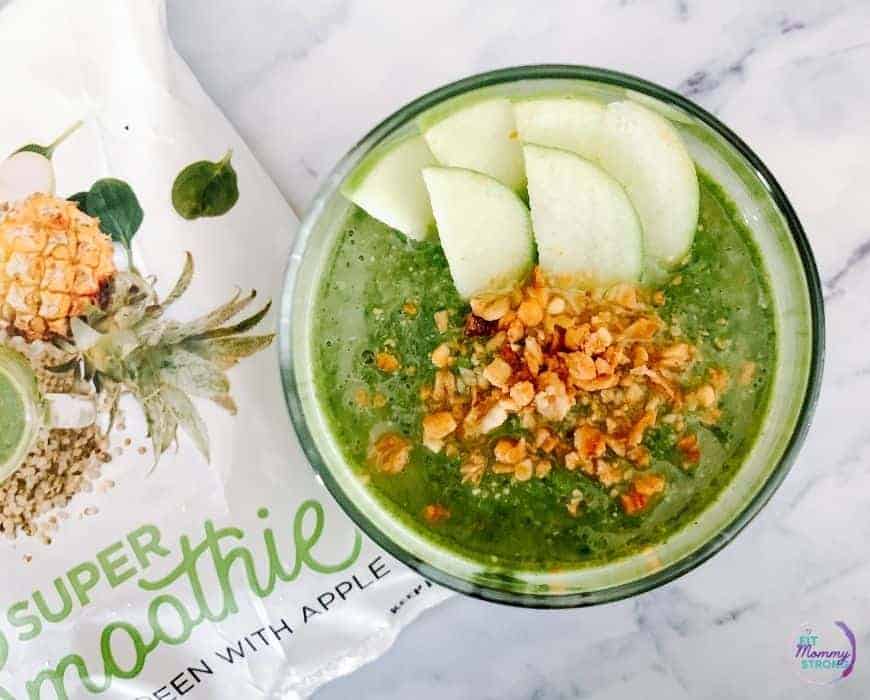 INGREDIENTS:
1 SmoothieBox Green Pouch
¼ cup rolled oats
1 cup fresh kale, washed –> I also added 1/2 cup of Arugula
1 tablespoon honey
8oz coconut water –> I swapped for 4oz Apple Juice & 4oz Water
*This recipe makes TWO servings*
INSTRUCTIONS:
Add ¼ cup rolled oats to blender and pulse 2-3 times.
Add Green smoothie pouch, fresh kale, honey, and coconut water to the blender, then blend for 2 minutes or until smooth.
OPTIONAL — Top with shredded coconut or chia seeds. (I topped mine with some thinly sliced apples & granola crumbles).
Make this smoothie kid-friendly
The recipe above can be your toddler's favorite lunchtime meal by simply changing out some of the basic ingredients:
| REPLACE: | WITH: |
| --- | --- |
| Coconut Water | Apple Juice |
| Coconut Toppings | Granola Crumbles |
| Kale | Baby Spinach |
With young children, especially picky toddlers, it's a great way to incorporate foods they LOVE so they can learn to try new things, such as smoothies loaded with veggies and nutrients!
Considering how many pieces of broccoli go flying across the room at dinner time, I am not one to turn down a healthy recipe my little guy will actually beg for!
Another little hack is that you can pour some of this mixture into a Nuby Frozen Pop Tray as a refreshing popsicle for your little one!
Make this smoothie milk-boosting
If the ingredients in this smoothie aren't' enough to help you kick those milk makers into overdrive, try adding a few of these ingredients (also known as galactagogues) to try and help give your breast milk supply a little boost!
Milk Boosting Foods & Ingredients:
Dark Green Leafy Vegetables
There you have it! A fast, easy, and healthy way to make yourself a smoothie that's great for breastfeeding moms and 100% toddler-approved by my 2 year old!
Other Recommended Posts: