Fun Things To Do While Pregnant
This post may contain affiliate links that I may receive a commission from if you click & buy. In addition, the information on this site is NOT intended to be medical advice. See my full policy for more information.
Looking for FUN things to do while pregnant? I'm going to share with you a huge list of fun things expecting mamas can look forward to enjoying!
Yes, you're probably well aware by now that there's often a lot of things pregnant moms should avoid doing.
But…there's also a lot of fun things pregnant moms can enjoy and have fun doing too!
Plus, having a fun and happy pregnancy can only help set you up for a positive postpartum experience too!
Lucky for you, I've compiled this huge list so you don't have to go searching any longer, ready to see what they are? I'll warn you, this list is a bit long. Be sure to PIN it to your favorite Pinterest board to save it for later.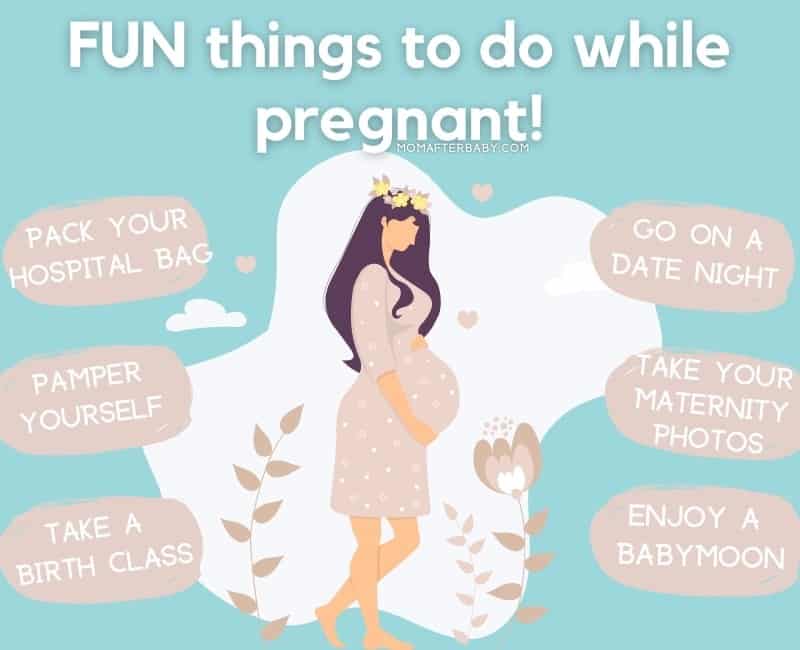 Fun Things To Do While Pregnant
There are lots of things to do while pregnant. They can depend on which trimester you're in, what the weather is like, who you're with, and much more.
That's why this list has things to do during pregnancy for ALL moms!
1. Make a pregnant belly cast
Not only is making a belly cast fun, but it's also a memorable way to always cherish that sweet bump — forever!
You can get a belly cast kit online for less than $20 here. Then, just follow the easy instructions to make your cast in no time!
Once you finish your belly cast, you can color or decorate it however you'd like!
2. Take a birthing preparation class
You're probably wondering how in the world a childbirth class is "fun", but trust me. Learning how to have a peaceful birthing experience AND what to expect is really exciting (especially as a new mom).
For instance, when I took the Birth It Up Online Course, I learned SO much about the different birthing positions. More than any book had explained.
It made me feel so excited to try these positions during labor not only to help manage pain but to get me one step closer to meeting my little baby.
If you haven't taken a class yet (and even if you did), this online labor course is so affordable I suggest ALL expecting moms give it a look! If the price is still a little much, you can use my code MOMAFTERBABY to save a few extra bucks.
3. Get a prenatal massage
Oh yes, if you've heard about moms raving about those prenatal massages, it's because they're amazing.
There's something about lugging around a growing baby in your belly, day after day when all those joints and ligaments just need a break to relax — this is where a prenatal massage comes in.
Groupon always has tons of great deals for prenatal massages too! I got 2 of them for less than $75 during my last pregnancy.
4. Go shopping for your postpartum care kit
Even if you're unsure of which kind of birth you'll be having (cesarean or vaginal), you can still make yourself a postpartum care kit.
Be sure to stock up supplies such as:
Nursing Pads (because you'll likely leak whether or not you decide to breastfeed)
For a FULL list of essential postpartum items, view them here.
5. Ask for and enjoy a foot massage
Those feet will be sore after a long day of walking around. Whether you're going to work or working around the home, your body needs some rest, especially those feet.
Ask your partner to do you a solid with a nice foot massage or grab one of these budget-friendly warming foot massagers to relax with after a long day.
6. Take a prenatal yoga class
A fun way to stay active throughout your pregnancy is by taking a prenatal yoga class!
Yoga can be very relaxing for your tired achy muscles. Plus, you can use this time to help practice those important breathing techniques you'll be using during labor and delivery.
In fact, one study by the University of Michigan in 2012 was the first to show "evidence that mindfulness yoga may offer effective treatment for depressed new mothers to be".
7. Throw a meal preparation party
One thing I always suggest to expecting moms is to prepare meals for the postpartum period.
Simple because the last thing you will want to do after a long day of no sleep and taking care of baby — is to cook.
To make things easier, you can prepare lots of freezer meals in advance. These could be meals for the crock pot, meals to heat in the oven, etc…
If cooking and prepping isn't your thing, you could also sign up for a meal delivery service during the first month of postpartum. Most of these services, like Freshly, offer some sweet deals for new subscribers.
I mentioned Freshly because they offer delicious, almost gourmet-like meals already cooked to your door for an affordable price. Then all you have to do is pop it into the microwave and enjoy!
You can check out all their yummy meals here. Sometimes the menu changes, but you'll never be disappointed, I swear it's so good.
8. Go on a date night
Who said date nights are a thing of the past when you're pregnant?! Girl, go grab your partner and get out there to enjoy a date night together!
It won't be too long before your bundle of joy arrives. THEN, it may get a little harder to fit in those date nights.
If you need some date night suggestions, check these out.
9. Schedule your maternity photos
Have you scheduled your maternity photos yet? If not, make some time to start researching photographers.
I've found Instagram to be really helpful when it comes to finding photographers. You can use hashtags with your area to help narrow down the list too. For example, #SanDiegoMaternityPhotographer or #SanDiegoPhotographer .
You can also use this time to decide what kind of vibe you're going for. Do you want a beachy vibe? At-home/personal vibe? Studio Vibe?
And last but not least figure out what poses and outfits you'd like to have in your photos.
10. Take weekly baby bump photos
One of my favorite things to do during my pregnancies was taking my weekly baby bump photos.
Not only was it neat to see how different my belly looked each week, but it was so cool comparing my bump from the first pregnancy to the second.
Choose a spot in your home or outside that'll be your main background. I also tried to wear a similar outfit each time, but hey, doesn't have to be perfect by any means.
11. Take a cooking class
If you're bored out of your mind and need something to do without straining your body — take a cooking class!
This also makes for a great date night activity, but you can totally bring a girlfriend along for some much-needed girl time.
12. Document your pregnancy journey (in a pregnancy journal)
Have you gotten yourself a pregnancy journal yet? If not, now is a perfect time!
Pregnancy journals allow you the chance to journal your special moments, memories, and experiences while being pregnant.
Some of them, take it above and beyond (like this one) and also offer a planner-component allowing you to track your trimesters, organize doctor appointments, jot down any questions you have for your medical team and so much more!
If this is a new concept to you, I'd suggest checking out the Oh Baby Pregnancy Planner! It's one of the best pregnancy planners around and the one I used during my 2nd pregnancy.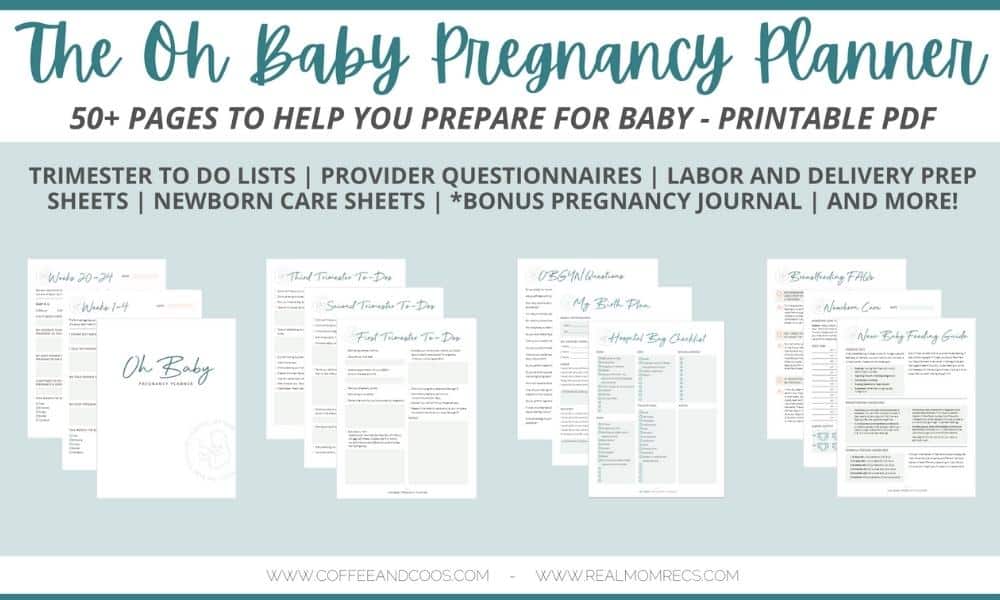 My 2nd pick is the Printable Pregnancy Planner. Though this one is more of a planner than a journal, it does have pages for you to journal in as well and it costs a little bit less.
13. Pack your hospital bag
If you haven't packed your hospital bag yet, what're you waiting for? I always suggest moms pack their hospital bags no later than week 32 in pregnancy.
Remember, you'll need to pack a bag for yourself, for the baby, and for your partner (but they can pack their own too).
If you're stumped on what to pack, don't worry — I wasn't going to leave you hangin'. You can grab my free hospital bag checklist right here. It has a list for EVERYTHING you need, plus some optional items too.
14. Decorate your baby's nursery
Now some fun – nursery decorating! I had so much fun getting things ready for my first baby boy's nursery room.
You can keep it simple and pick out some paint for the new room. Maybe find a couple of pieces of artwork to hang up. Project Nursery is one of my favorite online retailers for nursery decor — they always have tons of items on sale to score at a great discount too!
If you need some nursery decorating ideas, I have quite a few inspirational designs on this nursery room list right here.
15. Plan a spa day
Spa days are great. Spa days when pregnant are AMAZING!
Might I suggest a pedicure to be exact. There's nothing more soothing than soaking your achy (probably swollen) feet in a nice warm water bath followed by a comforting massage.
Keep in mind, there are certain pressure points in the feet that can trigger uterine contractions, be sure to ask for light pressure and keep them short.
16. Visit the hair salon
Is your hair overdue for a new style? Now is the perfect time to sport a fresh look!
As you get ready to enter a new chapter in life, motherhood, wouldn't it be fitting to have a new style for this new journey?
17. Enjoy a babymoon
I'm not going to lie, I found out about babymoons way after becoming a mom.
To be honest, I'm still not a huge fan of the idea, but I know lots of mamas who have taken one and loved it.
A babymoon is like a honeymoon, except instead of celebrating marriage, you're celebrating that sweet bundle of joy!
My suggestion if you do decide to take a babymoon is to:
ALWAYS get medical clearance for traveling when pregnant by your doctor.
Go early in your 2nd trimester.
Don't go if you're having any kind of side effects.
Know where the closest hospitals are to wherever you're traveling.
If you go on a babymoon, I hope it's a relaxing and enjoyable experience for you!
18. Paddle Boating
Depending on where you live and what the weather is like, paddle boating is a really fun sight-seeing experience to try out!
You can rest assure it's low impact so there's no strenuous movements involved.
If you've never heard of it, paddle boating is kind of like riding a bike but instead of it being a bike, it's a small boat. It really is a fun activity to do while pregnant and can be quite relaxing if you enjoy absorbing the nature around you.
If you tend to get nauseous, however, it may not be the best activity for you.
19. Shop for some new clothes
There's something about shopping for new clothes that just feels, good!
Lucky for you, pregnancy usually means you'll need to update your wardrobe for that growing baby bump.
Make it a day out with the girls! Head over to your local motherhood maternity to try on some cute maternity outfits.
If in person shopping isn't your thing, you can also shop Motherhood Maternity online too! They're always having great sales.
Need some other suggestions on where to find the best maternity clothes? Here's my favorite maternity & postpartum clothing stores:
20. Get your body moving
Lastly, just have fun moving! Staying active throughout pregnancy isn't just fun, but it's also great for you and your baby.
You can go for daily strolls around your neighborhood, join with other pregnant moms for a weekly workout, explore new hiking trails, and so much more!
21. Have a pool party (pregnancy in the summer)
If you're pregnant and it's summertime — ooph mama, let me send some extra love your way.
Pregnancy can be fun and utterly exhausting in the scorching heat.
So, beat the heat by having a pool party! And no, you don't need a huge pool to soak up some sun and water.
Grab a little blow-up pool like this one and enjoy a little outdoor fun with your friends and loved ones!
22. Sit outdoors under some misters
If you're pregnant during the warmer summer months, you don't have access to a pool, but you want to enjoy some time outside — install these misters onto your patio.
We recently installed these same misters onto our own patio and boy do I wish we had these back when I was pregnant. (photo coming soon)
Looking for even more fun things to do when pregnant and bored?
Here's a list of even MORE activities to do while pregnant:
Make new mom friends (need help? check out these resources)
What other fun pregnancy activities would you add to this list?
Looking for more pregnancy related tips and advice? See below: