Beautiful Pregnancy Planners to Capture EVERY Moment of being Pregnant
This post may contain affiliate links that I may receive a commission from if you click & buy. In addition, the information on this site is NOT intended to be medical advice. See my full policy for more information.
Pregnancy planners are a great way to track each milestone of pregnancy before your baby's arrival. If you're looking for the best pregnancy planner to cherish all the details of your pregnancy, you've come to the right place.
You can think of pregnancy planners as a first time mom's pregnancy journal. It should have enough space to log every little event from learning you're pregnancy all the way to the fourth trimester.
What Are Pregnancy Planners?
So you might be wondering, what is a pregnancy planner? A pregnancy planner is a planner that's meant to help expecting moms keep things organized and help them prepare for their baby.
Oftentimes they have journal pages, checklists, calendars, to-do lists, info sheets, and so much more. The great thing about pregnancy planners is that there are many to choose from!
You can find some tailored for a first-time mom while others capture special moments of pregnancy throughout baby's first year. It's no wonder so many expectant mothers find so much joy in using them throughout their pregnancies.
Speaking of pregnancy planners — they're great for capturing memories, but do you know EXACTLY what you need to be checking off your list before the baby's due date? Thankfully, my FREE Baby Preparation Guide walks you through step by step! Make sure to grab yourself a copy.
The BEST Pregnancy Planners for Expecting Mothers
1) Oh Baby Pregnancy Planner
The Oh Baby Pregnancy Planner, by FAR my favorite of them all! Why?
This is a 50+ page printable pregnancy planner that helps guide you through literally EVERY step through pregnancy!
Every trimester has plenty of space on each worksheet to track your pregnancy milestones and events.
There are multiple checklists to make things like breastfeeding and postpartum life 10x less complicated.
Question Guides to help you know what types of questions to ask your OBGYN at your prenatal visits.
Labor and delivery preparation guide for pregnant women.
+ So much more!
For only $19 – you can grab this ENTIRE pregnancy planner and can use it at your own pace as I did.
Overall, it's the pregnancy tips and preparation tips I found very helpful as a first time mom in addition to being able to organize and track all the fun memories of my pregnancy.
Real Mom Reviews: It's no surprise moms love this affordable pregnancy planner. Hear their satisfaction in their own thoughts."The Oh Baby Pregnancy Planner is extremely thorough and in-depth!" and "This planner is amazing and allows you to have everything you need all in one place, to make sure no stone is left unturned."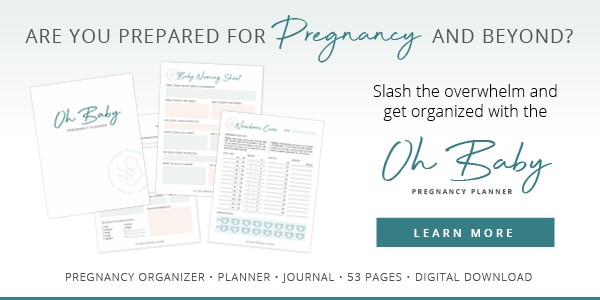 2) Lovely Momhood Pregnancy Planner
If you're looking for a pregnancy planner that helps you save time, stay organized, be PREPARED, and avoid the classic 'overwhelm' many soon to be moms experience, then the Lovely Momhood Pregnancy Planner is for you!
This planner was created by an RN and mama, Nataly, who understands the challenges that come with pregnancy and baby preparation!
Although this is a pregnancy planner made to help you plan those important events within your pregnancy, it also has a weekly journal sheet where you can track all those special milestones on a weekly basis!
Nataly truly went above and beyond when creating this 35-page planner — doing an amazing job including E-V-E-R-Y-T-H-I-N-G a pregnant mother could need WITHOUT it being overwhelming or full of useless pages.
In fact, the Lovely Momhood Pregnancy planner includes the following:
Resources Page
Pregnancy Weekly Journal x1
Monthly Outlook Calendar x12
Trimesters To-do List x3 (pre-filled)
Prenatal Vitamins Tracker x1
Medical Provider & Insurance Info Sheet x1
Appointment Tracker x1
Baby Names Ideas List x1
Gender Reveal Planner x1 (pre-filled)
Baby Shower Checklist x1 (pre-filled)
Baby Shower Gifts List x1
Baby Registry Checklist x1 (pre-filled)
Nursery Planner Checklist x1 (pre-filled)
Hospital Bag Checklist: Baby, Mom, Dad x1 (pre-filled)
Hospital Bag Checklist x1 (empty)
Postpartum Care Kit Checklist x1 (pre-filled)
Baby Birth Journal Page x1
Baby Birth Story Page x1
Hospital Visitors List x1
Diaper Tracker x1
Notes Page x1
Lastly, you can get this ENTIRE pregnancy planner for just $17! Check out all the details of the Lovely Momhood Pregnancy Planner HERE!
3) The Mother Of All Pregnancy Organizers
This handy little organizer written by a well-known author in the pregnancy genre, Ann Douglas, will easily become your best friend!
You'll find space for logging doctor appointments, pregnancy milestones, baby name tracking, plenty of prompts, and much more! I like to think of it more as a one-stop-shop pregnancy diary, you know?
Ann also does a phenomenal job of using her own experiences as a mom of 3 to share helpful tips that any expecting mom-to-be can appreciate. Pregnancy is an exciting time, one that deserves to always be remembered and The Mother of All Pregnancy Organizers does just that.
Real Mom Reviews: "I used this organizer with my first pregnancy and it was wonderful–it had everything I needed in one compact place. After my son was born, I found that I loved looking back on my weekly journal pages and remembering milestones and significant happenings during his pregnancy…" shared one mom in her online review.
4) Bump For Joy Pregnancy Journal
If you're looking for a planner that has more room for keepsakes, this is the pregnancy journal for you!
Bump for Joy created such a cute little book for you to share all your best memories throughout pregnancy! You can save those ultrasound photos, bump photos, make a little family tree, and there's plenty of room for more! It's a great option for moms expecting their first baby.
It does lack a bit of educational content, so if you're looking for a book to guide you through pregnancy with tips or checklists I wouldn't recommend this one.
Real Mom Reviews: This book/planner was one that came highly recommended to me by my own seasoned mom friends. One mom even shared, "I love that this journal breaks everything up. I can put photos of my family in our family tree, my baby shower, my ultrasounds and so much more".
5) First Time Mom's Pregnancy Journal
The First Time Mom's Pregnancy Journal is a very cute and straight to the point journal for new moms!
It has various checklists, photo slots, reminders, journal prompts and more!
What I really like about this little journal comes with some journaling areas, making is great to reflect on the moments you enjoy!
6) What to Expect When You're Expecting Journal & Organizer
The What to Expect When You're Expecting Journal is pretty much the OG of pregnancy preparation in my opinion.
This is the organizer I personally used paired with the original book to help prepare for our son and although it wasn't as structured as a classic planner, it was filled with a TON of information for expecting moms and dads!
7) The Belly Book
The Belly Book is another mix of cute designs and pages meant to capture all the beautiful moments of pregnancy. From mom's growing belly to her birth story.
What I loved most about the Belly Book is their design highlights a message of celebration. Simply because, pregnancy is a time that should be celebrated and positive for mom to be, nothing less. I just love that they include such a positive tone in this book.
8) LovedbyJacob Pregnancy Planner/Journal
This custom Pregnancy Planner by LovedbyJacob is ADORABLE! In fact, it's a great gift for new parents because of it's customizable design.
You're able to dress it up with add-ons like matching milestone cards, pregnancy announcements, and more! Pregnancy is an exciting time, new mothers should feel that love and excitement too.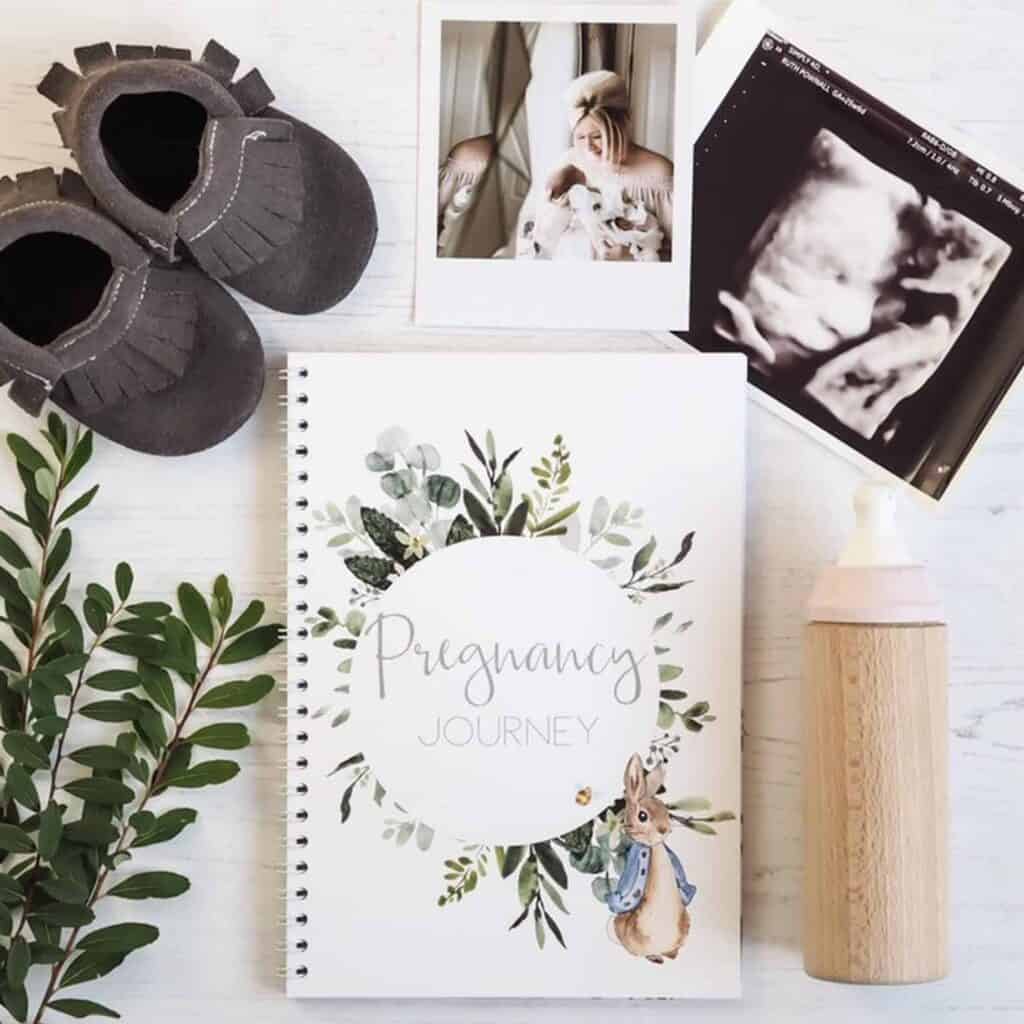 9) Pregnancy Organizer & Planner by The Methodical Mommy
If you're someone who LOVES your planning to stay organized (trimester by trimester, week by week, appointment by appointment) then the Pregnancy Organizer & Planner is for you!
Not only will you get to track things like your doctor appointments, to-do list, etc… but you can also log down baby name ideas, a baby shower checklist, budgeting worksheet to prepare for baby and SO much more.
This planner kind of ties everything above all together in one and I absolutely love it (especially for it's super LOW price!)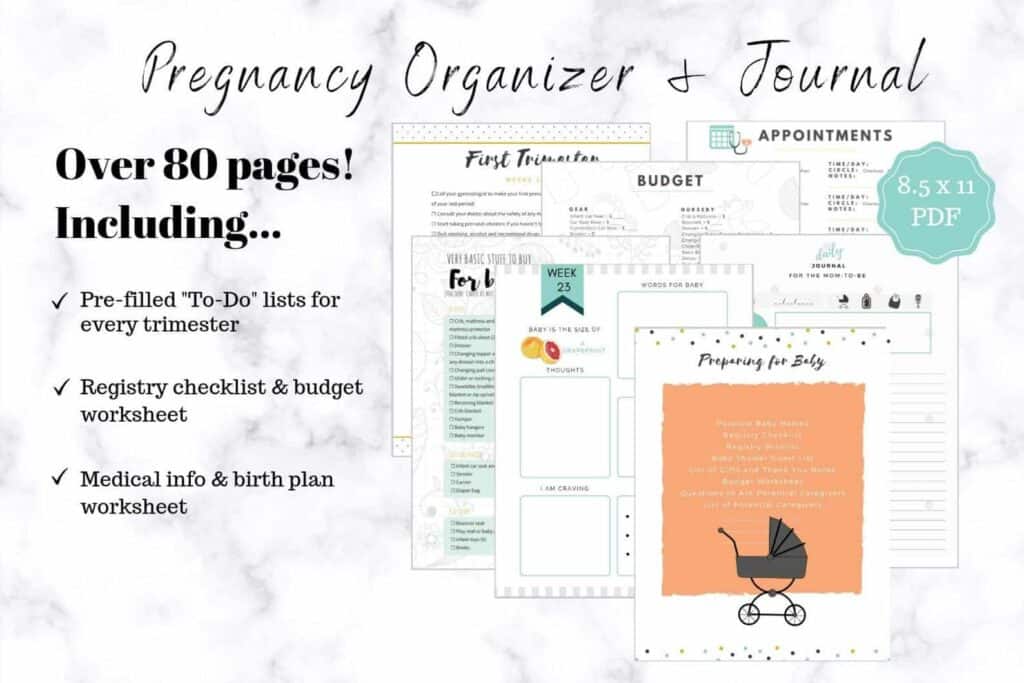 10) Expecting You – A Keepsake Pregnancy Journal
This keepsake journal is perfect if you're more of a journaling kind of organizer.
They put a big emphasis on journaling your thoughts, feelings, and changes throughout your pregnancy experience — which is something many moms have trouble tuning into, so I do love the emphasis here.
If you're a mama feeling a little anxious or unsure of what to expect, this might be the journal you need to help you work through those feelings!
But don't fret, they make sure to leave room to document all those cute ultrasound photos too!
Pregnancy Planner FAQs
Now that you had a chance to view some of the best pregnancy planners, let's take a look at some of the most common questions moms ask about using a pregnancy planner when they're expecting.
What are the benefits of using a Pregnancy Planner?
Using a pregnancy planner can help you:
plan for baby's arrival and pregnancy-related events
keep important dates in one place
As you can see above, depending on the pregnancy planner you get, they all come with a unique set of qualities Some are more educational-based (perfect for the first-time mom) and others are more celebratory-based (perfect for moms looking to use it more like a memory book).
When Should I Buy a Pregnancy Planner?
If you're a first-time mom, I always suggest buying yourself a pregnancy planner no later than the first trimester. However, if you're not ready to dive into all of the checklists and logs, it's perfectly fine to wait.
Pregnancy planners are literally created to walk you through pregnancy from beginning to birth. Simply put, even if you bought a pregnancy planner in your second trimester, there will still be ample amounts of time for you to make use of it.
How Can You Track Your Pregnancy With a Planner?
Not only do pregnancy planners and journals help guide you step-by-step through each trimester. They also help you to plan for prenatal appointments, create a birth plan, and more!
Some of them are designed to be more photo-heavy, focusing on milestones and memories. Whereas others are more focused on planning and preparation.
Then, there are the ones that meet in the middle and combine both! Want even MORE fun & creative ways to always cherish your pregnancy? Check out this post about fun ways to track your pregnancy by trimester!
Printable pregnancy planner pdf vs. hardcopy
I'll be honest, the printable pregnancy planners are my favorite. You can print off as many or as few pages as you need to customize your planner as you go — you just can't beat that!
Not to mention, printable pregnancy planners tend to be much more affordable than hard copies since you don't have to worry about them being shipped to you.
Whether you're looking for a pregnancy planner for yourself or to gift (because they make a great gift) — you can't go wrong with any of the planners on this list.
This article was updated December 1st, 2021
Other PREGNANCY posts you'll LOVE: