Easy date night ideas for parents to do at home
This post may contain affiliate links that I may receive a commission from if you click & buy. In addition, the information on this site is NOT intended to be medical advice. See my full policy for more information.
Sometimes, finding easy date night ideas for parents can be pretty challenging to think of. Especially, when you have young children at home! We become so used to including them or thinking 'inside the box' that we forget there are so many easy ways to turn something so simple (like being at home) into something reconnecting (like a romantic date with our partner).
But first, if you're trying to strengthen your relationship after having a baby, you should read — how to avoid common relationship problems after baby — first.
If you're simply looking for some date night idea, well, let's get to it!
Why do parents need date nights?
You've probably heard it before, but continuing to date one another is a key factor in any relationship. This couldn't be any more true after becoming a parent!
As new parents — we get sucked into the world of parenting. Only parenting.
And as someone who experienced this first hand with my husband after our son was born, it was so imperative we focus on reconnecting as partners again, not just parents.
What does the world of only being a parent look like? We treat our husband like 'dad' and our wives like 'mom', sometimes ignoring the fact that we are MORE than just mom & dad. We are still the same people who once dated, fell in love, and had a spontaneous relationship where we were constantly investing in one another.
And truthfully, that need never goes away, it just simply gets lost behind being a parent.
According to one article on The Washington Post, they state that "Couples who have regular date nights have better communication and fewer conflicts. Trying new things together can foster the sort of closeness that can weather even the sleepless nights of early parenting."
And I couldn't agree more.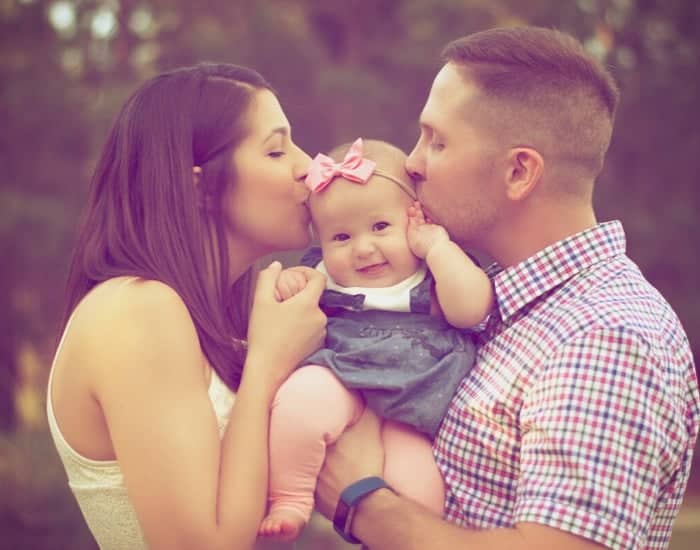 How do you plan your parents date night?
When planning your date night, you'll need to figure out a couple of things:
Will date night take place during the day or at night?
Will you need to find a sitter for a few hours?
Do you have to prepare anything in advance? (decorations, cooking, etc…)
What is the best day to have a date night where you can both actually enjoy it?
Knowing these things will help you plan your date in advance so there's no question about it happening. Because, as parents, sometimes we tend to be a little 'lenient' when it comes to these types of things.
But remember your relationship should be a priority.
And lastly, in the event something does come up, such as your child getting sick, one of you getting sick, pick a couple of days to have as a backup just in case.
At home date night ideas for parents
Plan a game night
Pick up a variety of games (some strategic, some funny, or romantic, etc…) & bust out the games after the kids go to bed or during nap time!
This is a really fun way to spark up some friendly competition and even conversation with one another!
Play a game of questions
This one is fun & easy. Simply look up a list of questions online (think along the lines of 21 questions or married couple questions) or grab a couples based deck of cards like our favorite Best Self Co. deck of cards that you can save 15% on with code MOM.AFTERBABY15 and take turns answering them with one another!
Despite being together and having children, you may find there are some things you never knew about each other, pretty interesting, huh?
Cook a meal together
This one sounds boring, but it's actually pretty fun! I mean, there's a reason they have 'cooking classes' for couples, right?
Although I will say if you have a smaller kitchen this one can get a bit more hectic, LOL.
My husband and I try to cook a meal or 2 together every once and a while and it always turns out to be so much fun! We usually end up competing as to who will finish prepping their items first, etc…but it truly does turn out to be a fun way for us to spend some solo time with each other while preparing a delicious meal.
Work on a DIY project together
I don't know why, but there's something about picking out paints, decorating a room or building something together that just feels like the ultimate couple thing to do.
If there's a household project you've been putting off for some time, round up your partner and make it a priority — together!
Pick out your favorite movies and have a movie night
This is a classic and honestly, it's a great way to relax after the little ones to go bed.
Make some popcorn (or whatever snack is your favorite), get cozy and start the movie!
If you're an early bird, you could even start your morning by getting up before the kids to enjoy your cup of coffee together while watching a movie 🙂
Nothing like a little snuggle time and a movie can't fix!
At home romantic date night ideas for parents
Pick up a romantic board game
If you're aiming for a more romantic night with your partner, try picking up a romantic board game!
A couple of fun suggestions are:
Cook up a romantic meal
Nothing says "I love you" more than a romantic, home-made meal, right? Just kidding, but for some, this may be true!
Surprise your partner with a special meal, maybe add in some rose petals, put on some nice perfume, and really turn it into a romantic affair as if you were out at a fancy restaurant.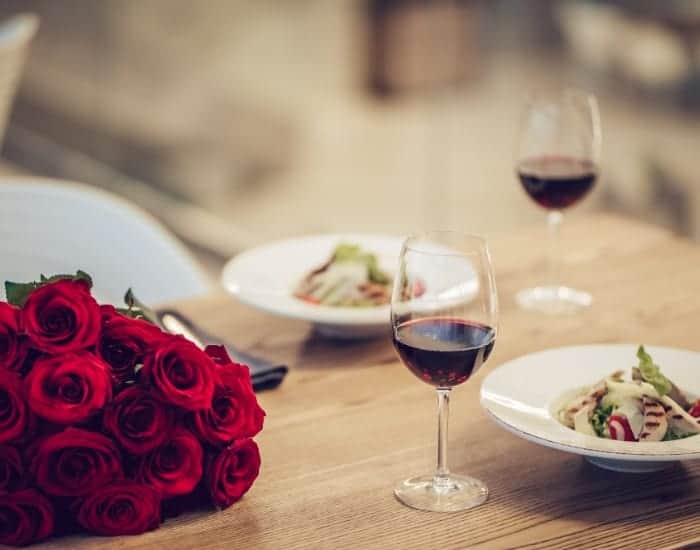 Take a bath together
This one will really kick up the romance a notch, but hey, that's what you're here for, right?
Be sure to pour up a glass of wine or your favorite drink, add in some calm scented bubbles, and enjoy your warm bath (and whatever else follows) with your partner!
Give each other a massage
Whether you're both working parents, one works, one stays home — you both have tough jobs regardless.
A great way to add in some romance is by giving one another a massage! Not only does it feel nice to feel your partner's touch, but it probably feels so relaxing to get a massage after a long day.
You could even incorporate using an actual massager or some soothing oils like the ones listed below:
Get outside and watch the sunset together
Depending on what time your kids go to bed, you might be able to catch a gorgeous sunset with your partner!
There's always something special and mesmerizing about snuggling up with your partner and watching the sun go down together.
So, lay out a comfy blanket, bring some snacks or drinks, and just enjoy snuggling up together.
Read more parenting articles here:
What date night ideas for parents have you found most enjoyable?