Postpartum Body Image Struggles: 15 Confidence Boosting Tips
This post may contain affiliate links that I may receive a commission from if you click & buy. In addition, the information on this site is NOT intended to be medical advice. See my full policy for more information.
If you've just embarked on your postpartum journey or are in the midst of it, I want to be your supportive mom friend, guiding you through the highs and lows of embracing your postpartum body. We all know that becoming a mother is a life-altering experience filled with joy and challenges. But the struggle with postpartum body image is real.
So, let's talk about why so many moms tend to grapple with this issue and, more importantly, how to overcome it and prioritize your health and mental well-being.
As a mom who struggled both with postpartum depression and body image issues after having a baby — I can wholeheartedly empathize when a mom says something like, "I just don't feel the same and wish I could get back to a time before these postpartum body changes happened."
But, what makes postpartum women so susceptible to all of the sudden hating the bodies they once loved? Or maybe they didn't love it, but they also didn't hate it, right? Let's dive into this concept further so we can unravel the problem-solving process to work through this common challenge.
Why Do So Many Moms Struggle with Their Postpartum Body Image?
Unfortunately, there isn't just one reason moms end up struggling with their postpartum bodies. In fact, many of the challenges can begin showing up for pregnant women long before postpartum even sets in. Whether you see your first stretch mark and feel self-conscious or you aren't fitting into your maternity clothes as well as before, we'll cover the most common reasons so many moms struggle with their postpartum body image and how you can overcome them.
**This article is not intended to be medical advice. Please seek out medical care if you have medical concerns**
Unrealistic Expectations
One significant reason new moms often struggle with their postpartum body image is the unrealistic expectations society sets for them. We're bombarded with images of celebrities who seem to bounce back to their pre-baby bodies within weeks magically. Remember, they have an army of professionals helping them, which isn't realistic or practical for most of us.
We see new mom influencers breastfeeding their babies effortlessly while strolling around a spotless clean home with their partner always there to take care of them. In reality, the majority of us don't have a spotless home because we can't afford a daily housekeeper and our partners don't work from home to offer us all of the undivided support.
So moms, please, as hard as it can be, try to keep your self-image expectations in line with your reality. If you can't hit the gym 5 days out of the week, that's fine. If you don't wear a size 00 pants, that's fine. Don't put pressure on yourself you be or look like anyone but yourself.
Social Media
Social media can easily play a significant role in amplifying body image concerns for so many women. When all they see are brands advertising clothing on airbrushed-perfect skinny bodies, mom influencers with newborns looking 100% put together all the time, or fitness lovers dropping into your DMs about a new challenge to shed the 'baby weight' … talk about some serious body image pressure.
So remember, what you see on your social media feed doesn't always represent real life. Women's bodies go through drastic changes, and you don't need to compare yourself to anyone else to feel loved or worthy. You are incredible as you are.
Weight Loss and a New Body
It's easy to get fixated on losing the "baby weight" and yearning for your pre-baby body. But, let's remind ourselves that your new body is a testament to the incredible journey of motherhood. Embrace the changes, stretch marks, and all. And try to remember, it's not about going back, it's about moving forward.
Now, if you read my articles and follow me on social media, you know I absolutely will not shame a mom for her choices. Whether you're wanting to lose weight for health reasons or could care less about your weight — I fully believe each person should be supported in their decisions. However, if you do decide to lose weight postpartum, just be sure you're giving yourself some grace in the process.
Many women get so caught up in the "I can't wait to get back to…" and while I understand them (and completely had them myself), it wasn't until I started looking forward and embracing the things I could do and accomplish by not looking back anymore is when my mind felt much more free. And when my mind felt free, my body was much more easy to love.
Postpartum Depression and Negative Thoughts
The emotional rollercoaster of the postpartum period can contribute to negative body image. Postpartum depression, combined with sleep deprivation and the immense responsibility of caring for a new baby, can lead to negative feelings about your physical appearance.
If you think you could be dealing with postpartum depression or anxiety, make sure you seek help and don't put this off. You can learn more about the common signs of PPD/PPA here.
Overcoming Postpartum Body Image Struggles – 10 Practical Tips
The good news is that you can overcome postpartum body image struggles with a few positive mindset shifts and practical steps to follow below.
1. Prioritize Mental Health
As if women's health wasn't already impacted after birth, many don't realize the changes they'll face involving their mental health, too. Now I know I'm not the first, nor will I be the last to emphasize prioritizing your mental health, but what does it actually mean and how can it help you overcome postpartum body dissatisfaction?
First, when you have a sound calm mind, you tend to maintain sound calm thoughts. When you have a frazzled, stressed mind, well, your thoughts become a mirror of those emotions. Meaning, that when you're stressed and overwhelmed, you're more likely to be quick to judge, think negative thoughts, and be unhappy with your body and its appearance.
So then, how can you get your mind and mental health in a better place? One of the best ways to prioritize your mental health as a new mom is by asking and accepting help.
This means, not expecting yourself to be able to juggle all the things and instead accepting where you need help and asking for the help you need. Whether it's getting 30 minutes to yourself each day for some sanity or taking some time in the morning after waking to practice some intentional work like journaling — you need to find time for things that fill your bucket.
And, filling your bucket as a postpartum mom often looks like accepting help so you can create that time needed for you.
2. Spend More Time Celebrating Your Body
Instead of dwelling on the changes, you can celebrate your body's ability to create and bring life into this world. Start by finding moments of quiet reflection where you can connect with your body and acknowledge the incredible feat it has accomplished.
Try treating yourself to some self-care rituals, like at-home massages, warm baths, or cozy, comfortable clothing that makes you feel confident and loved. Capture moments of your journey through photographs or journaling (this new mom journal is one of my all-time favorites for postpartum), focusing not just on your body but on the joy, strength, and resilience it represents.
Remember, your postpartum body is a testament to your power, and it deserves your admiration and appreciation.
3. Wear Clothes That Make You Feel Good
I can't even begin to explain how much a difference wearing clothing that fit comfortably and made me feel good had on my confidence as a postpartum mom. If you're pregnant, invest in some comfortable maternity clothes that help you feel supported and confident in your body. If you're postpartum, go find yourself some clothes that make you feel like a hot mom who is radiating confidence. Why? Because you deserve to feel good about yourself at every stage of motherhood.
Here is an image of me in my favorite brand that all moms should at least try once, Knix.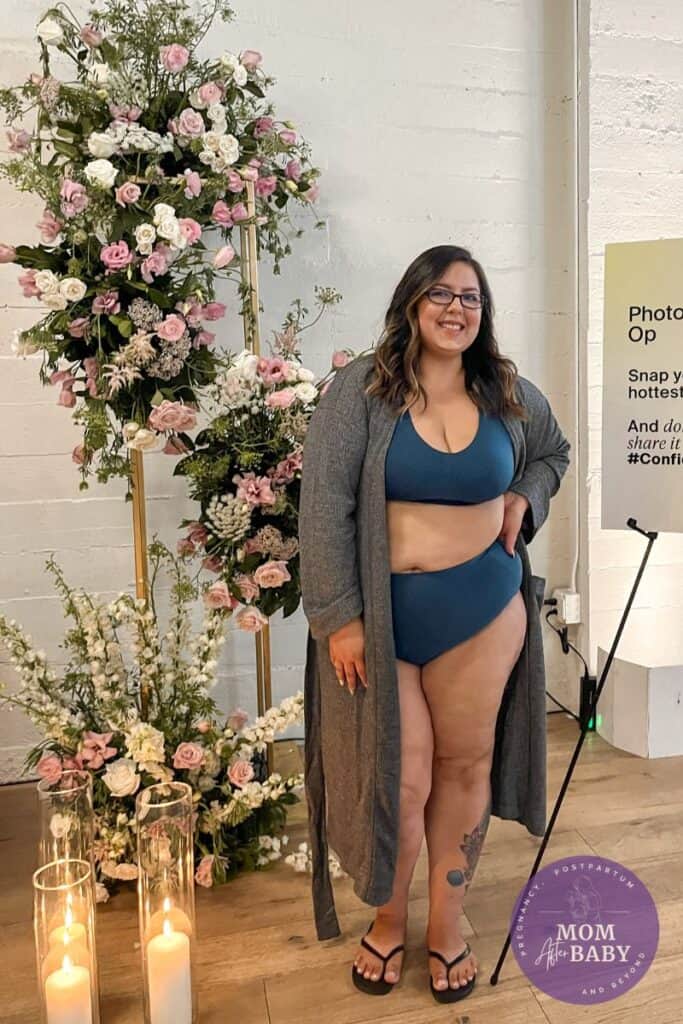 From experience, I'm going to share my favorite clothing stores that have helped me find clothes that helped me embrace my bodily changes and feel more confident than ever before:
Kindred Bravely — This is my favorite place to shop for maternity and breastfeeding-friendly clothing. They use the softest, most breathable fabric to create items perfect for new mothers to help them feel cozy and comfortable. However, their nursing and pumping bras are what every mom will rave about.
Thirdlove — This brand is perfect for moms past the breastfeeding stage, who are finally finding themselves again. ThirdLove makes gorgeous bras, underwear, activewear, and loungewear for those who want to feel good every day in their body.
Walmart — Believe it or not, Walmart has really stepped up its clothing game over the last few years. I have found so many comfortable and fashionable outfits from them that are beyond affordable, supportive, and cute. No matter how many months postpartum you might be, there will definitely be something for you at Walmart.
4. Embrace Physical Changes
A pregnant body will undergo many changes, including weight gain, loose skin, and sometimes even stretch marks. A postpartum body will also undergo physical changes, including, swelling, skin tone and/or texture changes, loose skin, and many times pelvic floor weakness. It's all part of the pregnancy and postpartum journey — it's entirely normal.
The key is to embrace these changes because many of them are inevitable. You don't need to like that they happen, but accepting them as part of the journey can go a long ways towards helping you develop a positive body image. Trust me, I used to resist these same changes myself.
5. Prioritize Physical Health
While it's essential to accept your post-baby body, it's equally important to prioritize your health. And no, I'm not talking about joining a gym and signing up for an intense CrossFit class.
Some variations of light physical activity can help strengthen weak pelvic floor muscles and ease you back into an exercise routine you enjoy. Here's a perfect example: The Mutu System. After my first pregnancy, it took my body absolutely no time to start the classic "pee when you laugh or sneeze" situation. Luckily, I had heard about The Mutu System from another new mom friend, and I decided to try it myself.
Using this online program helped me realizing that my physical health didn't just mean breaking a sweat during a workout, but actually taking the time to connect with it through movement and helping it heal and recover. This is exactly what Mutu System helps all moms achieve from pregnancy to beyond postpartum.
6. Use Positive Affirmations
Positive affirmations can be a powerful tool for new moms to foster a positive body image during the postpartum period. The physical changes that come with pregnancy and childbirth can often lead to feelings of insecurity and self-doubt as discussed above. Hence, why using positive affirmations as a tool to talk positively about your body can be so impactful.
In fact, studies have shown that incorporating positive affirmations into daily routines can have a significant impact on mental and emotional well-being — though it may feel silly to initiate in the beginning, the impact is truly amazing. Research published in the "Journal of Behavioral Medicine" (2016) demonstrated that individuals who practiced self-affirmation reported reduced levels of stress and increased self-esteem, both of which are important for new mothers navigating the changes in their own bodies.
Here are some positive affirmations for body image you use and start practicing today:
"My body is strong and capable, and it has brought new life into this world."

"I embrace my postpartum body, and recognize it's a symbol of the love and care I provide to my child."

"I am more than my body and I choose to nurture my own body for all of its accomplishments."
7. Eat Foods That Make Your Body Feel Good
Eating foods that make your body feel good, nourish your body, and help to improve your everyday health is crucial, especially in the postpartum phase. As you're recovering from birth, the last thing on your mind should be weight loss and falling into the diet culture trap that preys on new moms.
Yes, your health is important. No, it isn't all about your weight. When you can shift the focus from losing weight to fueling your body with foods that nourish you — you'll feel that difference in your body by feeling more energized, getting sick less, and having a better mindset.
8. Ditch The Scale
Postpartum is a time to be gentle with yourself. If you find that you easily become obsessed with your weight by weighing yourself followed by disappointment, then ditch the scale, because it isn't doing you any good in those moments.
Instead, focus on the tips above like eating foods that fuel your body and moving your body in a way that feels good to you.
9. Turn To Your Support System
We all need a support system to turn to when life feels hard. Parenting and motherhood can be full of a lot of hard days and having a friend or someone you can talk to about these struggles will be helpful in moving towards a positive mindset about your body.
I imagine the postpartum journey being a bit like navigating uncharted waters. Our bodies go through many changes during pregnancy and childbirth, and it's completely normal to struggle with body image issues. Having a supportive friend or family member by your side can make all the difference. They can offer a shoulder to cry on, words of encouragement, and even help you find moments of self-care.
10. Seek Professional Help
If you're at the point where your postpartum body image struggles are impacting your mental health or eating habits, the best choice is to always seek professional help. Whether you're going to an in-person support group or an individual support session with a therapist or nutritional expert — it's a step worth taking to help you along the journey.
Your Postpartum Body Image Struggles: Embrace It
Know this: embracing your postpartum body is one of the best things you can do for yourself. Your body after baby is a symbol of your new life, your new role, and the love you have for your new baby.
Your body is a testament to the incredible journey you've been on, and it deserves love, respect, and care. So, celebrate your post-baby body, stretch marks and all, and take pride in being the amazing mother you are. I'll always be rooting for you!