How to Ask For Help as a New Mom
This post may contain affiliate links that I may receive a commission from if you click & buy. In addition, the information on this site is NOT intended to be medical advice. See my full policy for more information.
Why is it so hard to ask for help as a new mom? Is it realistic for a new mom to "do it all herself" without ever asking for help? No, it's not. In fact, it's normal for moms to struggle to ask for help. Today, you'll learn how to ask for help as a new mom and why so many new moms struggle with this concept.
How To Ask For Help as a New Mom
You KNOW you need to ask for help, but you struggle every single time. It's like the words are on the tip of your tongue, but they just won't come out.
These tips below will make it easier for mothers to confidently ask for the help they deserve as they embark on their new role into motherhood.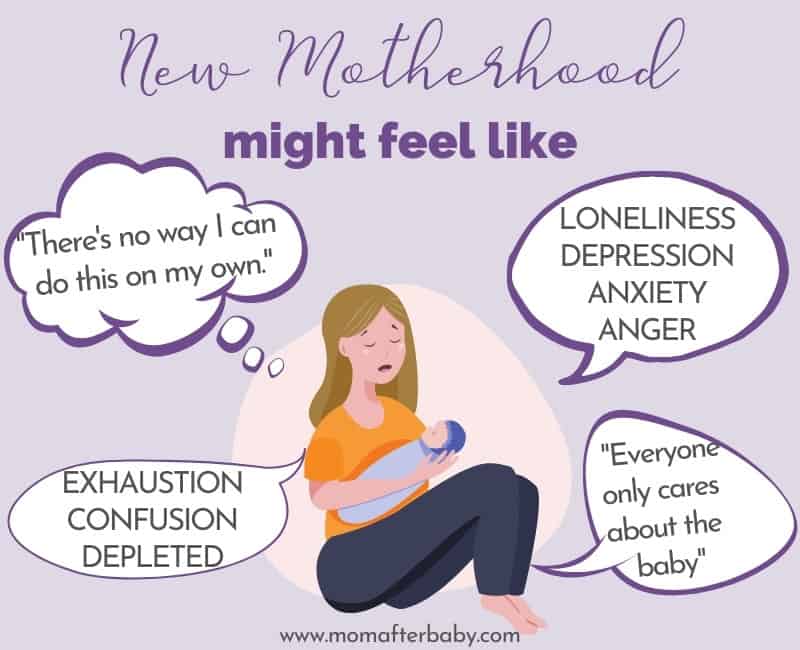 1) Make a list of people you trust with your baby
Creating a list of trustworthy individuals you would feel comfortable leaving your baby with for an hour or so is a great way to start! This list can consist of friends, family, or even paid help like a babysitter.
If you find yourself struggling to make a list of people, ask yourself these questions and it could help:
Has this person raised children before?
Would I be able to trust him or her in an emergency situation with my new baby?
Is this person CPR certified?
Does this individual share similar parenting practices as I do?
My biggest concern with having this person watch my child is:
From there, you should have a better idea of whether or not the potential person you enlisted to watch your baby is 100% trustworthy to your standards or not. And please, don't feel bad for turning someone away if you just don't get a good feeling. As a parent, one of the top things I always suggest is following your gut.
If you need help with tasks outside of babysitting, specify that on your list. For instance, your mother could be the one you trust to watch your baby, but your sister is the one you prefer to help out with some lingering chores around the home. Get specific and make those needs known.
2) Designate a task to the help
Whenever asking for help, make sure you're clear about what you need help with. This way whoever shows up (best friend, family member, or professional help) knows what to expect. Do you need help:
Watching the baby?
Cleaning up the house?
Cooking a few meals?
Giving your dog a bath?
Going to a doctor appointment?
Need someone just to be an ear to listen?
By making your needs clear, you eliminate any confusion and misunderstandings that could otherwise become an awkward situation (in which you're anxious to avoid anyways).
3) Deligate tasks with your partner
If you're married or in a relationship, one of the easiest ways to get a helping hand is by simply delegating common household and childcare tasks with your partner. These tasks could look like alternating nighttime feedings or diaper changes so that you can both get a restful nights sleep, or, having one person in charge of cooking while the other does the cleaning, and so forth.
If your relationship is a bit rocky while adjusting to parenthood, just remember it's normal, but not all hope is lost. There are many resources out there, like the Be Connected online relationship connection course taught by a clinical psychologist who specializes in couples and relationships!
4) Prioritize your mental health (goodbye mom guilt)
One of the many reasons mothers struggle to get or ask for help can be due to bigger feelings of guilt or embarrassment, sometimes, accompanied by postpartum depression or anxiety.
These conditions can leave moms feeling like they aren't worthy of getting help or that they "should" be able to manage mom life on their own — when that simply isn't the case.
Asking for help when needed IS a form of self-care because you're acknowledging your need for assistance and you're acting on that need to make it happen.
5) Use motherhood affirmations
Affirmations, in general, are a great way to practice replacing negative thoughts with positive ones. This can be especially helpful for new moms feeling overwhelmed or burnt out. Here's a few examples of some uplifting motherhood affirmations to boost your confidence as a new mom:
I trust my maternal intuition, it's made for my child.
I will give myself kindness and patience throughout my motherhood journey.
Being a mother is my own unique experience.
I deserve to relax after a hard day.
I'm more than just a mother.
There's always a lesson to be learned in motherhood, today I give myself grace to be available to learn them.
My children make me a better mother each and every day.
You can even write your own positive motherhood affirmations, stick them in places where you will see them when most needed, and enjoy the positive reminders throughout your day.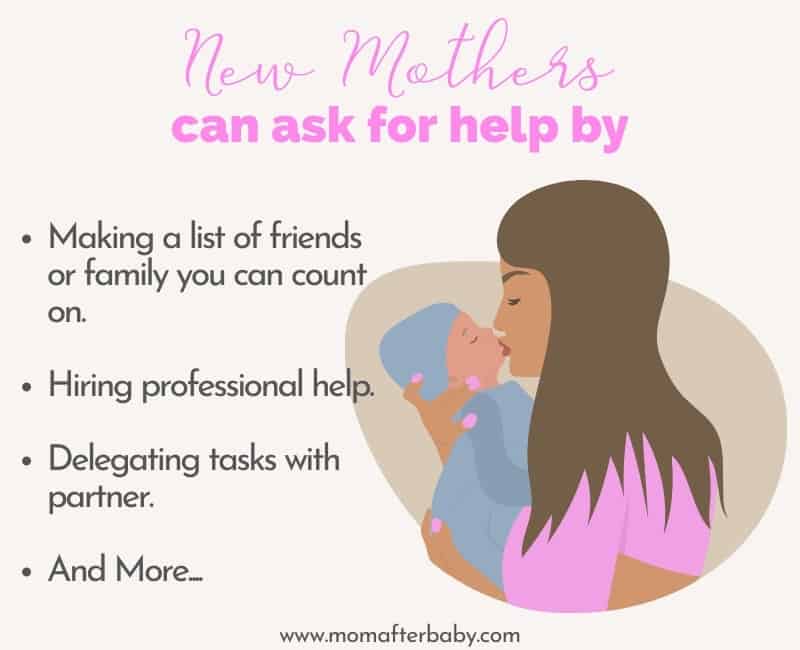 Why Do New Moms Struggle To Ask For Help?
Now that you've read over some practical ways to help when it comes to asking for help, it's now time to understand why it's so darn hard in the first place! Once we understand what makes it so tough to ask for help, we've then unraveled the final piece to the puzzle.
1) Societal pressure
Society today places this large amount of pressure on women, specifically mothers, that they should be able to "do it all" or "bounce back" from birth like it was nothing. It's pretty clear to see why so many mothers have this false sense of feeling inadequate thanks to the pressures of society.
Mothers need fewer MLM company reps DMing them on their Instagram that they can "bounce back and lose the pregnancy weight after birth" and more friends/family reaching out saying "hey, how are you doing? Could you use any help?".
Though it's easy to fall into the pressure of society, moms, please remember YOU don't have to do it all. You don't need to bounce back. YOU are everything and more for your baby.
2) Bad home/work life balance
Another reason some moms struggle to ask for help is that they struggle to find the happy medium between work and home life. This can make it incredibly hard for mothers who work and feel the need to manage their home life on their own.
It's important to recognize what is realistic and what is not. If you work long hours and only get the weekends to spend with your baby, it's probably not worth it to spend those few days doing chores all the time when you should be making memories with your precious baby.
3) Feelings of guilt, shame, and embarassment
It is far too easy to let guilt and shame creep in whenever you feel the need to ask for help. Whether it's pressure from society, maybe a family member making you feel like you're not good enough, or simply your own insecurities from how you were raised — the cycle has to end now.
You owe it to yourself and your baby to ask for help when you need it. Let your baby see from a young age that it's ok to not be able to handle everything on their own. Let them see that it is ok to ask for help.
4) Postnatal Anxiety or Depression
Postnatal anxiety or depression is another common reason mothers feel guilt and shame, preventing them from seeking out the help they need. Did you know that 1 in 7 mothers will experience depression or anxiety during pregnancy or postpartum?
If you think you could be suffering from postpartum depression or anxiety, please get help. Emotional support is not something a new mother should be deprived of. Help could look like:
Calling and notifying your healthcare provider.
Confiding in a loved one or your partner.
Seeking support from a perinatal therapist.
Calling the Postpartum Support International Warmline at 1-800-944-4PPD for support and resources.
Carving out more time to ensure you're getting enough sleep and self care.
You do not need to suffer in silence, and you do not need to suffer at all.
5) Don't have help
Lastly, it can be really hard for some moms to ask for help because they simply don't have any help. This is a tricky scenario that many parents find themselves in if they have no friends or family that live close by. An alternative to friends or family is to hire help. There are quite a few different ways to hire help, here are a few examples below:
Postpartum Doula (specialize in educating new familes throughout the postpartum stage as well as providing some hands on help and care for mother's recovery, baby's feeding/diapering, and sometimes light housework)
Housekeeper (this is great for moms so they can solely focus on tending to their baby and recovering while the housekeepers keeps the house in tip top shape)
Dog Sitter/Walker (if you have pets, the postpartum period is an excellent time to hire someone to help them get their energy out)
Hiring help after the baby is born is not a must, but it can be a great help if your budget allows for it. If you're currently pregnant, you might consider making your baby registry with Babylist so that you can add service items such as housekeeping or meal delivery/meal train for guests to contribute to.
6) Overwhelmed by the type of help needed
Sometimes, new motherhood can be so overwhelming in the fourth trimester, moms can't even recollect their thoughts to identify the type of help they need! The good news is that there's much help to be handed out.
Help could look like hiring a lactation consultant to help with breastfeeding. It could also look like having one of your close circle of friends come over to handle the little things such as cleaning up and briefly take care of the baby so you can take a shower.
---
The first weeks of parenthood are no walk in the park. Between the sleep deprivation, heavy emotions, and simply being a new mom to a little bundle of joy — it's a lot to do alone. A new mom needs support, care, and meaningful help. Are you ready to ask for the help you deserve?
Read more postpartum articles here: