How To Grocery Shop With A Newborn (because we all know it's insanely nerve-wracking)
This post may contain affiliate links that I may receive a commission from if you click & buy. In addition, the information on this site is NOT intended to be medical advice. See my full policy for more information.
Wondering how to grocery shop with a newborn? Worried your baby might get sick or wake up crying while you're out and about? Take a deep breath mama, you're in the right place, and I'm here to help!
I'll never forget the first day my husband went back to work and we needed groceries. I was stuck at home wondering how to grocery shop with a newborn baby!
I was also stuck at home, alone, feeling anxious, worried, and paralyzed to take one step out of our house. But you know what? I did it!
There's no doubt that getting out of the house with an infant is scary as a new mom, but I'm going to share my best tips to help you get in and out of the grocery store with ease, with your newborn baby!
When & How To Take A Newborn To The Grocery Store
First things first, you'll likely want to know WHEN you can take your newborn out to the grocery store for the first time.
The good news is that there are all sorts of equipment and accessories to protect your baby from all sorts of icky germs.
From breathable baby wraps to soft cushioned cart covers, trust me when I say you will be able to keep your little one confined from others and close to you!
However, if your baby has any kind of underlying conditions or health concerns, you should always ask your doctor first.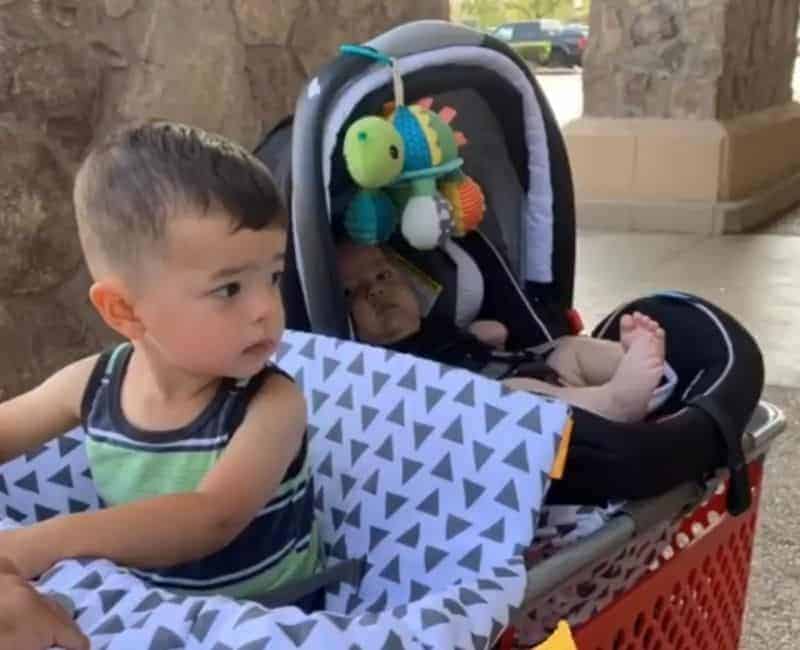 The biggest take away is to rest assured if you need to run out for some extra postpartum pads or even a few groceries, your baby shouldn't be in any harms way with a quick grocery run.
If the idea is too stressful to think about, signing up for grocery delivery!
I personally have used the delivery service Shipt after my 2nd baby was born since it was right in the middle of the pandemic and I have been so happy with their service!
They typically offer same-day delivery within 2-4 hours of placing an order and their shoppers have always been so kind and friendly.
If you'd like to check out Shipt to see if they service your area, click here!
How To Grocery Shop With A Newborn
Now that you've officially decided to venture out to the grocery store with your little one, here are a few tips to help make it a smooth trip!
Make Sure Baby Has Been Fed & Has A Full Tummy
First things first, you'll want to make sure your baby is fed & burped.
A nice full tummy will almost guarantee your little one will sleep the entire shopping trip or at the very least, be nice and calm.
In the event your baby becomes fussy because maybe you didn't have time to feed, you can always bring a bottle or have a nursing cover on hand to make feeding while out and about easier.
This 8-in-1 nursing cover by WeeSprout is a great option because you can also use it as a seat cover, shade cover for car seats, and more!
Ensure Baby Has A Clean Diaper
Next up, make sure baby has a fresh clean diaper on before you leave the house!
Nothing irritated my little guy more than a soiled diaper, but hey, can ya blame him?
Keeping baby fresh, clean, and comfortable is a key step to making sure your outing is a calm one.
Grocery Shopping With A Baby Carrier (Babywearing)
Using a baby carrier to babywear is my personal favorite way to grocery shop with a newborn baby.
Here's a few reasons why I think babywearing is the BEST way to take a newborn out grocery shopping (or anywhere):
You can keep baby nestled close to your body.
Baby will most likely sleep the entire time snuggled up close to you.
Random people won't try and touch your baby in a wrap or carrier.
If you breastfeed, you can easily adjust your baby to nurse in the carrier if they wake up hungry.
Grocery Shopping With Baby In Their Stroller
If you have a travel system stroller + car seat combo, this also makes outings with your newborn a breeze.
Instead of taking them out of the car seat, leave them in and plop the seat onto the stroller instead.
This is pretty much my go-to if my baby is already fast asleep in their car seat.
If you're worried about people trying to peek in and say hi to your adorable little baby, keep the shade covers pulled up during your shopping trip.
I never had any uninvited visitors whenever I shopped like this!
Use Your Baby's Car Seat To Grocery Shop (with a grocery cart hammock)
If you don't have a stroller or maybe your car seat isn't compatible with it, you can use a car seat hammock like this to attach your baby's car seat to ANY shopping cart!
Now that I have two young boys, using Binxy Baby's shopping cart hammock and car seat cover has made shopping such a breeze.
I can keep my toddler in the shopping cart seat knowing his cover is keeping him safe from any icky germs below.
Meanwhile, my infant is secured in his car seat on the hammock.
Find more newborn tips & advice like this –> Baby Essentials For The First 3 Months (Newborn Baby Guide)
Other tips to make shopping with an infant go smooth
Now that you have quite a few pointers on how to take baby to and from the store, below I'll be sharing some bonus tips to help make your shopping experience overall pleasant.
After all, these are the EXACT things I would do every single time I had to leave the house for pretty much anything.
Always Make A Shopping List
Let me be real — I have never in my life been so forgetful since becoming a mom.
That being said, shopping lists are pretty much a MUST to make sure I don't leave the store without the item(s) I went there for.
Plus, it can help you stick to your shopping budget if you're tempted to go over easily.
Stick To A Consistent Routine
Keeping your shopping routine consistent can help you get ready, in, and out of the store in no time.
This be something as simple as:
Feed in the car if needed
You'd be surprised how keeping this little routine in your mind at all times whenever you're planning an outing can help you stay on track and accomplish those errands with ease.
Make Sure Your Diaper Bag Is Stocked
When you have a newborn, you always want to make sure your diaper bag (or diaper backpack if you have one like mine) is stocked up.
I can't tell you how many times my 1st little guy always pooped his diaper the minute we'd hit the road. Every. Single. Time.
In the early days as a new mom, I wasn't as prepared.
As we had more outings and ran more errands together, I was ON IT!
Here's my minimum must-haves to keep in your diaper bag with a newborn:
2-3 Burp Cloths (these are my favorite because they're thick and very absorbent).
Diapers (honestly, keep a handful in there especially if you will be gone over an hour).
Suction Bulb (my 2nd baby spit up often and it would always come out of his nose, this was helpful to get the liquid out of his little nose quickly in the car).
Obviously, your bag should be stocked with any extra items you need for you and your baby, but these are the basics you shouldn't leave without.
Ask A Friend To Go With You
When in doubt, text a friend or family member and ask them to go with you.
You can never have too many hands on deck when you're running errands with a newborn.
Plus, you'll be able to give your baby your undivided attention in case anything pops up.
Park Close To The Shopping Carts
Another pointer to make your errands easier is to shop close by to the shopping carts.
Whether you plan to place baby's car seat in the Binxy Baby hammock or plop them into a baby carrier, parking close to the carts will help you unload your groceries with ease and not having to travel too far just to return the cart.
Aim For One Store At A Time
If your baby is still waking often to eat and not sleeping for long stretches of time for whatever reason – make it easier on yourself and only go to one store.
It's completely up to you, but I found that tackling a couple of stores throughout the week was way easier than trying to grocery shop with a newborn and multiple stores.
If it's not an option for you, just try to be mindful of the time & your baby's usual routine.
Skip The Store, Use Grocery Delivery Instead
Lastly, if grocery shopping with your newborn is too much to take in — don't!
That's right, you should totally skip the challenge at hand until you're truly comfortable.
If you're wondering how in the world you'll get groceries, well that's simple, with grocery delivery of course!
There's a lot of grocery delivery services available which you can check out below. I rounded up two of my personal favorites (and yes, I've used them both multiple times when I didn't have time to run out with my kiddos):
Shipt — I love Shipt's grocery delivery service because they literally do your grocery shopping for you, will text you in the event the store is out of stock and see if you'd like a replacement item, and then they leave all your items at your door. So far, all my shoppers have gone above and beyond which is why they're my number one suggestion to new moms.
Thrive Market — This one is great if you're into eating and living very clean & organic. They carry an abundance of healthy, clean, and organic products to choose from that you can have delivered to your home on a subscription-based method. You can also just try them out to score some major savings on your first purchase and see if this type of grocery delivery is for you.
Now, you can venture out to the store with your newborn armed with some helpful tips to make it enjoyable and stress-free!
What tips can you share to make grocery shopping with baby easier for new moms?
Looking for more newborn tips & advice like this –> Newborn breaking out of a swaddle? It could be time to stop swaddling!