This post may contain affiliate links that I may receive a commission from if you click & buy. In addition, the information on this site is NOT intended to be medical advice. See my full policy for more information.
Looking for simple and practical self-care ideas for moms that won't cost a fortune or require you to plan in advance? If you're ready to practice self-care you deserve, look no more. These self-care suggestions will help you feel replenished so you can bounce back into mom mode feeling less burnt out and more fulfilled — which is important for your overall health!
Why do moms get burnt out?
Many mothers go through stages throughout their motherhood journey when they begin to feel depleted and burnt out. Yes, mom burnout is REAL.
Got a toddler with big feelings? You're bound to get worn down as you try to harbor those feelings along with your own.
Have a newborn at home? Night after night of sleepless nights can feel like you're carrying 500lbs on your shoulders. It's a difficult time (especially as a tired mom).
There are also many other reasons moms feel burnt out, such as:
Being a single mother
Being a working mom
Being a stay at home mom
Not getting a break from your children
Have a struggling or failing relationship with your partner
Shoulder all the weight of household duties on top of parenting duties
And yes, even more.
No matter what season of motherhood you're in — there will be moments when you need a break. And that's perfectly ok.
Could you imagine, working 7 days a week, 24 hours a day, and never having a day off in between? That's kind of what parenting is like. And when moms don't take the necessary time to refill their own cups for once, well, that's the road being paved to being burnt out, fast.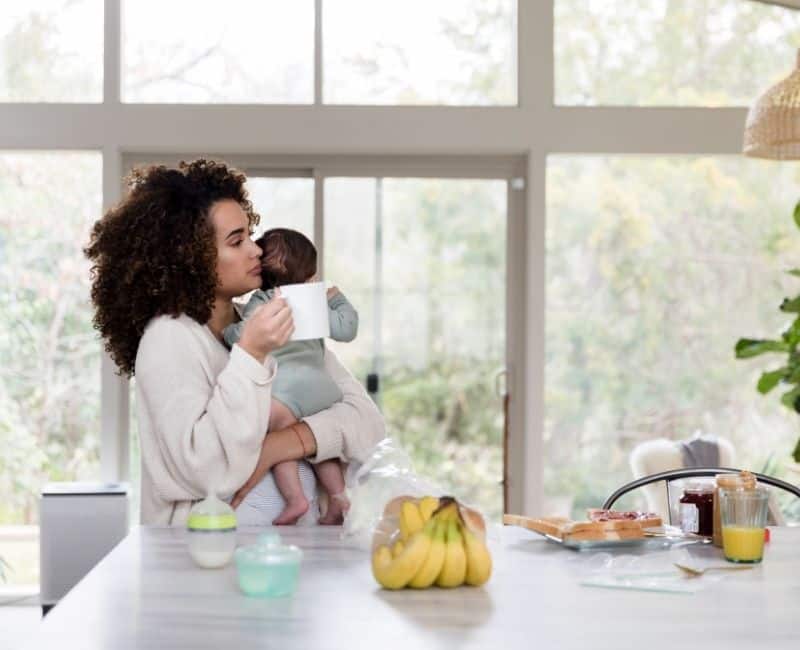 Simple Self-Care Ideas for Moms
Oftentimes, moms hear the word "Self Care" and they think they need to go to the hair salon or go out on the town with their girlfriends.
I have some wonderful news for you: SELF CARE CAN BE ANYTHING YOU WANT IT TO BE!
If scrolling aimlessly on social media for 15 minutes throughout your day makes you feel happy because you don't have to think about anything related to work or children, you do it!
If you're more of a planner and need to find some ways to incorporate some self-care activities into your daily routine, you can do that too!
The point is, there are simple ways to refill your cup depending on the needs you need to be met. That said, here's a list of some practical and simple self-care ideas for moms!
READ MORE: 10 practical ways to be a calm mom (without driving yourself crazy)
1) Have a cup of relaxing tea or decaf coffee to unwind before bedtime.
After my first baby was born, I started an unintentional routine of drinking a cup of passion tea before bedtime. I needed it to mix in my breastmilk supplement(s), but then it became a staple in my day-to-day routine.
Some nights I would sit down, take some deep breaths as my tea cooled down, and then took a few sips. It was such a relaxing way to end a wild day of parenting.
Once I got tired of the passion tea, I started alternating between Earth Mama's Milkmaid and Periodic Teas.
2) Take a soothing bath/shower to wash away the stress!
There's been talk that showers and baths can't be a form of self-care and I beg to differ!
We have to remember that everyone's lifestyle is different. Not every mom can take a vacation for self-care. However, sometimes, she can escape in the shower really focusing on the warm water hitting her skin and relaxing her body.
If baths are more your thing, try using some essential oils, a bath bomb, or some soothing lavender Epsom salts. That'll make it ultra-luxurious! As a new mom, I loved taking baths. Once I had 2 under 2, showers became my escape.
3) Journal your thoughts or start a gratitude journal
Journaling is one of many easy ways to spend your alone time doing! You can use a bullet journal, prompt journal, or even a gratitude journal. If you're using a blank, regular ol' journal, try using it to write ALL your thoughts down – good and bad. Leave everything in that journal so when you close the book it stays there and you can move on with your day.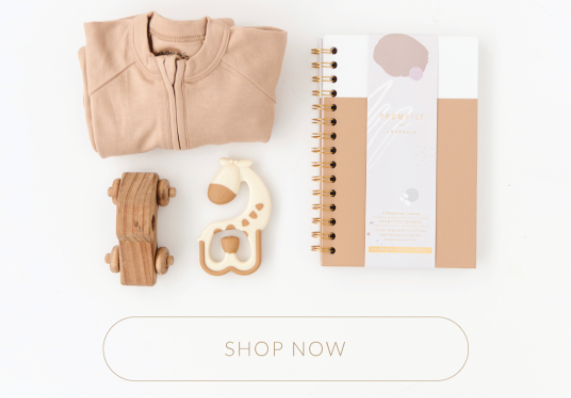 With a gratitude journal, these allow you the simple practices of finding small things to feel grateful for. It could be for being a stay-at-home mom, for having children, for having food on your table, etc…
Promptly makes these beautiful journals tailored around topics such as postpartum, self-care, traveling, miscarriages, and more. These journals feature prompts and reflections curated by various experts and truly are life-changing to incorporate into your daily routine.
4) Not into journaling, start a mom blog instead!
Starting a blog can be a fun and rewarding way to rid those stressors! You can connect with other mom bloggers through your heartfelt blog posts dealing with the same issues. You can also just simply share your thoughts to help another mom out! Need help starting your own blog? Get started here!
5) Watch the sunrise
Sometimes as a busy mom constantly on the go, one of the most relaxing and grounding activities are the ones that can help us just pause to admire the beauty that the world has to offer.
If waking up early to watch the sunrise doesn't mean you're losing more sleep, I'd suggest checking it out a few times. You could even sneak a nice hot cup of coffee while you're watching it too!
READ MORE: Postpartum Herbal Bath — How Sitz Baths Can Soothe Your Postpartum Healing!
6) Have a spa-night at home with some face masks and relaxing aromas!
Not a fan of spending big money at the salons? No worries mama, you can have your own spa night at home! This is personally my favorite way to get some self-care time in.
Every Friday night after the baby is asleep, I wash my face and throw on a face mask (this one is my favorite!)!
If you need something a bit more, light a relaxing scented candle and turn on some relaxing music (on low of course so it doesn't wake up baby #MOMLIFE)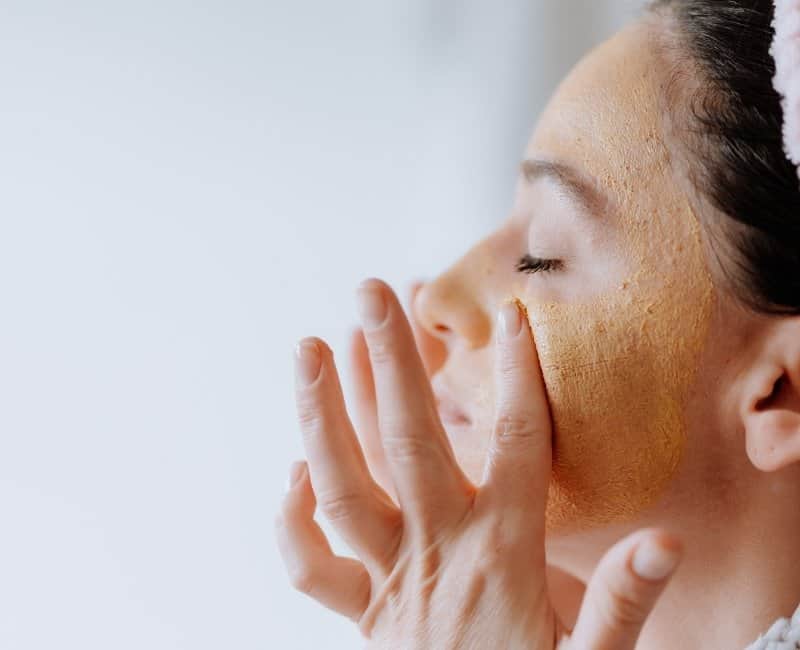 7) Get in some quality girl time
Girl time is a must. Because sometimes we just need to have those conversations only a fellow girl or mom will understand.
Ask your partner to watch the baby and plan a nice lunch or dinner date with the ladies. I'm sure they'll be glad you're finally able to get out of the house for an hour or so too!
8) Read an uplifting book
One of the most common self-care ideas for moms I've seen is to read an uplifting book. I personally haven't been too much into reading. I feel like it makes me really sleepy and will end up taking a nap instead.
But if you're a book lover, find some books you've been eyeballing and get in some quality read time! You could even try out some audiobooks while running errands. If you enjoy podcasts, you'll love audiobooks (snag yourself a free trial here)!
9) Retail therapy – go shopping without the kids
Who doesn't love a little retail therapy? I know money can be tight sometimes, so I wouldn't consider this a must, but it can definitely feel nice!
Especially if you're still wearing the same pregnancy or postpartum outfits since forever, girl go get yourself some new comfy bras and some cute clothes that'll boost your confidence!
10) Workout and stay active (you don't need a gym for this one)
Staying active and breaking a sweat is an excellent way to boost your mood while staying healthy!
Now, I'm a firm believer you don't need a gym to get in a good workout. In fact, over the years I've built a total in-home gym so that I can lift without ever needing the gym!
You can even use the Juna App, made specifically for moms so they can work out in the comfort of their own home, guided by experts in one simple app!
The main point is to stay active and use that as your self-care time however you can make it work.
11) Put on some makeup and do your hair as if you're going out
It feels good when you don't have to do your makeup and do yourself up every day. I mean shoot, it's one less thing on the list to do, right? However, every once and a while it may feel nice to spend some extra time getting yourself ready!
I know some days I just want to look more put together. It helps boost my confidence a bit and in turn, helps me power through the day! Give it a shot and let me know what you think!
12) Ask your partner for a massage
Whether you're dropping subtle hints or flat out asking, a massage is ALWAYS relaxing. Especially after you've been on your feet all day chasing after a wild tiny human.
And something about your significant other giving the massage just makes it extra special.
Feeling their touch and that closeness that sometimes gets pushed aside during your busy days.
13) Catch up on some sleep and take a nap
If the opportunity presents itself, take your nap girl! I know it can be hard because there are other things or chores calling your name.
But seriously, if you're tired and have the time, shut those eyes and relax while you can! You never know when it'll present itself again.
14) Get your nails done
You can totally get some cute nail polish and pamper yourself at home. Or if you're feeling like you need to get them done professionally, book yourself an appointment and rock those cute new nails!
15) Visit the hair salon for a new style
You know, sometimes a fresh haircut or even a brand new hairstyle can make you feel like a new woman! So if you are overdue, book that appointment!
16) Have dogs? Take them on a nice calm walk around your neighborhood
Lastly, get your dogs in on the action. Sometimes I find myself finding the most comfort just by snuggling with my dogs. They always have a way to bring a sense of calmness we sometimes can't find on our own.
Pair that with a walk and it'll be a great way to unwind, get some fresh air, and some exercise!
17) Call a best friend or some family members to chat
If you're feeling like you have spent way too much time around your children and you just need to hear the sound of another adult's voice, pick up your phone and call someone for a chat! At the end of the day, it's ok to need space with other adults and away (even if it's not physically away) from your children.
18) Make room for a date night
Date nights are hard to schedule when you have young kids. If you want to leave the house, you have to find child care and then don't have a whole lot of time depending on the cost of finding a babysitter.
If you need help finding a babysitter to watch your littles so you can enjoy a few hours to yourself, make sure you check on Care! Care helps you find trusted caregivers beyond just regular babysitting. You can find pet sitters, sitters qualified to help with special needs children, and more — search their caregiver selection near you here!
Despite the challenges, pick a day of the week and spend some one-on-one time with your Hunny.
Need some at-home date night ideas? Find a list of fun date night ideas you can do at home here!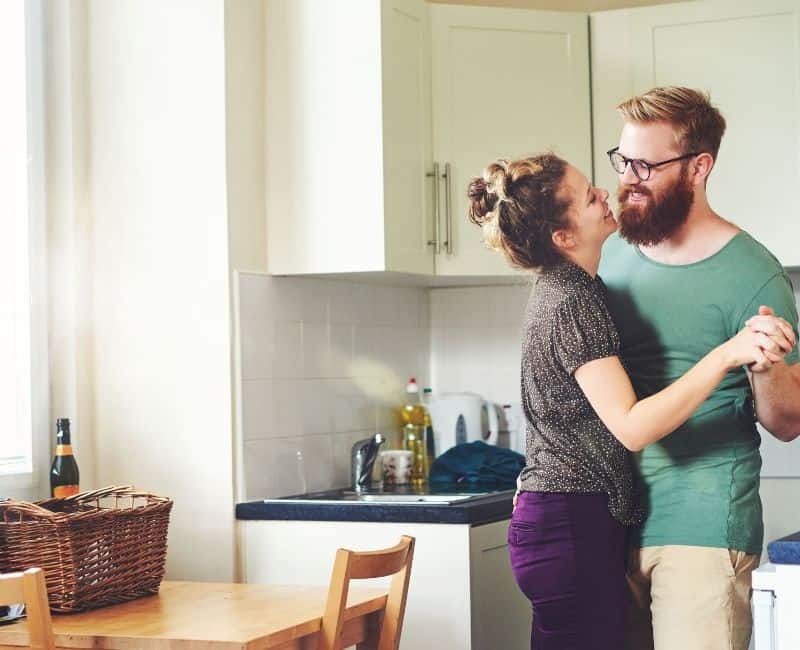 19) Skip the household chores
Ok, hear me out on this one. I understand chores need to get done (at some point), but it feels incredibly empowering when you skip the chores and do something for yourself instead. For instance, the dishes in the sink can wait a few minutes while you get in a much-needed power nap. Plus, you'll probably feel way more inclined to do the chores if you have a little extra energy. Give it a try!
20) Have a dance party
This one is a little silly, but throwing on your favorite music midday when the chaos is hitting the fan and just dancing out all the stress can be pretty relaxing! Sometimes, I'll do this with my children and before you know it we'll go from meltdown to just having fun and being happy in no time!
All in all, it's important to schedule time for yourself and refill that empty cup. Even if it's just a few minutes throughout the day fitting in a simple form of self care.
Have you tried any of these self-care ideas for mom? Which ones would you suggest to a friend?