Hospital Grade Breast Pump vs Regular: What's The Difference?
This post may contain affiliate links that I may receive a commission from if you click & buy. In addition, the information on this site is NOT intended to be medical advice. See my full policy for more information.
If you're a new mom beginning your breastfeeding journey, you might be wondering if you will need a hospital grade breast pump or a regular personal pump (often known as an electric breast pump). This article breaks down the difference between a hospital grade breast pump vs regular pumps.
Finding the best breast pump can be tricky. There are so many breast pumps on the market that are all marketed to be the best.
If you gave birth or will give birth in a hospital, you'll have the luxury of using a hospital-grade breast pump. These are the pumps known to be strong, with powerful motors that can help draw in your breast milk after the baby is born.
However, what you might find interesting is that there really isn't a huge difference between personal pumps and a hospital-grade pump. Yes, they might be powerful, but personal pumps have also kicked things up a notch.
What's the Difference Between a Hospital Grade Pump and Regular Electric Pump?
The biggest difference between a hospital pump and personal use pump is that hospital grade pumps are made and approved by the FDA to have multiple users. Unlike personal pumps which are made for a singular user only (this is why I don't suggest buying used breast pumps). Here are a few more key differences to consider:
Size: Hospital-grade pumps tend to be rather large compared to personal pumps. Thus, not making a good portable breast pump when compared to those smaller, more compact electric pumps.
Suction: Because of their larger and more powerful motors, this type of pump does often have a stronger suction than a standard double electric pump. However, suction doesn't always equate to efficiency.
Price: As you can imagine, these hospital grade breast pumps are pricey. On average, you can purchase one for $500 to $3000 depending on the brand and model.
Which Breast Pumps Are Used In Hospitals?
Medela Symphony Hospital Grade Breast Pump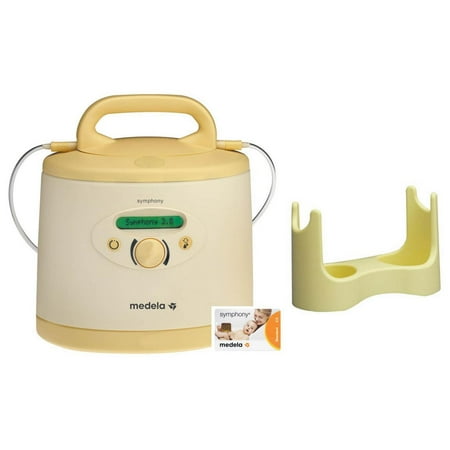 Medela is known for making great, high-quality breast pumps. In fact, the Symphony Breast Pump is highly recommended by lactation consultants all over the world. Even my own hospital lactation consultant recommended I rent one to take home just in case I needed it.
Here are a few statistics to know about the Medela Symphony Breast Pump:
Allows for single pumping or double pumping
Has various suction levels (hospital strength range from 50 mmHg to 250mmHg)
Let-down button for easy stimulation
Multi-user pump thanks to its specialty designed membrane and overflow protection
Considered a closed system pump
Hands down, the Medela Symphony is my hospital grade breast pump of choice too.
Ameda Platinum Hospital Grade Breast Pump
The Ameda Platinum Breast Pump is another popular breast pumps often seen in hospitals and available for moms to rent. It offers various combinations of suction and cycle speed for maximum comfort and expression. The Ameda Platinum has a suction range of 30 mmHg to 250 mmHg (whereas Medela only has 50 mmHg to 250 mmHg).
This is the hospital pump that used when I gave birth to my children in the hospital, however, I didn't find any of the cycles or suction options to work well for me. I was barely producing any colostrum when pumping, but if I hand expressed or used my Spectra S1 personal use breast pump I was able to notice a difference in colostrum production.
Here are a few statistics to know about the Ameda Platinum Breast Pump:
Uses a HygieniKit™ Milk Collection System to prevent milk backflow into the tubing due to its built-in barrier
Cannot be set up using a single tube for single pumping, just double
Has various suction levels (hospital strength range from 30 mmHg to 250mmHg)
Has three easy-to-read LCD screens
Provides an increased cycle range of 30 to 80 CPM
This is a wonderful hospital setting breast pump for many new mothers trying to get their breast milk in.
Should First-Time Moms Buy or Rent a Hospital Grade Breast Pump?
Buying a hospital grade breast pump vs regular pump for its extra strength and ease of use sounds like a great idea, however, they don't run cheap. Because of that, a great way to use these pumps at home is to rent them,
Most insurance companies will provide a rental pump at no cost or low cost. Thanks to the affordable care act , your healthcare insurance must cover the cost of a breast pump, meaning you will also be able to purchase a single-user breast pump for yourself.
Where Can You Rent a Hospital Grade Pump?
Obtaining rental pumps is pretty easy. Most often, you'll be able to fill out paperwork at the hospital you gave birth at and have it delivered to your home. Otherwise, you can access rental pumps from the following websites:
Sometimes it can be a little bit confusing trying to rent or purchase a breast pump through your insurance if they give you the wrong information, but otherwise, it tends to be a straightforward process.
Will Using a Hospital Grade Pump Help Increase a Low Supply?
If you're a mother who truly struggles with having a low milk supply, using a hospital-grade pump to emphasize efficient pumping can make a big difference.
Since breast milk production is stimulated by emptying the breasts, using hospital grade breastpumps can help empty out enough milk so that your body is signaling more milk to be made. In turn, this will help to increase your breast milk production.
What Happens if I Don't Use a Hospital Grade Pump?
If you don't end up using a hospital-grade breast pump, you'll want to get familiar with the different types of breast pumps out there so that it supports your breastfeeding journey in the long term.
The main types of breast pumps out there include:
Double electric closed system breast pump (I highly suggest the Spectra S1)
You can read more about finding the best breast pump here.
Hospital Grade Breast Pump vs Regular Pump Recap
Finding a great pump to use for breastfeeding can be confusing considering there are so many options to choose from. In the early weeks postpartum, you'll likely get the chance to use, purchase, or rent a hospital grade pump.
These pumps are created to have multiple users (because they're primarily used in the hospital setting), but also have a hefty motor and set up to help moms pump their breast milk.
If you don't have access to a hospital grade pump, don't stress out. There are electric pumps these days that are just as powerful and efficient as a hospital pump, however, they're only made for a single user.
Have you used a hospital-grade pump? Let me know if there are any other fine details I should include in this article for other moms to be aware of!
Read more breastfeeding articles here: