Is The Willow Wearable Breast Pump ACTUALLY Worth It?
This post may contain affiliate links that I may receive a commission from if you click & buy. In addition, the information on this site is NOT intended to be medical advice. See my full policy for more information.
Are you torn trying to find a hands free wearable breast pump that will allow you to move freely without any wires or cords getting tangled while being able to efficiently pump for your baby?!
You may have heard of this already if you've been researching hands-free breast pumps, but I want to share one particular brand that has blown my mind with the way their breast pump works!
Plus, you can't tell me that every mom whos ever been "hooked up" to a breast pump at one point or another hasn't dreamed about the magical day when they can pump while still being able to move around feely.
Imagine being able to finish your arts & crafts with your older kids because this magical wearable pump's innovative technology allowed it to happen.
Imagine you didn't have to hide from your toddler tangling and pulling on your pump tubing.
Doesn't it sound…just magical?!
Introducing The Willow Wearable Breast Pump
This, mama, is where I introduce you to the Willow Wearable Breast Pump.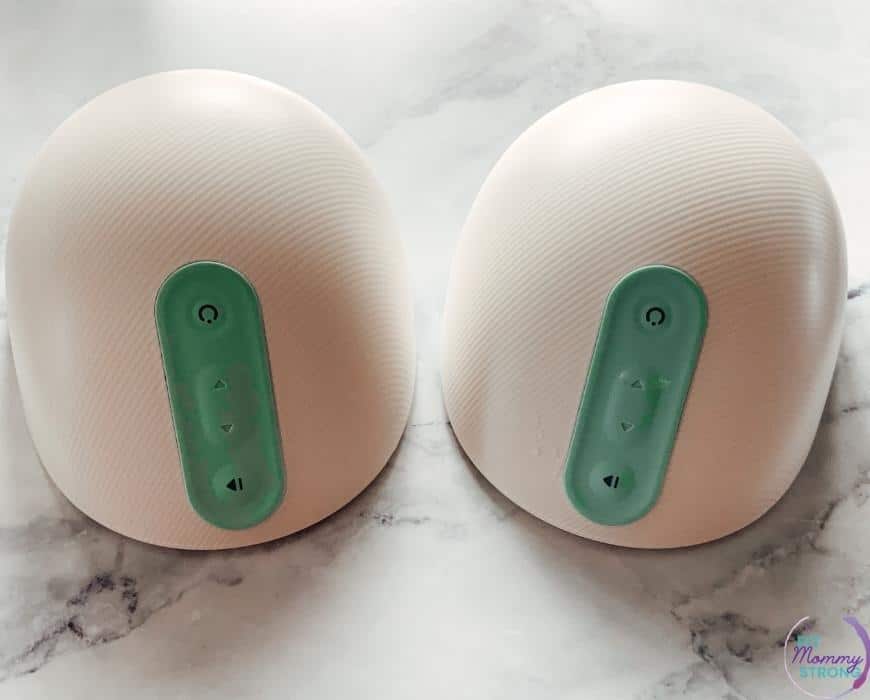 Willow is an in-bra wearable breast pump bringing you the freedom to pump whenever, wherever, totally HANDS-FREE!
This portable and hands-free breast pump will save you so much time. Say goodbye to the days where you literally have to stop what you're doing, get out your pump, connect all the tubing, put on your pumping bra, insert your flanges and sit there pumping. Fun & totally time-sucking times, right?
According to a survey study done in 2019 by Mamava, 95% of breastfeeding moms ALSO USE A BREAST PUMP! Just imagine how many moms stuck sitting in a room, listening to the music of their pumps sucking up milk while they're literally stuck to their breast pump. It's no wonder pumping can get such a bad stigma.
With the Willow, you can breast pump on-the-go, at work, at home, in bed, running errands, cooking meals for the family, on a date, and elsewhere — all with so much ease.
If you're ready to find out more about what makes the Willow wearable breast pump so unique, let's dive into all the details!
Willow Breast Pump Review (Video)
If reading isn't your thing, don't worry! I have a mini-review in the works that'll be posted soon!
How Does The Willow Pump Work?
The Willow pump is a unique breast pump because everything that works, works WITHIN the small pump itself. This means no long tubing dangling down or power cords plugged into the walls while you pump.
Instead, the motor and brain of this pump are all located within the actual pump that holds your breast flange container(s) and tucks away into your bra as you pump.
Once you're hooked up and pumping, you can use the Willow App on your phone to track your sessions. It'll display:
Battery life on each pump
Suction strength/level on each pump (because yes, you can set them to be different per side)
The estimated amount of milk in your container/bag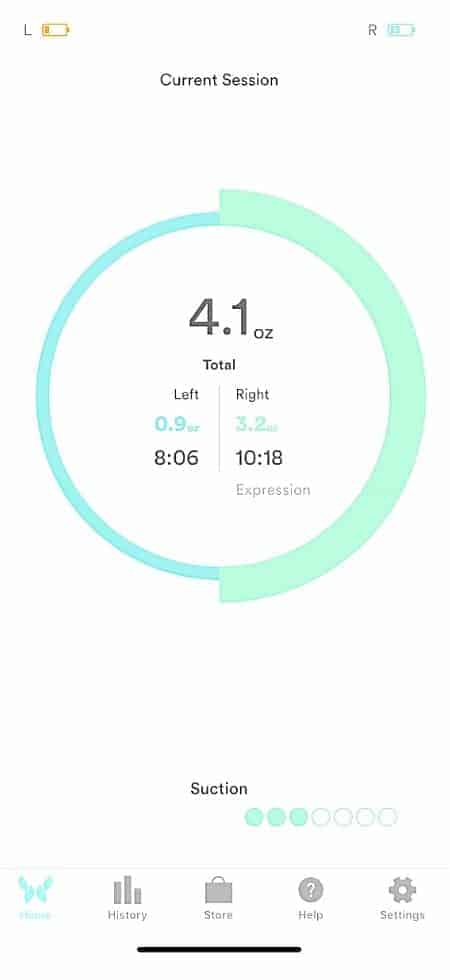 Once you finish, it will ask you how your session went, where you can choose from their selected options provided (you can also toggle this off in the setting section of the Willow App itself).
The Willow App goes beyond just displaying your pumping details though. It will also remind you when a battery needs to be charged or is getting low, recommend personalized pumping tips, store your pump history, and it compatible with iOS devices along with some Android devices that you can find listed here.
How to set up your Willow Breast Pump
I found setting up my Willow Breast Pump VERY easy — mostly because the instructions provided were very clear along with the videos they recommend you watch.
The first thing I suggest you do is to familiarize yourself with the pump and it's part FIRST! You can check out this little diagram I labeled below featuring the Reusable Milk Containers to help.
Then, you'll want to confirm you have the correct flange size. You can do so by using Willow's flange sizing online tool.
Although the concept is the same as a regular pump, it's important to remember that this pump is unique of it's kind so the sizing doesn't exactly line up the same as a regular pump flange.
Once you confirm your sizing, you're good to get started by charging BOTH pumps. One thing I thought was odd is that the pump set only comes with ONE charger. So you have to charge one side, wait for it to finish, then charge the other.
The good part is it really doesn't take too long to get a full charge and you can always purchase an extra charger if needed.
While your pumps are charging, you will want to sterilize your milk containers or flange set in boiling water. The same way you would a bottle for its first use.
Once your containers/flanges are sterilized and your pumps are charged you're ready to turn them on and connect them to your app! Keep in mind the app is totally optional.
Whether or not you choose to connect them you're ready for your first pumping session!
If you have a REUSABLE container set, all you have to do is:
Make sure your little disk is flipped so the #1 is visible
Align your nipple to the center of the flange
Attach the pump to the flange
Power on and press play to initiate the "latch" (if it's not aligned or connected properly, your pump will stop & the little light will flash yellow until you are aligned or your pump is connected properly).
Once pumping has begun, it'll automatically sense your let-down and switch into expression mode on its own. You can not get back to stimulation mode unless you restart the pumping process.
When finished, you'll want to PAUSE the pump, remove from your bra, flip the disk to show #2 and follow the flip to finish technique so that all the milk gets sucked into the container before disconnecting.
Once disconnected, you can pour into a bottle or milk bag of choice.
If you have a FLANGE set with bags, all you have to do is:
Insert the milk bag (tip – grabbing and gently shuffling the bag between 2 fingers helps it scrunch into a better shape to fit easily into the flange holder)
Align your nipple to the center of the flange
Attach the pump to the flange
Power on and press play to initiate the "latch" (if it's not aligned or connected properly, your pump will stop & the little light will flash yellow until you are aligned or your pump is connected properly).
Once pumping has begun, it'll automatically sense your let-down and switch into expression mode on its own. You can not get back to stimulation mode unless you restart the pumping process.
When finished, you'll want to PAUSE the pump, remove from your bra, and follow the flip to finish technique so that all the milk gets sucked into the milk bag before disconnecting.
Once disconnected, you can put your bag directly into the freezer or pour into a bottle.
It sounds complicated at first, but after using both the reusable container set and the milk bag + flange set, they're both very very easy to use, so you don't need to be intimidated at all!
Key Benefits To Using The Willow Pump
The biggest benefits I've found since using the Willow Pump have been that:
The Willow is spill-proof. You don't have to worry about bending over wrong or leaning to one side and wasting any milk — it just doesn't happen with this pump. I've pumped laying down, carrying my toddler around, doing dishes, laundry, etc… it's probably the most impressive feature to me.
You are 100% HANDS-FREE! This has got to be one of the biggest reasons for even considering a Willow pump. Pumping hands free is a game-changer when you're on the go, working, or have toddlers.
The pump is pretty compact. The pump is very compact compared to regular breast pumps. If you're use to using those big breaspumping tote bags, feel free to say goodbye to those and downgrade to a smaller pump case like this one instead! This makes it 10x times easier for moms constantly on the go or working moms!
It's a quiet pump. If you've used a regular breast pump you'll know that they can get a bit loud sometimes making it very obvious you're pumping. The Willow is much quieter than a regular pump, even my husband commented how quiet it was when he saw me using it to pump.
Container Options. You have the option to pump into their reusable containers OR directly into the Willow — one-way leak-proof bags. I've used both and I prefer the containers as I find they're easier to pour straight into a bottle when needed, but I do love having the bags as a backup if I have to pump on the go.
*Note that with the reusable containers, they can leak due to having an air vent system, but I have yet to have an issue with this after 5 months.
Willow Gen 3 has INCREDIBLE Suction Options. I love that this pump has a slow, soft pumping rhythm (a new sensitivity setting for the Gen 3 model), and uses Smart Suction technology that adjusts based on your comfort preferences. Basically, it mimics how your baby would naturally suckle on your breast, pretty cool, huh?
What Are The Cons Of The Willow Pump?
Thankfully, I have yet to experience anything bad with this pump. My first container set did have a defective part, but Willow's customer service was beyond incredible. Within days of notifying them I had a brand new container set sent out at no cost + their team hopped on a phone consult with me to make sure I was getting the best usage out of mu pump.
However, I know you want to know All the details, including the knit-picking ones so here we go:
Willow only holds 4oz per side (container). If you typically produce more than this in a single pump session, you'll have to empty & reconnect your container or replace the bag while pumping. I've had to do this about 5 times so far and I've found my pump usually collects just over 4 oz before it gives me the full warning (see photo below).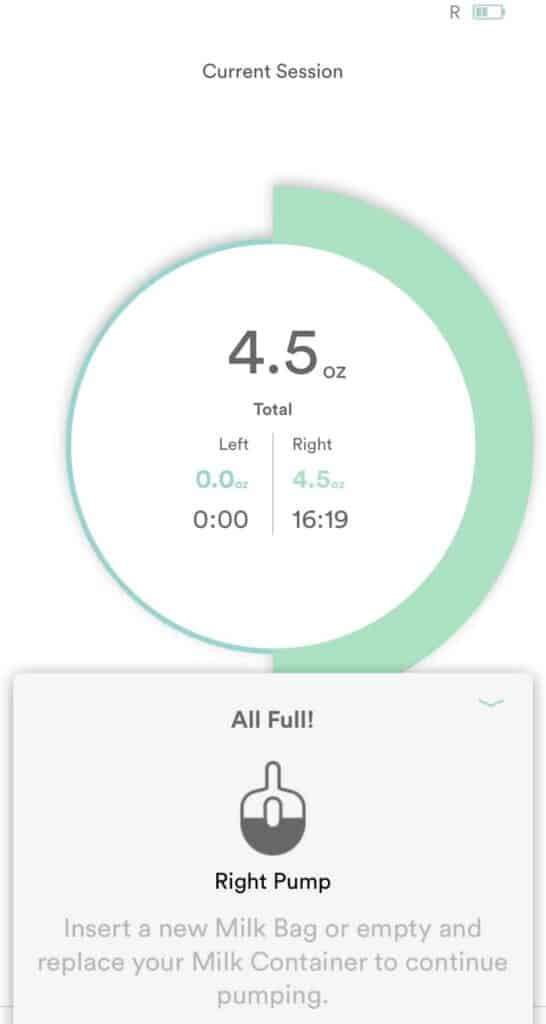 It only comes with one charger. In order to charge your pumps, you have to do them one at a time as the Willow only includes one charging cable. You can buy an extra cable if you prefer charging them and saving a little bit of time, but it only takes 2 hours per pump (4 hours total) to fully charge the Willow.
Price point. Sitting at $499 (as of Oct 2020) — this is NOT a cheap pump. However, given its unique design and technology, I do understand why it's pricepoint is higher. I just wish things like 2 charging cables or even 1 small set of replacement parts, for example, could be included in the initial purchase. The good news is, Willow tends to hold various specials and deals throughout the year to help you save on your pump purchase, so I have to give them credit for that!
BEST Wearable Breast Pump – Willow FAQ's
Now that we broke down all the features and specs about the Willow pump, let's get into some of the more commonly asked questions. These are questions I've seen in forums or flat out have been asked by some of my readers, so here we go.
I want to use The BEST Bra for Willow Pump – which is the best?
Willow's site states that using "a full-coverage nursing bra that's stretchy and has a flap is best. Avoid underwire and padded bras."
That said, I've personally worn my Willow pump with the following bras and have found them to be very secure & comfortable:
Is Willow a SILENT Wearable Breast Pump?
Compared to a regular breast pump, Willow is definitely much quieter. It was specifically designed to provide discreet pumping for moms, so it's no surprise that the pump is pretty quiet while working so hard.
You can hear the pump if you're within arms reach of someone, but I've asked my husband a few times if he can hear my pump when he's 3-4 feet away and he always says he can either barely hear it or not hear it at all.
How can I tell what size flange for the Willow I'll need?
This is a great question because selecting the correct flange size it SO important.
The willow comes in 21mm, 24mm, and 27mm for their reusable and milk bag containers.
You'll want to make sure you use their online sizing tool to help you choose the correct size before purchasing.
Willow Pump Bags vs. Reusable Containers — what's best?
Here's my take when it comes to decided whether the milk bags or reusable container is best suited for you:
Milk Bags:
On the go often
Working mom/Pumping at work
Don't want to leak at all
Have a large supply where you need to toss your milk into the freezer quickly
Rarely pump directly into a bottle
Don't mind purchasing more bags over time
Reusable Containers:
Cost-conscious (save $$ by not needing bags)
Aware the air vent could leak if bending too much in use
Stay at home moms
Prefer pumping straight into a bottle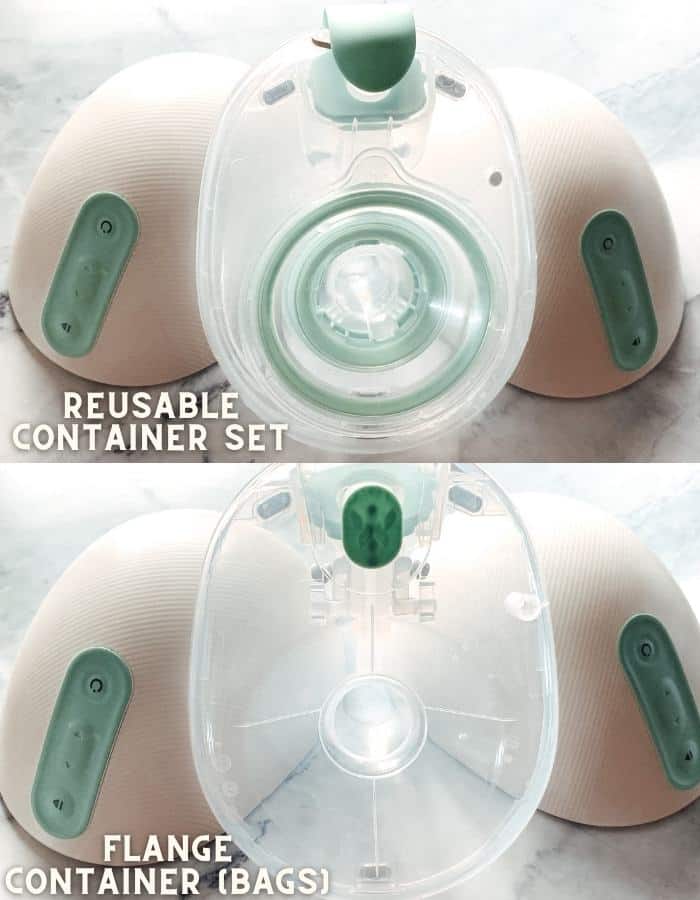 How Much Does The Willow Pump Cost?
As of October 2020, the Willow sells for $499 online with FREE shipping over $70. Included with this purchase you get:
2 Willow Pumps
2 Flanges either 24mm or 27mm (if you select the 21mm, the 21mm Flanges ship in a separate box)
2 Flextubes™ (the pieces that act as the membrane for your pump)
24 count 4 oz. Milk Bags
2 (big & small) Cleaning Brushes
1 Charger
Get started guide & Instruction Manual
For those worried that you can't afford the Willow, but really want one, they partner with Affirm to offer 3, 6, and, 12-month payment plans for the Willow Wearable Breast Pump. A minimum purchase of $399.99 (before tax) is required to use this payment plan option.
You can also pay for your breast pump, milk bags, and accessories using your FSA/HSA debit card at checkout. If you don't have an FSA/HSA debit card yet, simply pay with your own credit/debit card and submit your receipt to your plan administrator for reimbursement.
How often do my Willow accessories need to be replaced?
Maintaining your pump parts is important with any pump, but according to Willow, you need to replace your:
Containers every 3 months (possibly less depending on how often they're used)
You can view the individual pricing of all the Willow Parts & Accessories HERE.
Other Wireless Breast Pump Options
The most COMMON question I get asked is: How does the Elvie Hands-Free Breast Pump compare to the Willow?
Considering that I have NOT personally used Elvie, I decided to post in a few mom groups I'm in for their opinions. Based on their responses, I put together the following list to help you decide which one is best for you!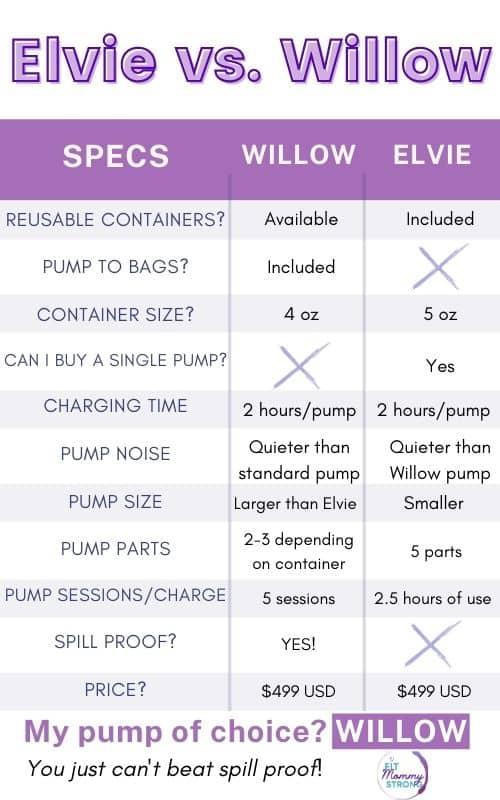 In addition to the list, a few of the remarks of the group members included:
"I love my Elvie because the suction is more gentle, I had the Willow 2 (2nd gen) and it was way too strong for my breasts"
– Ashley (Exclusive Pumping Mom)
"I got the Elvie because it's quieter and I work in a clinical setting, but after many many spills and mishaps, I decided to try the Willow (3rd gen) and I LOVE IT! I wish I would've gotten it sooner. I don't know if my nipples are made of steel or what, but I don't find the suction painful at all."
– Trish (Nursing/Pumping Mom)
"I think the Elvie is nice because it's more cost-effective, but which one works best? I like my Willow a lot better I think"
– Alejandra (Nursing/Pumping Mom)
Have you used BOTH of these pumps? Drop a comment at the bottom of this post sharing which one you prefer and why!
Another pump comparison is the Willow and Freemie Cups — to be honest, I don't even think it's a fair comparison because Freemie Cups still use a small breast pump attached to tubing. Not to mention the cups are VERY large compared to both Willow & Elvie.
Is The Willow Wearable Breast Pump ACTUALLY Worth It?
After sharing my full review and talking about all the specs the Willow has, yes, I think it is very worth the investment if you plan on pumping often or exclusively for your baby.
Despite the back and forth, you probably couldn't go wrong with either the Elvie or Willow, but in terms of the small details, I truly believe Willow nailed it between their smart technology and their pump design to provide leak-proof pumping.
I hope you found this review helpful and if you end up trying the Willow, please let me know what you think about it too!
Other BREASTFEEDING posts you'll find helpful: