Traveling While Exclusively Pumping – 10 Tips for Mom
This post may contain affiliate links that I may receive a commission from if you click & buy. In addition, the information on this site is NOT intended to be medical advice. See my full policy for more information.
Pumping breast milk isn't the most ideal situation you've ever imagined yourself being in, but here you are. You're a mom trying to keep up her milk supply, feed her baby breastmilk, and are also trying not to stress out while pumping on the go. Fortunately, I'm going to share the best tips to help any mom traveling while exclusively pumping so she can minimize the stress and stay on her pumping schedule.
10 Life-Saving Tips for Moms Traveling While Exclusively Pumping
Let's face it, pumping while traveling or going on road trips can feel pretty overwhelming. You need to make sure you bring all the right gear and supplies. Finding a private place to pump might also be an issue. The stress is real.
So, instead of stressing out about your next trip, use the tips below to help make it as smooth as butter!
Be Aware of the Airport Rules When Traveling with Pumped Breast Milk
If you will be traveling by plane, it is a good idea to double-check TSA guidelines or talk to a TSA officer (Transportation Security Administration Officer) to familiarize yourself with the process of bringing breast milk onto an airplane.
According to the current US guidelines as of 10/2022 — "Formula, breast milk, toddler drinks, and baby/toddler food (to include puree pouches) in quantities greater than 3.4 ounces or 100 milliliters are allowed in carry-on baggage and do not need to fit within a quart-sized bag. Formula, breast milk, toddler drinks, and baby/toddler food (to include puree pouches) are considered medically necessary liquids."
On your day of travel, inform the TSA agent that you're traveling with breast milk and a breast pump. Take the milk out of your carry-on bags and have it ready to be screened. This is the best way to ensure the process goes fast and smoothly. Sometimes they may test the milk, but they don't always do this.
Travel with a Portable Breast Pump (if you have one)
Traveling with a portable pump will make your life way easier, typically because more portable pumps are smaller, more compact, and overall quiet. A few of my favorite portable breast pumps include:
And if you're wondering how in the world your pump will get power when you're stuck on a long flight or driving out to a work trip..grab yourself a battery pack.
You'll want to make sure whichever battery pack you choose is a compatible and reliable power source for your electric breast pump.
Bring a Cooler Bag or Travel Fridge to Store Your Pumped Milk
If you're traveling with your breast milk by car, using a breast milk cooler with some frozen ice packs should suffice to keep your expressed milk cool enough during your travels.
Another awesome option for the car is to use a mini fridge like this one, that plugs in directly to your car to stay cool! Plus, it can hold other things too that a small cooler might not be able to.
If you're traveling by plane, you can bring a breast milk cooler and then grab some ice from one of the airport coffee shops or food restaurants before boarding your plane to ensure the ice isn't melted.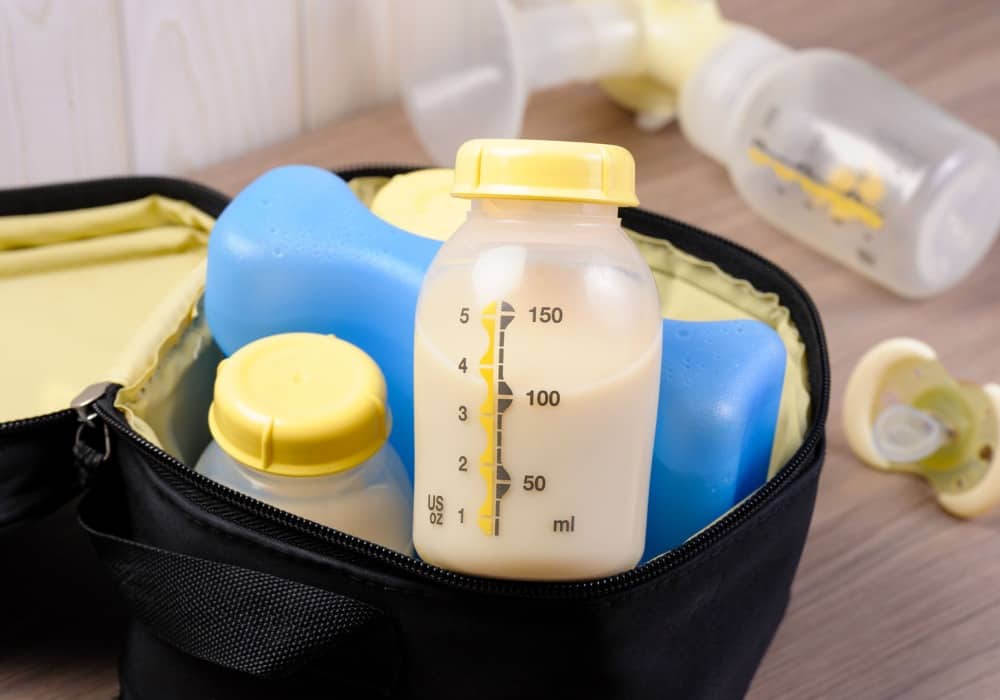 Wear a Pumping Bra
If you must pump while you're traveling, be sure to wear a pumping bra the day of your travels. Wearing a pumping bra will make it easier for you to hook up your pump discreetly if and when needed. It also can be helpful for moms who plan on nursing their little ones while traveling too!
Try Pumping Directly Into Milk Bags
Another way to maximize pumping out that liquid gold while traveling is to pump it directly into milk bags with this nifty little accessory. By pumping into a milk bag, you can then store more bags of milk in your cooler, vs pumping into bottles. Then, you can stick them directly into the freezer once you arrive at your destination for some peace of mind.
Take Advantage of Breast Pump Wipes
Let's talk about a serious issue while traveling: breast pump hygiene. The rule of thumb is that you should be cleaning your pump parts after each use, however when you're stuck in a plane or car, how are you actually supposed to do that?
Thankfully, the Medela Quick Clean Wipes can help you wipe down your breast pump parts first thing after you finish pumping. I loved using these on my pump parts when I needed to quickly run out the door.
Are they the same as washing them with dish soap? No, but this is a great way to keep things clean and sanitary when you're traveling while exclusively pumping (especially when you're on a plane).
Pack & Bring Extra Pump Parts
Whenever you're traveling with your breast pump, you'll want to make sure you bring extra pump parts with you. This way, you can stick to the same or close to the same pumping schedule you've been doing at home without constantly having to wash and reuse the one set of flanges each and every time.
Extra pump parts to pack when traveling:
Breast pump flanges
Extra tubing
Duckbill valves
Pump membranes
Use a Breast Pump Bag
Using a breast pump bag makes it way easier for you to lug around your pump, your breast milk, and all the supplies that go along with it. Here's a pump bag that is compact and easy to tote around.
Typically, breast pumps are considered a medical device, meaning most airlines let you bring them in addition to your allowed carry-on items, hence another reason to make sure transporting your pump is simple to do,
Bring a Nursing Cover for Privacy
If pumping in public makes you feel nervous or self-conscious, don't worry, you're not alone. Though, moms shouldn't have to feel so anxious when they're pumping for their baby, using a nursing cover like this one can be a great way for some added privacy
Here are a few of the best nursing covers around (and they're lightweight making them breathable and perfect for travel):
Opt for a Window Seat
I know you're wondering how having a window seat (especially on longer trips) can help you pump comfortably on a plane, but think about it. When you're pumping the last thing you will want is someone needing to scoot by you to go use the bathroom.
Plus the flight attendant often walks up and down the main aisle with the little snack cart and I remember a mama friend told me how her pump tubing snagged onto the snack cart. Thankfully they noticed right away, but imagine having to deal with that?! Yikes.
When you have a window seat, you have your own little area all to yourself.
Have a Manual Breast Pump as a Backup
Sometimes, technology just doesn't work out the way we want it to — this includes our breast pumps.
That's why it is always a good idea to bring a manual, handheld breast pump for backup. It might take a little extra time to pump, but it will be worth it when you avoid any hiccups while traveling.
Pump Before You Board Your Plane
If you're traveling by plane, it's always a great idea to line up your pumping schedule with being able to have a pumping session before you board your plane.
Many airports now have lactation rooms to provide breastfeeding moms a clean and safe place to nurse or pump for their babies instead of a public restroom (which is often so dirty anyways).
My favorite part about these lactation rooms is that it's a completely private space for moms to be able to feed their babies.
Traveling While Exclusively Pumping: Commonly Asked Questions
How to Transport Fresh Breast Milk In a Car?
Transporting fresh breast milk in the car can be done in a cooler. If you'll be driving for a long time, it might be more helpful to have some dry ice (instead of normal ice that can easily melt).
Another alternative is the portable mini-fridge that you can plug into your car.
What Are the Best Breastmilk Storage Bags for Travel?
Lansinoh breast milk bags are what I consider my ol' reliable. They freeze great flat, they have a pour spout, and they have a double-sealed edge to ensure no milk leaks out.
If the idea of a flimsy bag while traveling bothers you, I'd suggest pumping into small bottles instead. Medela has the perfect little travel-friendly bottles and their handheld milk bag comes with some freezer packs to keep it nice and cold too.
What's The Best Breastfeeding Travel Gear to Bring?
The single best travel gear you can bring when you're pumping and traveling is your breast pump. Whether you plan to only travel with a hand pump or an electric pump — having a pump on hand will help you pump that milk out to prevent things like a clogged milk duct or even mastitis from traveling a long time and letting your breasts get too full.
I know pumping on the go can feel pretty daunting, but with a little preparation, you'll be pumping like a pro all over the place! Which of these tips did you find most helpful? Drop a comment below and let me know!
You May Also Enjoy These Posts:
Drinking Protein Powder While Breastfeeding — Is It Safe?
Which is Better: Hospital Grade Pumps or Regular Pumps?