Snowman Air Fryer Pop Tarts
This post may contain affiliate links that I may receive a commission from if you click & buy. In addition, the information on this site is NOT intended to be medical advice. See my full policy for more information.
The holidays are my favorite time to recreate some of my favorite meals and treats with a festive twist and that's where these Snowman Air Fryer Pop Tarts come in. Oh yes, my kids LOVE them too!
Every Christmas we look forward to baking up new or traditional treats. And of course they need to be a little extra-extra with the holiday cheer, if you know what I mean.
Growing up I LIVED FOR strawberry pop-tarts. Something about that warm, crunchy, toasted little strawberry jelly-filled pastry just hits the spot every single time. And now, I get to enjoy them with my boys, as they decorate them to look like Frosty The Snowman (it's currently their favorite holiday jingle, whats yours?).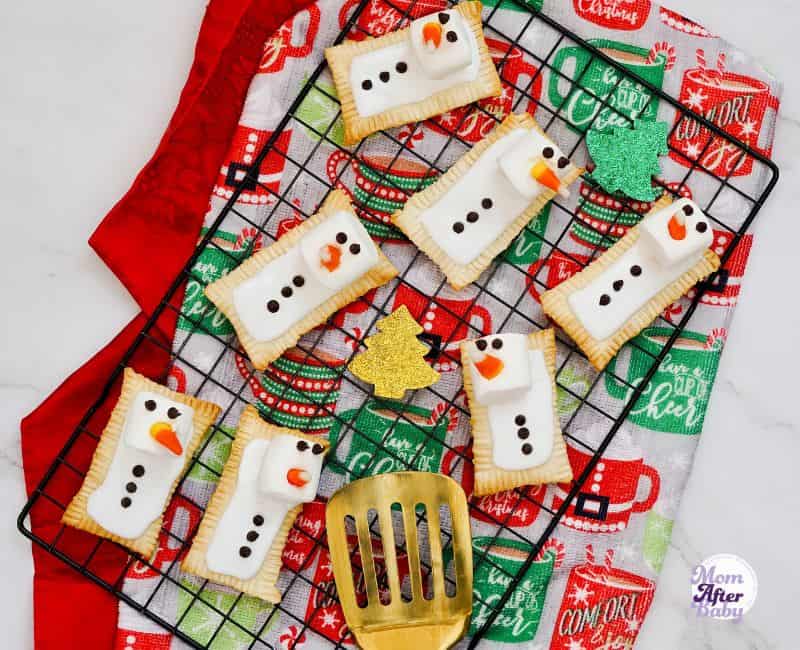 But Why Air Fryer Pop Tarts?
I love my air fryer for two main reasons, ONE — it cuts the baking time almost in half most of the time, and TWO — you can cook almost anything without any additional oils or fatty grease.
This recipe is awesome year-round if I'm being honest because these healthier pop-tarts can be eaten as a snack or as part of breakfast in the morning.
Considering they're super easy to whip up, it's a mom-approved choice.
And don't let the holiday twist fool you, you can get creative with these snowman air-fried pop tarts! You can use different jelly fillings or decorate for another holiday, the options are endless.
Ingredients Needed for Snowman Air Fryer Pop Tarts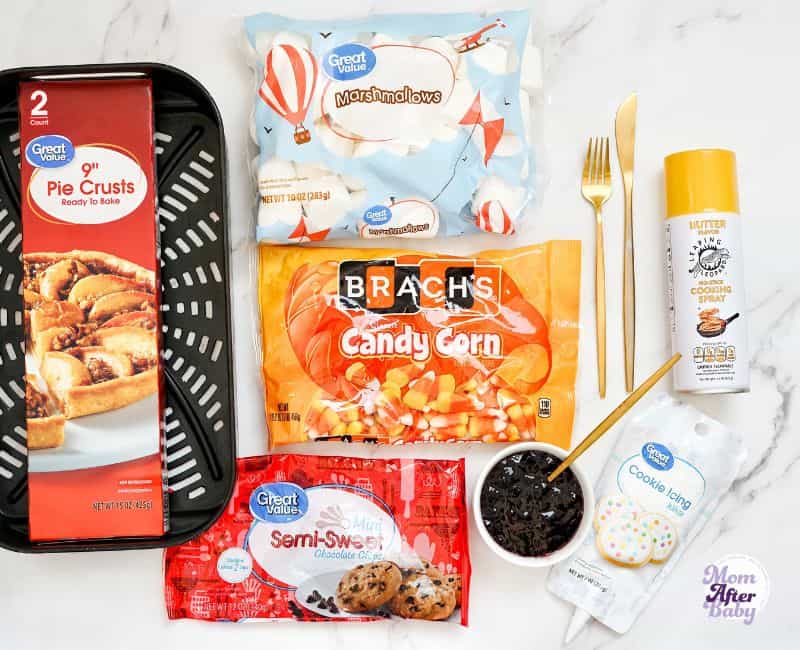 For these easy holiday treats to make, all you need are:
Pre-Made Pie Crust (this will help save some time)
Nonstick Cooking Spray (optional)
How to Make Snowman Pop Tarts In the Air Fryer
Pre-heat your air fryer to 350 degrees.
While the air fryer warms up, roll out the pie crust and cut out rectangles that are 2 to 3 inches in length
Separate out your rectangles and scoop 1 Teaspoon of jelly (in your preferred flavor) on every other rectangle. You'll want one empty rectangle per one filled rectangle.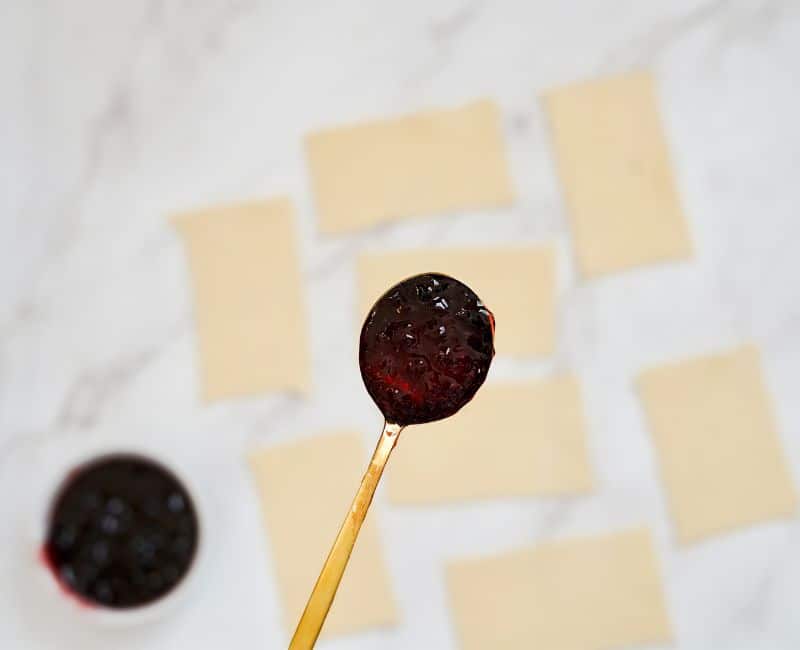 Then, place the unfilled rectangle on top of the jelly rectangles & press the edges together with a fork. This will give that pop-tart look.
This step is optional, but to ensure your pop tarts don't stick and tear in the air fryer, I suggest lightly spraying each pop tart with a non-stick cooking spray.
Place your filled pop tarts in the air fryer and cook for 5-8 minutes. These pop tarts cook pretty fast, so keep an eye on them to ensure they don't burn.
Once the edges are a nice golden brown, remove them from the air fryer and smother on some icing. Normally you'd want them to cool first so the icing doesn't melt, but we want that melted to dry icing texture.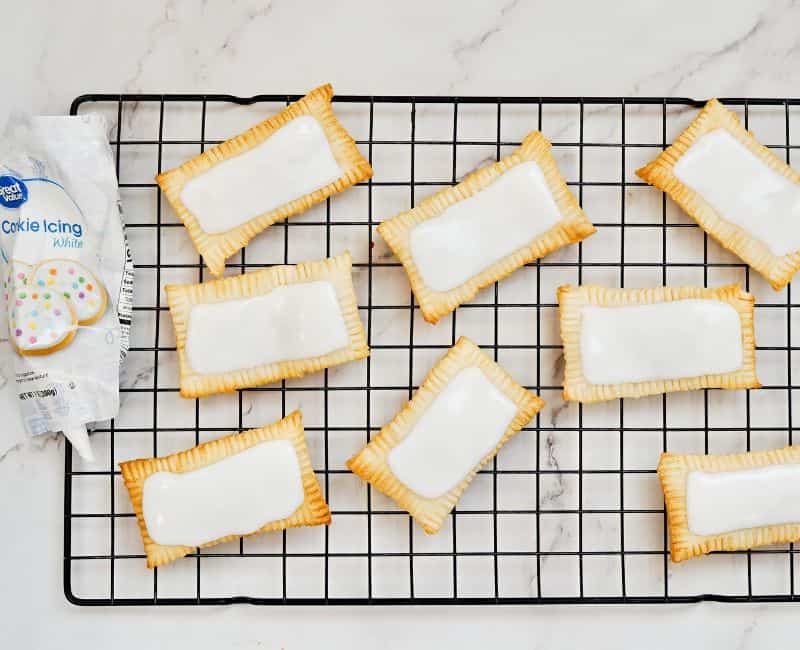 After you ice your pop tarts, add 3 chocolate chips down the middle to create the snowman's buttons.
Then, grab a marshmallow and stick two chocolate chips in to create the eyes.
Finish up your snowman's appearance with a candy corn nose and then bring him to life by sticking the marshmallow onto the poptart. The icing will hold it in place so don't worry about it falling off.
The last step? Serve 'em up & enjoy!
Snowman Pop Tart Frequently Asked Questions
How Do I Store These Pop-Tarts?
The best way to store these pop tarts is in a deep Tupperware like this one (to prevent the marshmallows from getting smashed).
I do not recommend freezing these pop tarts with marshmallows as they will become very soggy and lose their taste. You can keep them in the refrigerator if needed for up to 3 days.
How Long are These Snowman Pop Tarts Good For?
Because these pop tarts are made at home and are not packaged the way store-bought pop tarts are, I would not use them beyond 3-5 days.
What is the Best Jelly to Use In These Air Fryer Pop Tarts?
You can use any jelly you'd like! If you want to get extra creative, mix and match the jelly you use! Make some strawberry, then some grape, maybe some raspberry — the options are unlimited! Don't forget, these are toddler-approved so let your kids get hands-on and fill those pop tarts themself.
If you make these pop tarts, please tag me on social media so I can see how your festive fun snowman air fryer pop tarts turned out!