Surviving Christmas with a Newborn (a new mom's holiday survival guide)
This post may contain affiliate links that I may receive a commission from if you click & buy. In addition, the information on this site is NOT intended to be medical advice. See my full policy for more information.
If you had a baby or are due right before the holiday season, it's no surprise this can be a stressful time in any new mother's life. However, don't stress! I'm going to help you by sharing some helpful tips on surviving Christmas with a newborn that can pretty much be applied to any festive holiday.
One of my boys was born in the fall, I'm all too familiar with having a newborn right before all of the holidays hit. And yes, it was rough. I quickly learned that I had to set boundaries and stop trying to make everyone happy because my health (both physical and mental) was a priority. And guess what? Yours is too!
Having a newborn doesn't mean you have to completely forfeit all the holiday festivities though, there are plenty of fun ways to celebrate and make sure you and your baby are well taken care of.
Surviving Christmas with a Newborn: 10 Tips for Stress-Free Celebrating with Baby
Not only should Christmas time be enjoyable because it's the baby's first Christmas, but it's also YOUR first Christmas as a new mother.
You should enjoy all of the new family Christmas traditions to be made while also soaking up those newborn snuggles all to yourself. In order to do that, here are some helpful tips on surviving Christmas with a newborn.
1) Set Boundaries with Friends and Family Members
One of the hardest parts of becoming a mother is really embracing the new role as your own and feeling 100% confident about all of the decisions you've made. That means, being able to set crystal clear boundaries with friends and family so that your needs are being respected and validated.
What I mean is, having a new baby can trigger many worries and fears — and those worries are pretty darn valid concerns.
If you're not sure what type of boundaries to set, here's a list of ideas to get you started:
Will you allow family members to hold your newborn baby?
Are you ok if someone tried to offer your baby a bottle?
If there are any smokers in the family — will you ask them to smoke outside or far away from your baby?
When communicating these boundaries around this time of year, be mindful to give ample amount of time for people to process them. Don't show up and make tons of demands (despite them being reasonable and validated) it will likely only cause lots of tension. Instead, read out at least a few weeks prior so that those involved can soak it in and take the time needed to also process their feelings and make room to honor yours.
2) Prioritize Yours & Baby's Needs
As a postpartum mother, it's important to make sure you put your needs, your baby's needs, and your family's needs first. If you and your partner are running on 3 hours of sleep — just struggling to get through the day, then you shouldn't feel obligated to show up for a late-night gathering to please everyone else.
Is it really that much fun being sleep-deprived just to make the whole family happy you showed up?
It'll be an iconic moment when you're able to make plans that don't revolve around a tiny little baby's eating and sleep schedule, but for now, you have plenty of time to be selfish and soak in all those little moments in your new life.
3) Enjoy all of the First Experiences
Despite the holidays being a stressful time for many families, there are so many firsts you'll get to experience with your little one. For instance, my husband and I always did DIY Ugly Sweater Christmas photos every year from the minute we moved in with one another.
Once we had our first son and he got to be part of the holiday photos — it's now become a new family tradition that we do every year. We get the cutest matching pajamas from Target (they even have PJs for your pets), dress up, and take photos. That's just one example you can incorporate this holiday season during your first year as new parents.
You might also find some fun in incorporating your newborn baby into foot-stamping your holiday cards, have a newborn photoshoot of them in a cute Santa hat, begin the tradition of baby's handprint on a keepsake ornament and repeat every year with a new one. These are many more ideas you'll get to celebrate with your precious new baby.
4) Use a Postpartum Handbook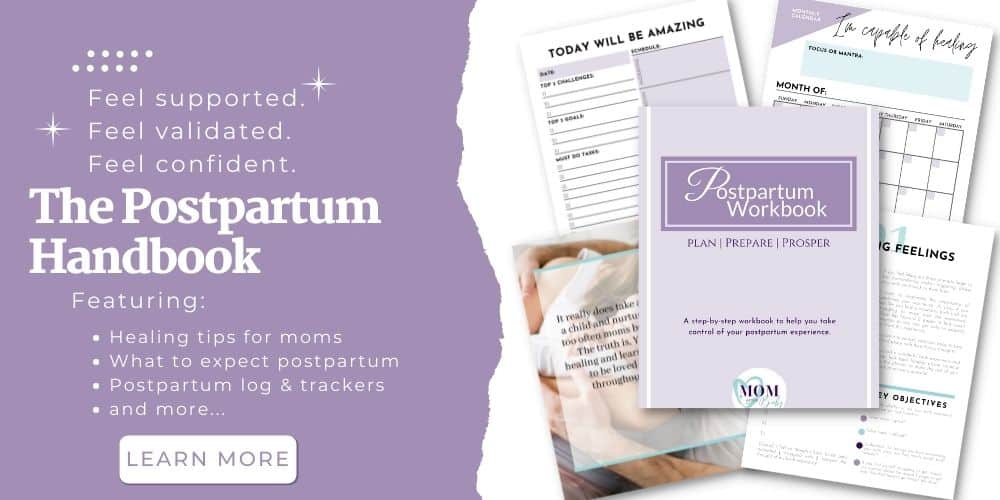 There is nothing truly straightforward or simple about postpartum. Postpartum is a time of healing, juggling, and learning. This is where a postpartum handbook/planner will come in handy. You'll be able to:
Keep track of all your doctor appointments (including baby's)
Keep your relationship with your partner strong
Help you feel supported throughout the fourth trimester
Remember, keeping your needs and baby's needs first are most important So if using a postpartum handbook like this can help you have all the resources you need as you heal — it's well worth it.
Not to mention, you have a lot going on (especially during the holidays); you'll need something to be your backup brain because it's really easy to forget a thing or two during this time. Plus, who said your printable postpartum calendar has to only include postpartum-related items? Jot in some fun holiday events if you're feeling up to it.
5) Have Help Lined Up
Knowing you're going to have a baby during one of the busiest times of the year gives you the advantage to plan for some help in advance!
This could mean inviting people over to delegate some household chores too, letting someone hold the baby so you can shower or get a few minutes of alone time, and even hiring help if it comes down to it. If you have holiday plans coming up, here are some ways extra help can…help:
Schedule some help to watch the baby while you get ready
Stock up on some flattering outfits (don't obsess on trying to squeeze into any small clothes, instead get some new ones that flatter your beautiful postpartum figure)
Opt for a white elephant or Secret Santa gift exchange to kick off the Christmas season (instead of trying to shop for tons of individual family members)
Sometimes, allowing help into your new world can feel difficult. You might feel a little shame or guilt, maybe embarrassment, but please just remember the phrase "it takes a village". Not just to raise a baby, but to care for a mother, too.
Newborn babies are difficult to raise when you're sleep-deprived, haven't talked to a friend in days, bleeding out of your down-there, still having cramps, and just overall feeling a bit overwhelmed. Take any help you can get (so long as the help is also respecting your boundaries and rules).
6) Come Prepared with Baby's Essentials
If you're planning to celebrate Christmas Day, Christmas Eve, or attend any other holiday gatherings with your loved ones, you'll want to be sure you come prepared with the best gear for your little bundle of joy.
We're not talking about just a stocked diaper bag, you'll need a few more items to ensure you're comfortable and not need to run home early (unless you want to).
Below are my personal favorite items that helped keep my sons and me comfortable during any kind of outings:
Pack and Play: Not only do these come in handy as a place for your baby to sleep in, but you can also safely rely on them as a place to set your baby down if you need to run to the bathroom or grab a quick snack to eat.
Slumberpod: This is great because it simply pops up over your pack and play and turns it into a completely blacked-out sleep zone for your baby. A perfect way to help them rest comfortably when on the go.
Portable white noise machine: If you're planning to be at a big gathering, a white noise machine can help drown out the outside noise of loud Christmas music or loud chatter so that your little one can actually rest without any interruption.
Breastfeeding nursing cover: If you plan to breastfeed your baby and there isn't a private room for you to use, you can quickly whip on your cover and begin feeding or simply disregard the cover and feed your baby. Either way, a nursing cover can always come in helpful as a blanket or a burp rag so you won't go wrong bringing it along.
Portable bottle warmer: If you're a formula mom, having a reliable baby bottle warmer can come in extra helpful in the event the holiday event is at a restaurant or place away from home.
Small baby monitor: If you will be at someone's home, a baby monitor can come in helpful so that you can have eyes and ears on the baby at all times.
Baby wrap or carrier: My first always wanted to be snuggled up to me all day long. That's why when we'd go out, I always had to have my reliable baby carrier so that my back wouldn't ache all day and it allowed me to be hands-free. Another great alternative (especially for breastfed newborns) is a baby ring sling! You can read more about why baby ring slings are so beneficial here.
This list won't guarantee your holiday celebration will go perfect, but it's a sure thing you'll be well prepared.
7) Breastfeeding Moms: Have a Reliable Breast Pump
There is nothing worst than going out to a holiday event just to find out your breast pump totally sucks (no pun intended) and won't fully empty your breasts. That's definitely not a good time, what gives?
Well, if you still need the 411 on how to pick out the best breast pump, you can check out this guide. If you just want to know which one is the best, hands down the Spectra S1 isn't just my favorite, it's a highly known favorite amongst many breastfeeding moms all over the world!
8) Breastfeeding Moms: Normalize Nursing Your Baby
If you're planning to breastfeed your baby, that's wonderful! You might feel a little nervous going into it knowing there are friends and family around, but there is no shame to be had for feeding your baby the way they were literally meant to eat.
If you're not quite ready to fully whip out the blood in front of your holiday guests, use a nursing cover to help you feel more discreet. If you can see if you can find a spot with some extra space so you can sit down and feel comfortable while nursing your baby out at a holiday celebration.
9) Include Baby in the Festivities
It's much easier to keep your newborn in a baby carrier or tucked away in their stroller during all of the festivities, but involving them from time to time is a good idea. What better time of joy than watching everyone shower your baby with love and Christmas cheer?
You don't need to pass your baby around all of the new people they just met, but if you're in the right place with the right people, let your little one look at the sparkly Christmas tree ornament dangling from a branch. You might be surprised by how mesmerized it could make them.
10) Take Advantage of Online Shopping
Going Christmas shopping actually isn't too bad. However, it can run those nerves a bit when you're desperately trying to find great Christmas gifts for everyone and your baby is in the middle of the "witching hour". A better way is to just utilize the internet and stick to online shopping.
Plus, you can have gifts shipped directly to the recipient or ship them to yourself so you can wrap them yourself. There will be plenty of holiday spirit going around whether you muster up the courage to go Christmas shopping during busy store hours or beat the crowds and lines by online shopping.
Some of the best online holiday deals can be found at Target, Walmart, and Amazon.
---
Celebrating Christmas with your newborn baby is a magical experience. There will be plenty of days you feel exhausted and tired, but you can plan them around your baby's schedule, seriously — don't feel bad. The good news is that with these tips to help survive Christmas with a newborn you'll be making beautiful memories with your growing family one new tradition at a time.
Read more breastfeeding articles here: