This post may contain affiliate links that I may receive a commission from if you click & buy. In addition, the information on this site is NOT intended to be medical advice. See my full policy for more information.
Looking for some delicious and easy-to-make breastfast ideas for your babies and toddlers? Look no further!
They say it's the most important meal of the day, which is particularly true for toddlers and babies. They need to be set up well for the full day of growing and learning ahead, so getting their breakfast right is vital.
If your toddler is beginning a home-based preschool, homeschool kid's meals can be a challenge, but these varied, tasty breakfast ideas can be put together in minutes, and your kids will absolutely love them!
Simple Breakfast Ideas for Babies
Baby Breakfast Idea #1 – Baked Oatmeal
Similar to the overnight oats above, you prepare this one the night before. This makes a tasty, nutritious breakfast for all the family, but is particularly well-suited for babies because it is soft and slightly sweetened.
Plus, it'll keep for ages, so it doesn't matter if your little one doesn't eat it all in one morning. Just get some raw oats and add whatever your baby will like; grated apple is often a winner, or maybe sliced raisins or diced dry mango. Whatever you choose, mix it up and chill it overnight, then bake in the morning. You can't go wrong!
Baby Breakfast Idea #2 – Sweet Potato Toast
A variation on standard toast, but with a little bit of prep required beforehand. Roast some sweet potatoes, then mash them and spread them on your baby's toast. Add a little nut butter or cream cheese to mix it up sometimes. If you (or, more importantly, your little one) prefer, use avocado instead of sweet potato. The covered toast can then be cut into strips or cubes to make it easier for the baby to eat.
Baby Breakfast Idea #3 – Fruit & Cheese
Another simple, but tasty option that requires no cooking at all is fruit and cheese! To really spruce it up, you can use little sandwich cutters like these ones to cut your own blocks of cheese into cute shapes.
Allowing your baby to eat foods in different shapes and textures is excellent for their fine motor and sensory development.
More Breakfast Ideas for Babies:
Simple Breakfast Ideas for Toddlers
Toddler Breakfast Idea #1 – Overnight Oats for Toddlers
Thi recipe is extra simple and packs a ton of flavor for picky little eaters. Simply mix some yogurt, fruit, and oats in a container and leave them in the refrigerator overnight.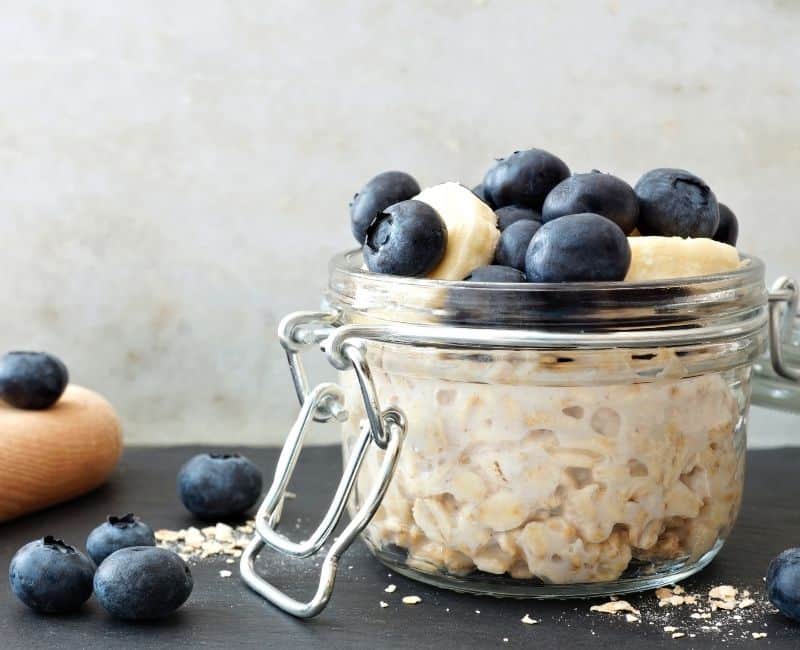 The mixture is thick and delicious by breakfast time, making it ideal for toddlers to scoop up with their favorite spoon and enjoy. Natural yogurt is recommended for nutritional purposes, but you can try different types. For the fruit, parents tend to use berries (e.g blueberries or raspberries – because why doesn't love berries?), but you can get creative and add literally anything your toddler might like!
Toddler Breakfast Idea #2 – Breakfast Quesadillas
Get some beans, spinach, and melted cheese on a tortilla — warm it up on a pan, and you have a delicious savory breakfast. You can add some ham or jerky or change which vegetables you use to keep it varied. There are loads of options for these, and they always go down really well! If you don't have a skillet or sandwich toaster, you can always cheat by warming them through in the microwave.
Toddler Breakfast Idea #3 – Breakfast Omelette
Omelets are awesome because you can add lots of veggies and ingredients your kiddo wouldn't normally eat on their own. They're also super easy to whip up!
Simply spray a pan with non-stick coating and heat on medium, add in whipped egg mixture, once the bottom is cooked – flip over and cook the other side. This is when you'd add in your vegetables, cheese, and flavors. Then flip half of the omelet to cover the contents inside. Wait for it to cool down and enjoy!
More Breakfast Ideas for Toddlers:
Why breakfast is important for babies and toddlers
Breakfast is an important meal for babies and toddlers. After all, it's the first meal they will eat for the day, and rely on it to be full of nutritious foods that taste delicious.
Choosing carbohydrate-rich foods with a quality protein source paired with some healthy fats for your little ones to enjoy in the morning can is the perfect way for them to feel energized and ready for their day.
The best foods to give your baby or toddler for breakfast
Below is a list of healthy breakfast food choices that you can offer to your child in the mornings to set them up for nutritional success. Try to include one food from each category and you'll be on the way to serving up a healthy breakfast for your babies and toddlers.
Carbohydrate-rich foods:
Whole wheat breads
Fruits
Whole grain cereals
Vegetables (such as broccoli, carrots, corn, sweet potatoes)
Protein-rich foods:
Eggs
Nut Butters (check with your pediatrician about allergen exposure and risks)
Yogurt
Cheese
Tofu
Soft Cooked Lentils
Healthy fat foods:
Avocado
Seeds
Whole Cow's Milk
Flax
Coconut Oil
Olive Oil
All of the foods above can easily be combined into a simple recipe for your baby or toddler's breakfast.
I love making egg breakfast muffins for both of my young boys. It typically includes egg, cheese, a grated vegetable of choice, and light seasoning to give it some flavor. Each time, my kids (who can be incredibly picky at times) eat their breakfast muffins and never make a fuss!
What are your go-to breakfast ideas for babies and toddlers? Leave us a comment below!
Read more pregnancy articles here: