This post may contain affiliate links that I may receive a commission from if you click & buy. In addition, the information on this site is NOT intended to be medical advice. See my full policy for more information.
Finding the best nursing tops to wear when you're a nursing or pumping mom can be hard to come by.
Often times we're forced to choose between high quality and expensive nursing tops or cheaply made, but affordable tops!
This shouldn't be our only option.
Which is why with my 2nd baby, I made it a point to find the BEST nursing tops you can stock up on and I promise, it won't cost you a fortune to do so!
What is a nursing top?
Nursing tops are GREAT shirts to have if you nurse or pump for your baby.
They typically have a side slit, lift-up or pull-down designs that allow you full access to your breast.
Most are all designed to be very discreet for you to nurse your baby or pump for them.
Nursing tops come in a variety ot styles, including dresses!
You can find some breastfeeding shirts better suited for large breasts while others have a more universal fit.
Like any clothing, it definitely just depends on your comfort.
Benefits of using a nursing top
Using a nursing top is great if you prefer easy access to your breasts.
Especially, if you are running errands and need to feed your baby or pump on the go.
While at home, you can relax in pretty much anything you want/
When you're out in public, you have to wear clothing which sometimes can make it harder to feed baby and have access to your breasts.
Regardless, you can probably get away with SOME regular shirts depending on their design.
For instance, this super loose fitting deep v-neck henley could probably double as a nursing top since you can easily unbutton the top, and pull your breast out through the deep v-neck cut.
The Best Nursing Tops That DON'T Cost A Fortune
It's no secret that maternity clothing in addition to comfortable clothing postpartum tends to be pretty expensive if you opt for something of high quality. There seems to be no in between or is there?
Lucky for you, I'm going to share my FAVORITE nursing tops that are high quality AND 100% affordable.
This tank is the BEST because it literally turns ANY nursing bra into a nursing tank.
Yup, you heard that right!
You no longer have to wear a nursing bra with clasps AND THEN a nursing tank with clasps, ugh, how uncomfortable, right?!
Instead, you get one tank with 2 easy attachable loops that can connect to any nursing bra you own! If it sounds too good to be true (don't worry, I thought so too), check out the video of these tanks in action below!
This clip down cami is one of my all-time favorites because it is USUALLY on sale for less than $20 and it doubles as a maternity or nursing top!
The fabric is soft but stretchy making it a comfortable tank to wear postpartum as well.
These tank tops have more of a loose fit and come in a 2 pack. The design of the slit makes it a great option for larger breasts too!
I personally like it when you can get shirts in pairs like this because it saves you a little bit more money MOST of the time.
Kindred Bravely flat out just makes very comfortable and high quality clothing.
The unfortunate thing is, I do consider it to be a bit on the pricier side when it comes to others.
However, you really can't compete with the comfort that you get with this tank. And if you want to try it out for yourself, simply head over to Kindred Bravely's page & use code: Brave20 to save 20% off your order (note that some exclusions do apply & can be found on their site).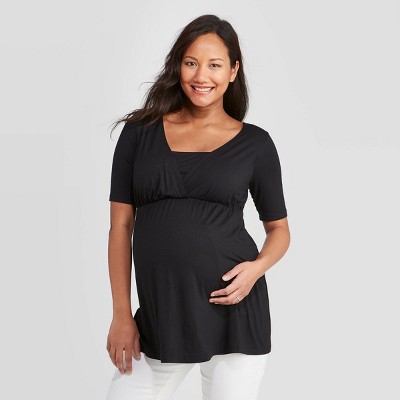 This nursing top is comfortable and fashionable because you can wear it if you're lounging around the house or if you're going out on a date night with your partner!
One of my favorite finds from my local Target was this affordable and versatile nursing top!
Undercover Mama does it AGAIN!
With their unique design of shirts that can easily attach to your nursing bra for superior comfort and turn the days of ruffling through layers of clothing into a thing of the past, this nursing shirt is a MUST!
I also love that the design is pretty flattering to ALL shapes & sizes.
As someone with a shorter torso and large breasts, finding comfortable and flattering tops can be tough, but Undercover Mama's Nursing Shirt eliminated that problem for me.
And of course the best part? You get a soft, breathable top for an affordable price! Can't beat that ladies!
Oh and did I mention it comes is some of the cutest colors and designs??? Check them all out here!
If you're looking for a way to stay warm and cozy this fall or winter, this is hands down the best sweatshirt style nursing top!
It has an easy lift up access whether you're pumping or nursing baby and the material is very breathable and lightweight so you won't end up being a sweaty hot mess thanks to those hormones lol.
If you need a nursing top you can easily dress up or down, this cute flowy top is a must!
It has cute little side buttons along the waist side & features a side slit opening to nurse or pump.
The ONE downside is that I've found most side slit openings are harder to get your full breast out of (especially if you have larger breasts like myself). Just something to be mindful of.
This pull or lift up nursing top has a cute style and sits comfortably when worn.
If you're into the stripes and/or color block style of shirts, you'll love this one too!
It definitely is one of the more stylish of the list and goes really well with a cute pair of jeans!
The BEST Nursing tank tops for large breasts
Ok, so here's the moment of truth! Nursing tank tops that are actually supportive for large breasts!
I know how hard it can be to find a nursing top that comfortable, let alone supportive, but I compiled my personal favorites below & I know you'll love them too!
Hands down the BEST tank for large breast nursing moms.
I know I have their nursing & pumping tank listed above, but with it comes to larger breasts I feel like the double tank is a little busier up top causing it to feel more restricted.
This tank, on the other hand, has the perfect amount of support, allows you to nurse baby comfortable and if you needed to you could always slip on a pumping bra for some hands-free pumping.
My 2nd favorite is this set of cami tank tops. I love the design because it does a great job of providing support and coverage.
The one "con" is that the tank isn't padded & the material is thin enough that I feel the need to wear a light nursing bra, but if you don't mind that it probably won't even bother you at all!
All in all, these are an excellent price for 3 nursing tank tops!
Lastly, these nursing tops round out the 3rd place slot in my book for large and in charge nursing boobs!
I love the material being very sleek & soft, they're not a "loose" fit, but also not too snug either, just very comfortable.
I didn't find them supportive enough to wear alone when going out and about, but at home, they did the job well. For the price, you really can't beat em'.
Read more breastfeeding articles here: