Important things to do before baby arrives
This post may contain affiliate links that I may receive a commission from if you click & buy. In addition, the information on this site is NOT intended to be medical advice. See my full policy for more information.
After having one baby and currently pregnant with another, I'm at the stage where I'm preparing all the important things to do before baby arrives.
This means I'm getting my baby registry together, preparing for the baby shower, getting the new nursery all set up, preparing to pack my hospital bag, scheduling maternity photos, and more!
If this is your first little one, it's important to know that the things in this list SHOULD be done a few weeks before your due date. Why?
Well, labor & delivery time is going to be overwhelming. And trust me, you're NOT going to want to have leftover things to do after your newborn baby is born.
This list might be a little long, so if you need to, be sure to bookmark or save it to your favorite Pinterest board so you can come back to it later!
What do I need to do before baby arrives?
1. Get baby's nursery ready to use
Although you may not plan to use the nursery for a few months, having it set up and ready to go is a major task lifted off your shoulders!
If you need some ideas of nursery themes, check out this post featuring some cute baby nursery themes & ideas!
Keep in mind some smaller essentials for baby's nursery should include:
2. Learn about breastfeeding EARLY
If you're planning to breastfeed your baby at all – be sure to prepare. Breastfeeding doesn't always come easily for mamas. You could deal with breast milk supply issues, latching issues, etc….
Hence the importance of educating yourself as much as possible and how can you do that?
Take an in-person breastfeeding class – typically done through your hospital or medical insurance
3. Set your bills to auto-pay
This is a big one – NOBODY wants to be worrying or thinking about logging into some annoying bill pay website while trying to calm a crying baby.
Nope. Just flat out NOPE.
The resolution? Set those bills to auto-pay!
Go through your monthly bills, simply switch on the auto-pay and make sure you also sign up for the confirmation emails (this way you can see your bill get processed).
4. Sterilize & clean the baby supplies
Whether you have brand new baby bottles, pacifiers, breast pump supplies, or baby blankets – you'll want to be sure they're fresh and cleaned up before baby is born!
What I did, is I used the Medela Sterilizing bags to sterilize our bottles, pacifiers, and breast pump supplies.
Then I went through and washed all his laundry with my favorite baby detergent.
5. Stock up on household essentials
Having a newborn baby means spending your time feeding, changing and running around to get things done when the baby is napping.
SO. You should definitely look into stocking up on your most used household essentials, at least 2-4 weeks worth before baby arrives.
Some of the items we stocked up on:
Breast milk storage bags (if you're saving breast milk)
Dog food kibble (for our 2 big doggies)
Laundry Detergent/Softener
You get the idea, stock up on the things you'll be using daily and could possibly run out of.
6. Prepare for maternity leave
If you're a working mama, make sure you get all the legal documents from your HR department as soon as you disclose your pregnancy.
This way, it'll allow you the time to see what kind of maternity leave policy your company has and plan your time off accordingly.
Some of the coworkers I had when I use to work from an employer had taken 2 weeks off before birth and a couple after birth, then with the state of California's paid time off policy, was able to get a few additional weeks.
Here's a couple of helpful resources you can use when it comes to preparing for maternity leave (as it'll depend on your workplace and where you live):
7. Schedule your hospital tour
If your birth hospital or facility offers a tour (which they should), schedule it!
You'll want to know all about the particulars like:
Where to go in the event of an emergency
Plus, you'll be able to ask any specifics while you're there
And most hospitals will allow you to preregister during your tour to avoid any paperwork during your actual stay which is SUPER convenient!
8. Make or stock up on some ready-made meals
We talked about buying some easy frozen meals above, but if you have the time, you can prepare yourself some ready-made frozen meals long before your baby is here!
Some easy ideas would be crockpot meals, microwavable meals, or something to stick in the oven and call it good!
Nothing better than saving time when you have a newborn!
9. Take a birth class
This one is EXTRA important! I'm going to be honest – I did NOT take a birth class and I so wish I did.
I took a birth class AFTER my son was born in an effort to learn more about the birthing process and holy moly was this information I wish I had known the first time around.
Now that I'm prepping for baby number 2, I feel beyond prepared whether I end up having a vaginal or cesarean.
But if you have a specific plan (which it's always important to be mindful that sometimes birth doesn't go as planned), I'd suggest educating yourself on as much birthing information as you can!
You can check out this post about 'How to Prepare for Labor & Delivery' or you can check out the birth classes I took after (and highly suggest):
10. Make yourself an after birth plan
Failing to prepare for life after birth is something many moms do. Not to their fault, it's just not really talked about enough.
That's why I always make it a point to emphasize the importance of making yourself a postpartum care plan.
You can learn and prepare for things like your recovery experience, the emotional changes you'll be feeling, how to care for baby and more!
In fact, I even put together an ENTIRE Postpartum guide/ebook to help new moms (and their partners) be prepared for what life after birth throws their way!
What should a husband do before baby is born?
The BIGGEST thing your partner can do to help prepare for baby is to offer support.
This means going to birth/breastfeeding classes (or watching them online) with you, helping you prepare the nursery, maybe help prep some meals, and be a shoulder to lean on throughout the different stages of pregnancy,
In addition, it's important they feel their ability to communicate to you if their needs are also needing to be met.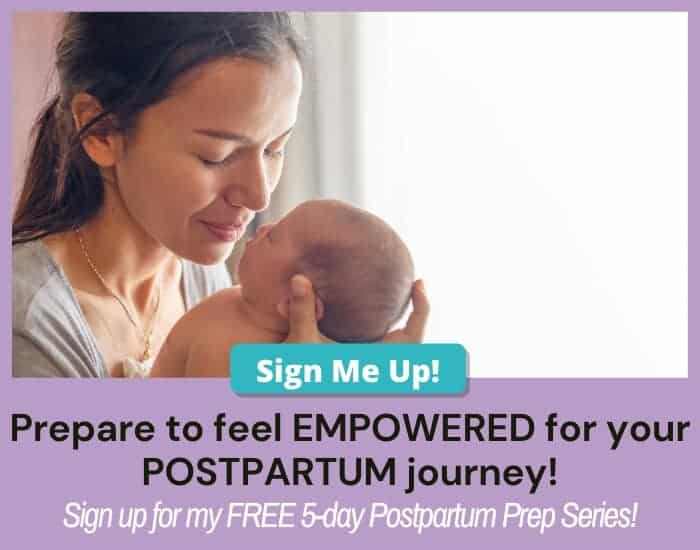 When should I start buying baby stuff?
My personal preference is to start buying things AFTER you find out the gender which tends to be around 18-20 weeks.
The other thing I wait for is the baby shower. I wouldn't want to end up with 2 of the same items because I decided to splurge and then someone else gets the same item.
Of course, if you anticipate not getting many gifts then you can totally plan ahead and get the things you need whenever the store is having a sale, maybe you have a promo code or simply because you need it.
List of things to buy when pregnant
Some of the items you'll probably find yourself on the market to buy for baby (or add to your registry) include:
Changing table/dresser combo
Breastfeeding or bottle supplies
We personally did the majority of our shopping online at Amazon or Target (thanks to their sweet baby registry deals).
Best place to go baby shopping
Honestly, I'm a big fan of online shopping. ESPECIALLY when there's free shipping involved!
It takes the work out of having to go lug the items around at the store, but then the downside is you don't get to see them in person.
However, I do think there's far more pros to cons, so the stores we loved when baby shopping included:
Things to prepare before delivery
The FINAL things you'll want to prepare before your baby's delivery is:
Make sure you install the car seat a few weeks before your due date
Have your baby monitor system set up
Have a support team lined up in case you need it (something you can do when you prep your postpartum care plan)
Important things to do before baby arrives – Recap
Preparing for your little bundle of joy's big debut can be overwhelming, but as long as you follow this list, you'll be ready for baby!
Remember, the goal is to make your day to day life EASIER after baby arrives. This way you're not being pulled in 8-million different directions.
So take a look at your day to day and figure out what you can condense, delegate or even eliminate from the schedule!
Did you find ' Important Things to do Before Baby Arrives' helpful?
If so – please SHARE on your favorite social media page!