Labor Tips for Moms Nervous About Giving Birth for The First Time
This post may contain affiliate links that I may receive a commission from if you click & buy. In addition, the information on this site is NOT intended to be medical advice. See my full policy for more information.
Are you a pregnant mother with a legit fear of childbirth? I mean, you actually feel nervous about giving birth for the first time — so much that you're here, at 3AM reading this article? I was once you too.
Maybe it's the fear of not having a "normal birth" (*ahem* all births are normal) and needing a cesarean section. Maybe it's the fear of not having enough pain relief during labor.
Maybe it's because the birth process is a beautiful act of strength and feeling completely terrified all at once.
If you're feeling those jitterbugs and self-doubt comin' in hot, I want you to know that no matter how your birth experience turns out — you're one heck of a mama.
I also want you to know that this article is LOADED with tips to help you prepare for labor and delivery from an actual L&D nurse. Her name is Liesel Teen, and you might recognize her as @mommy.labornurse on Instagram! Liesel is a labor & delivery nurse who helps educate moms about birth and what's to come! She also has a WEALTH of birth information on her blog, MommyLaborNurse.
DISCLAIMER: This post is for information and educational purposes ONLY & does not constitute medical advice by any means. If you think you need medical attention, please consult with your medical provider!
What exactly does "going into labor" mean?
Labor in itself is the act of your uterus contracting to end with birthing a baby! Aka: Childbirth!
Labor includes 3 stages: early labor, active labor, and transition. Most first-time moms can expect to be in labor for an average of 12-19 hours (give or take some).
Knowing that, most first-time moms have plenty of time to get to the hospital or birthing center once early labor has begun.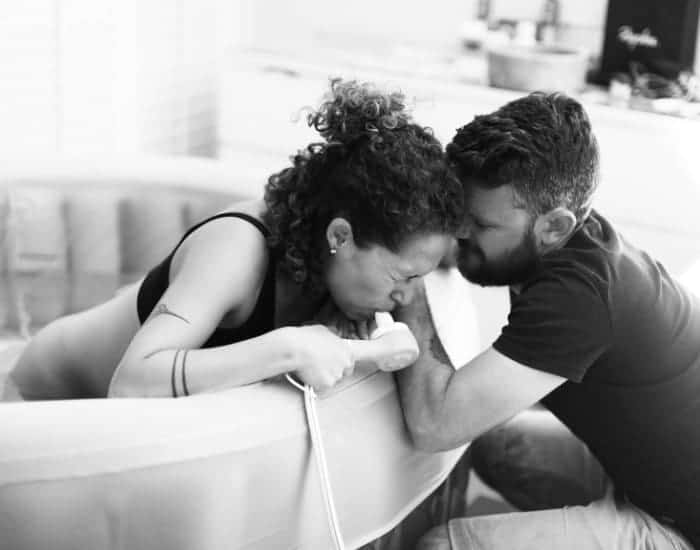 What are the first signs of labor approaching?
Typically, some of the best ways and early signs that indicate labor is near or approaching include:
Strong & Frequent/Increasing Contractions
Intensified pain of contractions
Baby "drops" lower towards the pelvis
You lose your mucous plug
Your water breaks
If you're experiencing signs or symptoms that feel like you could be going into labor, it's a good idea to call your doctor or midwife right away and let them know what you're experiencing.
You can read more about the signs indicating labor could start ANY Day!
When should I go to the hospital for labor?
It's important to know that "when" you should go to the hospital for labor will vary per person. You should also be thinking about your commute to the hospital, will there be traffic, do you know where to park, etc…
The rule of thumb is that once you're in "active labor", you should be on your way or at the hospital.
If you're having a home birth, you will likely be in contact with your midwife during this time and she will be there guiding you through the process.
If this is your first pregnancy and you are feeling a little flustered and unsure when to head out to the hospital, simply give your healthcare team a call (or better yet, ask your partner to call for you) and they will provide extra support to help you determine when to head into the hospital.
When to start pushing during labor?
Typically, you will start pushing your baby out once you're 10cm dilated and your body is ready to get that baby out!
The wait time between labor and pushing can sometimes seem like an eternity, but eventually, it will happen!
Once you begin pushing, your doctor or nurses will likely help you to pace and breathe through each push. Timing it along with those hefty contractions so that each push is effective and you're not just tiring yourself out.
On average, most first-time moms push anywhere from 2-3 hours.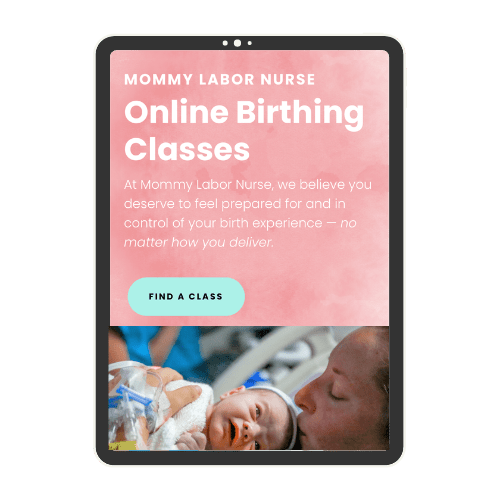 Have you taken a birth class yet?
Now…you can take it FROM HOME & prepare yourself (and even your partner) for childbirth.
And don't forget, after you're done pushing out your sweet baby, you still have to deliver that placenta! This typically happens within 30 mins or less after your baby is born.
This means you will likely continue to have contractions, in fact, until your uterus shrinks back down to its normal size over the next few weeks, you will continue to have uterine contractions. Just know they shouldn't be nearly as intense as birthing contractions.
For me, they felt more like intense menstrual cramps, but nothing worst.
What should moms expect after they deliver their baby?
Although I love the idea of preparing and educating moms so they can minimize their fear of the unknown when it comes to giving birth, there also are some aspects we simply can't be 100% prepared for.
Such as the after birth experience.
For some mothers, they will feel relief, happiness, and joy as they hold their newborn babies close and finally embrace them after carrying them in the womb the last 8-9 months.
For other mothers, they might have feelings of sadness due to their hormones or perinatal/postpartum depression. It might even take these mothers longer to feel any sort of connection with their infants — and that's ok.
And let's also not forget about the mother's who may experience some form of trauma or loss. For these moms, the postpartum period often is not an easy or joyous time, however, with the proper help and emotional support from experts, they can learn how to sit with their feelings and eventually move through them while honoring all the beautiful moments of motherhood in between.
In general, here are a few common occurrences moms may experience after giving birth:
Menstrual-like cramps or pain as they deliver the placenta & their uterus begins shrinking back down.
Feelings of sadness due to the baby blues.
Embracing in skin-to-skin contact with baby.
Latching and breastfeeding baby for the first time.
If there was any tearing involved, you will be sutured after you deliver.
If you had a c-section, you'll be able to see your baby and then be moved into recovery with them.
Obvious body changes (fuller breasts, loose skin, stretch marks, bleeding etc..)
Tips for Moms Who Are Nervous About Giving Birth for The First Time (from a Labor & Delivery Nurse)
It was a pleasure chatting with Liesel Teen of Mommy Labor Nurse to ask some questions about Labor & Delivery and hear her take as an experienced Labor Nurse. So get ready to ease those birth fears!
Preparing for labor & delivery can leave you feeling good, but also open up a lot of doors for even more questions. Here's the 4-1-1 from an actual labor & delivery nurse to help you ease your fear of birth.
Connect with Liesel Teen aka Mommy Labor Nurse on her social media pages below:
Are you an expert or professional in the prenatal or postpartum world? Would you like to do an interview with me and share your story with others?
Preparing for Labor and Delivery Recap
Be sure to pay attention to those early signs when labor is near, if you're ever concerned, call your provider immediately!
As soon as you reach active labor, notify your hospital or midwife.
Getting an epidural is 100% your decision!
Utilizing different birthing positions is also your decision, EDUCATE yourself as much as possible so you are comfortable voicing these preferences with your provider ahead of time!
From Liesel herself, "Educate yourself! Knowledge is power, and knowledge also brings confidence".
Hope you enjoyed this post about 'Preparing for Labor and Delivery'!
Don't forget, if you enjoyed this post, please SHARE to your favorite Pinterest Board to share the knowledge!