Christmas Stocking Stuffers for Baby
This post may contain affiliate links that I may receive a commission from if you click & buy. In addition, the information on this site is NOT intended to be medical advice. See my full policy for more information.
It's the most, wonderful time, of the year! Christmas is coming up fast and this year if you welcomed a new baby to the family or have a family member that did, this list will help you gift the BEST Christmas stocking stuffers for baby!
One of the most exciting parts of Christmas with little ones is making memories through traditions. This includes putting up your holiday decor, decorating your Christmas stockings, baking cookies for Santa, and even sending out holiday cards.
However, you might be wondering…what kinds of gifts should I put in my baby's stocking? The good part is babies won't remember their gift. Even if it's a total flop, you're in the clear. If you still want to make it a memorable experience, here are the best Christmas stocking stuffers for baby.
Best Christmas Stocking Stuffers for Baby
Soft baby teething toys
Teething toys make a GREAT gift for baby's Christmas stocking! Why? Because they will teethe for what feel like forever & they will need relief.
If your little one is around the age of 4 months – 13 months old, I'd say finding a teething toy in the stocking is a wonderful gift!
Baby rattles and squeeze toys
Babies LOVE toys that make silly noises and have fun textures! That's what makes rattles and squeeze toys such a fun stocking stuffer for all babies.
This baby rattle set would be perfect for little ones as young as 3 months old and as old as 9 months old!
Lovevery Subscription Play Kit
You won't be able to fit this entire kit into your baby's stocking, but you can put some of the toys inside to make it extra fun to open up!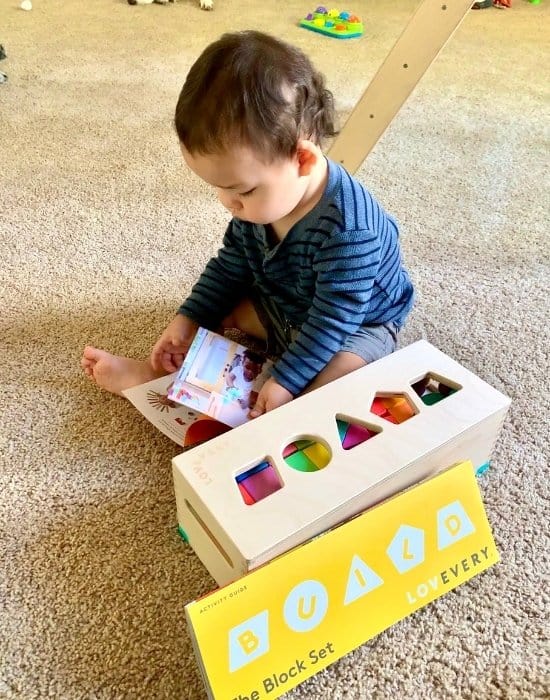 Lovevery provides Montessori-inspired play kits delivered to your home. Their kits include toys that encourage developmentally appropriate play based on their age. We LOVE Lovevery and I bet your littles will too. In case you're wondering, this is hands down my FAVORITE Christmas stocking stuffer for baby!
Baby's First Soft Books
Soft baby books make a great gift because they're fun to look at, fun to crinkle and eventually your baby will learn to read these words!
On top of having an entertaining new toy for your baby, you're also exposing them to soft books perfect for their development! Great for littles 4 months old to 12 months old.
Bath Toys for baby
Make bath time more fun & entertaining with a fun set of bath toys!
Once we started taking baths in the tub (around the 5 to 6-month-old mark) we realized we needed to kick up the entertainment. These bath toys have kept our little dude SO entertained and content for many months, which is why I personally recommend them to everyone!
Baby Einstein Playful Discoveries
Encourage baby to learn with these developmentally fun and educational toys & books with Baby Einstein's Playful Discoveries.
Silicone Baby Bibs
Silicone baby bibs are a lifesaver for any parent if you aren't a fan of messy mealtime!
Plus, they're travel-friendly! Simply roll them up, stick em' in your diaper bag and you're good to go! We use these all the time, even when we go out to eat and I swear by them forever!
Baby footed pajamas
Since it's winter and will likely be cold for a couple more months, staying warm with some cute footed pajamas is always a good idea!
Portable White Noise Machine
The white noise machine can go hand in hand with toddler gifts just so you know.
If you haven't read my post about HOW AMAZING white noise machines are to help your baby fall asleep, I suggest checking it out!
Baby block shape sorter
Shape sorter toys are a great way to expose baby to new textures and challenge their developing little brains to problem solve.
Not only is it a great toy for babies, but you might find your toddler having fun with it too!
Good quality sleep sack
We've used our fair share of sleep sacks for our little guy. The one that blew me away the most and changed the name of the game relating to sleep is the Woolino Sleep Bag!
I wrote a full review on this sleep sack so you can check it out here for more details, but it's amazing. Every baby or toddler deserves this in their stocking.
Baby Training Toothbrush
Eventually, our babies will need to learn how to brush their teeth! What better way to get them acquainted than by using a training toothbrush!
We absolutely love these small banana-shaped toothbrushes because they have handles, making it perfect for your little one to hold onto and it has rubber bristles making it extra comfortable on their little teething gums!
These are small enough to throw 1-2 packs in your baby's stocking for Christmas.
Touch and Feel Baby Board Book
My son has always loved touch and feel books. They're great for providing sensory stimuli with various textures.
Not to mention the bright photos and drawings. Stock up on a couple of touch and feel board books for your little one this holiday season.
Veggie Finger Paint
What better way to get your baby's sensory needs met than by a little finger painting. Yes, it might be messy, but it's so worth it!
Believe it or not, our children learn best when they're able to play and explore all their senses. Even when it ends in a big mess. Don't worry though, these paints are not only made from Vegetables, but they're also very easy to clean up too!
Spin and Learn Steering Wheel
This interactive and educational toy is perfect for babies 6 to 36 months old.
Helping your baby learn about colors, numbers, shapes, and even feelings (and there's even more) — it's no wonder this toy has won a few awards for being a top choice!
---
Which of these Christmas stocking stuffers for baby do you think your little one will love?
Read more holiday articles here: