This post may contain affiliate links that I may receive a commission from if you click & buy. In addition, the information on this site is NOT intended to be medical advice. See my full policy for more information.
Tired of spending tons of money on fancy toys your baby has zero interest in? This Montessori toy subscription box was created to support your child's development. Backed by research and award-winning, your baby or toddler will never get bored with these sustainable and natural toys delivered to your doorstep each month.
What is Montessori? What are Montessori Toys?
The method of Montessori was created by Maria Montessori, an Italian physician back in 1897. The Montessori philosophy is a whole-child approach that encourages thoughtful and natural play to support their social, emotional. cognitive, and physical development.
These days, the concept of Montessori play has evolved. However, when it comes to selecting a Montessori toy, there are a few things to look for to ensure they support the original Montessori philosophy:
Simple toys and materials that will allow your child to engage in open-ended play.
Appropriately sized toys for your child so they can play at their fullest potential.
Toys made from natural materials like wood, cotton, wool, or metal — in an effort to encourage natural curiosity and exploration of their common surroundings.
Toys that promote one learned skill at a time to ensure the skill is correctly mastered according to their age and developmental capabilities (fine motor toys, board books, hand-eye coordination toys, etc…).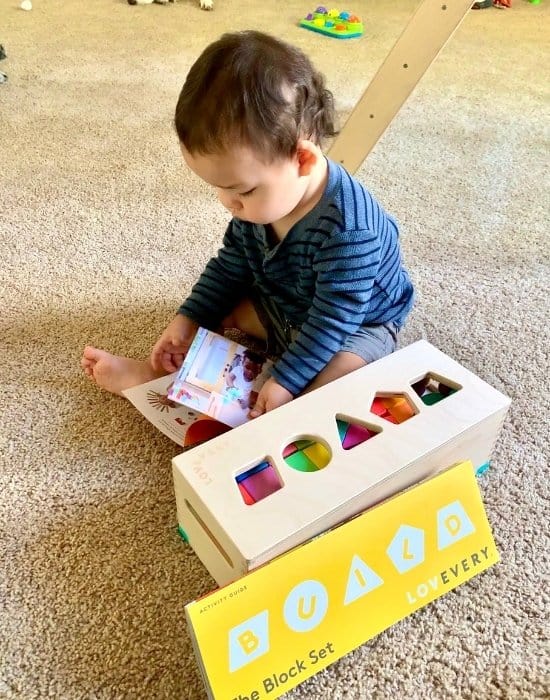 Lovevery: The Best Montessori Toy Subscription Box
Finding Montessori-based toys can be difficult because there are a variety of interpretations these days. Thankfully, Lovevery sets the standard high with their Montessori Toy Subscription box. They have boxes for newborn babies all the way to children as old as 4 years of age. In fact, you may know them for one of their most popular products, The Play Gym (for babies & young toddlers)
Ready to support your child's brain development through natural play and learning? Try >> LOVEVERY << today!
Types of Toys
Lovevery creates toys that are crafted to meet your child at the exact stage of their development. For example, a 3 to 4-month-old baby will be developing skills that allow them to recognize faces and begin bringing objects to their mouth. The Lovevery box for this age includes toys to aid in this very specific developmental stage, such as:
Knowing that finding Montessori based toys can be difficult to find, you can take the hassle out of wondering and feel confident your child is getting high-quality new toys delivered every month thanks to Lovevery.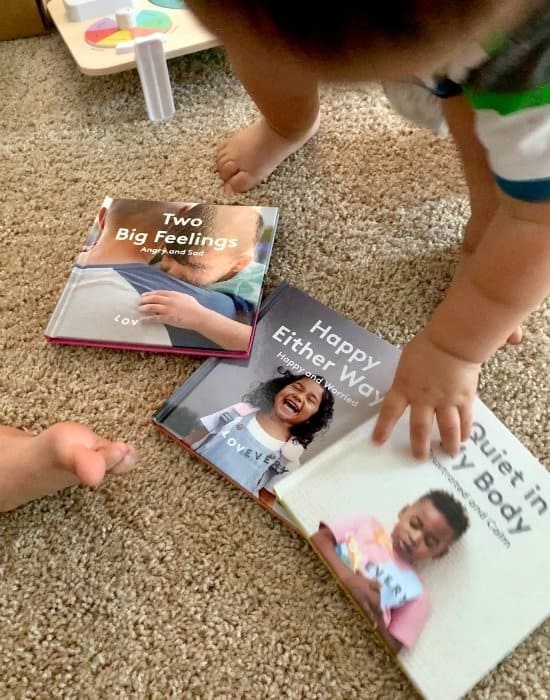 Benefits of Montessori
The Montessori approach greatly values and promotes your child's independence. It gives them the freedom to lead through play and learn what they want at their own pace.
When it comes to Montessori, it's important to remember (as with any method of learning) that Montessori educators should be thoroughly trained in order to convey the philosophy.
Other benefits of Montessori play include:
Inclusive of special needs
Addresses key developmental skills that meet the child's age
Encourages creativity, imagination, and problem-solving
Allows children to foster independence while being aware of their surroundings and willingly partake in helping others
These Montessori benefits aren't the only reasons that make it great. Many child development experts (like those at Lovevery) strongly support and believe in stage-based play that supports learning and your child's brain development.
Did you know, in 2017, one study actually showed that 70 students (out of 140) who attended a Montessori preschool at the age of 3 ended up advancing more rapidly in math and literacy over a 3 year span compared to those that attended a non-Montessori preschool. Pretty interesting if you ask me!
Benefits of a Subscription Box
So, you want to give Montessori play a try, great! How can you go about doing that? The easiest (and likely most affordable way) is to consider a Montessori method subscription service like Lovevery!
Plus, with a subscription service, you'll never have to worry about going out and looking for new toys. Enjoy the minimalism of having a select amount of toys delivered to your home every 2 to 3 months. Saving you a little bit of money and a shopping trip to the toy store.
When I first received my Lovevery play kits (a toddler play kit for my 3-year-old and a block set for my 1-year-old) I couldn't believe how fun these simple, natural, and developmentally appropriate toys were for us to play with. I mean, we had so much fun!
My 3 year old's kit came with this neat little modular playhouse (along with some wooden toy accessories) that offered an endless amount of open-ended play. First, we started by driving our little wooden car in and out of the garage. Eventually, we used the ramp it came with and began "racing" our car down the ramp.
The box also came with play essentials to help promote social-emotional learning which I loved. Mostly because my son is autistic with a speech delay, so he naturally struggles with understanding his big feelings as well as trying to communicate them. These toys not only provided a visual representation of feelings and emotions but a way for us to play with them in a very natural form for him to understand and have fun with.
Our Lovevery Montessori Toy Subscription Review
There is one word that comes to mind when I think of Lovevery toys: QUALITY. I have never bought a toy for my kids that resembled this high of quality, even those with expensive price tags.
The wooden toys felt solid and smooth. Not a single chip off the color anywhere (even after going through some rough and tumble type play with my boys). The picture books are very vibrant with realistic and relatable photos/scenarios. Despite these boxes being "expensive", you sure do get your money's worth. Think of it this way, would you rather have a cheap toy that will break in a few weeks or a quality toy that could last months to years?
Lovevery sets parents and children up for playtime success. What I mean is, each box comes with a handy little play guide that guides you through the purpose of every single item in your box. This includes how to use the toys, play scenarios to try, and additional tips to support your child's concurrent developmental skills.
The price of these play kits can be expensive and truthfully if you don't have room for them in your budget, you don't need to feel bad. There are definitely other ways to incorporate the Montessori method without a subscription box, they just make it much easier.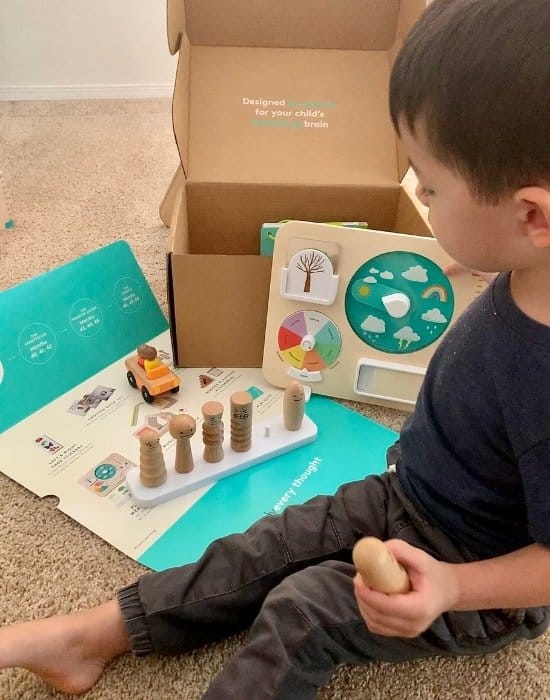 Sustainable Materials + Educational Toys
It's not often you come across children's toys that are educational and support the environment. With Lovevery, they do. These Montessori toy subscription boxes have a 33% reduction of packaging waste and use 100% FSC-certified harvested wood in their products.
Now, our family isn't perfect. There are a lot of ways we can continue to do our part to help support the planet and reduce waste. This is why supporting a company like Lovevery was such a no-brainer for me.
Instructional Videos + Parent Courses
A lot of times, Montessori toys can be a bit confusing for parents to engage with their children. That's because they're so open-ended and we, as adults, often crave direction for things, but guess what? Lovevery won't leave you hanging!
Every single Montessori toy subscription box comes with a play guide that comes with instructions on how to use and play with each and every toy in your box. They also have a unique app for all of their subscribers which gives access to expert support in a variety of topics parenting, playtime ideas, tummy time, sleep tips, and so much more!
As if that was it. Lovevery has parenting courses you can purchase separately which are great for new or first-time parents! They have a Tummy Time course and a Food Before 1 course. I haven't taken either of these myself, however, I have no doubt Lovevery doesn't disappoint.
---
Educational play through Montessori is a great way to keep your child engaged and support their development as they grow. We've found our Montessori Toy Subscription Plat Kits to make things a lot easier and recommend them to all of our friends and family. It also makes a great gift for toddlers during the holidays!
Have you tried a Montessori Toy Subscription Play Kit before? Let us know in the comments.
Read more toddlerhood articles here: