Meaningful Christmas Traditions To Start With Your Family
This post may contain affiliate links that I may receive a commission from if you click & buy. In addition, the information on this site is NOT intended to be medical advice. See my full policy for more information.
It's the most…wonderful time…of the year! Seriously, it's one of the most festive times of the year that you can't even help but feel a little holiday cheer! However, most people spend year after year focused on getting gifts and presents when you SHOULD be focused on building memories! That's exactly why I'm going to share lots of Meaningful Christmas Traditions for you to start with your family in 2020!
The best part about Christmas traditions, is that you start them and they evolve over the years!
For instance maybe one year you decide for the entire month of December leading up to Christmas is PIZZA FRIDAY (this may or may not be a tradition we do for our toddler, lol).
Then as your kiddos get older, you can turn PIZZA FRIDAY into camping out in the living room which means, NO BED TIME on Fridays! As they get older, maybe you want to start baking cookies instead of pizza. You get the idea.
So if you're feeling excited about building some traditions with your kids starting this year, you are going to LOVE the ideas on this list!
And don't forget to PIN this post for later in case you don't finish reading it!
Meaningful Christmas Traditions to Start With Your Family
1. Decorate your home for Christmas together.
Nothing screams it's almost Christmas like busting out the Christmas decorations and beginning the festivities on the inside of your home!
Last year we actually got this super cute 'countdown til' Christmas' wall decor that we take out on Dec 1st and anxiously wait for the jolly day to arrive.
Even though our son is only 14 months old, it's definitely a tradition we plan to continue so he can share the excitement for this holiday as much as we do 🙂
2. Go pick out a real Christmas tree this year!
When I was little, I remember my ALL-TIME favorite thing to do was go pick out a Christmas tree from the Christmas tree farms!
There's that fresh pine smell out in the cool winter weather while looking at all the different kinds of trees.
Plus, when you have a family with little ones, it's just fun to include them on these fun decision-making adventures during the happiest time of the year!
3. Decorate Christmas stockings together.
We actually never did this in my family, but I saw this idea on Pinterest a few years back and knew I wanted to do this with my family.
Most people buy their own stockings or have them embroidered, but they actually sell stocking decorating kits you can use to customize your own stocking!
Every year, your kids can have fun designing and using their imagination to create a fun little stocking personalized just for them! How fun is that?
To make their stockings extra special, check out these Christmas stocking stuffers for babies & toddlers!
4. Write letters to Santa & Santa letters from the north pole to your kids.
I am not going to lie, I'm SO excited to write letters to Santa with my son. Granted part of me feels bad for lying about Santa, but I just want him to have fun with it…what do you think about this one?
Basically, you and your child work on writing a letter to Santa. You mail it out to "The North Pole" & then YOU (Santa) types up your own letter from Santa!
OR if you're a busy mama like 99% of us out there, you can grab my Letters To Santa Templates + Bonus Letters FROM Santa for only $6 below!
These interactive little templates are so much fun to fill out with your little ones, plus once you download them, they're yours forever!
Don't forget to place your letter in a fancy red Santa approved envelope & seal it with a Santa sticker before placing it in your mailbox for your little one to find 🙂
Not sure where to send your letter? Our Letter FROM Santa Printables has Santa's DIRECT address on them to guarantee your letters will make it to Santa's Office DIRECTLY!
And don't worry, it's not some stranger's address. It's hosted through the USPS, you can find more information about Santa's Legit address here.
Don't forget to share your Letters To Santa with me on Instagram or Facebook so I can see all the fun you had with your littles this holiday season 🙂
5. Pick out a pair of cute matching Christmas Pajamas for the whole family (including your dogs).
We actually started this last year during our son's first Christmas. We went & picked out the cutest matching Christmas pajamas and yes, even our dogs had their own too!
For the record, Target ALWAYS has the best family Christmas pajamas.
If you don't believe me, check out our stinkin' cute family Christmas photo below, I warned you, it's adorable!
6. Decorate your Christmas Tree as a family
Another fun tradition I grew up doing was partaking in a VERY important role. The role of helping decorate our family's Christmas tree!
Eventually, my parents got a faux Christmas tree, but real or fake, it was so much fun decorating!
If your kids are really small, you can help them decorate by letting them decide which ornaments or decorations to add and then help them add it to the tree.
7. Create a holiday handprint ornament
This is a great tradition for any age, but even more so babies!
You can make these cute little holiday handprint ornaments each year to eventually compile them into a little holiday banner progressing as each handprint grows bigger each year.
If you're not into the ink ornaments, they also make these fun clay ornaments. You can even paint or decorate these for fun!
8. Bake cookies for Santa
If you choose to go the route of Santa being real, then baking cookies with a fresh glass of milk is a great way to have some fun!
And if you have a baby, you can babywear them while you bake cookies with your family!
9. Give back during the holidays & donate to a good cause
One way to spread holiday cheer while giving back to those less fortunate is by gathering up some food or small toys and donating them!
I remember channel 933 would host an annual toy drive when I was little and my parents would let me pick out a toy to donate. It felt really good as a young kid to feel like I was making a difference.
Imagine getting the entire family involved?
Typically you can find that your local Goodwill, Salvation Army and radio stations host food and toy drives every holiday season.
10. Build a gingerbread house!
So this one is super fun for the littles. And I won't lie, it's fun for us adults too haha.
All you need is to grab one of these little gingerbread house kits, any additional edible decorations you'd like to add and start decorating!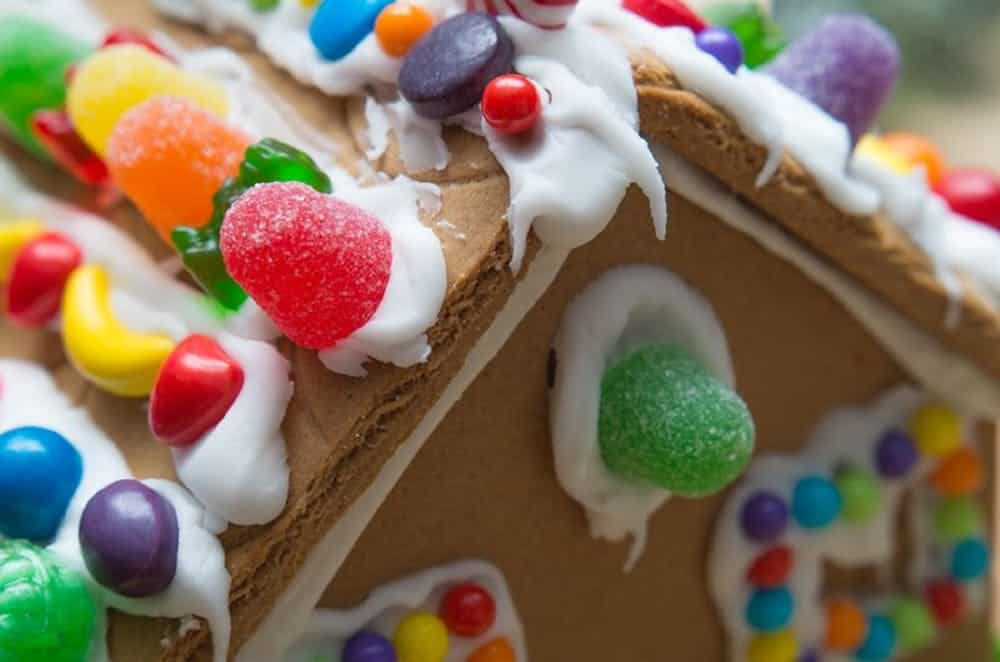 If your little are young, don't plan on this being a clean event. However, this does make a great prop for some cute photos with your baby 🙂
11. Take pictures with Santa
It didn't happen unless you posted a picture, right? Though this could be a hit or miss with your baby, it is worth trying out!
Plus how cute would it be to see your little one in every single picture each year getting older? Definitely cherishes that memory if you ask me!
12. Bring out the elf on the shelf!
Have you heard about this little elf on the shelf?
The story behind the original elf on the shelf is that all of Santa's elves are adopted by families (you) during the holiday season! Every night, they fly back to the north pole to tell Santa all the details of their new family. Then they return in a new spot waiting for their family to find them!
Now, it gets really fun when you put a little spin on it. Like instead of just sitting them on a shelve, they can be found brushing their teeth, reading a book and so much more!
13. Warm-up some cocoa and watch a holiday movie together!
This is perfect for those little ones! We personally have 2 favorite Christmas movies: Elf & The Grinch.
Chances are, your baby might sleep through the entire movie, but that's ok.
If your kids are a bit older or in the toddler stage, they'll definitely enjoy the snuggles & TV time.
14. Bake & decorate family sugar cookies
A simple classic that can never go wrong.
It's perfect for ALL ages & pretty darn delicious too!
For babies, you can use greek yogurt with some fruit or food coloring to let them 'decorate' their cookies.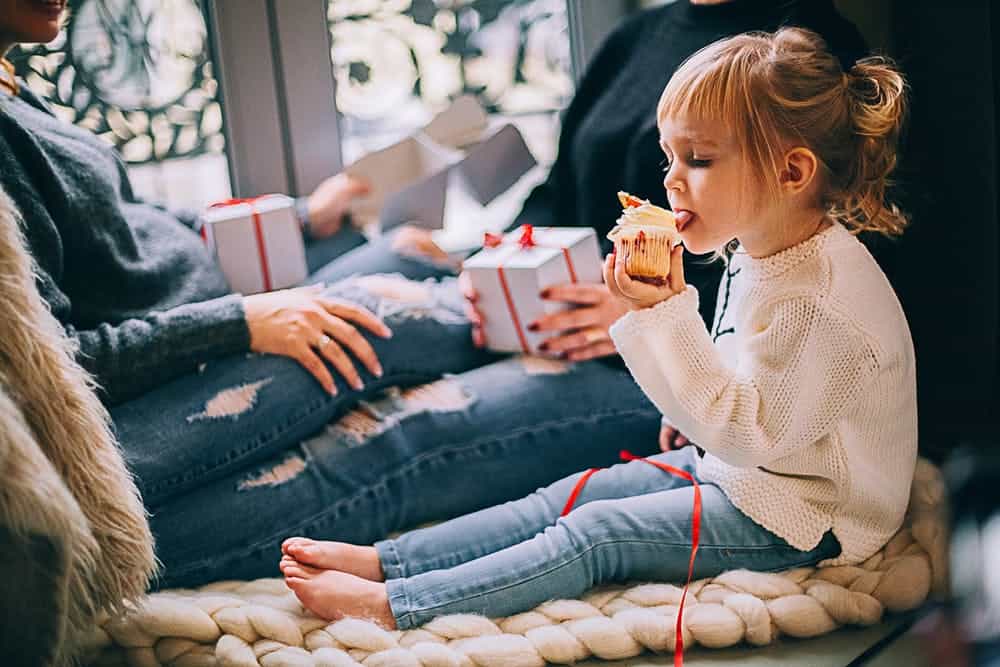 For toddlers, you can also use greek yogurt or classic frosting. Then let everyone show off their cookies before the best part: eating them!
15. Create homemade holiday decorations
Looking for some creative ways to make some holiday decorations with the kids? Check out these fun little crafts you can do!
16. Have an Ugly Christmas Sweater Gathering
You can go to a party or host one yourself (especially if you have young kids, I usually prefer hosting so I can be at home if needed).
But Target carries ADORABLE baby & toddler Ugly Christmas Sweaters perfect for a photo op!
What Meaningful Christmas Traditions does your family do?
Leave your answers in the comments.