How To Make The Perfect C-Section Recovery Kit
This post may contain affiliate links that I may receive a commission from if you click & buy. In addition, the information on this site is NOT intended to be medical advice. See my full policy for more information.
Do you have a planned c-section? Learn exactly how to make yourself a c-section recovery kit so that you can recover after birth smoothly.
Having a c-section delivery can be a nerve-wracking moment for any expecting mom to hear.
Maybe you had a planned c-section, maybe you didn't. Both ways led to you having a pretty major abdominal surgery (something I think many of us forget to acknowledge).
So, if you DO have a planned c-section approaching soon or could be at risk for needing one, this list below will help you gather ALL the necessities needed to make the PERFECT c-section recovery kit!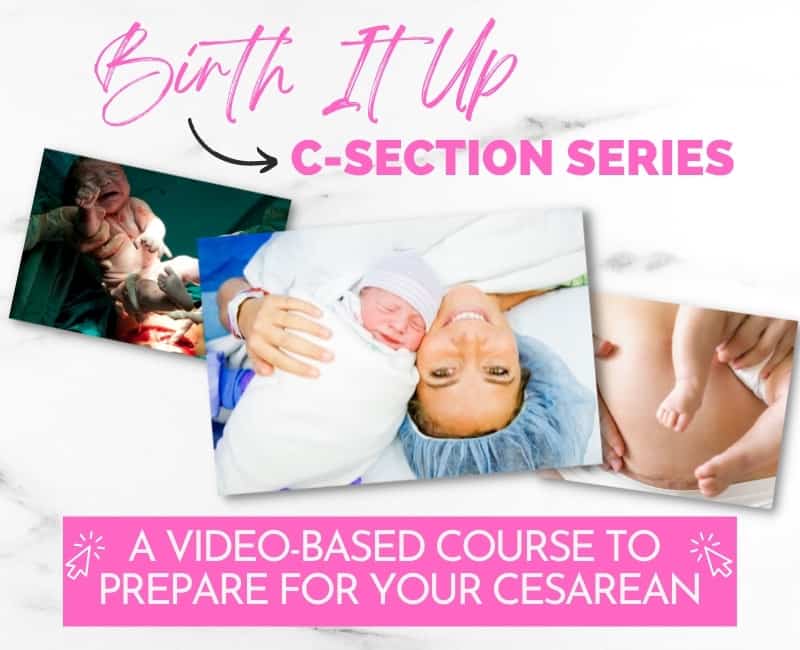 C-Section Recovery Essentials
If you know you have a cesarean delivery planned, don't wait too long to make yourself a recovery kit.
If you want to make it as smooth sailing and stress-free as possible, grab as many as the items below you can (heck, if you haven't had your baby shower yet, add them to your baby registry today).
1) Cesarean Belly Wrap (Belly Binder After C-Section)
An abdominal binder is common for moms to use after a c-section. In fact, some hospitals (not sure if all) will use one!
Why are belly wraps or binders used after a cesarean?
Belly binders are used after a cesarean to provide abdominal support, keep your incision clear from irritants, and reduce swelling while recovering.
In one study done by Obstetrics & Gynecology (see the study here), they found that abdominal binders may be associated with decreased pain after a cesarean and could make a great alternative to pain medication.
You can get a single velcro belly binder like this one (which makes adjusting it much easier) or use a 3 in 1 belt to help support your belly and pelvic area throughout recovery like this one.
2) Postpartum Diapers
You might be thinking you won't have to wear those big thick postpartum pads or diapers if you have a c-section, but the thing is, you will.
Cesarean moms will still experience vaginal bleeding after birth.
This is because the wound that is left when the placenta detaches still needs time to heal and as it heals, you end up with some postpartum bleeding.
Fortunately, Frida Mom has some extra soft and stretchy disposable c-section panties that will help keep you nice and dry!
In fact, they're great for both vaginal and cesarean deliveries, but the fact that someone finally created a disposable panty that won't irritate your incision is a miracle! You can check them out here.
3) Stool Softeners
Yes, you read that right. You will definitely need some stool softeners stashed away to help you with the first poops after birth.
Simply because you want to avoid any kind of straining after such a major surgery. Plus, your pelvic floor muscles are also in recovery mode, so the least pressure down there, the better.
4) Bedside Co-Sleeper
Many people mistake bedside sleepers as being ONLY for breastfeeding moms, but that it's necessarily true.
Even if you plan to bottle feed baby, the ease of being able to reach over to grab them without actually getting up can be tremendously helpful as you're recovering from surgery.
You could ask your partner to warm up the bottle for you, or if you happen to be pumping milk, you might have a bottle already there waiting since freshly pumped milk can be out for 4 hours at room temperature.
I used this bedside sleeper for my 2nd baby because it was large enough for him to grow into over a few months (he was a big baby), but it also rolled around the house easily too!
5) Peri Bottle
Although you may not be as sore down there as you would be if you delivered vaginally, those muscles down there still had lots of pressure on them and will likely feel a bit sore.
Instead of spending time trying to wipe and go back to normal, grab yourself one of these angled peri bottles to help rinse yourself off whenever you use the bathroom.
It'll also help so you won't have to bend too far forward while trying to clean yourself.
6) Compression Stockings
Regardless of how you delivered, you will likely experience some kind of edema (or fluid build-up under the skin) after birth.
I've heard some of my mom friends say they experienced the worst swelling around 24 hours after birth while others had it immediately after birth.
One way to help (aside from keeping yourself hydrated and slowly getting up and moving around) is to throw on some compression stockings (like these) to help increase the blood flow in your legs.
Try to keep 1-2 pairs of these in your recovery kit so you can swap them out and wash as needed.
7) High-Waisted Underwear
Once your postpartum bleeding lightens up and you're able to switch into regular menstrual pads or underwear, wearing a pair that won't irritate your incision will be key.
You might also want a pair that has some compression to them to double up as some extra abdominal support, but it's not always necessary if you're using a belly binder.
I asked 3 of my mama friends that had c-sections which underwear they found most comfortable and these are the options they suggested:
C-Panty by Upspring (very high-waisted, thicker material for compression, much pricier option)
8) Loose Clothing
Although compression wraps can help for abdominal support and compression, when it comes to clothing, you'll want to keep it loose and breathable.
Yup, you just got the OK to wear your favorite Netflix and chill clothing for 8 weeks straight, you're welcome!
Well, you really didn't need anyone's approval for that, but now you have a phenomenal reason!
I have to say, Kindred Bravely pretty much takes the cake when it comes to comfort and postpartum clothing (see for yourself), but if those are a bit too pricey, you can score some awesome loose fitted shirts and pants (like this and these on Amazon).
9) Breastfeeding Pillow
Don't skip this one even if you decide not to breastfeed. These pillows can come in super handy to help you position your baby in a hold above your incision and prevent any unnecessary pressure.
That means, you can offer them a bottle too!
Be sure to add one of these to your baby shower gift registry if you haven't already.
10) Water Bottle
Making sure you keep up your hydration after birth is important to make sure you're combatting that annoying edema, keeping up your breast milk supply, and of course, simply promoting a healthy recovery for yourself.
And what better way to do that, then to have a water bottle by your side at all times?
I love this brand, Thermoflask! I first found them in my local Costco and then saw they had so many different color options online. Since getting 2 of them, I never go anywhere in my house or on the road without my water bottle.
11) Pain Medication
Your doctor may or may not prescribe specific medications for you to go home with after your surgery.
To be safe, you can keep a bottle of Ibuprofen in your recovery kit just in case.
And of course, always check with your provider to see if over the counter medication is ok to take.
12) Hemorrhoid Remedy Supplies
Oh, hemorrhoids. They're so uncomfortable and just, annoying if we're being honest there.
Unfortunately, they're not uncommon during pregnancy or postpartum.
So, best to be safe and have some handy items stashed away if you find yourself dealing with them!
When I had them after my 2nd, all I needed was some Tucks Witch Hazel Pads. I'd gently dab them and let them do their work. Within a few days, I felt 100% pain-free and got rid of those annoying hemorrhoids in no time!
You can also use pure witch hazel inside of your peri-bottle to rinse yourself off on the affected area. It should provide some soothing relief pretty quickly.
If you find they aren't going away or at least feeling any less uncomfortable, it's time to call up your doctor and let them know!
13) Earth Mama Organics Scar Ointment
If you're worried about scarring, Earth Mama Organics Scar Ointment may be an essential item you want to keep in your cesarean recovery kit.
You can also use this on ointment on any kind of stretch marks, burns, or existing scars!
Earth Mama suggests using their ointment 3 times a day. Though I have no experience using this ointment personally, they seem to have pretty raving reviews online which you can find here (and just scroll down).
14) Prenatal Vitamins
Is it me or are prenatal vitamins not talked about enough?
They play such a vital role (pun intended) throughout your pregnancy as well as your postpartum.
I'd like to think, that recovering from a C-section is no easy task, let alone a body without the proper nutrients may have a harder time than one that does.
So what kind of prenatal SHOULD you be taking?
Well, I'll be honest. I was using a prenatal that I thought was amazing, even my doctor told me it was great. That is, until I started doing more and more research on what nutrients the body actually needs pre and post baby.
That's when I learned that the prenatal vitamin I was using not only significantly underdosed many of the necessary ingredients, but the QUALITY of the ingredients they used wasn't great either!
And this is when I found a new prenatal vitamin known as Needed.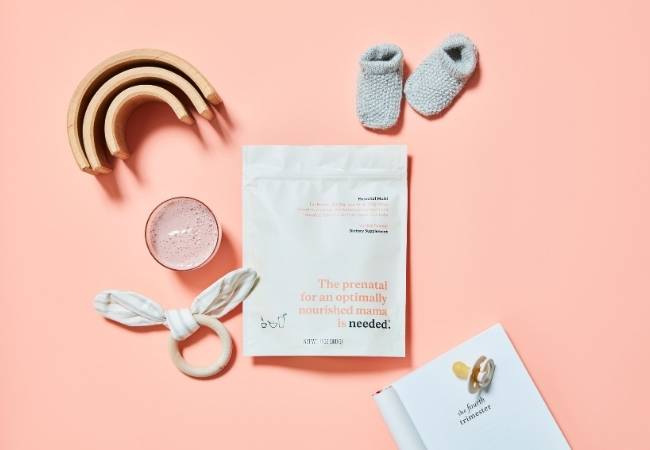 Needed is a prenatal vitamin in powder form, formulated through research and studies to bring moms of ALL stages the most optimal nutrients they could ever need!
I can list out all the facts, but that would be boring, right? So let me share specifically what I LOVE about this vitamin:
It comes in powder form which makes it easy for me to add into any breakfast smoothies or even my coffee!
They source the MOST QUALITY INGREDIENTS, ones that will actually be metabolized effectively in your body.
There's no under-dosing going on here, you get effective dosing based on quality research and studies.
Their customer support is FANTASTIC! These women are so dedicated to educating others on prenatal and postpartum nutrition, you will never feel like they're pushing a product on you even though I'm sure they're biased theirs is the best.
The con – it's not cheap. I hate having to say this, but I wish the price point was a little more affordable. Granted, I imagine the ingredients aren't cheap to source, but as always, affordability plays a factor in everything.
If you're curious to give them a try, you can visit their page by clicking here because that link will save you 15% off of your first purchase, woohoo!
Want to learn even more about Needed and how they came up with such a genius formulation for moms? Read about it HERE.
15) Postpartum Planner
Have you heard of a postpartum planner? Maybe not, because there aren't too many out there.
That's exactly why I decided to create my own Postpartum Planner, for YOU!
My planner was designed to help you as you venture into a new world of motherhood after baby — even if it's your first or 5th child — it will help you journey through feeling empowered and confident.
No more wondering how to tell if what you're feeling is 'normal'.
No more feeling like you're alone with nobody to turn to.
No more wishing you could just get your partner to understand.
My planner comes with checklists, worksheets, and more to help you navigate those sticky stages.
What's great, is that it only sells for $27. And because you're reading this post right now, you can grab it for 50% off! Yup, you won't find this savings code anywhere else on my site except here.
All you have to do is click here, and enter code: CSECTION to get your 50% off today!
Why You Need A C-Section Recovery Kit
I'll be the first to tell you that when I gave birth the first time, I was way too lax about preparing for my recovery.
I had a vaginal delivery and know that if I didn't prepare well enough, we need more support for cesarean moms too!
I wish someone had told me "HEY MAMA, YOU WILL BE DOWN AND OUT FOR A DAY OR TWO — MAKE A RECOVERY KIT AND TAKE CARE OF YOURSELF FIRST".
So, this is my reminder for you.
Make yourself a c-section recovery kit. Be prepared for the next 6-8 week recovery period (which maybe even longer).
If you need even more reason, I rounded up a few pretty important ones below:
It can help with managing pain after a c-section.
Between keeping your c-section recovery kit packed with at least a belly wrap and some ibuprofen at minimum, you should be on the right path to some solid pain management after your surgery.
Plus, keeping all these items in one generalized area (usually next to your bed where you'll be recovering) will also help you get up and down less throughout those early postoperative days.
It'll help with your wound care after c-section.
Most mothers don't go home with any specific wound care other than keeping it clean and dry. However, in the event you have to change any kind of wound dressing, apply any kind of ointment, or even dab it dry from time to time, you can keep all those supplies in your handy cesarean recovery kit.
---
It may be a little time consuming, but I promise, a smooth recovery after birth is so worth a little pre-planned effort! What items are you planning to put into your c-section recovery kit?
Read more postpartum articles here: